Our dreams of PEI and Anne were fulfilled and it was time to say goodbye. We had a long trip ahead of us but one more big stop that we had to make: Niagara Falls.
Our route home took us through Buffalo, NY and I knew we would regret it if we came that close to Niagara Falls and didn't stop. The trip from PEI to Buffalo is 16 hours. Because we value our own safety and sanity we left PEI after lunch and made it all the way to Hampton, NH with enough time to run through a grocery store just minutes before closing so we could replenish our cooler. We left Hampton by 7:00 am the next day, whipped through our trusty Tim Horton's for coffee and breakfast sandwiches and were pulling in to Niagara Falls state park by 3:00 pm.
Along the way we did a deep dive into the first woman to survive going over the falls in a barrel: Annie Edson Taylor. Her story is pretty straight forward…63 years old, alone, broke and living near Niagara Falls. What else is a widow in 1901 to do but stage a publicity stunt? The most enjoyable part of the story is the 2011 off-broadway musical written about Annie's life; Queen of the Mist.
But I digress.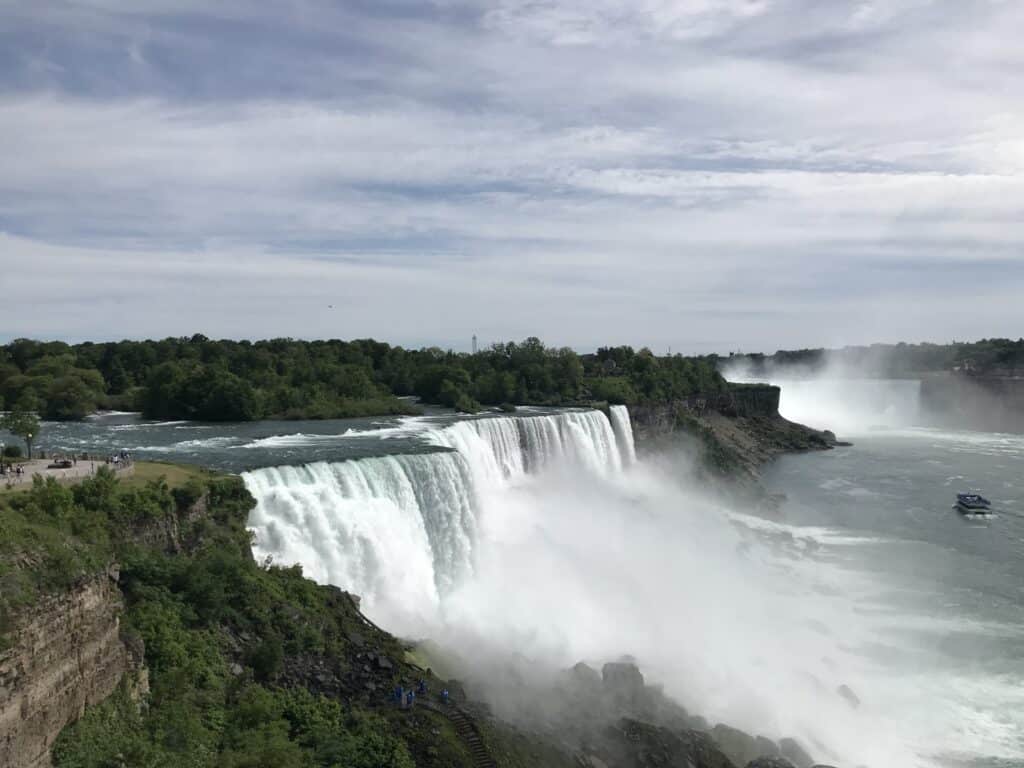 By the time we arrived we only had 3 hours to do and see everything we planned. We changed our shoes then hot-footed it to the Maid of the Mist boat ride. For $25 you are given a plastic poncho and taken into Canadian waters at the base of Horseshoe Falls.
I knew Niagara would be impressive but once I was deep in the mist of the falls I realized I had no idea.
The roar of the falls is deafening and the spray is so enveloping that all you see is white. Coming that close to the unrelenting power of mother nature was humbling. In the few minutes that I was on that boat the Creator and I reminded each other how much we love each other.
Christine and I were in such awe we actually considered buying another ticket and immediately going back into the mist. If we weren't in such a time crunch I think we would have stayed on that boat but the Cave of the Winds was calling our name.
From Goat Island you can buy a ticket to get a very informative presentation about the history of Niagara Falls and how poets, naturalists, and wealthy philanthropists worked together in the mid-1800s to save the natural wonder from industrialization and factory pollution. You are then sent out to discover Bridal Falls with another poncho and water sandals.
Each year the park staff construct a walkway and wooden steps so visitors can stand at the base of the falls and get their Niagara facial. Once again, we were left thrilled and amazed at the power of the falls just feet away from our fragile bodies. We stood close enough to get drenched from the falls splashing off the boulders.
Once again, we stood in awe. We were baptized in the waters of Niagara River and our laughter and joy mingled with the song of the falls.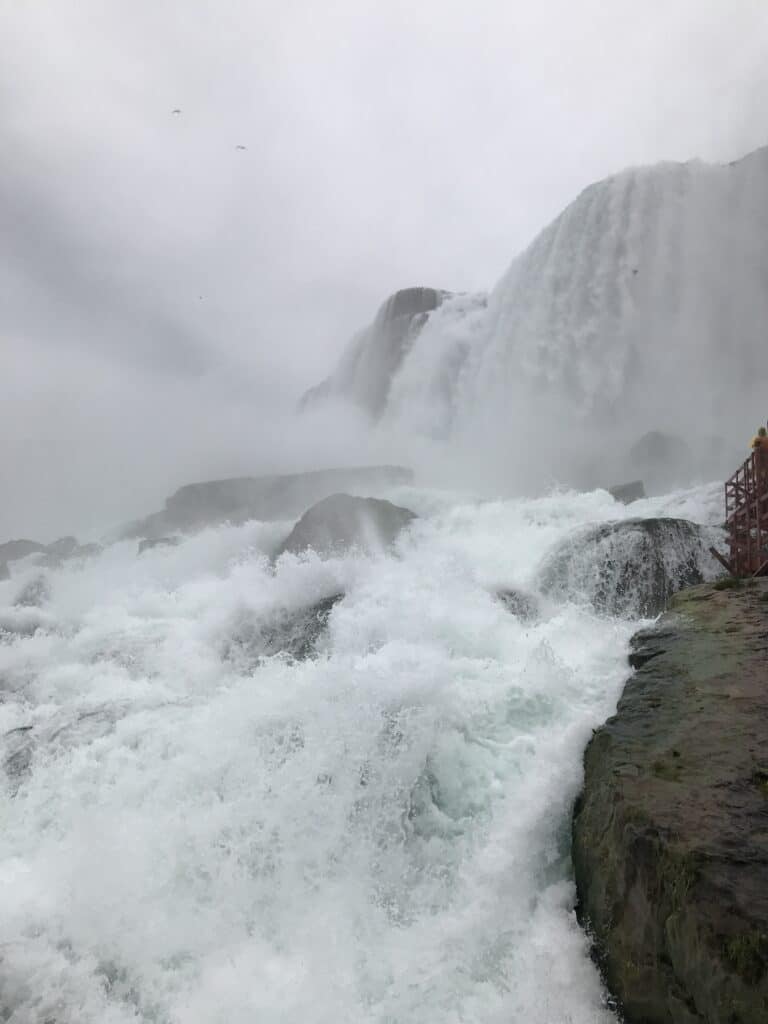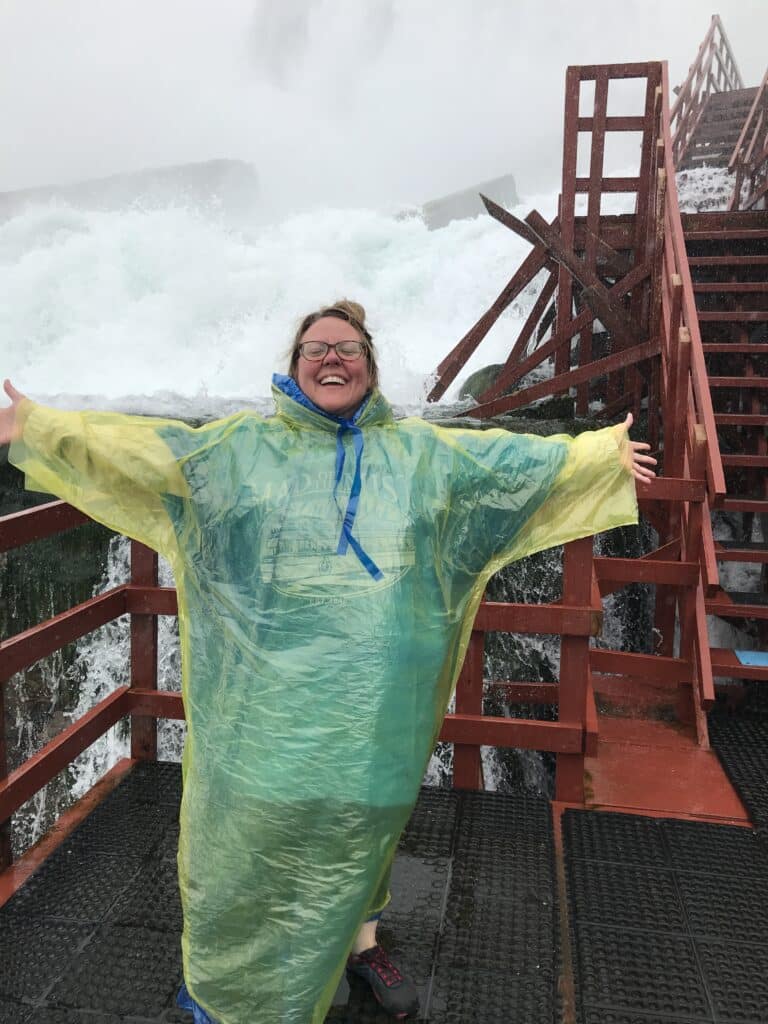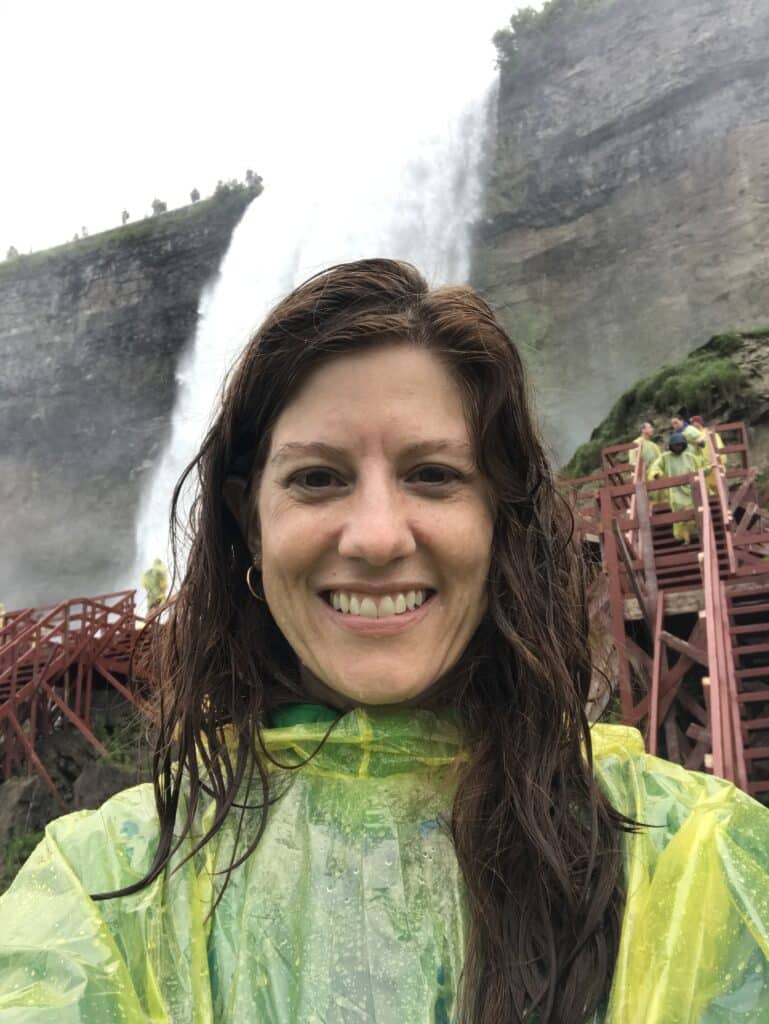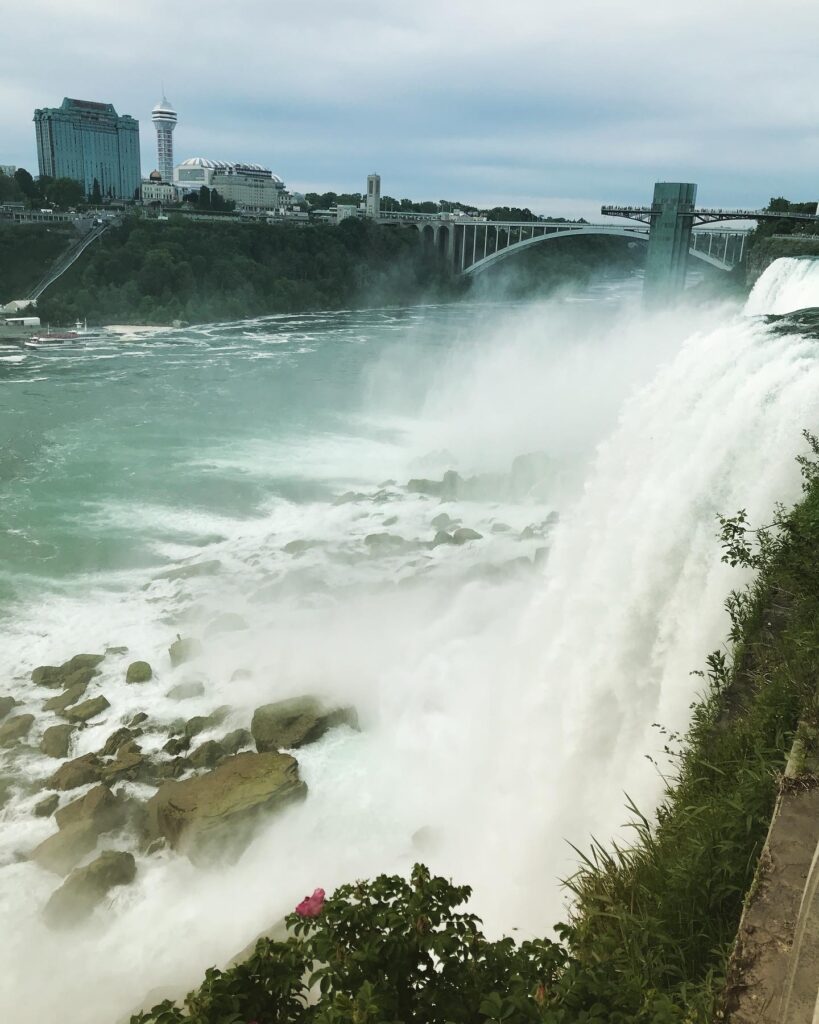 The falls may never cease, but the gift shop was closing. As much as we wanted to stay and bask in the mist, we realized we were ravenous and soaked. We checked into our hotel, changed into dry clothes and shoes and found a lovely little spot called Carmelos Coat of Arms in Lewiston. By the time we had stuffed ourselves with calamari salad, squid ink pasta, and veal and pork meatballs we were ready for another adventure.
Canada is just a bridge away and we wanted to say goodbye one last time. Rainbow Bridge is a very short car ride or twenty minute walk to Canada. It was dark but we weren't going to let that deter us. We drove around looking for a place to park when we turned up a busy street and our jaws dropped at what lay in front of us. Behind us lay one of the wonders of the world, in front of us was Branson and Las Vegas' love-child. In just one block we saw neon and flashing lights, wax museums, haunted houses, fun houses, Ripley's Believe It Or Not, a ferris wheel, and a TGIFridays surrounded by high rise hotel/casinos. Canada may have the best view of Niagara Falls but it has the most bazaar tourist attractions.
The remainder of our trip was fairly uneventful. We spent our last night in St. Louis where we ate way too much Italian food at Charlie Gitto's On The Hill. I now know what it means to have a food hangover.
We rolled into my driveway at 5:30 pm and congratulated ourselves on the trip of a lifetime.
Ten states, two provinces in eleven days and the car stereo was turned on only once.
4,821 miles and not one bit of car trouble.
$813.38 in gas…still cheaper than two plane tickets and a car rental.
A lifetime of memories with my best friend…priceless.
Related Posts via Categories