We just returned from a ten day family road trip covering seven states with four of those states having overnights in them. We started in Oklahoma then made our way to Nebraska by way of Kansas.

This all started a few months ago when we decided to go visit Dear Husband's cousin in Minneapolis. We thought of making a road trip out of it and I casually mentioned going to see Mount Rushmore as well…surely it's not that far from Minneapolis. Well, it is that far. Nine hours far. But my mind had been made up and my heart was set on the Black Hills so what would have been a five or six day journey turned into a ten day journey.
Not long after we decided that Mount Rushmore and all the surrounding sights was on the agenda, I casually mentioned that camping might be fun during that part of our trip. Dear Husband's ears perked up and we promptly pulled out all of our camping gear that hasn't been used for years. It's pretty amazing how much camping gear you realize you need for a comfortable two nights under the stars.
I'm happy to say that everything fit in the back of my little Honda. One huge suitcase with clothes and toiletries for four people, two tents, two blow up mattresses, one lantern, one self-inflating sleeping mat (which needs to be returned to Academy because it was super crappy), one cooler packed with snacks, four sleeping bags, one camping chair, four camping pillows, and one huge duffel bag full of flashlights, bug spray, sunscreen, baby wipes, four microfiber towels, batteries, mattress inflater-thing, and various sundry camping items.
If you need me to pack your suitcase for your next trip, I'll send you my rates because I'm pretty amazing at it if I do say so myself.
Dear Husband is a whiz at planning the driving route and finding interesting things to do along the way. We didn't want to spend all of our driving time on the interstate with the state zooming by. We wanted to break up the long drives by discovering hidden gems along our way. He used a site called Atlas Obscura to find off-the-beaten-path things to see and do.
The first destination that Atlas Obscura took us to was a place called Rock City in Kansas. It was a perfect place to explore, climb, stretch our legs, and have a picnic lunch.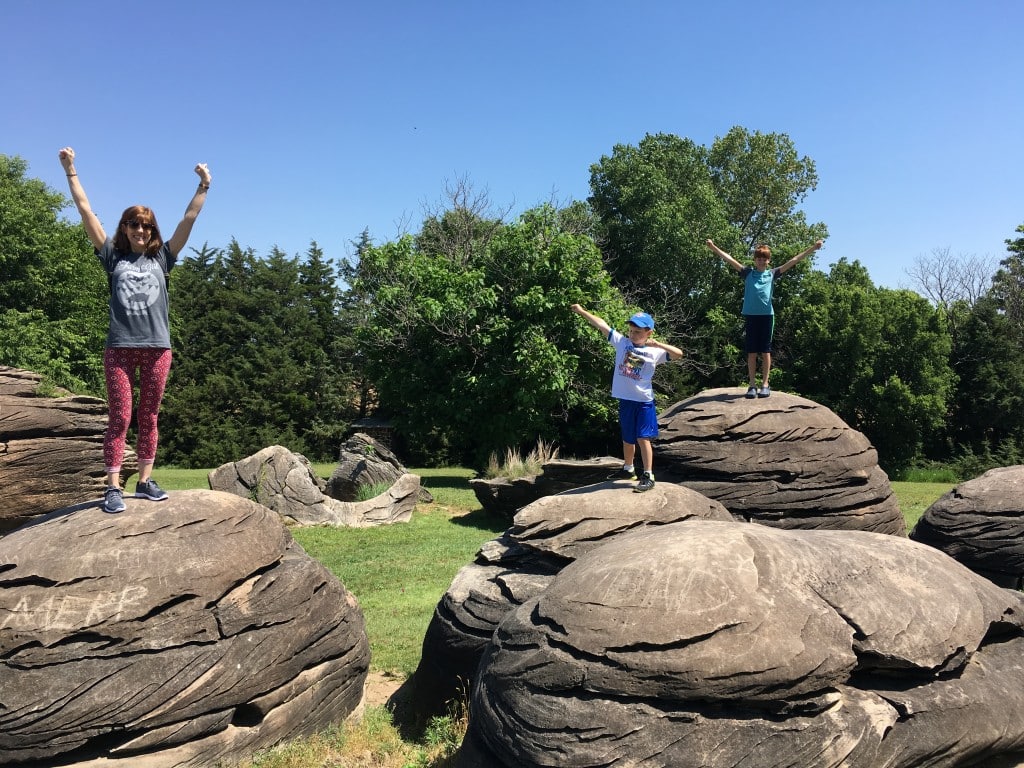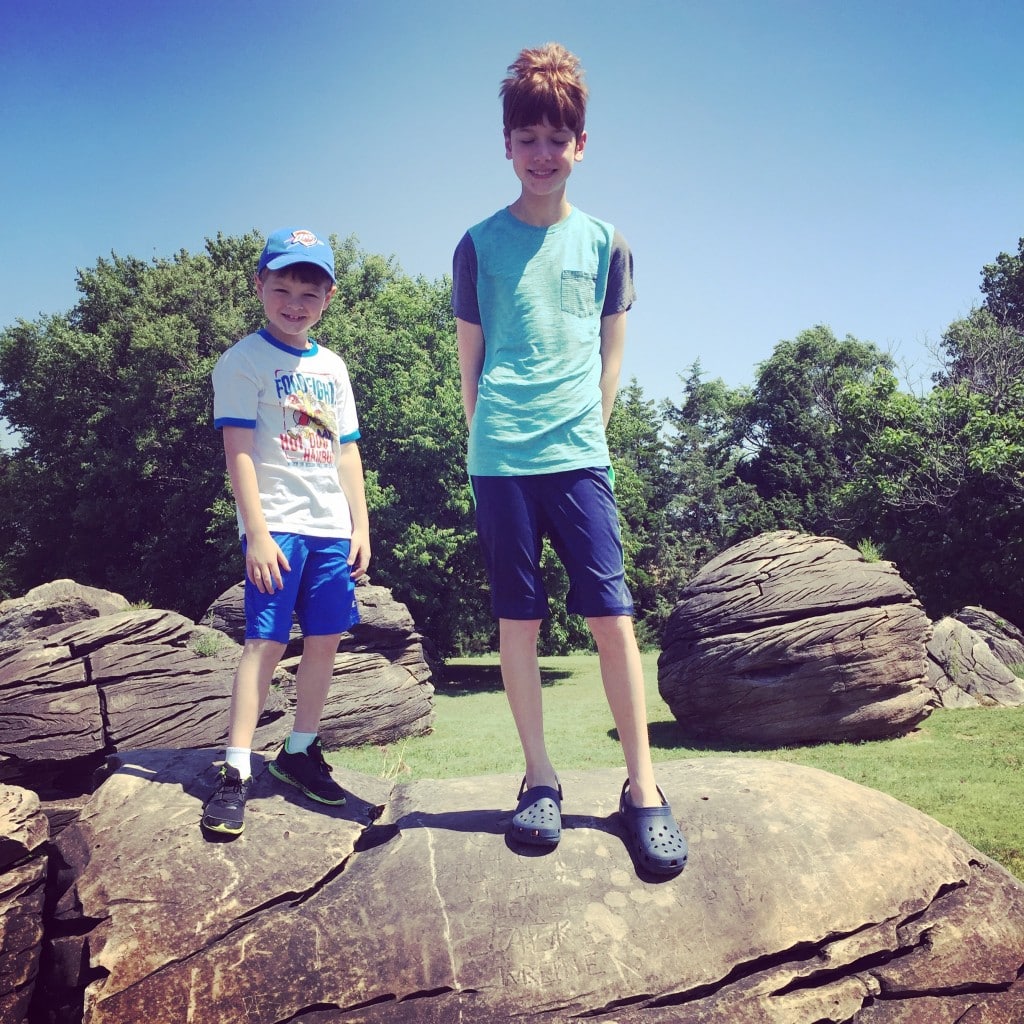 Now, that's some sweet car-head.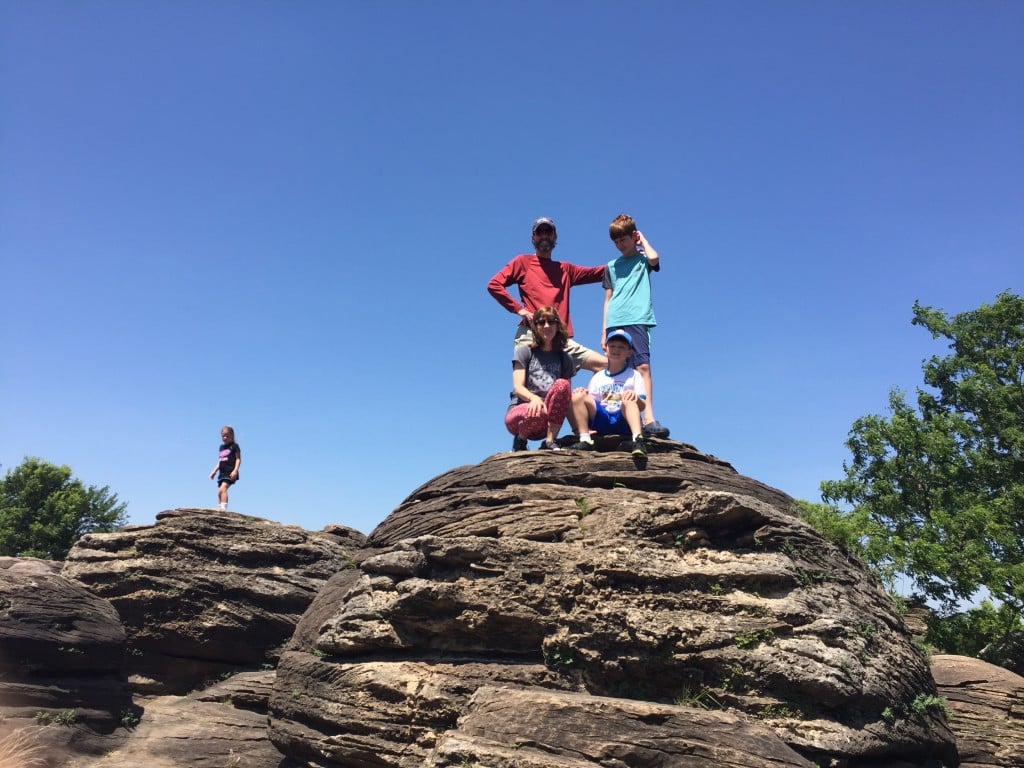 Our next stop along the journey was Morris Press Publishing in Kearney, Nebraska. Sweet, dearest, Dear Husband picked out this stop because they publish cookbooks and he thought I might be able to find a vintage cookbook for Recipe Archaeology. Morris publishes cookbooks for self-publishing type situations. Think church cookbook or Junior League. While they didn't have anything retro or vintage, I did find a chuck wagon cookbook and a reprint of a cookbook originally published in 1796. It has some interesting ingredients and for some reason, every letter "s" is printed as an "f". Not sure what that is about but makes for an adventurous read.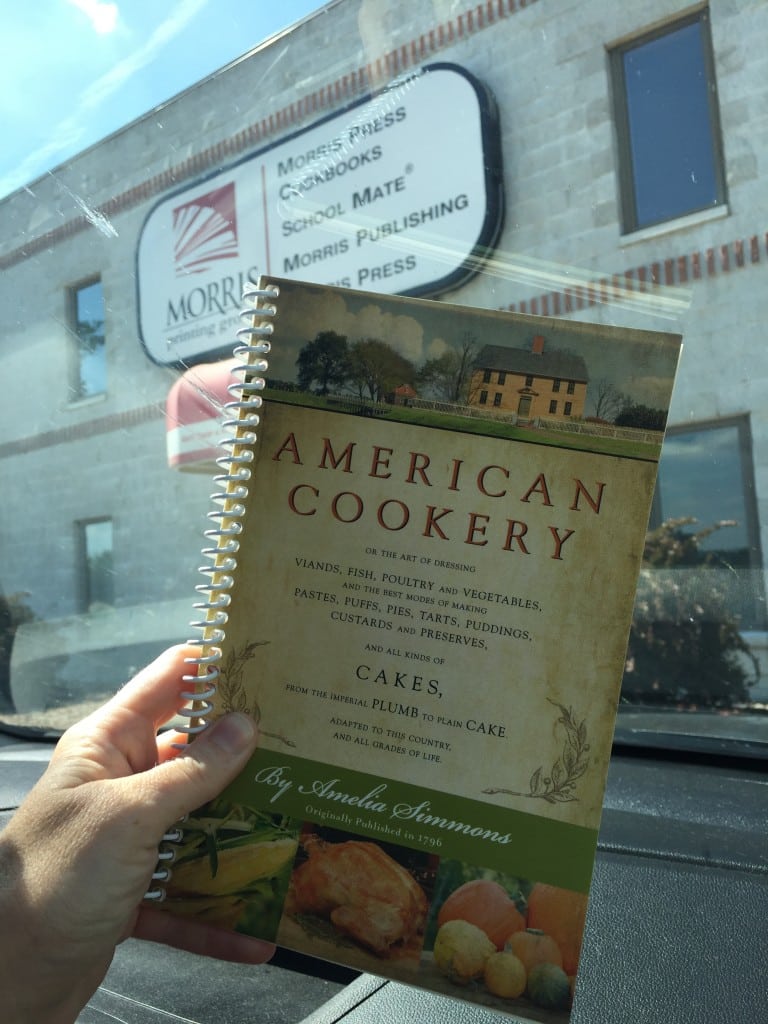 Our first night was spent in Ogallala, Nebraska. We played the Lonesome Dove sound track as we pulled into town and stayed at a Best Western which just happened to label itself as the Lonesome Dove Lodge. We felt like this was a really good omen for the rest of the trip.
If you're a Lonesome Dove fan, I don't really need to explain why Ogallala was a good place to stop. If you're not a Lonesome Dove fan, I suggest you watch the mini-series or read the book. Better yet, read the book then watch the mini-series. Robert Duvall in one of his best cowboy rolls.
But I digress.
Day two of the trip and Atlas Obscura took us to two really interesting places to explore; Chimney Rock and Toadstool Geological Park.
Toadstool Park was eleven miles off the main road down a dirt and gravel road. We felt like we might have made a wrong decision and may never be heard of again but it turns out it was worth the bumps and dust. It looks like the surface of another planet and the boys loved exploring the mile long trail that takes you through the rock formations.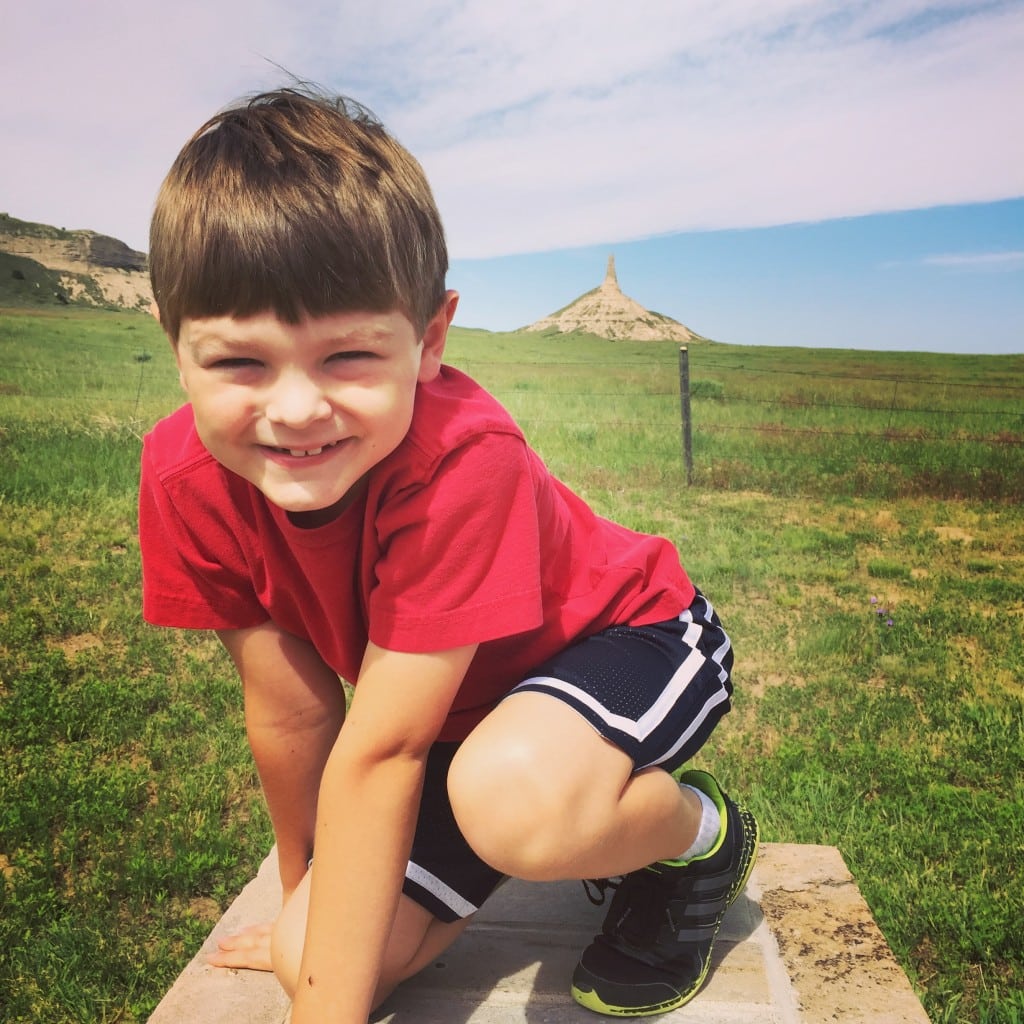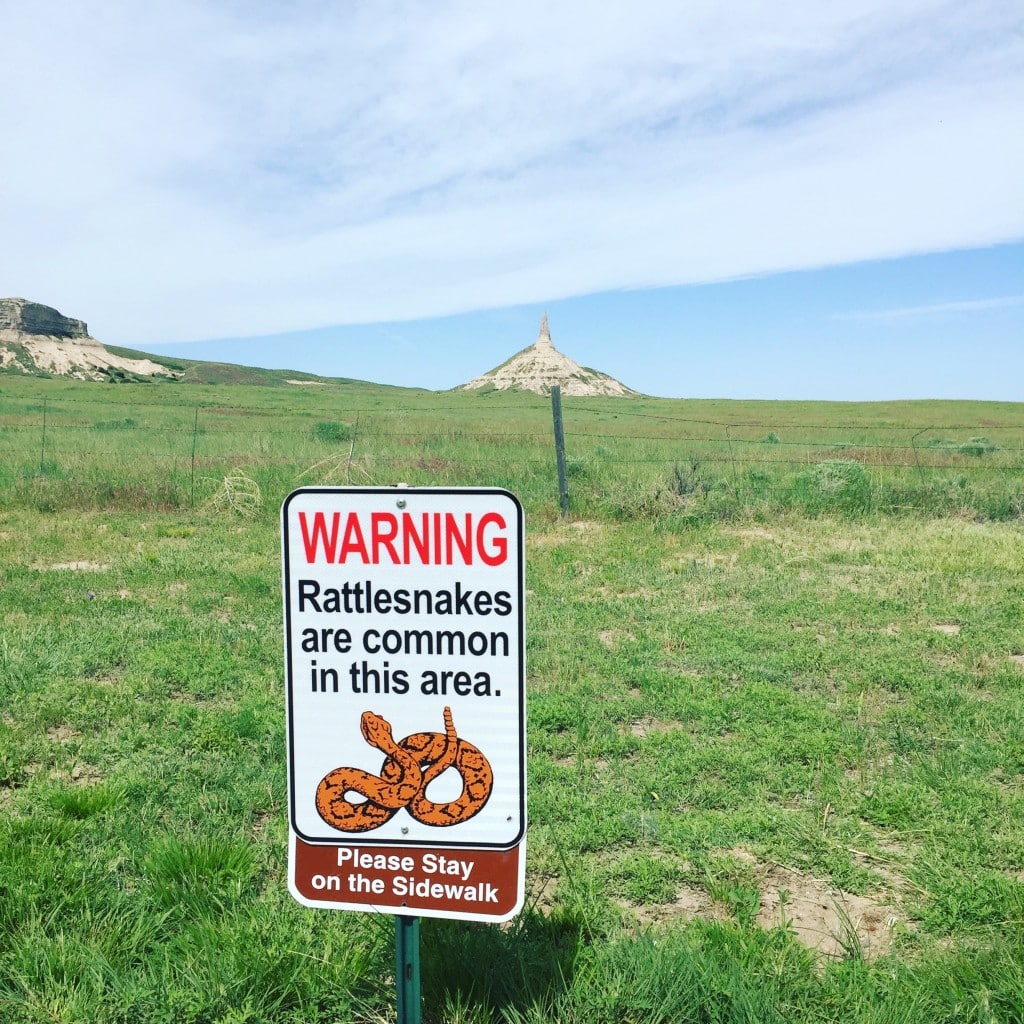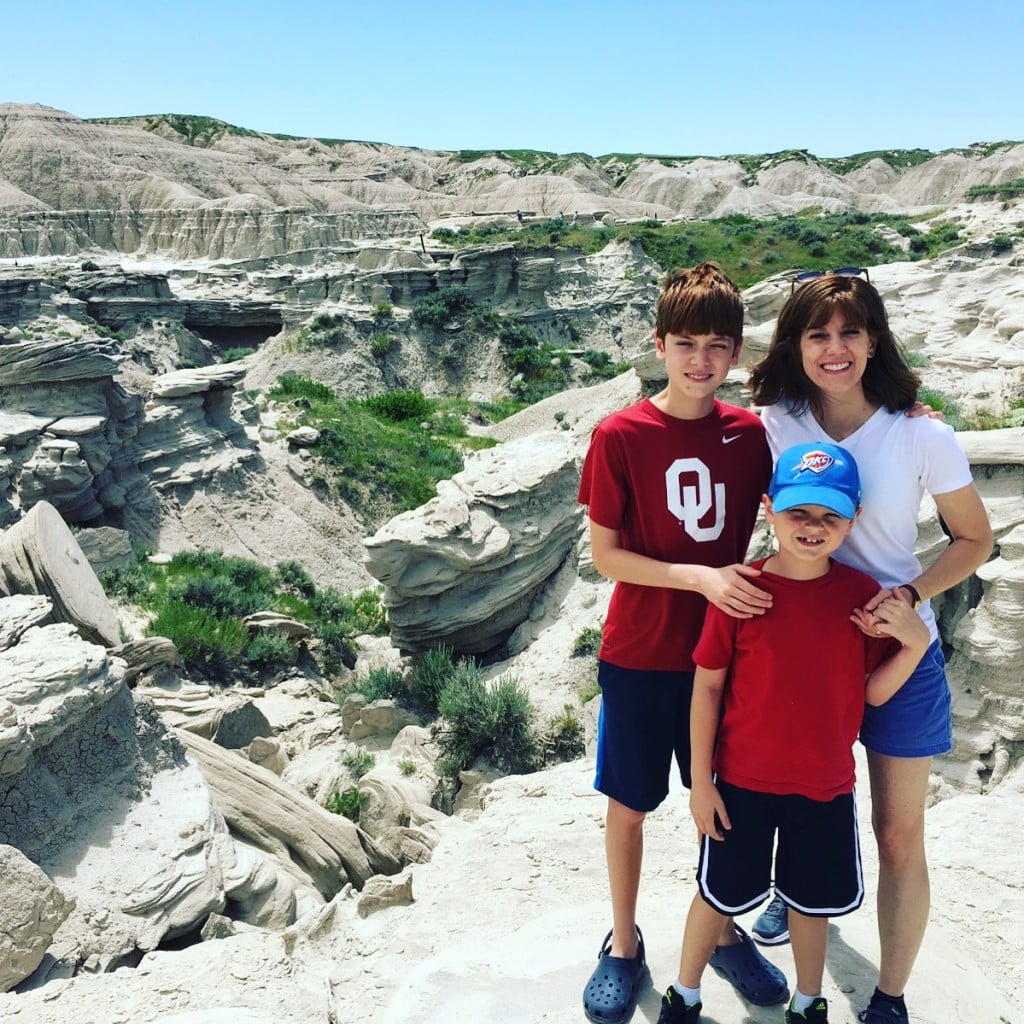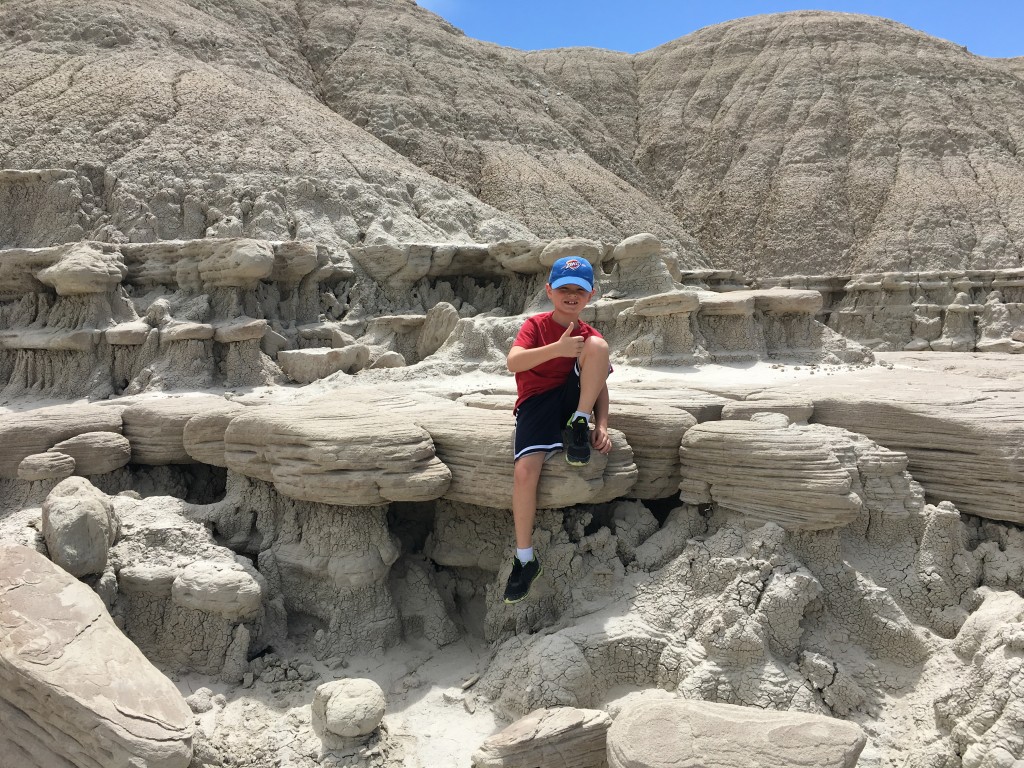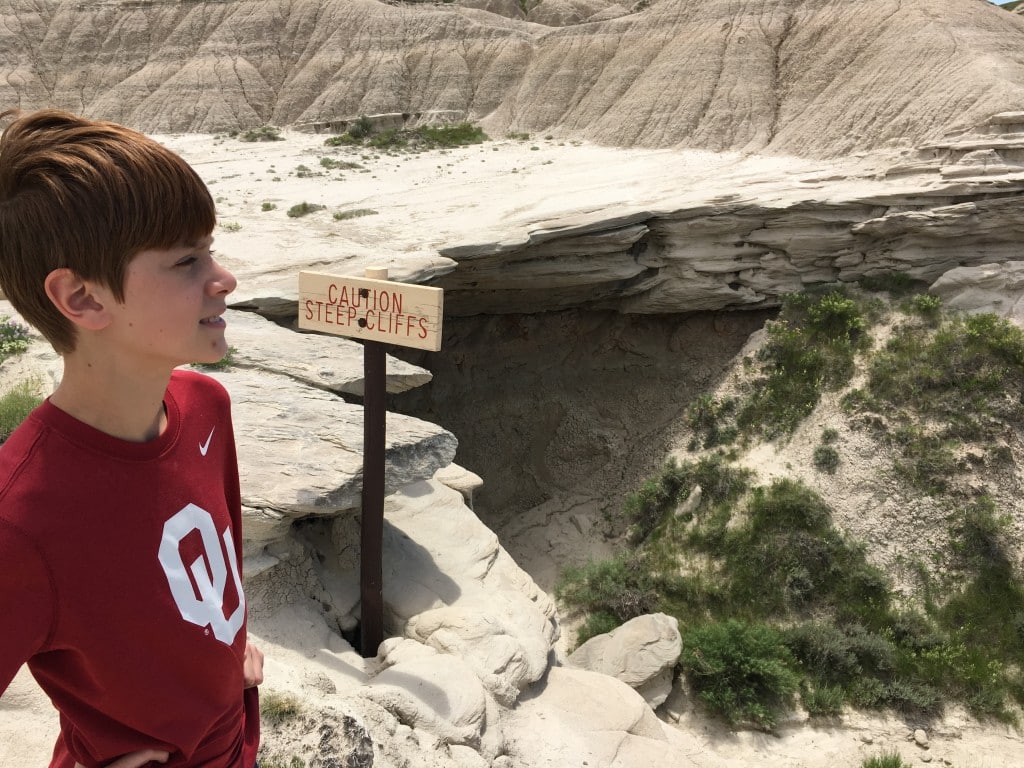 After these fun little stops, we headed up through Nebraska into South Dakota. We played the Dancing With Wolves sound track and marveled at the beautiful landscape. It morphed from green, rolling hills to mountains and pine trees.
We camped two nights at a site just outside of Keystone, South Dakota called Wolf Camp.
We found a picturesque spot next to a bubbling brook and underneath a shady tree. Addison and Harry played in the stream while Dear Husband and I set up camp.
I'm happy to report that I have discovered the key to brotherly love and harmony. Dirt and water. Every time they had a space to play in mud and water, they got along. No biting remarks, no condescending comebacks, no crying, to tattle-telling. It was a glorious forty-five minutes.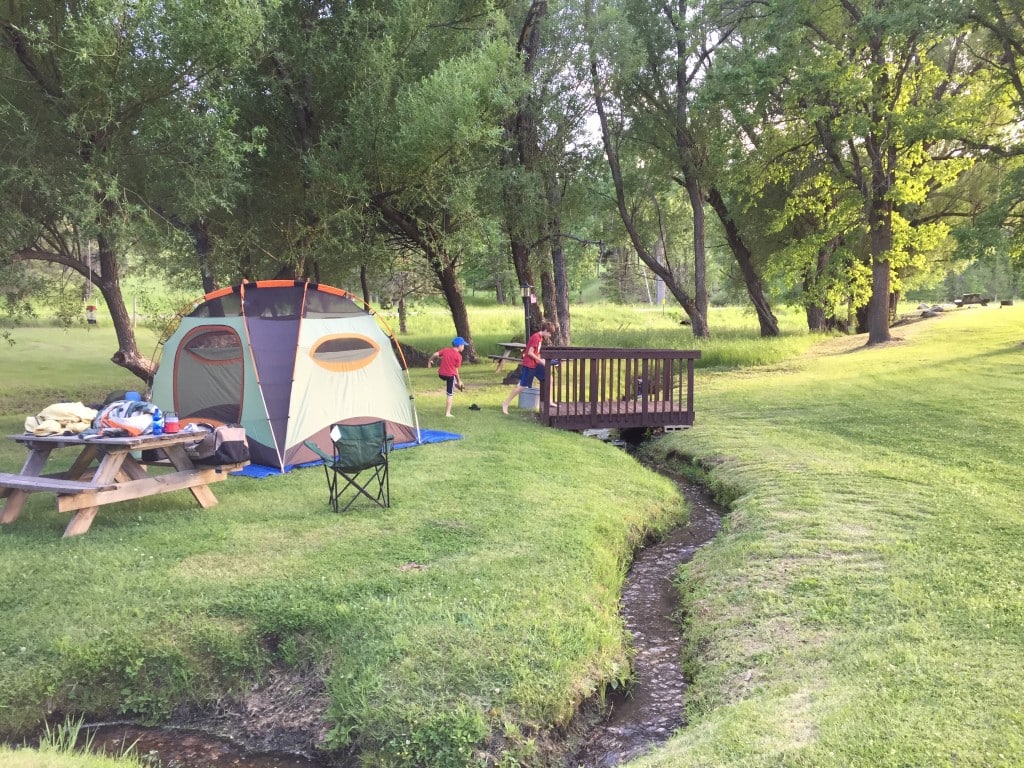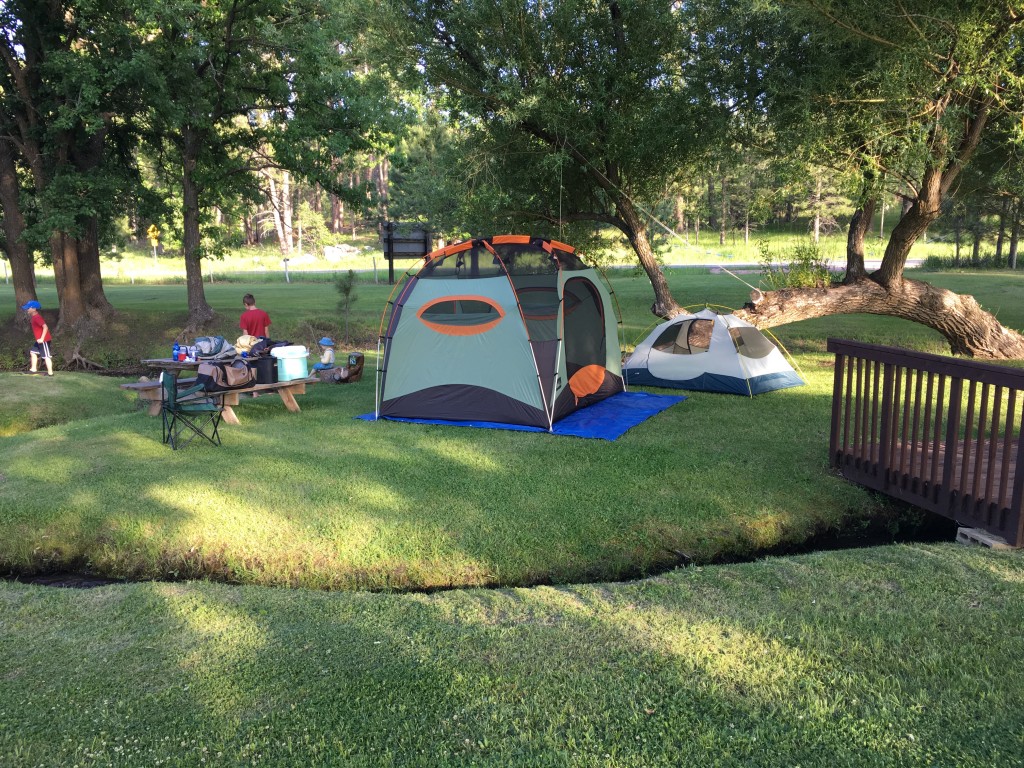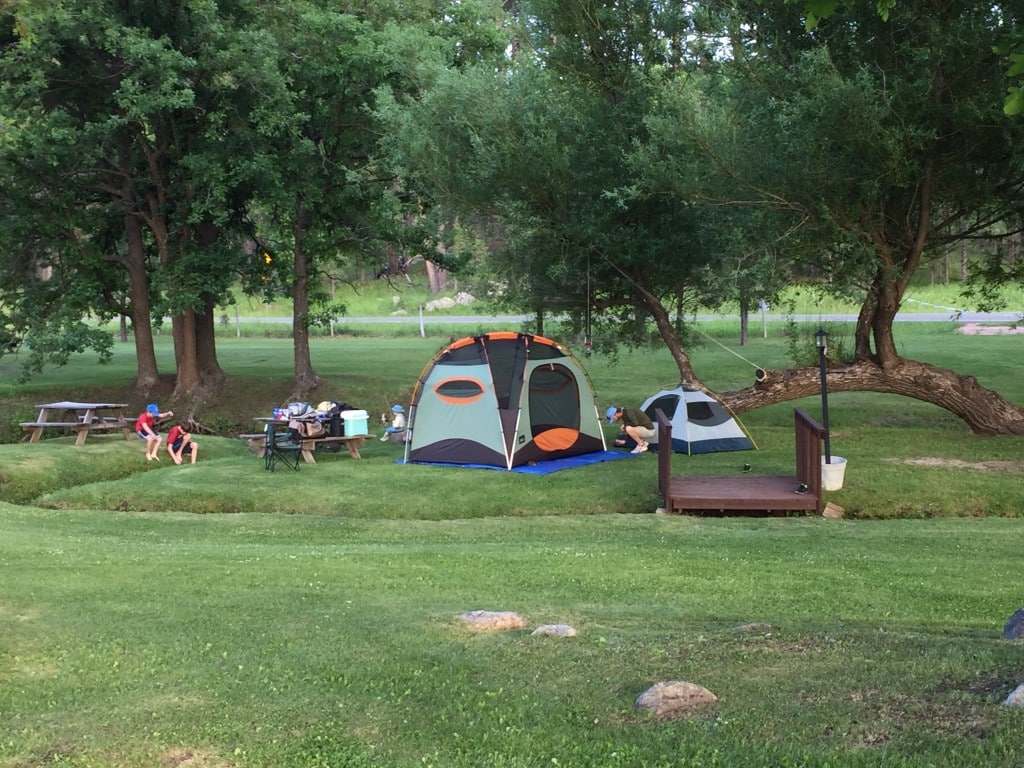 Up next on the road trip part two: the Black Hills, buffalo encounters, Crazy Horse, and Mount Rushmore.
Related Posts via Categories