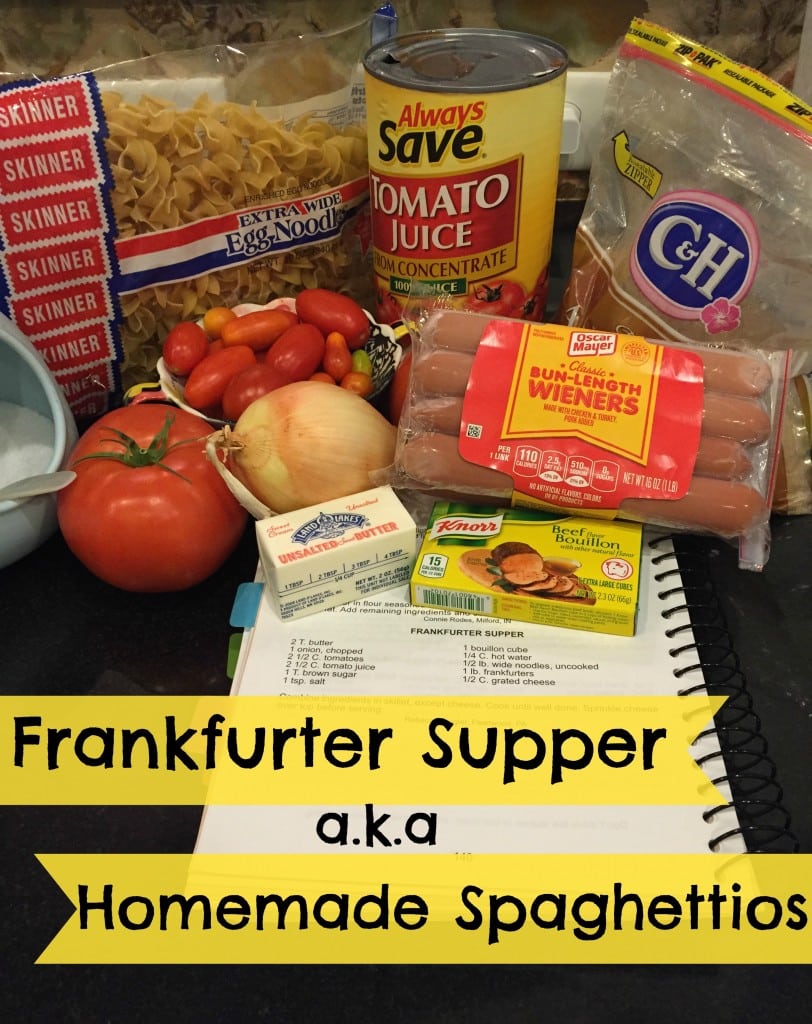 BFF and I are back with another fun recipe for our YouTube show, Recipe Archaeology. This week is Frankfurter Supper which we discovered is just a way to make homemade Spaghettios.
By the way, if you haven't subscribed to Recipe Archaeology (<– just click here) yet; please do. We have some really fun recipes in our playlist and a lot more waiting in the wings.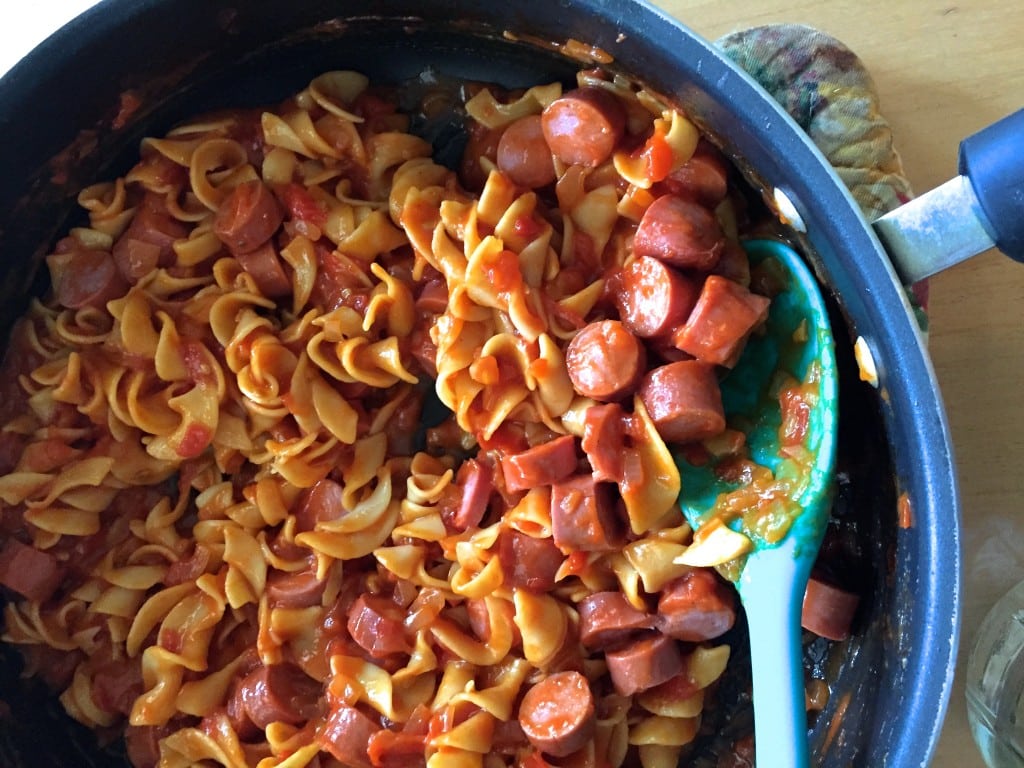 We found this recipe for Frankfurter Supper a.k.a Homemade Spaghettios in the cookbook that Christine's mom brought back from vacation. It looks to be one of those cookbooks made by a church group or community group. It is chock-a-block full of random recipes created by women feeding their families and pot-luck lunches.
We weren't sure what to make of this one-pot meal. It wasn't bad but it wasn't great. It really tasted like Spaghettios. Or at least I think it tasted like Spaghettios since I can't remember the last time I actually consumed the contents of a can of Chef Boyardee. We finally came to the conclusion that this is exactly what Betty Draper fed her kids before sending them off to bed and then fixing an entirely different meal for Don and waiting for him to come home (or not come home) from a long hard day of drinking at the office.
https://www.youtube.com/watch?v=CGZkZrpgYQ4
I'll admit, this was really easy to make. If your kids are a fan of hotdogs and pasta they might really like this. In case you get a wild hair to try it…here is the recipe:
Frankfurter Supper
2016-08-09 20:27:27
Ingredients
2 Tbs. butter
1 small onion, chopped
2 1/2 cups tomatoes, chopped
2 1/2 cups tomato juice
1 Tbs. brown sugar
1 tsp. salt
1 bullion cube, disolved in 1/4 cup hot water
1/2 lb. wide noodles, uncooked
1 lb. frankfurters (hotdogs), sliced
1/2 cup grated cheese (optional)
Instructions
Combine all ingredients except cheese. Cook until well done. Sprinkle cheese over top when ready to serve.
Hugs, Kisses and Snot https://hugskissesandsnot.com/
Related Posts via Categories