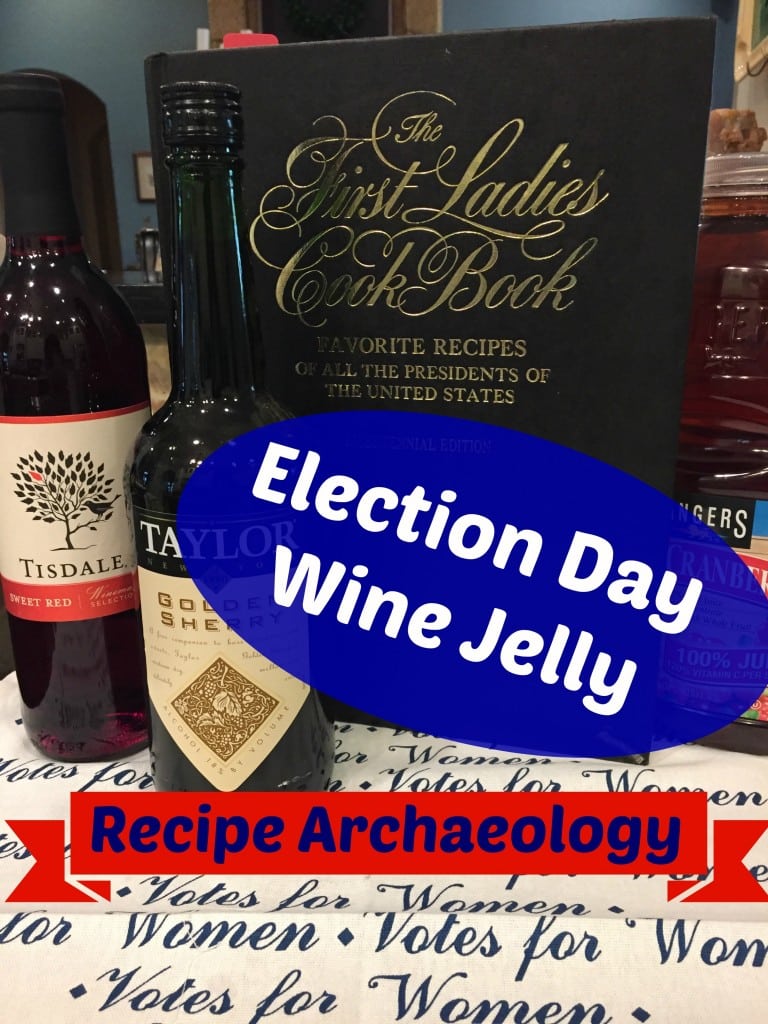 Christine and I have something really special for this crazy day. Something good and fun and enjoyable. What could possibly fit those specifications on a day like today? I'll tell you what: Election Day Wine Jelly.
We all know that today is nuts. We are all worn out and frazzled from the months of constant news coverage, controversry, back biting, name calling and diviciveness. It will be a long day, so why not give yourself a break from the strain of the ugly side of the internet with something light hearted? Why not try some Election Day Wine Jelly?
In preperation for this day I bought a cookbook published in 1975 featuring recipes from first ladies. Recipes from Martha Washinginton up to Betty Ford. As I thumbed through the book I saw a lot of regular ol' White House meals. Then I saw something called wine jelly by Thomas Jefferson's wife, Martha Jefferson.
Jelly made out of wine? Perfect.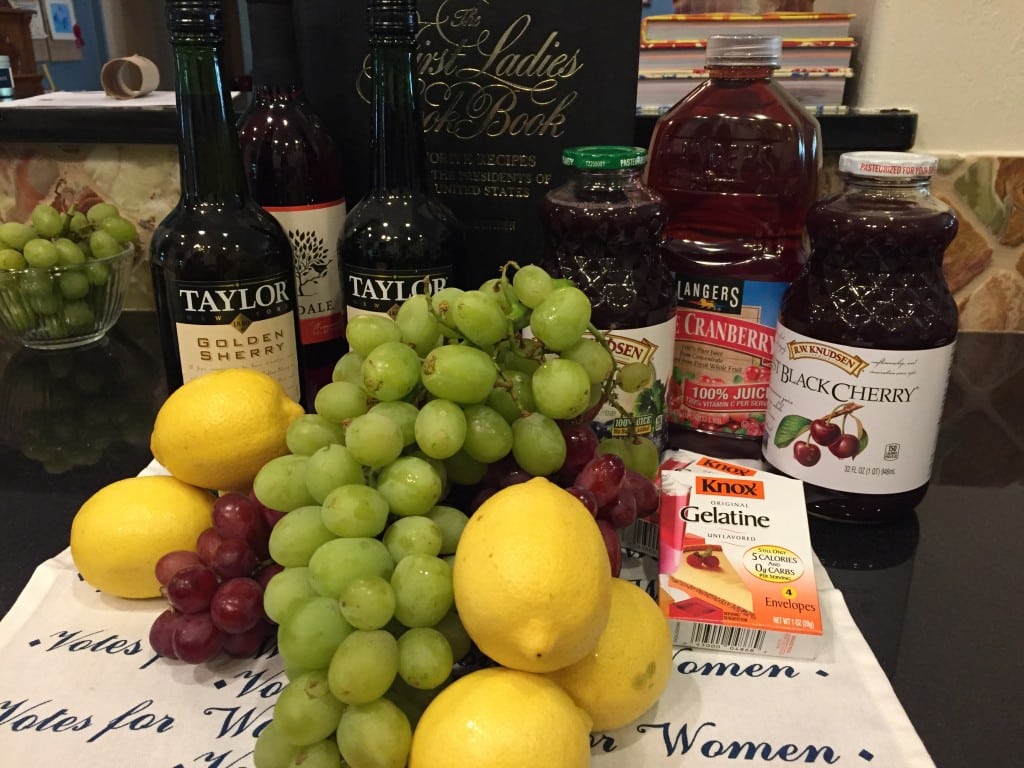 We knew we needed to make more than just one variation of Mrs. Jefferson's Election Day Wine Jelly. Why stop at just sweet red wine and grape juice when you can try cherry juice and sherry or cran-apple and port? Plus, doesn't cherry juice remind you George Washington? The part of the story we don't know is that after he cut down that cherry tree and after his mother gave him a whipping, she went out and picked all those cherries, pressed them into juice, mixed it with sherry (because she had just about had it up to here with little Georgie's shenanigans and all she could do is pour herself a drink), boiled up some hooves and made jelly.
Even though President Jefferson was a widow when he actually took office, I still like to imagine Martha's wine jelly recipe being served with roast lamb or quail at state dinners.
Christine and I have made some crazy stuff in the past, but this one is really worth the effort. With the holidays coming up, this is a perfect recipe to bring to a Christmas party with brie and crackers or to serve along side the Thanksgiving turkey. Just make sure to keep it out of reach of the kiddos since it is pretty boozy.
We experimented with the amount of gelatin in each one. The recipe calls for two packages of gelatine but that didn't seem like enough for that much liquid. We made three different jellies with increasing amounts of gelatine. The one with only two packs was very loose and more of the consistency of jelly. If left out of the fridge too long, it started to melt and become liquid. The next one we added two and a half packets. It was a little more firm but not much. The first two did not come of out of the molds very well. They didn't really retail their shape and started to melt across the plate. The third one we added three packets of gelatin. This one came out the consistancy of jello but did not come out of the mold very well. I think that if I had put the mold in warm water for a few seconds before trying to turn it out, it would have come out all in once piece.
We really hope you enjoy the show and should you want to make Election Day Wine Jelly, the recipe is below. Cheers!
Election Day Wine Jelly
2016-11-07 19:24:03
Ingredients
2 envelopes unflavored gelatin (can be increased to 3 packets if a more firm jelly is desired)
1/2 cups cold water
2 cups fruit juice (cherry, grape or cranberry)
3/4 cup sugar
pinch of salt
1 pint (2 cups) sweet red wine, sherry or port
strained juice of 3 lemons
fresh fruit for garnish
Instructions
Dissolve 2 envelopes of gelatin in 1/2 cup cold water. Add this to the fruit juice, which has been brought to a boil. Add sugar to taste and a pinch of salt. Let cool. Next, add the pint of wine and lemon juice.
Pour into mold that has been chilled. Set into the refrigerator overnight. Unmold and serve cold with cheese and crackers.
Adapted from The First Ladies Cookbook
Adapted from The First Ladies Cookbook
Hugs, Kisses and Snot https://hugskissesandsnot.com/