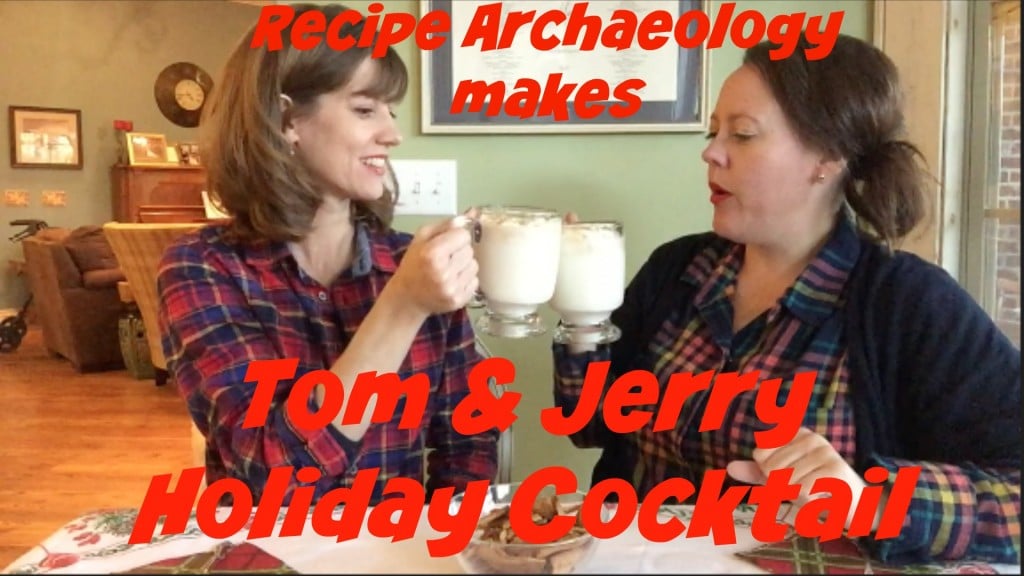 I am really excited to share this holiday cocktail recipe with you because 1) it's retro and 2) it was so yummy. This recipe is absolutely perfect if you are having a holiday party or New Year's Eve party and want something a little different to serve your guests. I suggest to make this at a party or for a few friends because this recipe serves a crowd.
Grandmother Pat was sitting with us while we made this delicious Tom & Jerry holiday cocktail recipe. She didn't really feel like being filmed this time but she was interested to try it (to see how adorable Dear Husband's grandmother is, check out her recipe for Cranberry Ice). She remembers drinking these way back in the day and not really liking them. I'm happy to say that Christine and I have changed a 98 year old woman's mind. She really enjoyed this drink. Maybe the recipe was a little different or maybe her memory of what she had forty years ago is hazy, but she liked it.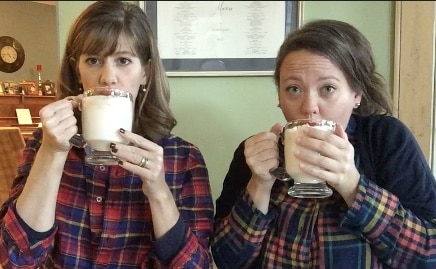 A little bit about this drink before we move on to the video and recipe. Yes, this is an egg drink…but it's not what you think. If you're not a fan of Egg Nog, don't shy away from this. Egg Nog can be super thick and sweet and the eggs are incorporated into the liquid. This warm cocktail is mostly milk and liquor with a slight sweet flavor coming from the meringue made from egg whites, sugar and then the yolks folded in. This could totally be a treat for the kids on a cold winter day if you leave out the alcohol.
We found this recipe in the University Cookbook (cir. 1975). When we first discovered this holiday cocktail we were more than a little unsure about adding egg yolks to the meringue mixture. Not because we were afraid we would get sick, but just because it felt weird. Well, weird or not, it works.
A couple of things…please let me know if you have ever had these and if you made it with warm milk or hot water. Some recipes I saw on google called for hot water instead of milk. That just sounds gross.
Next, please consider making these at your holiday party, cookie exchange, New Year's Eve party, Dirty Santa party, whatever. The recipe from the OU cookbook is at the bottom of the post.
Finally, our Christmas wish is to get to 100 subscribers on YouTube. Could you help make that happen? Just hit the "subscribe" button on YouTube when you watch.
Tom & Jerry Holiday Cocktail
2016-12-07 11:06:20
Ingredients
6 eggs, separated
2 cups powdered sugar
brandy
rum
milk
nutmeg
Instructions
Beat egg whites and powdered sugar until stiff. Add egg yolks and fold in until well mixed.
Put two heaping tablespoons of the batter into a large coffee mug or highball glass. Add one shot of each brandy and rum. Fill to the brim with hot, but not boiling, milk. Sprinkle the top with grated nutmeg.
Hugs, Kisses and Snot https://hugskissesandsnot.com/
Related Posts via Categories