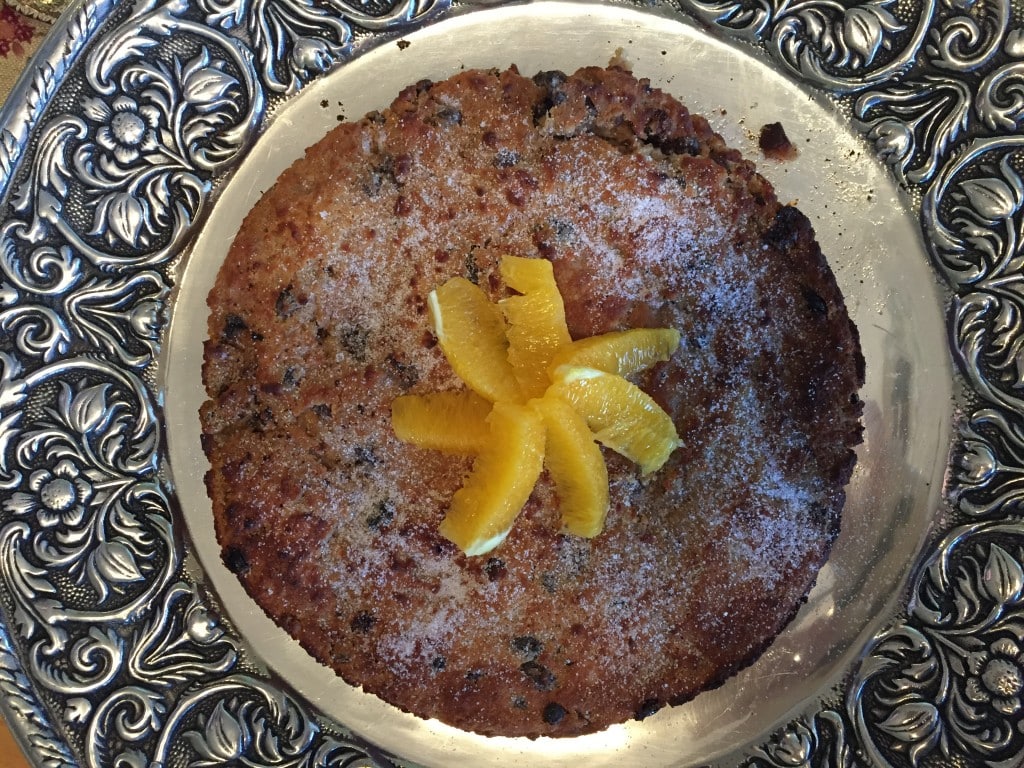 On Recipe Archaeology this week, Christine and I take on a truly vintage recipe. I'm talking 1600s vintage.
A fan of the show actually lent us a cookbook from her collection. Blogger and RA fan, Katharine, actually took the time to put this book in the mail and send it to us because she thought we would find it interesting. How sweet is that? We did find it interesting as the recipes start in the 1300s and progress all the way to Fanny Farmer in the early 1900s.
So far we have made a Stuffed Egg recipe from the late 1700s that turned out to be a fried deviled egg than anything else. We have one more recipe we are going to try from this book. I won't give anything away only to say that we will not be making it again. Once was more than enough.
I'm calling this recipe Spiced Skillet Bread Pudding even though the recipe in the book just calls it Spiced Pancake. There was nothing pancake like about this. First of all it was made with breadcrumbs instead of flour. The instructions said that you could either make it in small batches like you would normally make pancakes, or you could put all of the batter into a skillet at once and make one big pancake. We opted for the second version because it sounded faster and because we thought it would come out like a dutch baby.
It did not come out like a dutch baby.
The batter was very thick and had the consistency of a quick bread or bread pudding rather than a pancake or dutch baby. We were very pleasantly surprised at how it tasted. We were leery of mace and cloves as both are very strong spices and can be over powering. We were also very unsure about using Rose Water as we had never cooked with it before and it smells like a little old lady. Turns out, Rose Water wasn't so bad. It did give it the slightest hint of floral aroma and had a slight aftertaste but it wasn't unpleasant at all.
A word about Rose Water. It is very hard to find. Dear Christine took herself to seven different stores in town looking for it. Apparently there is a Rose Water that you can use for beauty purposes and there is a different Rose Water for recipes. The two are not interchangeable. You do not want to eat Rose Water that your great-grandma would use as an eau de toilette. Thankfully, International Pantry, in Norman carried what we needed. Please patronize them if you are in town as they desperately need your business since the street construction going on for the past ten-thousand years has hurt their business.
Spiced Skillet Bread Pudding
2017-01-31 12:54:38
Ingredients
1 cup raisins
2 cups breadcrumbs
1/2 tsp. ground cloves
1/2 tsp. ground mace
pinch of salt
1/4 cup sugar
1/2 pint heavy cream
5 eggs, beaten
2 tsp rosewater
6 tbs butter
2 oranges, cut into segments
granulated sugar for sprinkling
Instructions
1. Pour boiling water over raisins, let stand until plump, about 15 minutes. Mix the breadcrumbs in a large bowl with cloves, mace, salt and sugar. Stir in the cream. Gradually beat in the eggs and continue beating for 2 minutes. Let batter stand for 15 minutes for the breadcrumbs to soften. Drain the raisins then fold in the raisins and rosewater until combined.
2. In a iron skillet, melt butter. Pour in batter and spread evenly in pan. Cook over medium heat until bottom is browned and still soft on top. About 7 minutes. Slide the skillet under the broiler and cook until the top is set and browned. About 5 minutes.
3. Slide the cake out onto a heated platter. Sprinkle with sugar and serve with oranges.
Hugs, Kisses and Snot https://hugskissesandsnot.com/
Related Posts via Categories