The Elf insanity continues. Last year my Elf on the Shelf post got a lot of play and laughs. Many of you joined in the fun regardless of your level of Elf efforts. Some of you addmitted to going a little crazy with the elf. Some of you addimited to literally throwing the elf at the tree or on top of the fridge seconds before the kid woke up. Whatever your level of elf participation I think we can all have a good laugh here.
With only a few days to go I know these parents are cursing the day they decided to go all out. I have a friend on FB who posted the other day "So ready for Elf to go back to the North Pole!" and then a chorus of moms agreed. Guess what? You started this insanity, you better finish strong. You wouldn't quit a marathon at mile 20 would you? Well, maybe I would. But not these moms. Their motto is "go big or go home".
Let the Elf Insanity commence
This year I've decided to break the insanity down into three categories.
1. You did this to yourself – You've worked your fingers to the bone all month and are going out of your mind. You're done with this B.S., right? Wrong. Guess who forced you into this snake pit? You!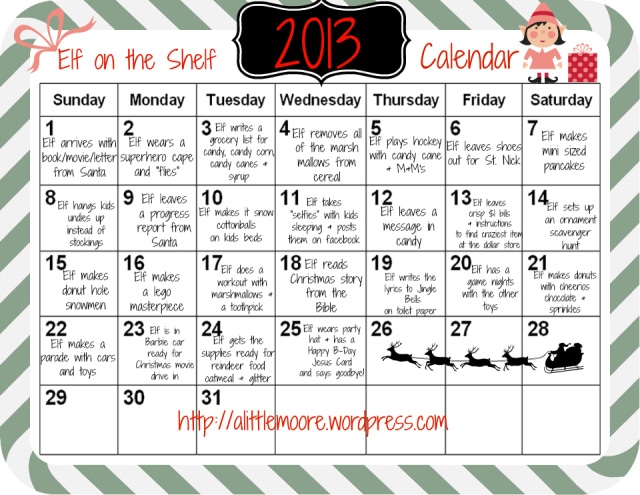 (Source)
You know what would go perfectly with this handy-dandy elf insanity calendar? A crate of Red Bull in a size that only Costco sells. No sleep for you sister because you're about to add a crap load of stuff to get your elf in hilarious situations to your already packed schedule. Moms who follow this to the letter also send out 200 homemade Christmas cards, bake 30 dozen cookies for friends and neighbors, make classroom treats that only Martha Stewart would approve of and DIY the crap out of their house with Christmas decor right after they make a trip to the off-site storage unit for mountain of DIY decor from Christmas' past. I guess you'll sleep in January.
Oh my lands. Someone seriously used embroidery floss and toothpicks to knit a elf sized scarf. Toothpicks! This is absolutely nuts. How long did this take her? I'll tell you how long; too long. I promise you that this mom is planning out her elf calendar all year because that's how long it's going to take her to prepare for this.
2. You've taught your children to destroy your house – For some crazy reason Elf has become more destructive. His M.O. seems to be to invent new ways to make bigger and bigger messes. Hilarious, right? Wrong. If it's okay for Elf to cause havoc why not the kids? Riddle me that, genius.
Here's the deal. A 4-year-old doesn't understand the difference between a Dry Erase marker and a Sharpie. You know how they say life imitates art? Well, when he ruins your precious photo collection you are not allowed to get angry with him because this was all. your. fault.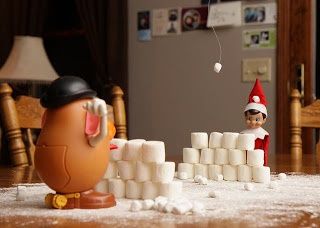 If you're serious about your elf then making a huge mess at least once is mandatory. Making a mess is a two-fer here because not only have you taught your kids how fun it is to make a huge mess (that you will eventually clean up not matter how much you threaten them. Remember, you did this yourself) but the kitchen table is out of order for the day. On the bright side, looks like you are going out for pizza.
3. I guess you're not going to use that (fill in the blank) all day – We went over this last year, people. The rule is you DON'T TOUCH THE ELF. If you have done your due diligence than your kids understand that touching the elf takes away his magic. Touch him and Santa will put you on the naughty list. And yet, you have put Elf in situations that are either A) so tempting that little hands just can't stand it or B) Elf is using a necessary household item. It's a lose-lose situation.
Work from home? Not today.
Elf using the toilet seems to be popular. Everything is cuter when it's miniaturized, even crap. I get it. Potty humor is hil-AR-ious. However, you've just reduced your number of usable toilets by one for the day. Let's hope that bug that is going around school doesn't hit your household on the day you decided Elf would monopolize the potty. Can you imagine the emotional scarring that would occur should your child rush to the potty for an emergency (because, aren't they all an emergency?) and she knocks Elf in? Have fun with that breakdown.
In conclusion: Remember that no matter how much fun I poke at those who go nuts with this little bastard, I have nothing but love (and pity) in my heart. You are insane, but I still love you. Not only do you bend over backwards so your precious offspring can have 30 seconds of fun but you provide me with a lot of fodder. Thanks.
Related Posts via Categories