Disclaimer: I received free park tickets in exchange for this post. However, all opinions, thoughts, photos, Dolly freak outs, amazements, thrill ride screams are my own.
I need to let you know one thing before we get to the nitty gritty: Dollywood is legit.
We decided that a Dollywood vacation was in order this year. I find it fascinating that a wildly successful singer/songwriter/actress built a huge theme park to celebrate her humble beginnings and the part of the country where she grew up. I had to know more.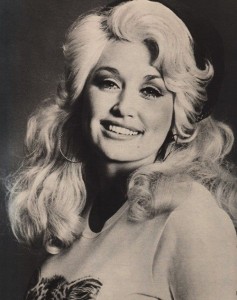 We went with another family (Dear Husband's cousin and her sweet family) who had the same curiosity level about Dolly Parton and her name sake theme park. Honestly, I had no idea what to expect. I went into this with low expectations due to the standard that Disney has set for all things customer service and theme parks. I'm here to tell you that Dolly wants her fans to have an amazing experience and she delivers.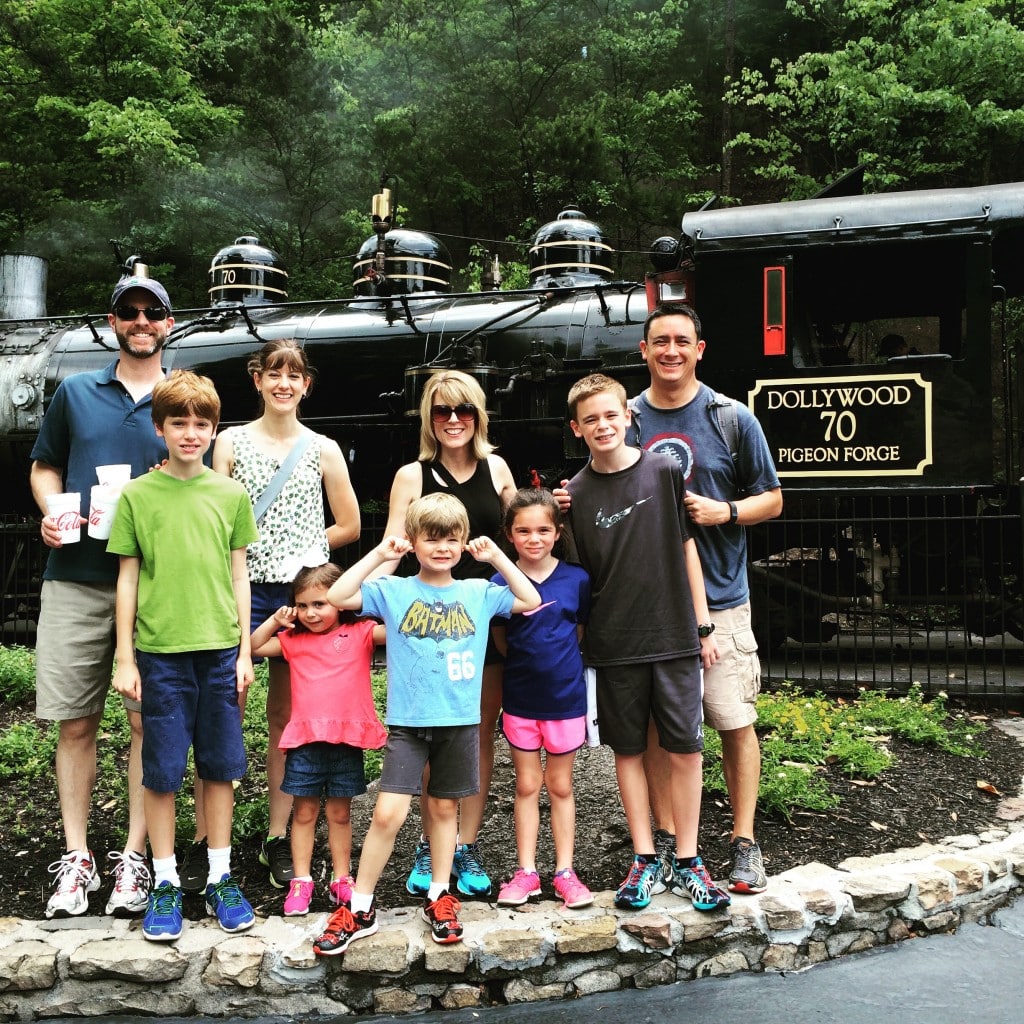 The park is beautiful and set in the middle of the hills of Pigeon Forge, Tennessee. They have done a wonderful job preserving the trees and natural surroundings so that there is plenty of shade and natural landscaping. The design of the park has captured what you would imagine a quaint, picturesque Smokey Mountain life to be like (with a little bit of an income and health insurance to make life comfortable and clean)
Dollywood Vacation Tip #1: Purchase Premier Parking
Purchase Premier Parking. Premier Parking is just a short walk away from the park. It has it's own entrance and ticket sales booth so you don't have to deal with long lines if you are buying your tickets when you get there. Yes, it is $10 more than regular parking but you will be so happy you made this wise choice at the end of the day when everybody else and their dog is waiting in line to get a shuttle to the parking lots for the schmucks. Parking shuttles is one thing Disney had on Dollywood. Disney has a fleet of parking shuttles that would transport the population of China in a matter of minutes. We parked in regular parking the first day and Premier Parking the second day. No contest. In fact, we were kicking ourselves for not doing it the first day. The wait for the parking shuttle was long and it felt like one came along every 30 minutes when actually it was probably only about 10 minutes in-between each shuttle. At the end of the day when your feet are on fire, you're exhausted and the kids tired whine is at an 11 (when the dial only goes to 10); standing under a crowded pavilion with all the other cranky adults and screaming toddlers will test your patience. Plus, the extra cost will pay for itself if you take my advice in tip #3.
Dollywood Vacation Tip #2: Start Your First Park Day at 3:00 p.m.
Start your park day at 3:00 pm. Thankfully we found this little tip on the Dollywood website. If you enter the park after 3:00 pm you can use the same tickets the next day. That is like getting half a day for free! We showed up a little after 3:00 and our ticket taker, Gary, made sure we knew that we could use those same tickets the next day.
Dollywood Vacation Tip #3: Pack a lunch in a cooler and leave it in the car.
Plan to eat one meal in the park and one meal at your car. Dollywood does not allow you to bring food into the park however, you can leave the park and come back. This is where the premier parking comes in handy. You can easily get to your car, have a tailgate lunch and be back to the fun and games in less than an hour. I have a hard time spending a lot of money on amusement park food but I have to admit everything I ate in the park was really tasty. If you eat one meal at your car you have more than paid for the premier parking fee.
Halfway in-between our breakfast and our tail-gate lunch we were out of steam and needed a pick me up to get us through the next ride. Thank Dolly's rhinestones we happened upon Grist Mill for cinnamon bread. Holy baked goods this cinnamon bread with apple butter was the best thing I have ever put in my mouth. Do not miss the freshly baked goods in Grist Mill.
Dollywood Vacation Tip #4: Take your time and plan when you will get wet.
If you are able to, I would suggest spending two and a half days at Dollywood (the half day being the day you arrived after 3:00). We spent one and half days and there were things that I really wanted to do that we didn't have time for. It wasn't until 6:00 that I realized they had a leather shop that could put my name on a belt. Turns out the leather smith leaves at 6:00. No name belt for me. We also missed seeing Dolly's tour bus and museum with all of the amazing tiny, sparkly outfits.
There is so much to see on top of the rides. We discovered the glass blowing demonstration and the kids were mesmerized for 20 minutes. All of his creations were available for sale in the glass shop just steps away (of course) and I wanted to purchase something but decided to do it later so I wouldn't have to carry something breakable around all day. Well, by the time we made our way back by the glass shop at the end of the day I was ready to chew my arm off and decided to forgo the glass shop in search of food. No glass pumpkin for me. Dang it.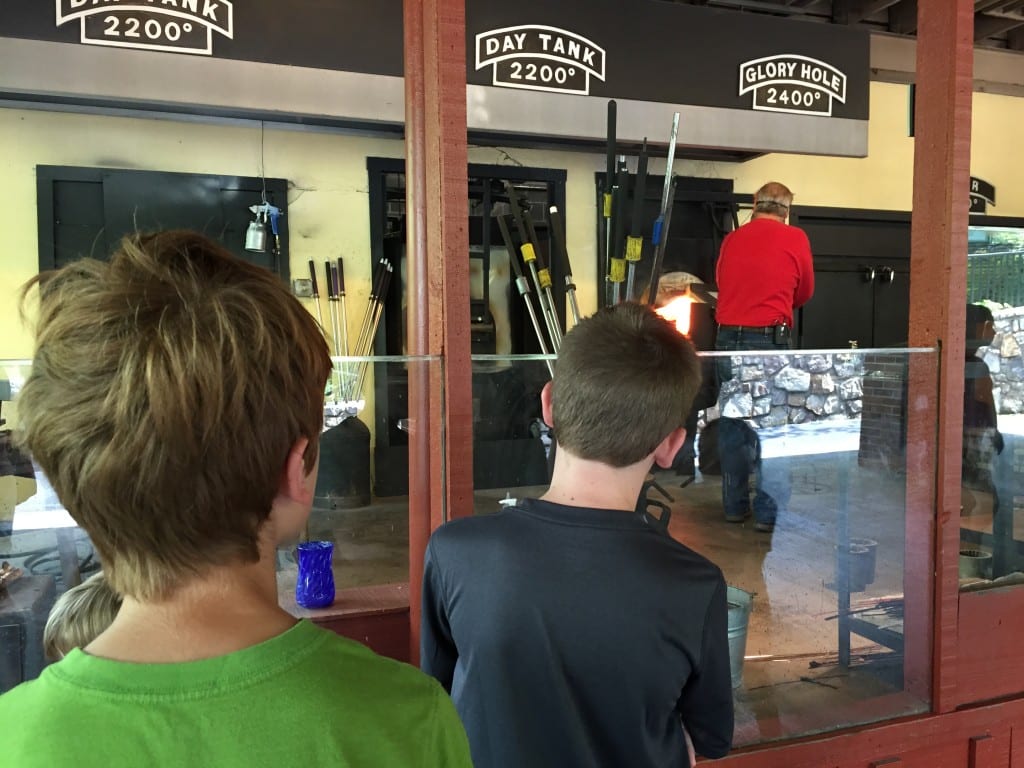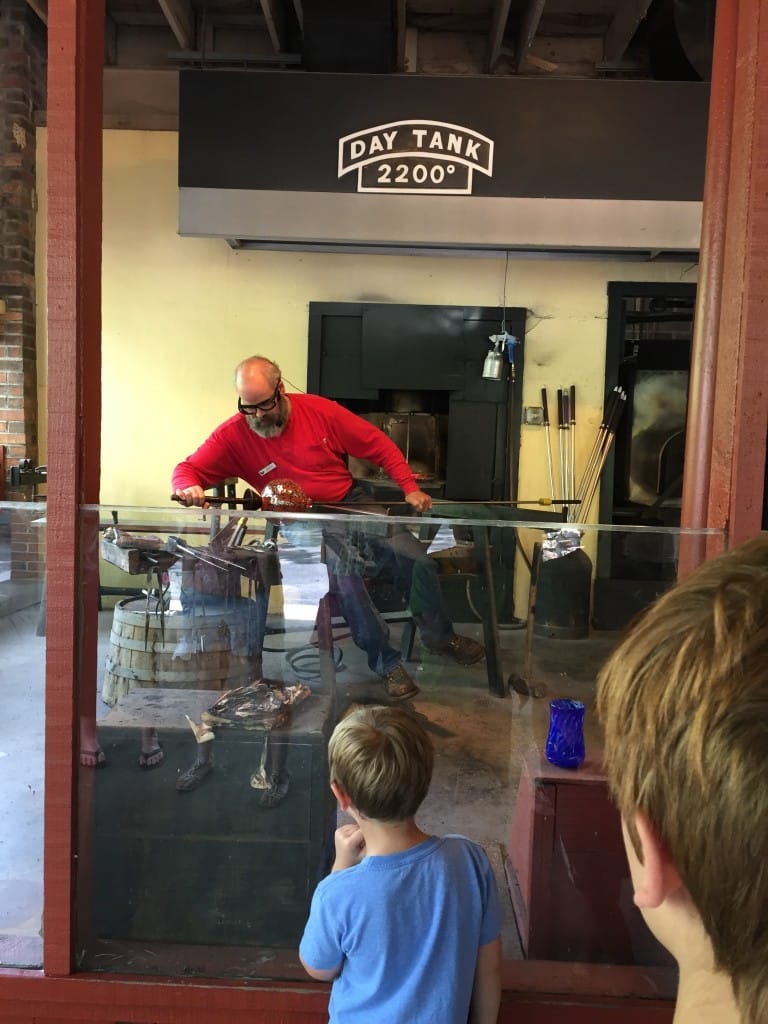 There are 5 rides where you have the opportunity to get wet. Unless you want to spend the entire day in wet undies I would suggest doing most of the wet rides towards the end of the day. Dear Husband rode the River Rampage with the kids and described his level of wetness as "sitting in a bathtub". A few of the really wet rides have body blow driers that help but they can't penetrate wet tennis shoes, socks and undies. While your outerwear may eventually dry off, everything down under will stay nice and moist the rest of the day.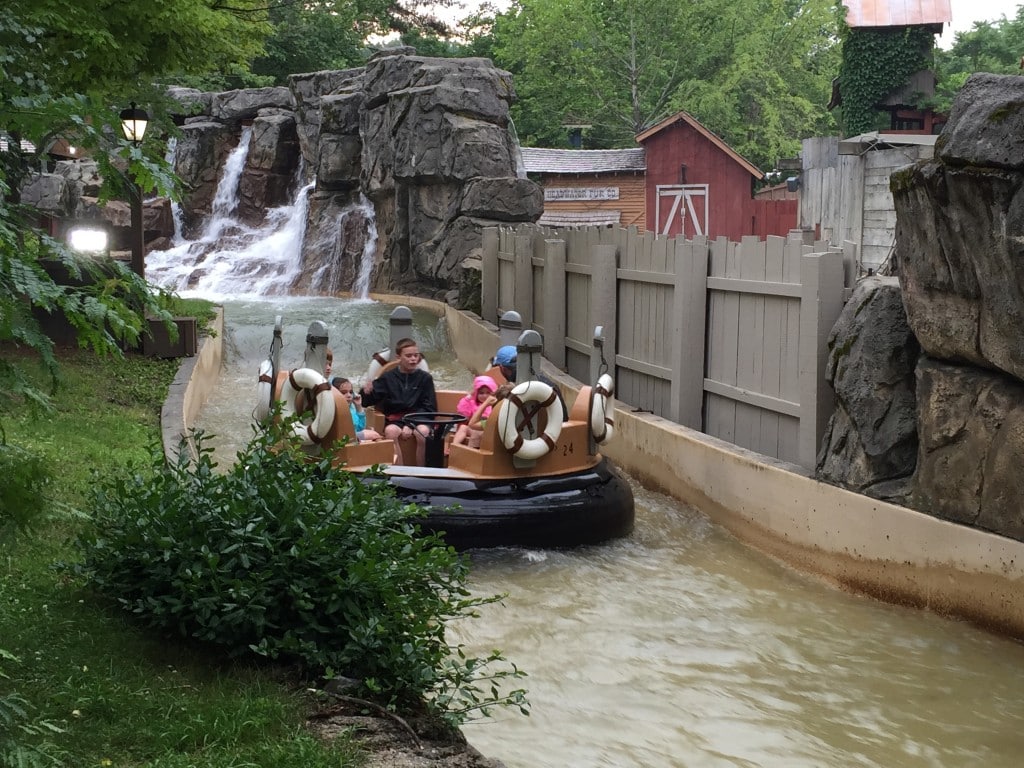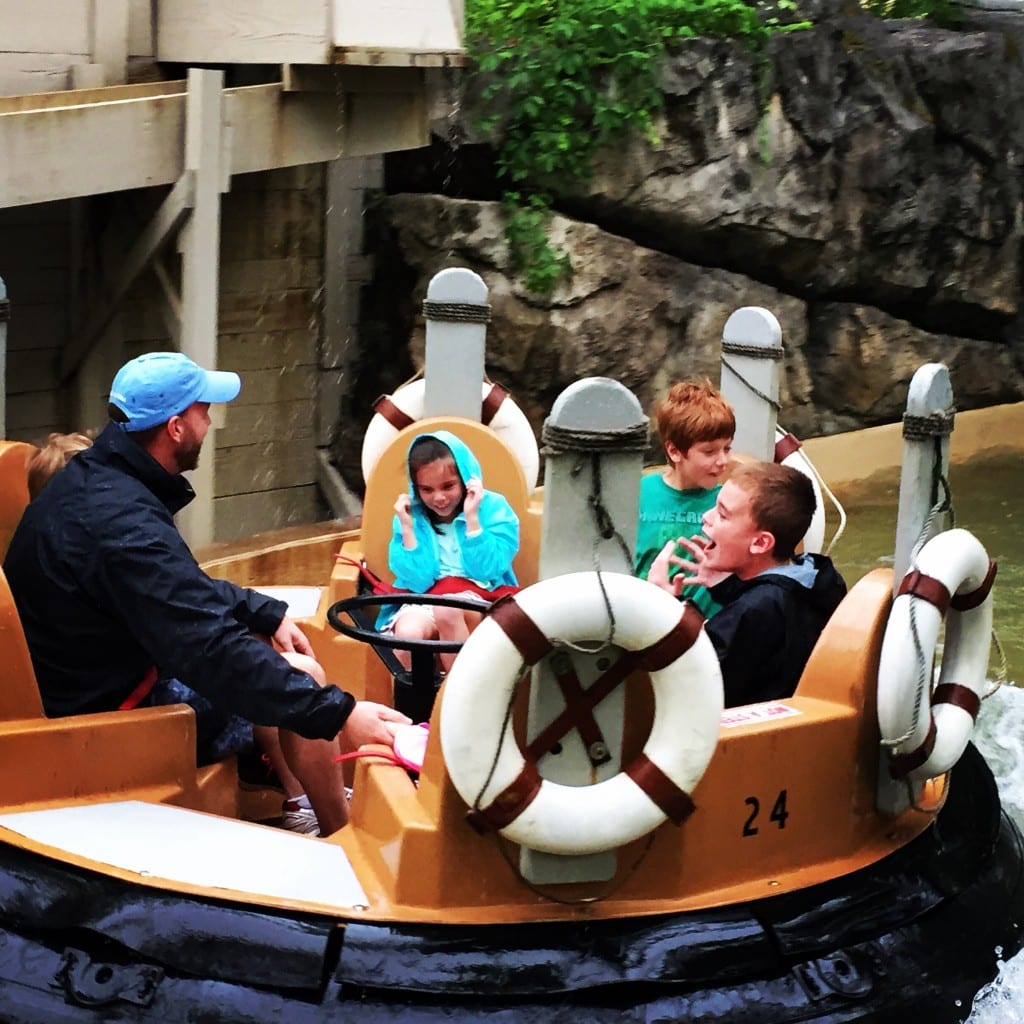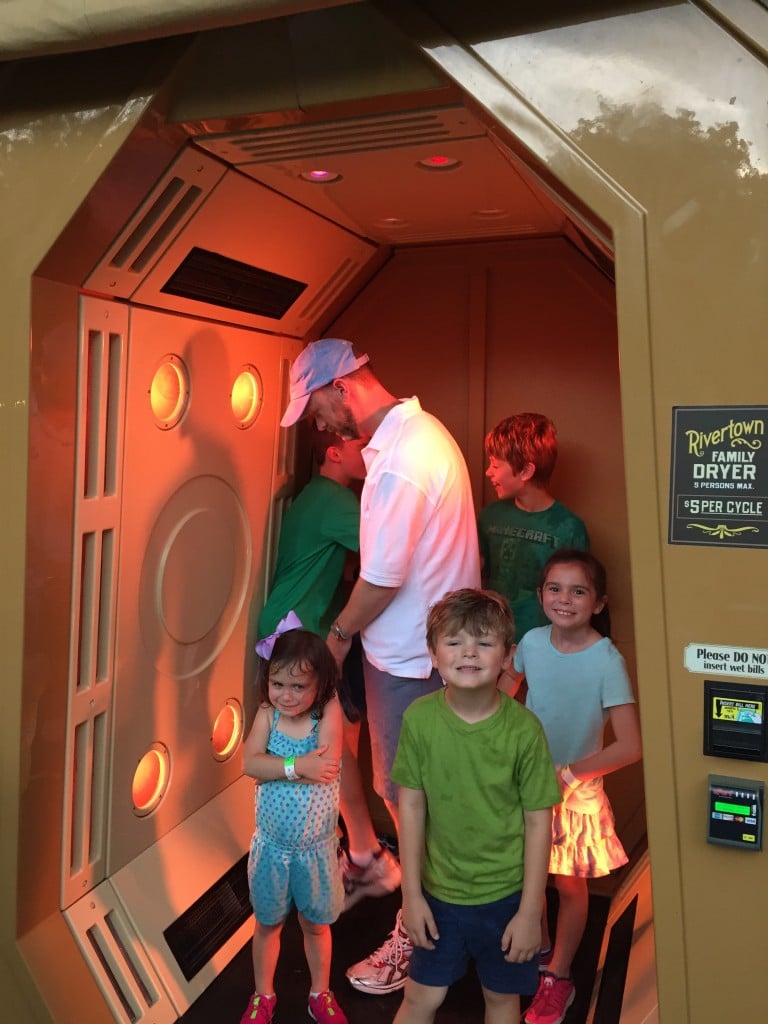 Dollywood Vacation Tip #5: Ride the Wild Eagle roller coaster.
If you are a fan of roller coasters, even just a little, consider riding the Wild Eagle. Unlike the wooden roller coasters that look like they will break apart into a million tiny splinters any second and make your head feel like its full of mexican jumping beans, the Wild Eagle is super smooth. I rode this ride with our friend and his son and we all would have ridden it again that day. Addison was having a fun time riding some of the more tame roller coasters and I regret not making him ride this with me. He would have loved it. It has four inversions and goes 61 miles an hour and is a huge rush.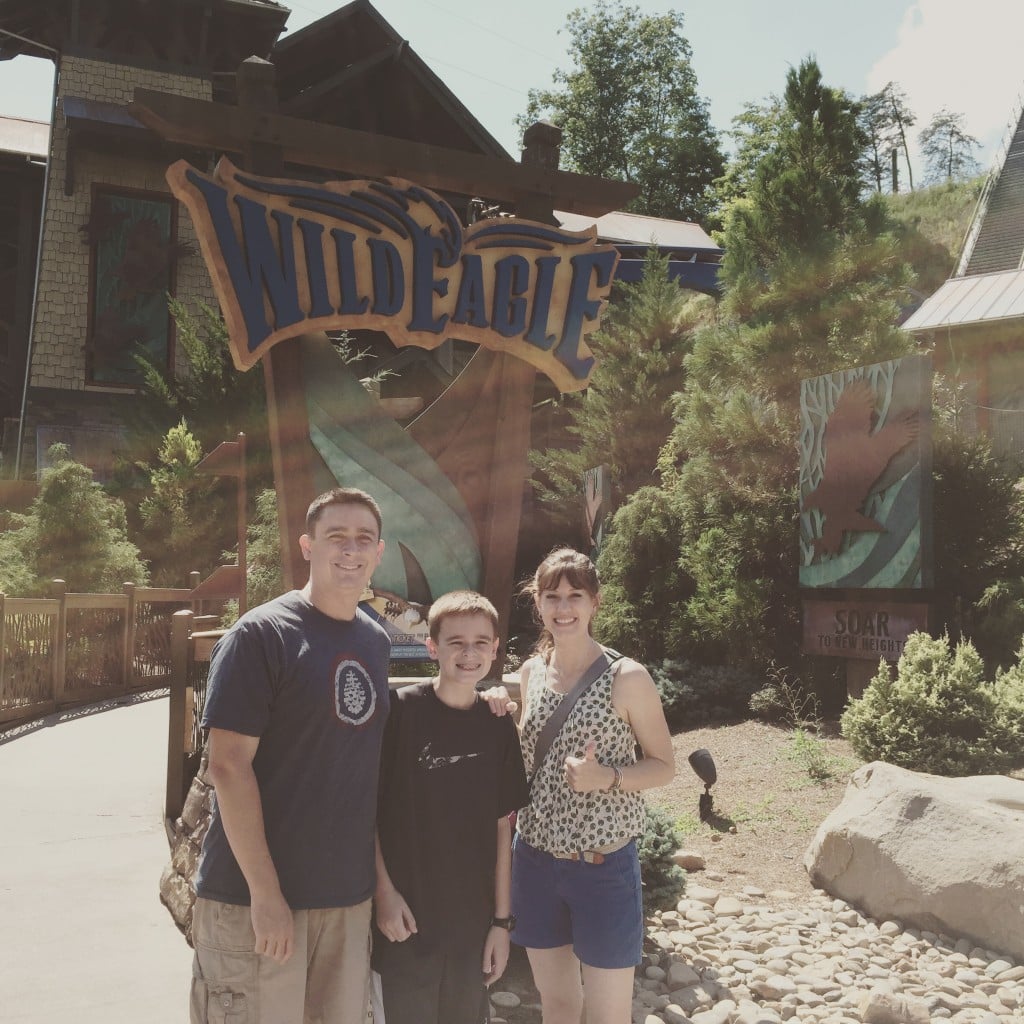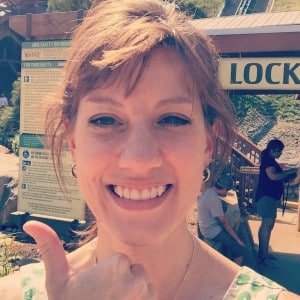 Dollywood vacation summary: Awesome-sauce
We rented a cabin up in the mountains just minutes away from the park. This worked out perfectly for the nine of us since the kids could hang out and play with out everyone being on top of each other in a hotel room situation. The adults could hang out and talk after the kids went to bed and not worry about having to be quiet. Eating out felt like a treat since we could eat several of our meals at the cabin and not have to spend every meal in a restaurant and pay way too much for yet another chicken strip dinner. We only had one little snafu. At the very end of the day Addison backed out of riding the Thunderhead roller coaster and then discovered that he didn't have time to both ride another ride and get something to eat (which he sorely needed as he gets hangry when he is hungry). Per his usual style he moped and lamented his bad luck the rest of the evening. Too little time and too much to do; its a unforgiving master.
Going on vacation with another family who has kids that get along with our kids made our trip 10 times better. Not that I don't love being on vacation with just my little family, I do. But having playmates who all get along is priceless. Being with adults who you actually enjoy spending 24 hours a day with for 5 straight days was the icing on the cake. When things went our way that could have taken a turn for the worse, the adults would look at each other, give a wink, and say Dolly. We jokingly decided that Dolly was watching over us and became the patron saint of our vacation. On our last drive up the mountain to our house in the rental car Here You Come Again started playing on the shuffle. Just as we pulled into the driveway the song ended. Dear Husband and I just looked at each other and we didn't have to say it. Dolly.
There is only one way to end a Dollywood vacation…
https://soundcloud.com/dollyparton/no-good-way-of-saying-good-bye
Related Posts via Categories