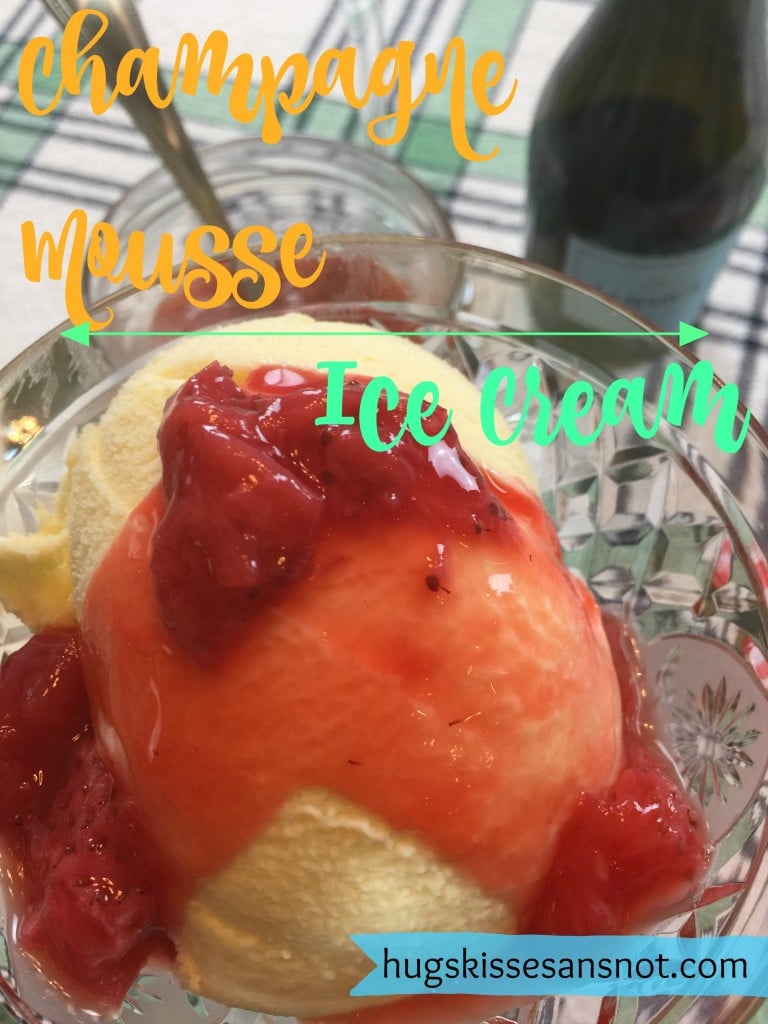 In honor of hitting the 1,000 subscriber mark on Recipe Archaeology, Christine and I decided to make something tasty. I found this recipe in my Grandmother's copy of Helen Corbitt Cooks for Company (pub. 1974). The book is organized by event menus and Champagne Mousse is found in the "holidays" chapter as a New Year's Eve dinner treat.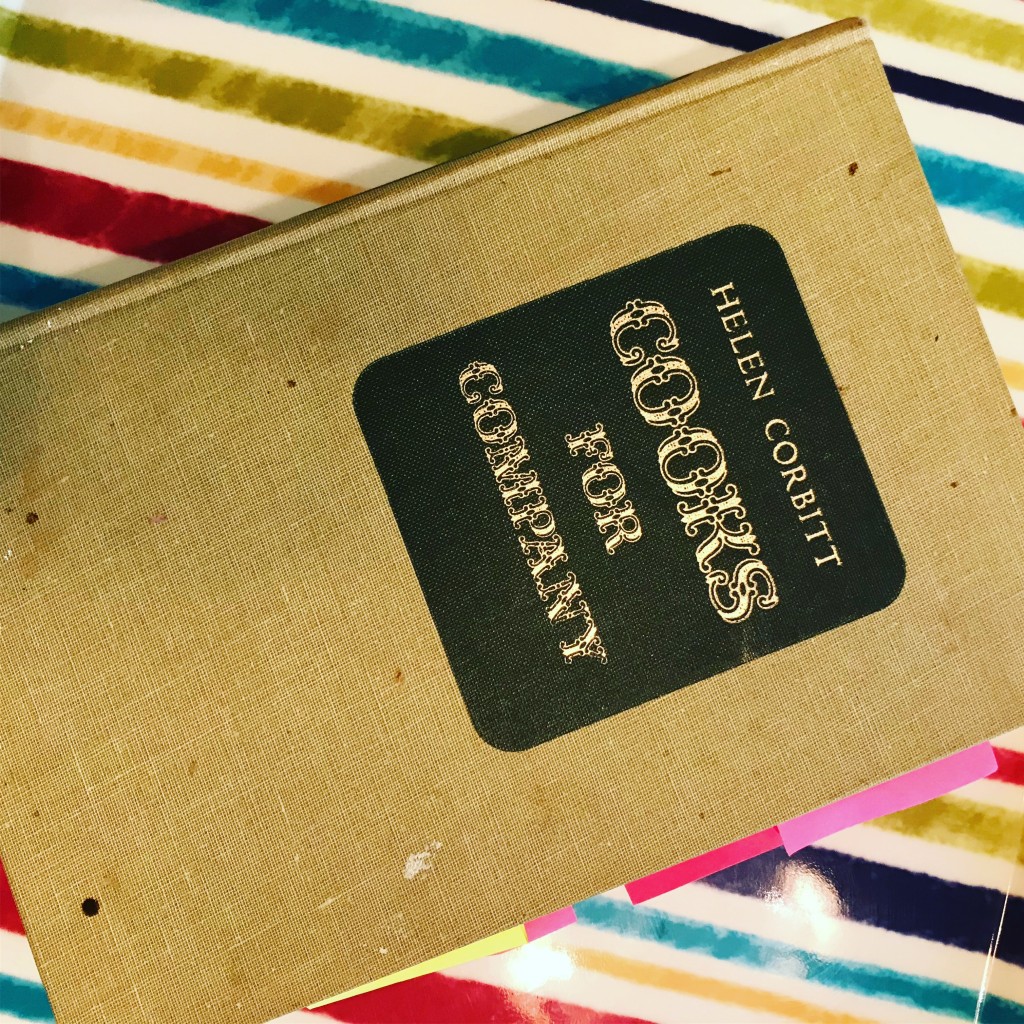 The timing worked out great because it just so happened I was hosting a Mother's Day tea for a friend of mine and her mom and friends. We doubled the recipe so I could serve it at the tea and we would have enough to eat for the episode. I wanted to make this mousse to serve at the tea and was hoping to make it in individual molds that I would turn out on to saucers. Helen Corbitt must not have been looking over us because the process took a lot longer than expected, our egg whites went from stiff to runny, and it was very clear after two hours of working on something that should have taken 45 minutes (tops) that individual molds were out of the question.
We made the best of it and decided for ice cream. We tried two methods. First, we poured half of the mixture into a glass loaf pan and put it in the freezer. Next, we poured the rest of the mixture into an ice cream churn and let it do its thing for twenty minutes.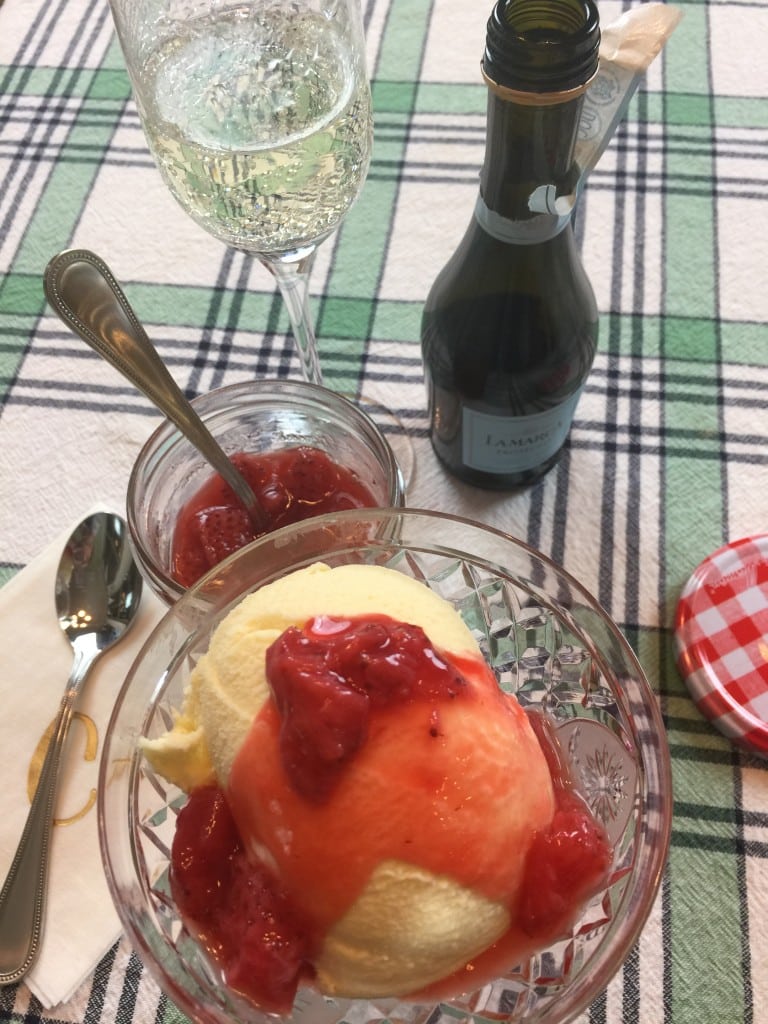 The result: A very delicious, champagne flavored frozen treat. The version that went right into the loaf pan and into the freezer had a marshmallow quality to the texture. It kept its shape as we ate it and was springy to the touch. The version that went into the ice cream maker had more of an ice cream texture. It was not as firm but did not melt as fast as a normal ice cream.
Either way, it was a win. A win for Mother's day and a win for reaching 1,000 YouTube subscribers.
Please enjoy watching this episode and then please make this!
Champagne Mousse or Ice Cream
2018-05-14 21:20:40
Ingredients
1 cup sugar
3 egg yolks
1 cup pink champagne
1 envelope unflavored gelatin (1 Tbs.)
1/4 cup champagne
1 cup whipping cream, whipped
3 egg whites
Strawberry compote
1-2 cups fresh strawberries, chopped
1/2 cup sugar
water
1 tsp. corn starch
Instructions
Warm champagne in microwave for 45 seconds. Combine sugar, egg yolks, and champagne in a double boiler and mix with a wisk until smooth. Cook over hot water until mixture begins to thicken.
Dissolve gelatin in 1/4 cup champagne and add to hot mixture. Blend and set in refridgerator to cool.
Once mixture has cooled, add whipped cream and combine.
Beat egg whites until stiff peaks form and fold into mixture. (omit this step if making ice cream instead of mousse)
If making a mousse: Pour into a loaf pan or mold, cover with plastic wrap and place in freezer overnight.
If making ice cream: Pour mixture into an ice cream maker and churn for 30 minutes. Transfer to a container and place in freezer until ready to serve.
To make the strawberry compote
Place strawberries and sugar in a small pot. Add enough water so strawberries are just covered. Stir and simmer until sugar is dissolved and strawberries begin to break down. About 15 minutes. Combine corn starch and 1/4 cup water. Add to strawberry mixture to thicken sauce.
Transfer to a jar and cool in refrigerator until ready to serve.
Adapted from Helen Corbitt Cooks For Company
Adapted from Helen Corbitt Cooks For Company
Hugs, Kisses and Snot https://hugskissesandsnot.com/