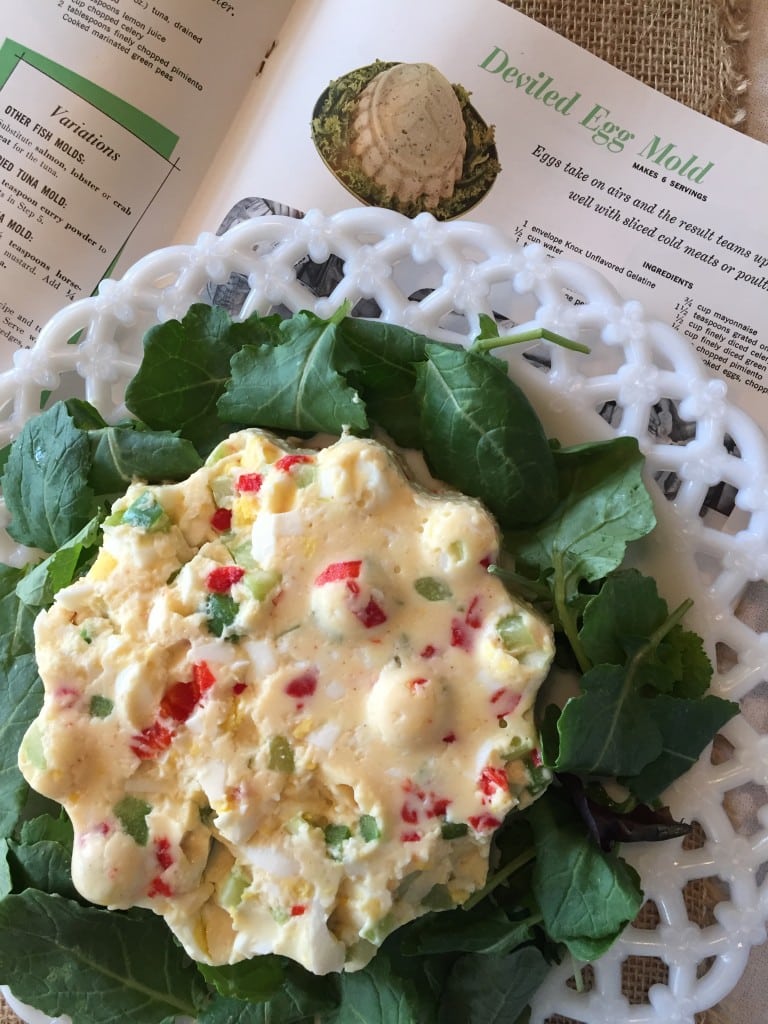 Not all Recipe Archaeology recipes will make it to the blog. Securing a coveted blog post spot is reserved for things that you might make. This one is stretching it just a little in terms of you will want to make this. Okay, you probably won't want to make this. However, Easter is right around the corner and you never know how crazy you might be feeling this year. Maybe you are sick to death of deviled eggs and want to shock everybody. Maybe you will let your curiosity get the better of you and actually try one of these retro recipes.
If you do decide to try this, one very important piece of advice…
It must be served with some sort of leafy green and a Ritz cracker. The Ritz is critical to this process. Without it, your guests will be very unimpressed and possibly grossed out. It's crazy how much a Ritz cracker improves the taste of something. We discovered that the optimal taste experience was a Ritz cracker topped with a leaf of kale topped with a scoop of egg salad.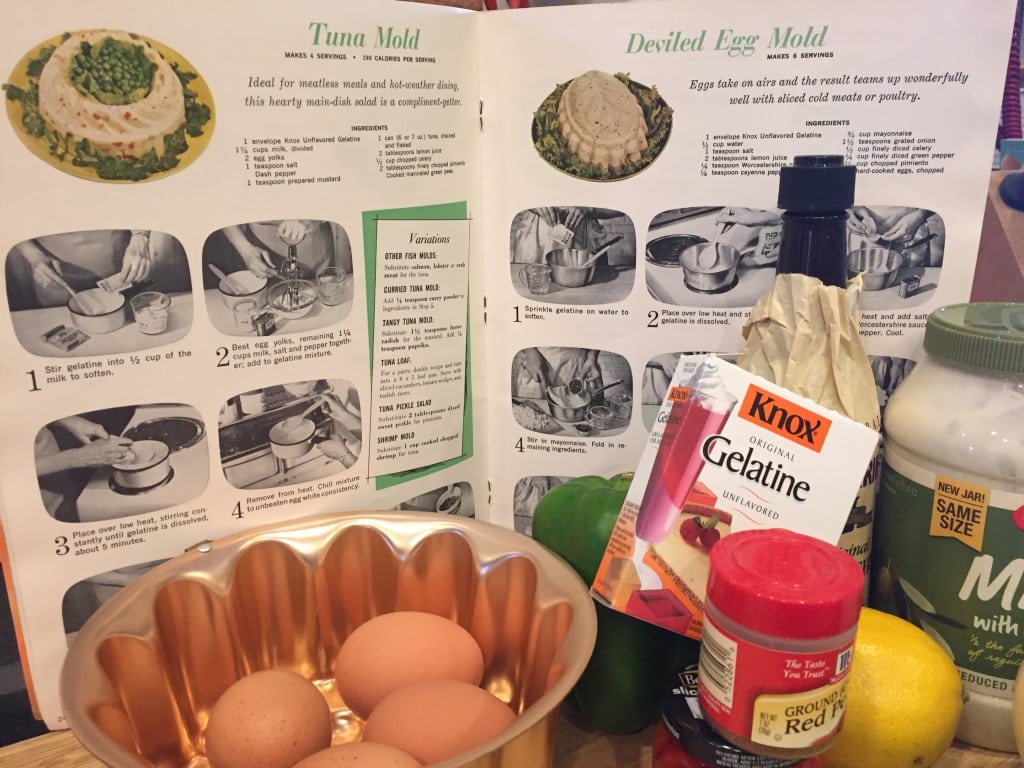 What made this recipe even more fun is that a fan sent us the recipe book. How awesome is that?! She is the mom of one of my high school classmates and lives in the same town as my parents. However, I haven't really been in contact with her or her son (other than being connected on Facebook) so I really and truly appreciate her dedication to our show. The fact that she thought of us while out estate sale shopping is precious and we love it.
This book was published in 1960 by Knox gelatin. As far as we can tell, Knox must have had a TV cooking program as this is called the Knox On-Camera Recipes. It is full of savory and sweet gelatin recipes and all the pictures are stills from what looks like a cooking show. This looks to be a precursor to Pioneer Woman's style of cookbook. Pictures with each step description. Let the record show, Knox did it first.
Deviled Egg Mold - Recipe Archaeology
2017-03-21 09:57:55
Ingredients
1 envelope Knox unflavored gelatin
1/2 cup water
1 tsp salt
2 Tbs. lemon juice
1/4 tsp Worcestershire sauce
1/8 tsp cayenne pepper
3/4 cup mayo
1 1/2 tsp grated onion
1/2 cup finely diced celery
1/4 cup finely diced green pepper
1/4 cup chopped pimiento
4 hard-cooked eggs, chopped
Instructions
Sprinkle gelatin on water to soften. Place over low heat and stir until gelatin is dissolved. Remove from heat and add salt, lemon juice, Worcestershire sauce and cayenne pepper. Cool.
Stir in mayo and fold in remaining ingredients.
Turn into a 3 cup mold or individual molds and chill until firm.
Unmold by dipping mold in warm water. Loosen around edge with the top of a paring knife. Place serving dish on top of mold and turn upside down. Shake, holding dish tightly, until mold releases.
Garnish with baby greens or kale and crackers.
Adapted from Knox On-Camera Recipes
Adapted from Knox On-Camera Recipes
Hugs, Kisses and Snot https://hugskissesandsnot.com/
Related Posts via Categories