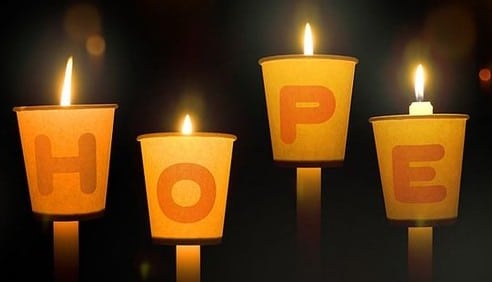 Not, love or joy or peace. Hope. The first candle of Advent is hope and this could not be a more appropriate way to start a season of anticipation. Maybe because I've seen Catching Fire twice or because It's a Wonderful Life is one of my favorite movies but Hope is really resonating with me this week. Things may be really bleak and dark but as long as we have that little glimmer of hope then we are able to carry on.
Leading up to December the adult Sunday school class at our church did a study of the Beatitudes. If ever the Christian faith needed a rally cry it should be these words, not the ten commandments. Those are just fine and dandy as a ground work for right and wrong. The Commandments are a no-brainer for anyone with a normally functioning moral compass. No, no, no, yes, yes, no, no, no, no, no. Done.
But the Beatitudes challenge us to rage against everything culture has taught us. Greed, dominance, extravagance, power. The Beatitudes also allow us to just be. The world tells us that we need to be happy all the time and if we're not something is wrong. Blessed are those that mourn, that are poor in spirit. Guess what? It's okay to mourn. It's okay if your heart is sad. It's okay to seek the goodness in people even when the world wants us to pass them by. It's okay to want peace when the world wants dominance. It's okay to stand up for what you believe in.
There is no better time to just be than the season of Advent. While we wait for God's greatest gift it's okay to be broken, to be merciful, to seek peace and hunger for justice. Hope tells us that no matter how dark or broken we are there is light in us. Hope allows us to seek out that light because we know how this story ends. Christ with us.
Related Posts via Categories