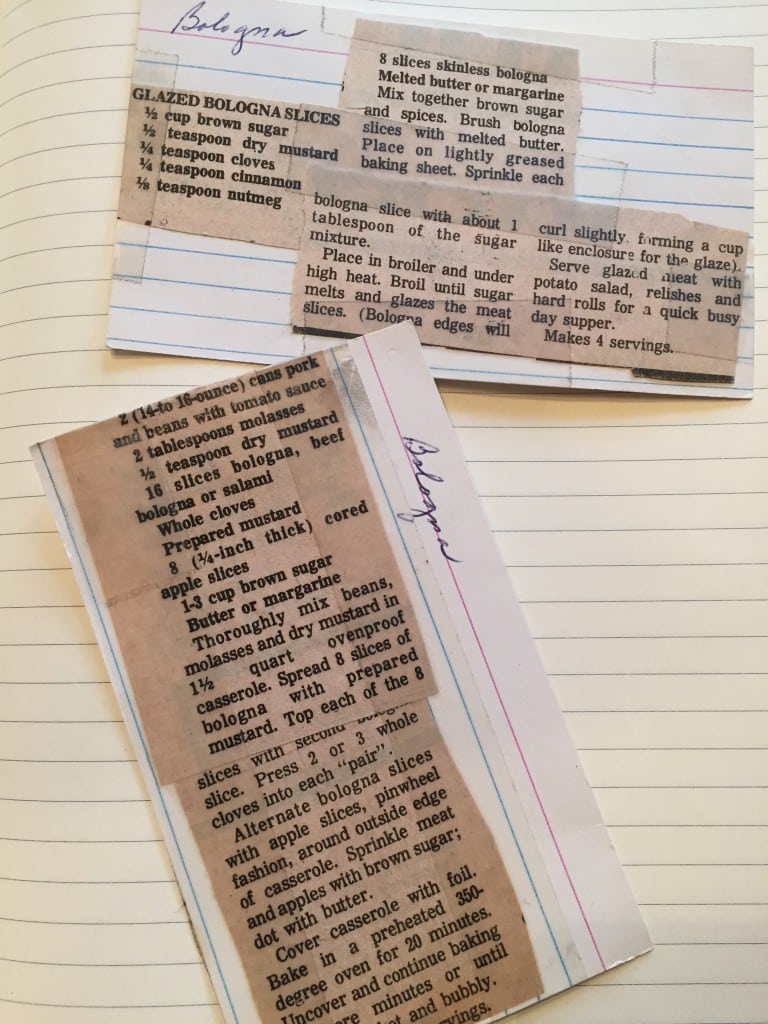 It is confirmed: I am not a fan of bologna.
On the last two weeks of Recipe Archaeology, Christine and I made two bologna recipes. Our dear friend, Lynne, lent us recipes she found in her late aunt's recipe collection. These recipes were clipped out of a newspaper, taped to index cards and categorized as "bologna". The funniest part of these recipes is the fact that she had a category for bologna. How many bologna recipes did she have in her recipe box? Was she a big bologna fan? Did she actually make these recipes and enjoy them so much that she felt the need to keep them? Or did she see the recipe in the newspaper and think, hummm, that sounds kind of interesting. I think I'll cut that out and save it for later, and then never actually make it? Admittedly, I have done that very thing. I have a box on my desk full of recipes just like that.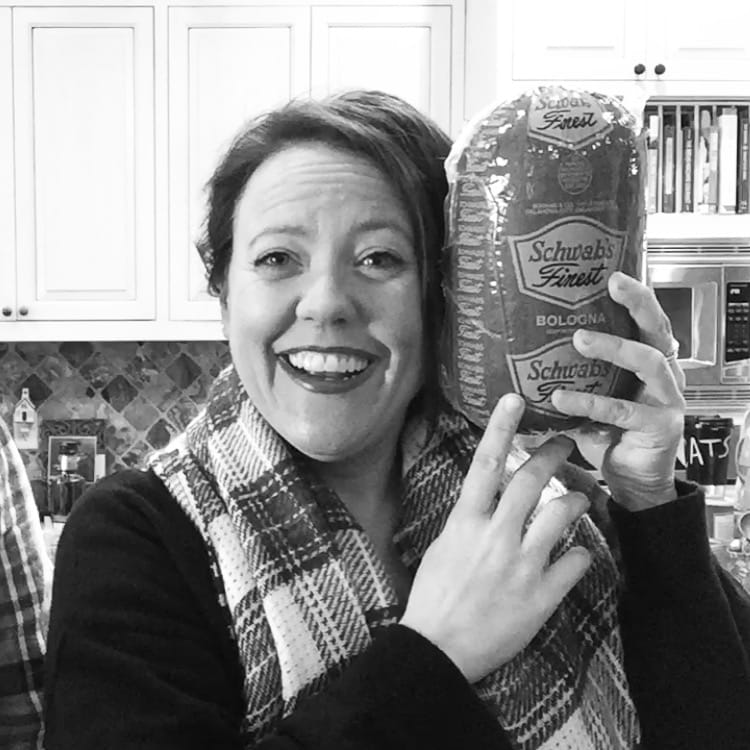 Rather than go with Oscar Mayer, Christine bought the biggest log of bologna I've ever seen. It was as big as her head. Her boyfriend received a smoker for Christmas, so her first thought (for some insane reason) was to smoke bologna. I don't know what possessed them to do this, but to the local meat market in Oklahoma City they went and came back with jumbo bologna.
You know who else finds bologna captivating? Dogs.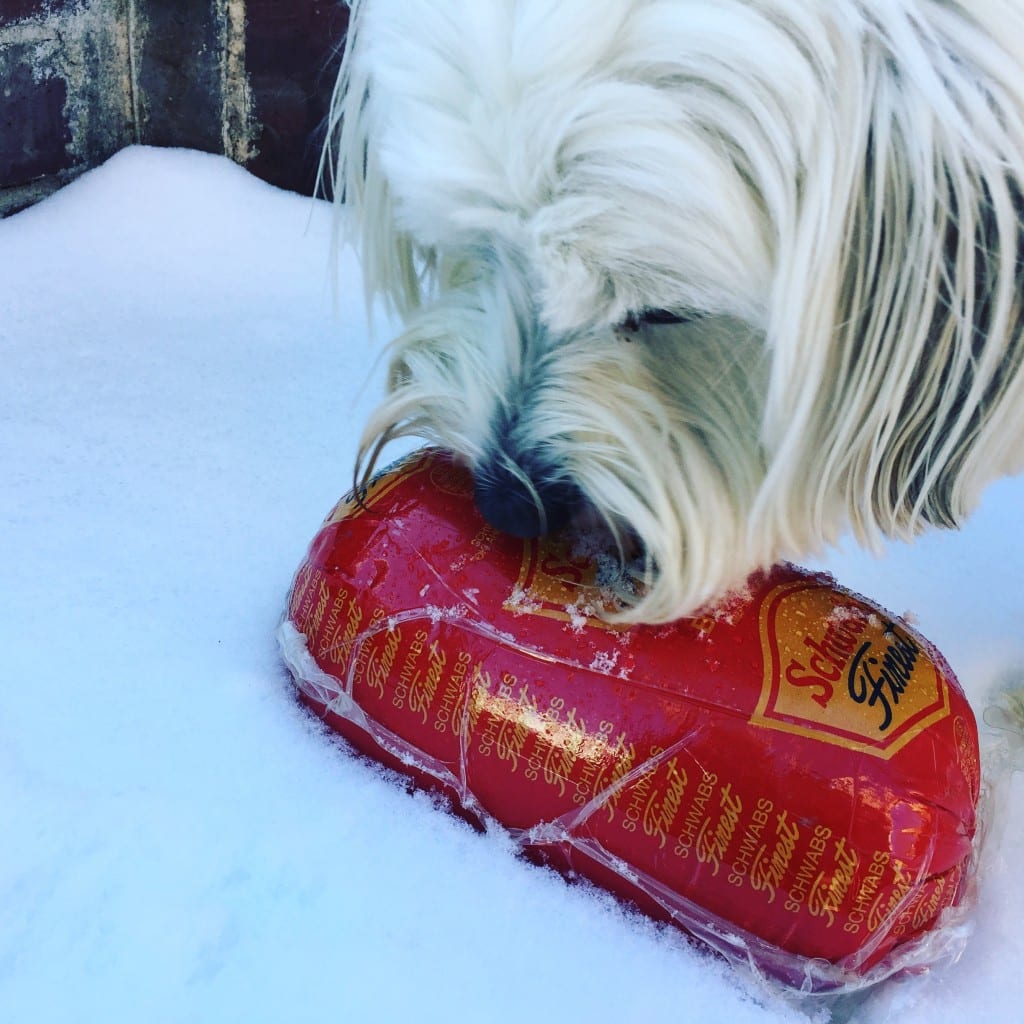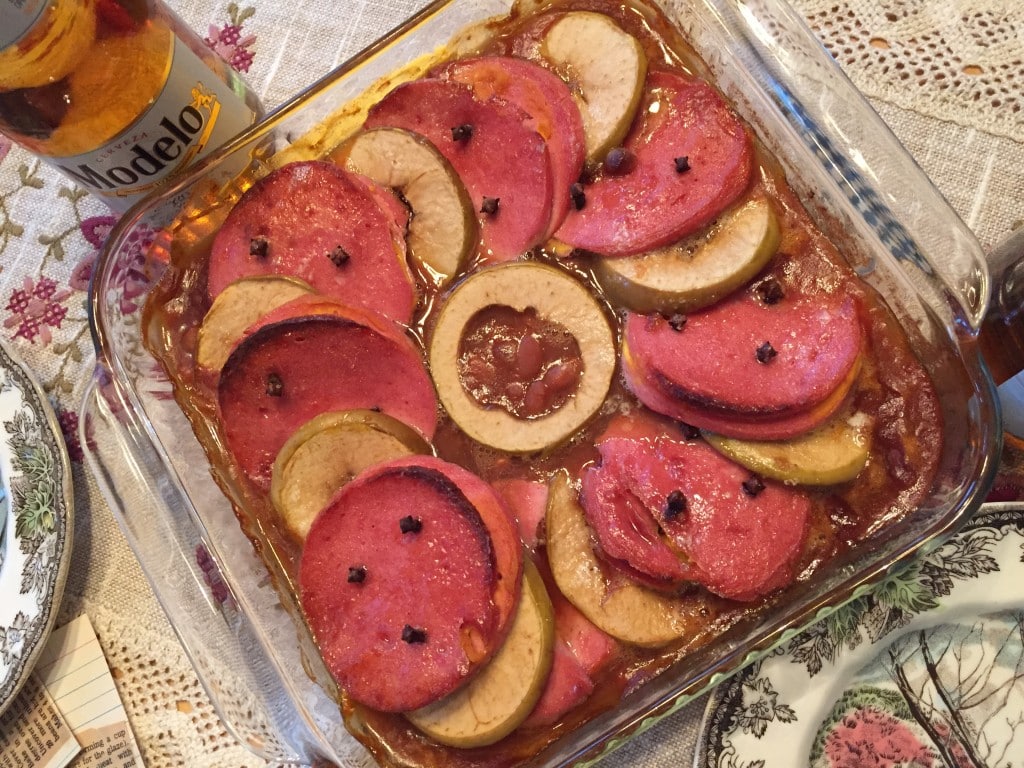 Let me quickly break down my thoughts on these recipes before you watch the episodes.
The first recipe of Glazed Bologna Slices, might actually be a good one, if you liked the taste of bologna. The best part of this recipe is that the bologna is supposed to curl up under the broiler and form a meat bowl. Our slices curled slightly, but not enough to form a bowl. However, we had thick slices of bologna. I think that if you used Oscar Mayer (much thinner slice than our hand sliced attempt), the bowl effect would work. Christine was on to something when she suggested putting mac and cheese into the bowl. Again, if I liked bologna, this could be revolutionary. Instead, it just tasted like a sweet hotdog.
The second recipe of Rancho Bean Bake was a mystery. Layers of apples and bologna on pork n' beans. What in heaven's name of hobos is going on here? While it made a fun display, it was not at all tasty. I wondered if perhaps we had used a sharper apple, like a Granny Smith, if that would have improved the taste. However, my curiosity is not strong enough to try this again with a different type of apple.
Even if it was not fun to eat, it was very fun to say. You'll see what I mean when you watch the episode. I challenge anyone to holler out Rancho Bean Bake in a funny accent like their calling the cowboys into dinner, and not get a huge giggle out of it.
One last thing.
Recipe Archaeology now has a Patreon page. This is a place for fans of the show to support us and help us make future episodes. At the Patreon page, you can make monthly donations that will help with our grocery bill and go toward better video equipment. It's sort of like a Go Fund Me page but used by YouTubers and Podcasters to help keep their channel up and running. There are various levels of support and little perks that come with each level. If there are any fans out there who want to help us out, we would be deeply grateful.