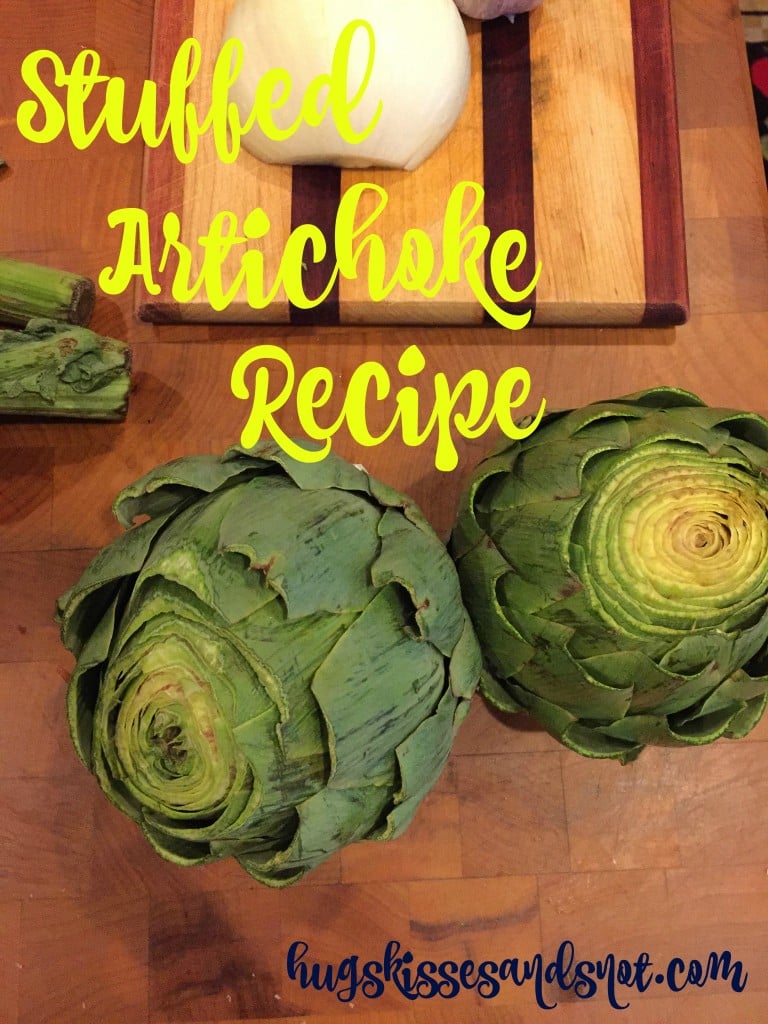 I took my boys to visit my parents recently. Since they live in a town with limited restaurant choices, delicious food has to be made at home. Thankfully, my mom is an excellent cook and not afraid to try things that many people would dismiss because they sound too difficult. Stuffed Artichokes isn't something that one would plan to fix for their family on a regular old Tuesday night. Unless you're my mom.
As she was pulling the ingredients together without a formal recipe or ingredient list (as is her style) she was telling me how she learned to make stuffed artichokes.
Her mom grew up in the French Quarter in New Orleans. They lived near an Italian market run by Italian immigrants who lived over the store. Delicious smells wafted down from their apartment followed by authentic Italian meals, friendships and learning how to make all the delicious meals they shared. One of the things she learned was how to make stuffed artichokes.
Many people simply steam the artichoke and then dip the leaves in a butter garlic sauce. Why do that when you can eat the leaves with a tasty bread stuffing?
Stuffed Artichoke Recipe
So let's get started. This is all according to my mom, so I'll try and do my best to relay her instructions. I scribbled down ingredients as we went along but all these measurements are approximate as she pretty much flies by the seat of her pants except when baking. She's not nuts. (The full recipe can be found at the bottom of this post.)
Process one loaf of French bread in the food processor to make bread crumbs. Spread them on a baking sheet and toast in a 350 degree oven for a few minutes. Long enough to remove the moisture and make the bread crumbs dry.
While the bread crumbs are toasting, use a shape knife to cut of the tips of the artichokes then use scissors to cut the tips off the leaves that are not on the end. The tips of the leaves are sharp and can hurt when you are stuffing and when pealing them off to eat. Nobody wants to eat a dinner that may harm you.
Welcome to my parent's kitchen. It is a feast for the eyes with their red cabinets, blue granite counter tops and yellow wallpaper. Gray and neutral toned lovers, beware.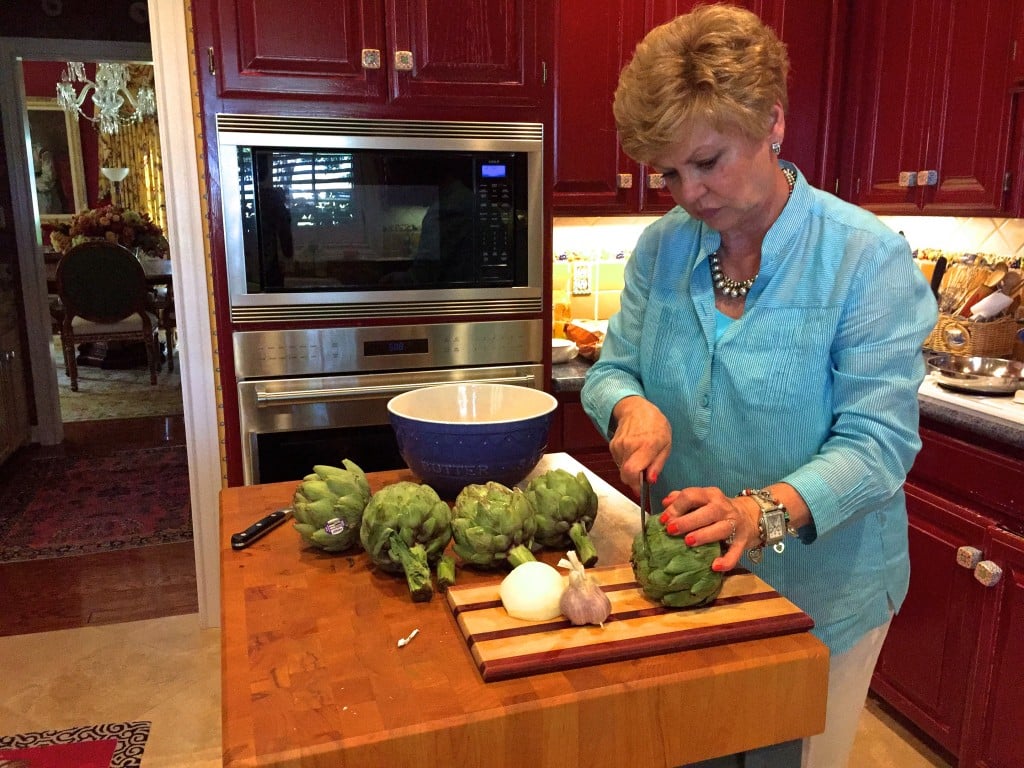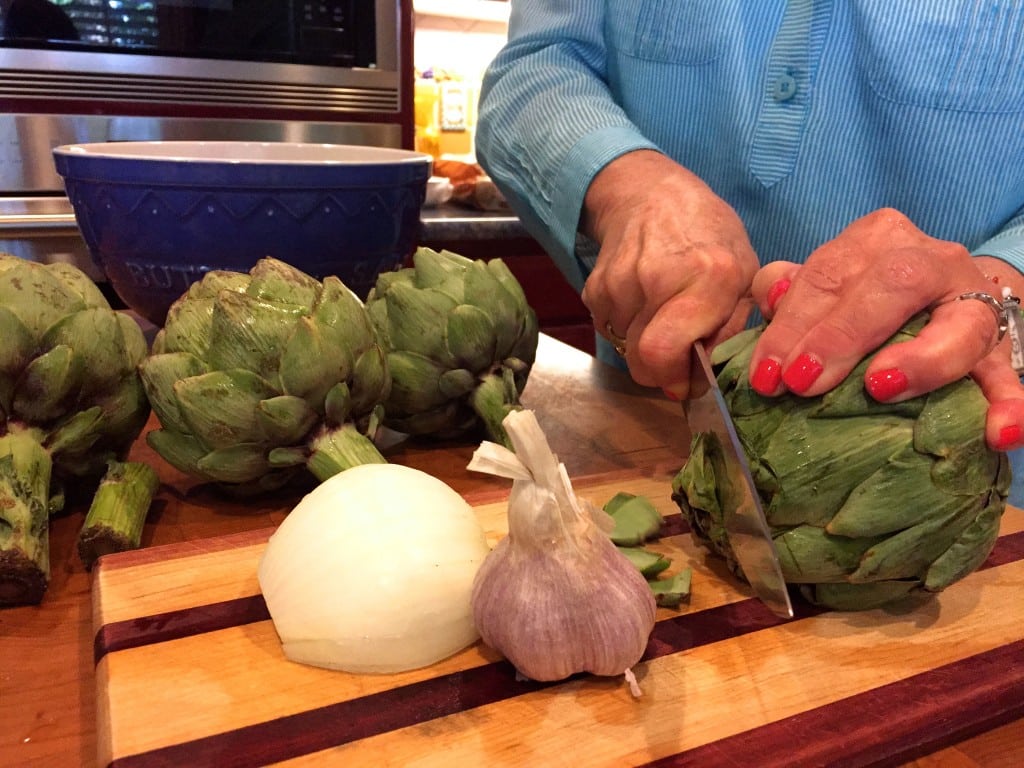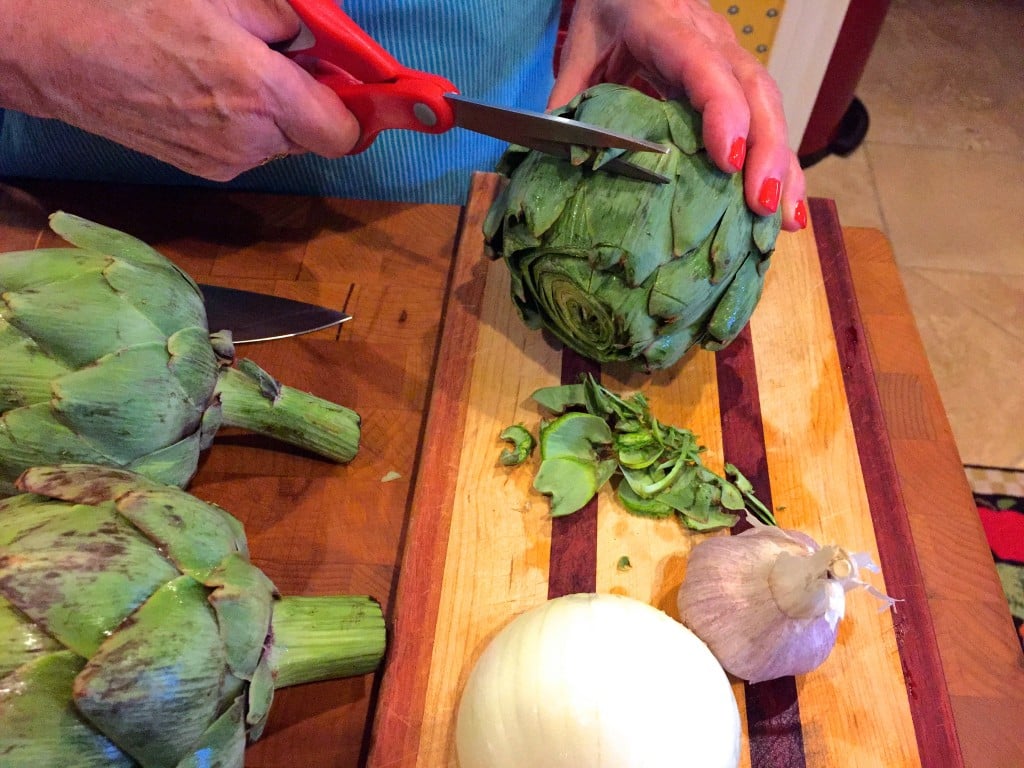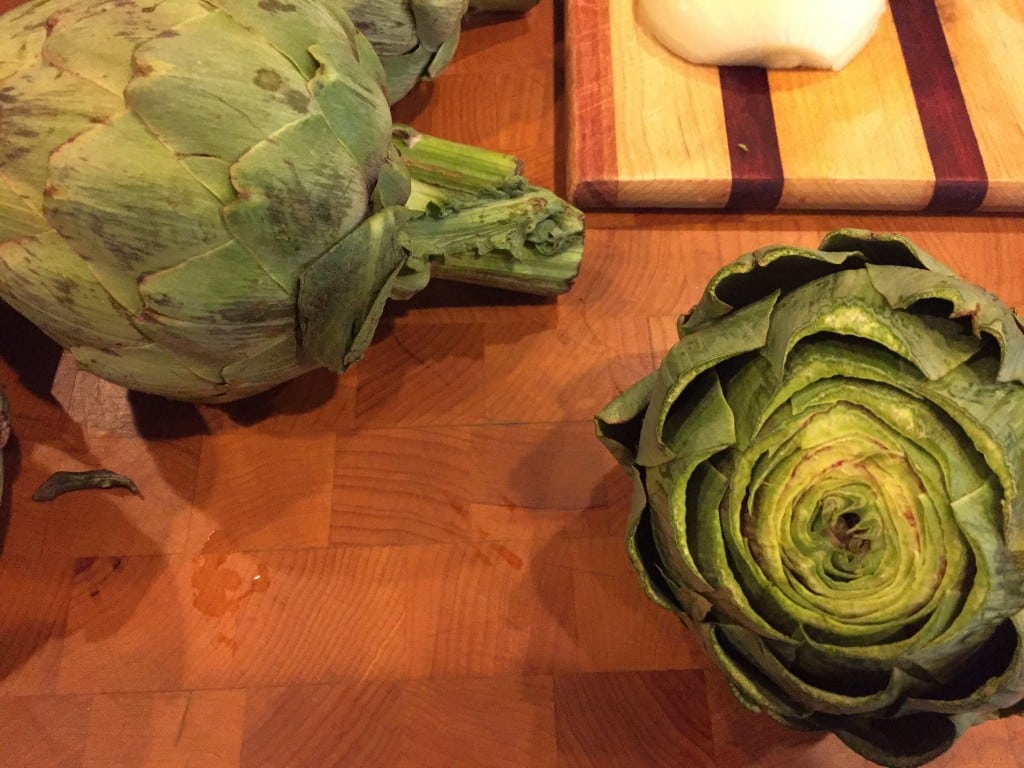 Fill the sink with water and place artichokes in the water with the juice from half a lemon. This will keep the tips of the artichokes from turning brown while you prepare the stuffing.
Dice 1/2 an onion and mince five cloves of garlic. Be prepared for your hands to smell like garlic for the next week.
Heat 1/4 cup of olive oil in a skillet and saute onion and garlic until it starts to get soft. Add one can of anchovies. No need to drain or mince. They will fall apart when you combine them with the onions. Saute until onions are soft and translucent.
Don't forget about your bread crumbs. Heaven help you if you burn them and don't have a spare loaf of French bread. Combine the breadcrumbs in a bowl with 1-2 cups of freshly grated Parmesan cheese.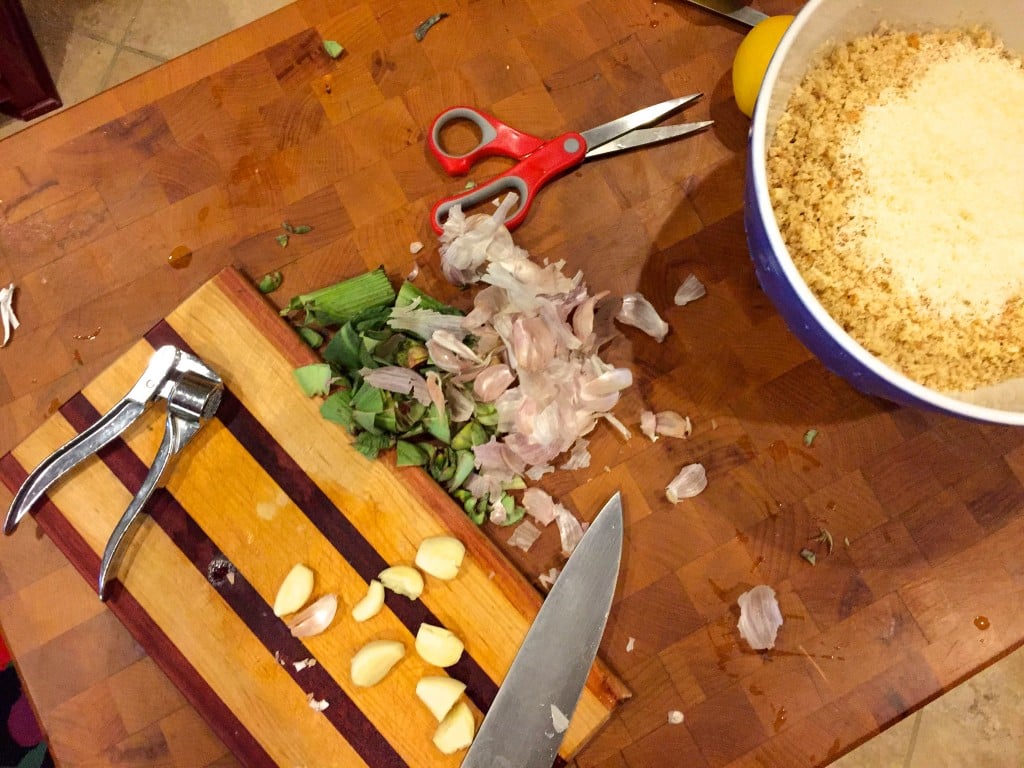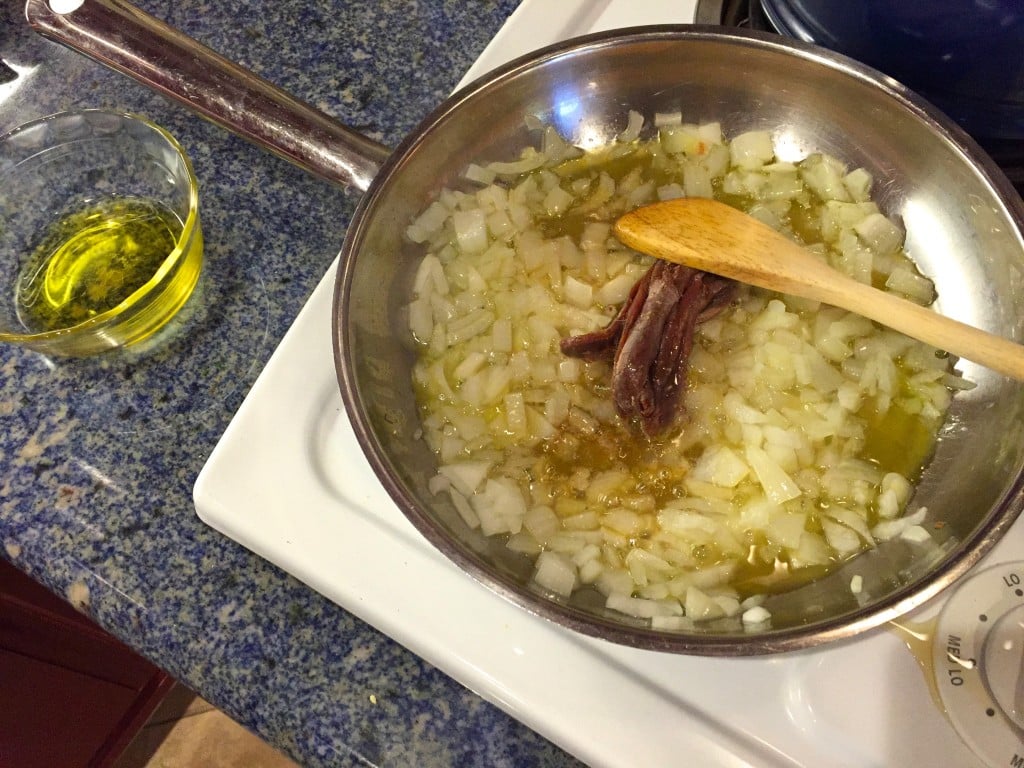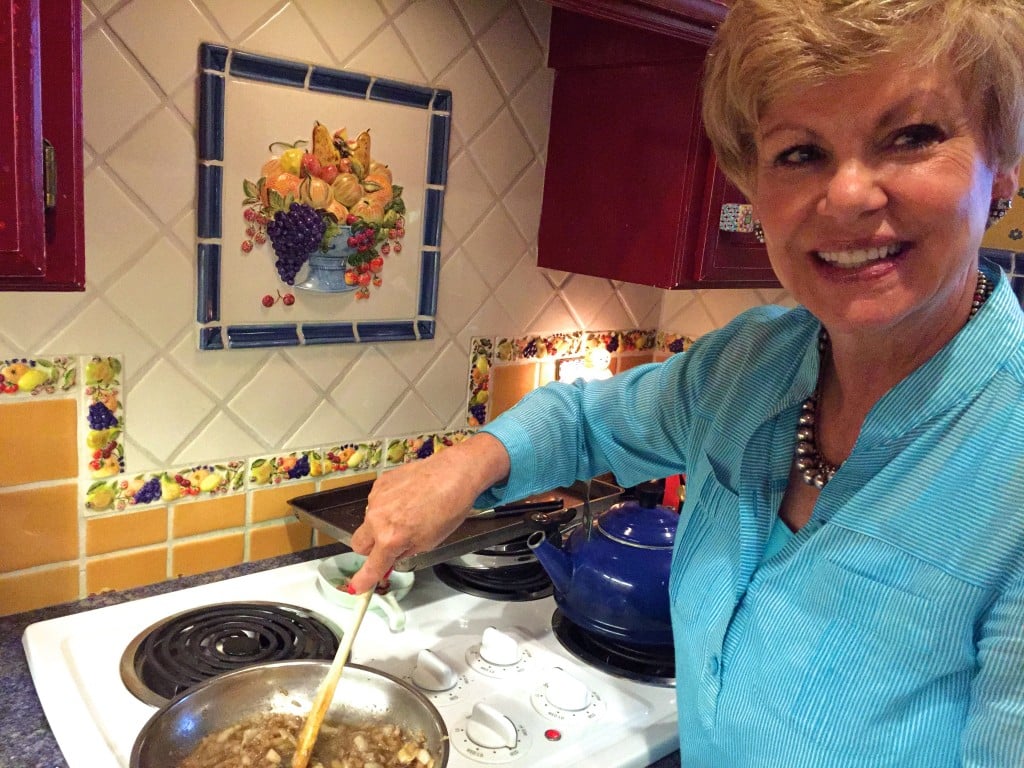 Combine the onion-anchovy mixture to the bread crumbs and drizzle with 2 tablespoons of olive oil. Combine and make a small well in the middle. Because anchovies are very salty, there is no need to add salt.
Remove the artichokes from the water and allow to drain.
Place an artichoke in the breadcrumbs and start stuffing. Pull the leaves away (not off) and fill the space with the breadcrumb mixture. Place the stuffed artichoke in a dutch oven or deep pot. Repeat until all of the artichokes are stuffed and top with a slice of lemon. Fill the bottom of the pot with about 1/2 inch of water. Cover and simmer on the stove for about an hour. This will steam the artichokes and make it easy to pull the leaves off.
When you're ready to eat, start at the bottom and pull a leaf off, bite of the meaty end of the leaf and gobble up all of the breading. If you're feeling crazy, you can dip each leaf in a warm butter, lemon sauce.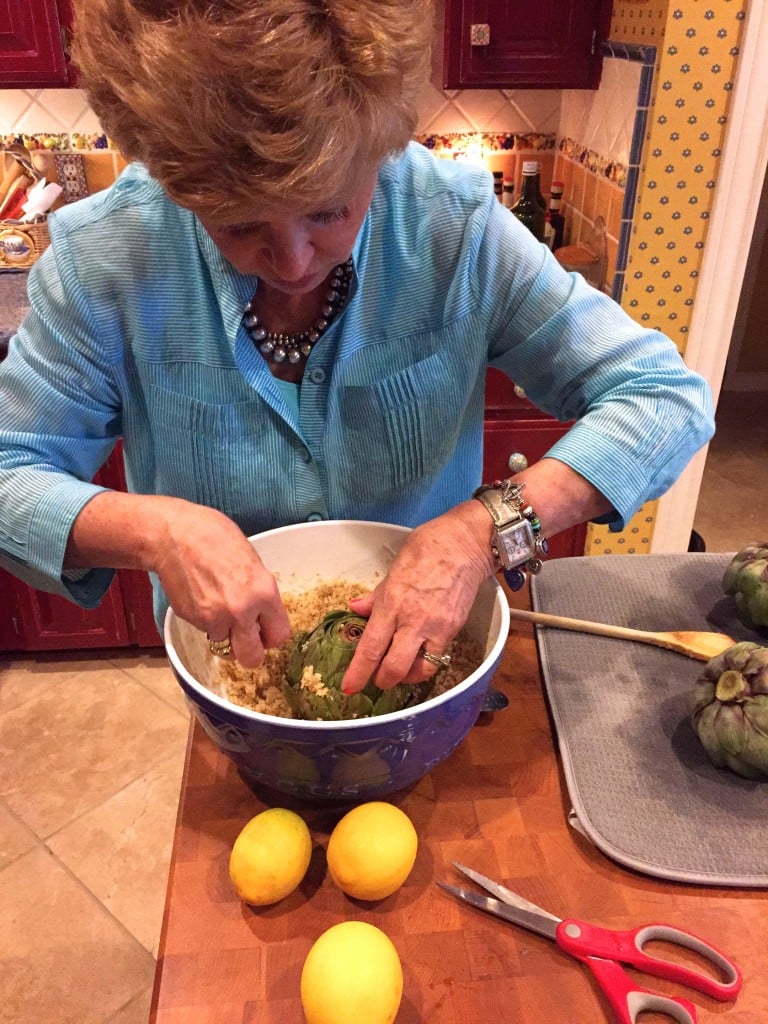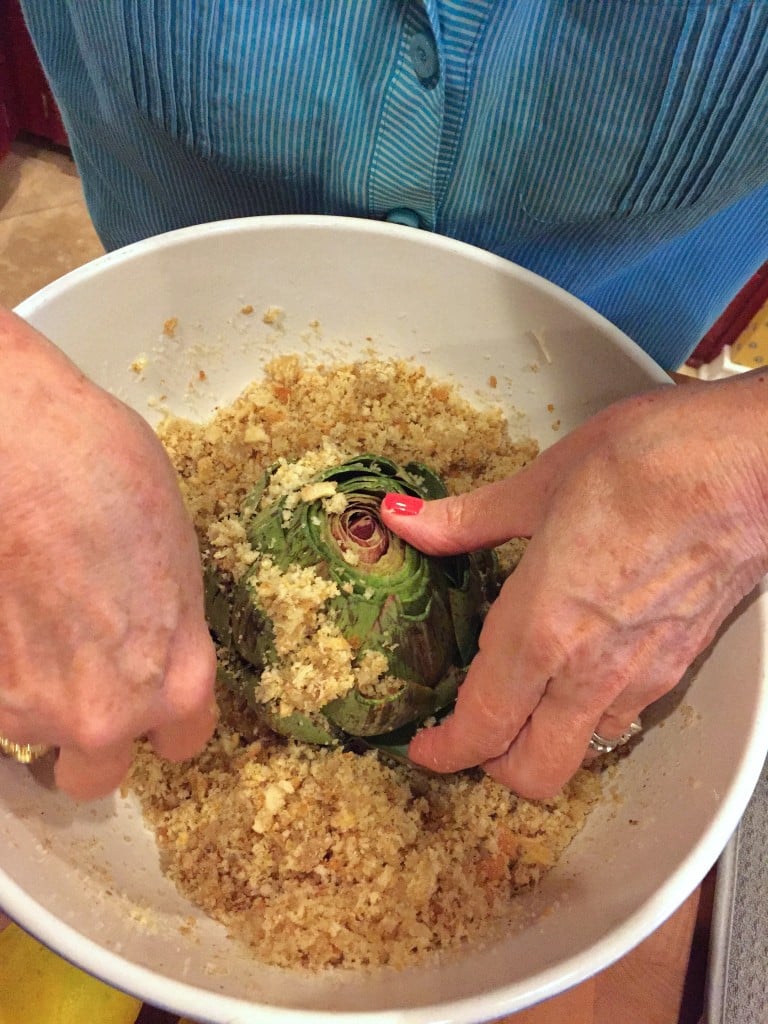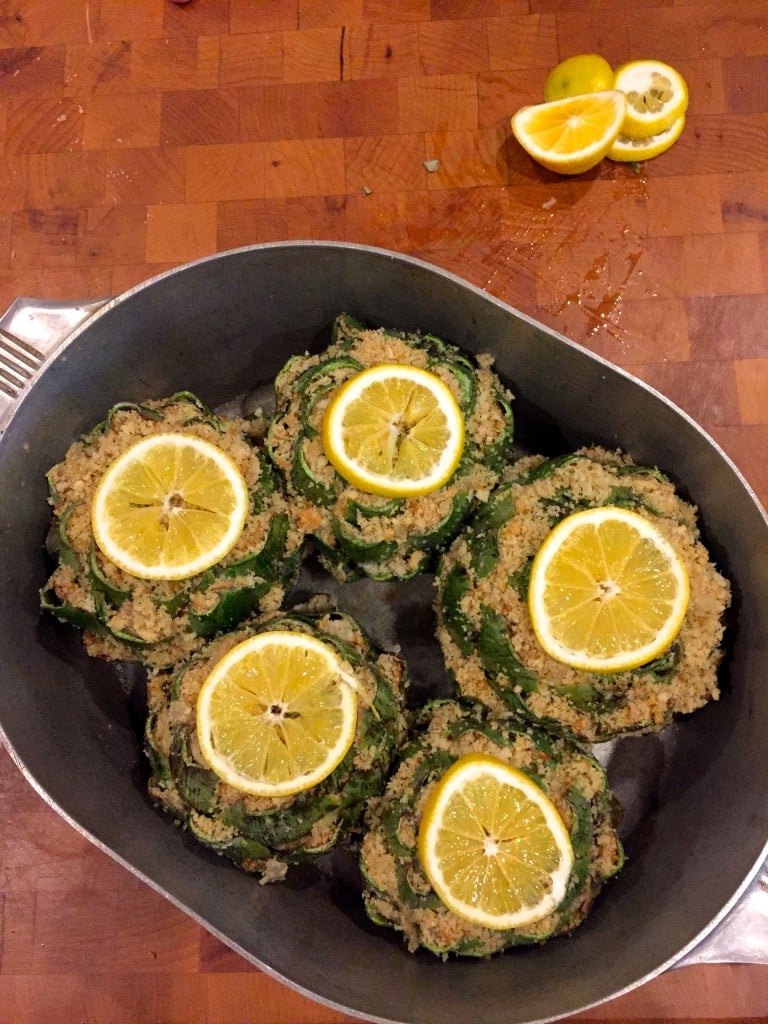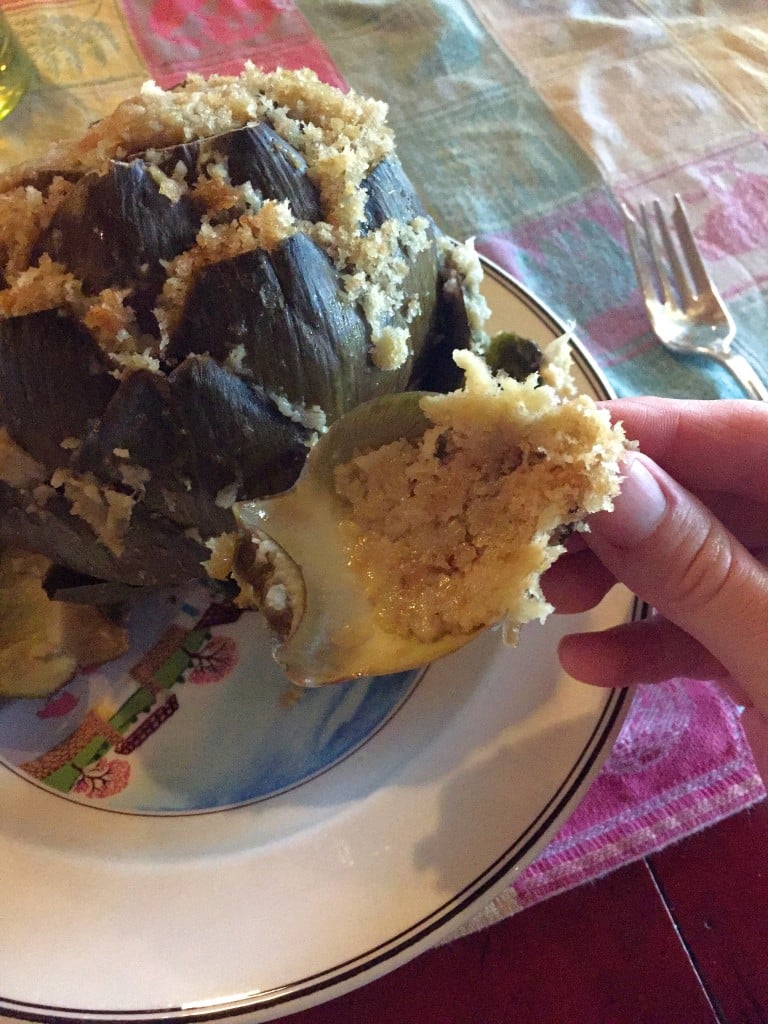 Artichokes are in interesting plant. When you work you way past all the leaves and try to get to the heart you come across a fiber type center. Left to it's own devices and not harvested, artichokes bloom into this thistle looking flower.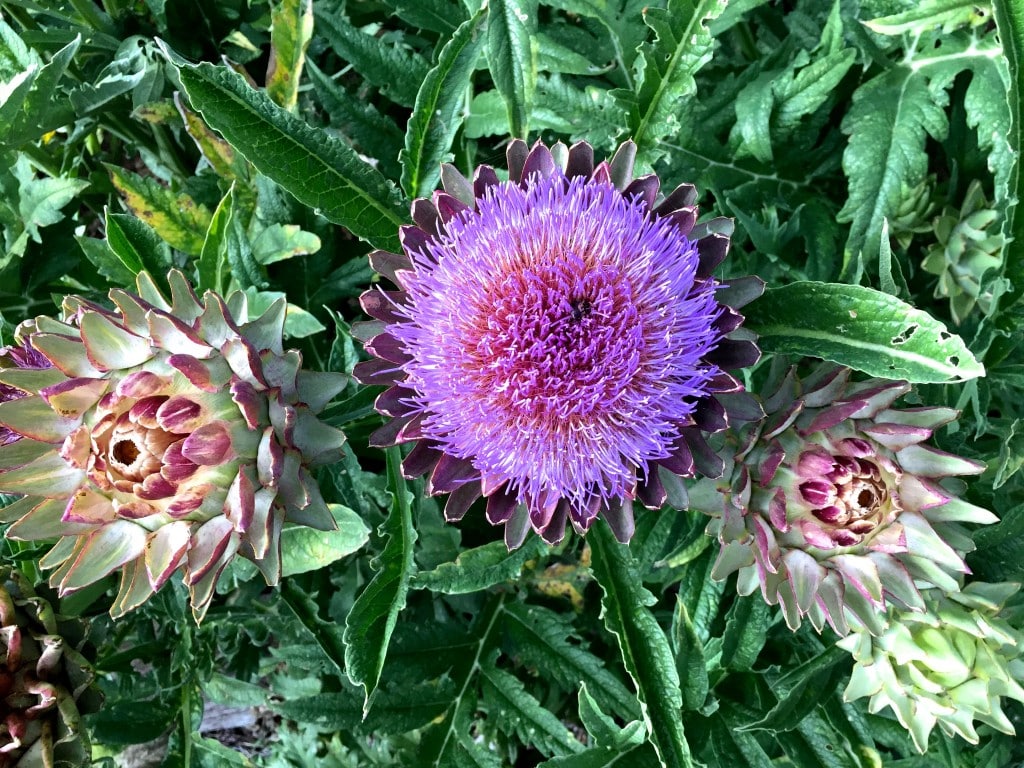 Stuffed Artichokes
2016-07-15 19:47:30
Ingredients
5 artichokes
1 loaf French bread
1-2 cups fresh Parmesan cheese, grated
1/2 onion, diced
5 cloves garlic, minced
1 can anchovies
2 lemons
1/4 cup extra virgin olive oil plus 2 Tbs.
Instructions
Process French bread in a food processor to create course bread crumbs. Spread breadcrumbs on a baking sheet and toast in oven at 350 degrees for 10 minutes until breadcrumbs are dry and toasted.
Transfer breadcrumbs to large bowl, add Parm and set aside.
Trim tips of artichoke leaves with a knife and scissors to remove pointed ends. Place trimmed artichokes in sink full of water and juice from half a lemon.
Saute onion and garlic in 1/4 cup olive oil. Add anchovies and combine. Saute until onions are soft.
Add onions, garlic and anchovies to breadcrumb mixture along with 2 Tbs. olive oil and combine.
Remove artichokes from water and drain.
Set artichoke in the breadcrumb mixture. Starting at the bottom of the artichoke, gently pull leaf away, do not remove it, and fill the space with breading. Continue until all the leaves are stuffed. Place in a deep pot or dutch oven and repeat until all of the artichoke are stuffed. Place a slice of lemon on top of each artichoke.
Fill bottom of pot with 1/2 inch of water. Cover pot and simmer on low for one hour until artichokes are steamed and tender.
To eat: Pull leaf away from artichoke and eat the meaty end of the leaf with the stuffing. Can be served with warm lemon butter dipping sauce.
Hugs, Kisses and Snot https://hugskissesandsnot.com/
Related Posts via Categories