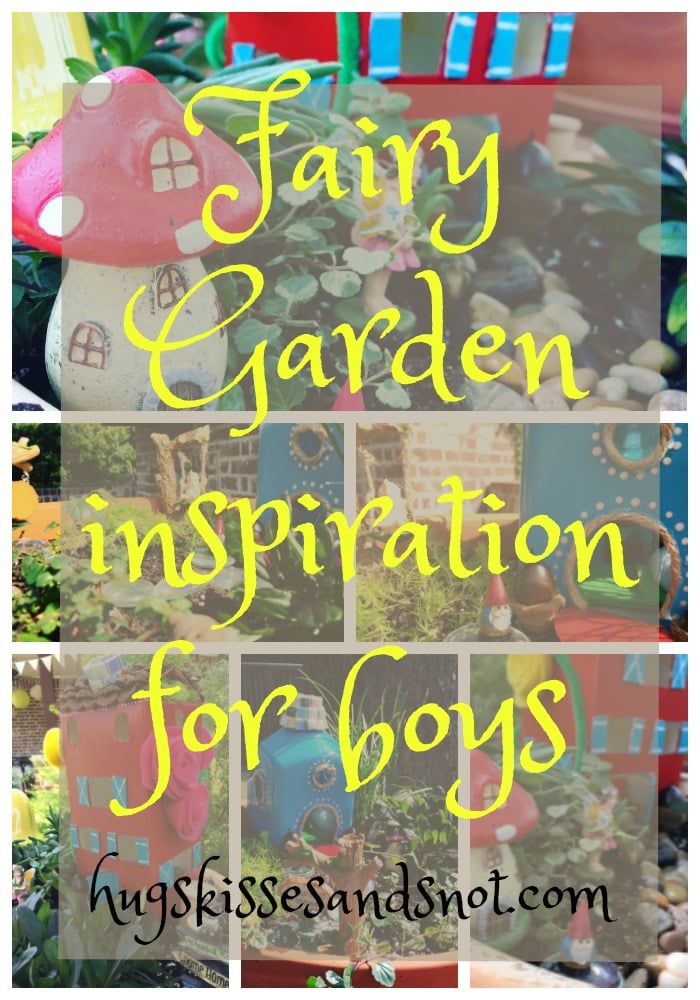 (This post contains affiliate links)
I've been wanting to create a fairy garden for quite a while. I talked about it with Harry last summer but we never got around to it. I also hesitated because I didn't know if my boys would be into it because they thought it would be too much of a girly craft. But I'm here to tell you that just because you have boys doesn't mean you can't have a fairy garden. I'm here to give you some fairy garden inspiration for boys.
The main thing that propelled this fairy garden inspiration was this book:

The first book in The Spiderwick Chronicles is called The Field Guide. I had no idea what this book was about but my cousin sent me the third book when she was cleaning out her kid's rooms and I liked the cover. I went ahead and bought the first two (because you can't start a series of books in the middle of the series) since they were relatively inexpensive and figured I could give them away if we didn't like them.
Thank goodness I did because The Spiderwick Chronicles
turned out to be just the catalyst we needed to spark interest in fairy gardens.
The main character of the series is a boy who can't seem to keep himself out of trouble. The adventures quickly start after his mom moves him, his twin brother and his older sister into a creepy old house for a "fresh start". The Fairy world is reviled to them through a field guide they find in their great uncle's secret study and this magical world isn't a sweet one. Goblins who eat cats, elves who will keep you prisoner for eternity and house brownies who cause mayhem was just the inspiration needed to get boys excited about the fairy world and in turn, creating their own garden.
These fun little chapter books are pretty short and can be read quickly. So, buy the box set
if you are looking for your own fairy garden inspiration for boys.
Fairy Garden inspiration for boys
To make a fairy garden you will need:
Terra cotta pot
Potting soil
3 small plants
pint size milk jug or orange juice carton
paint
various craft supplies
Fairy Garden Accessories
/woodland animals

pebbles and/or glass floral gems
used in floral arrangements
I used an Exacto knife to cut out the door and windows in a pint milk carton and an orange juice carton. We painted it with craft paint and sprayed it with clear acrylic sealer and then used hot glue to decorate it with whatever cutesy-crafty items I had stashed around the house and in the kid's craft boxes.
Harry and I bought woodland creatures, gnomes, and toadstools at Michaels craft store but you can get them on Amazon.
Apparently, hedgehogs are the fairy pet of choice and are so friggin' adorable you want to cry.

Once Harry saw all the adorable accessories, he was all in. Michaels does sell houses but we thought creating our own house would make our garden a little more authentic. So far, we have two gardens with plans for a third.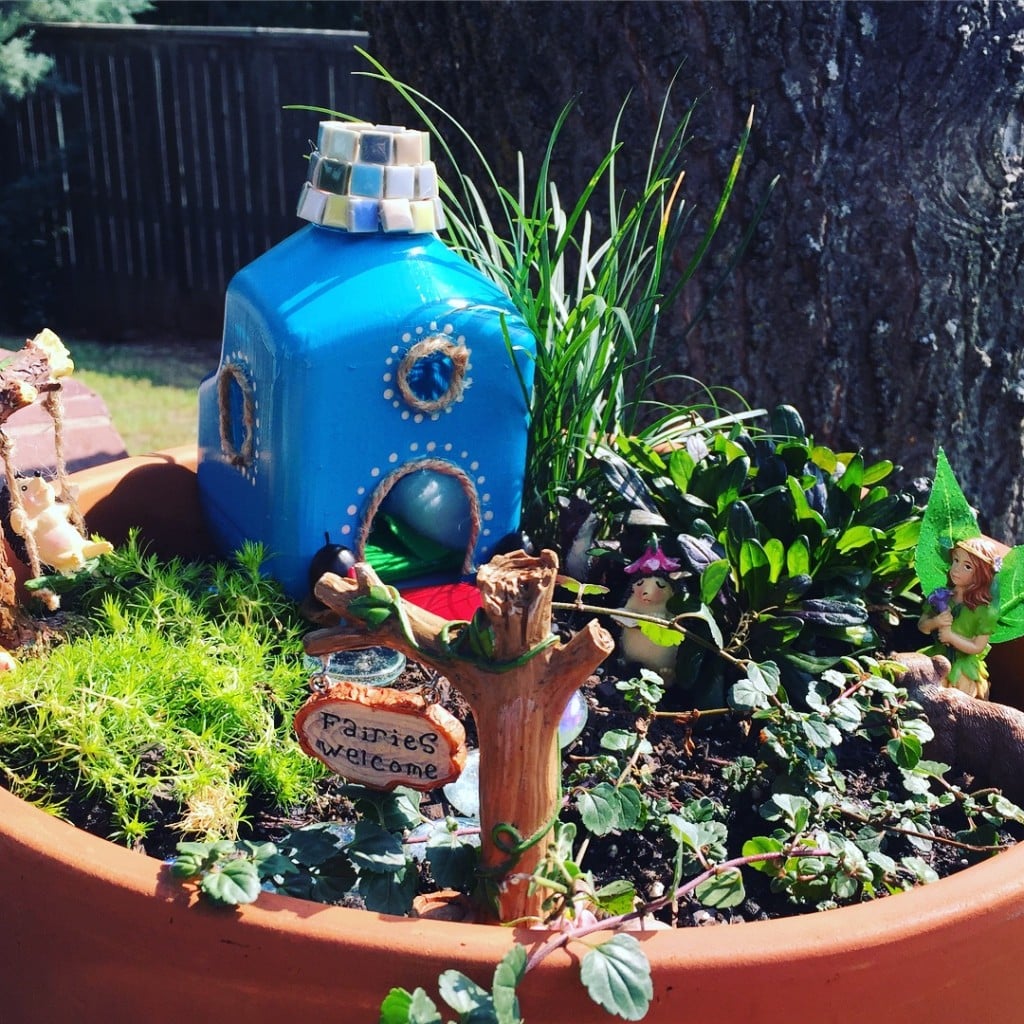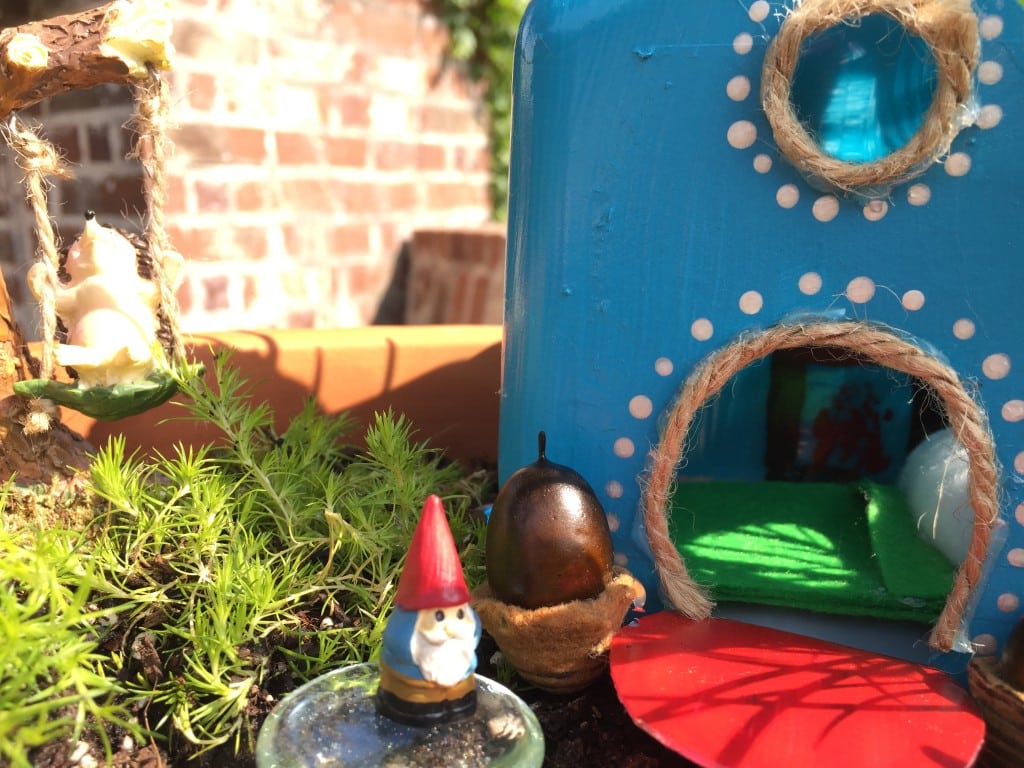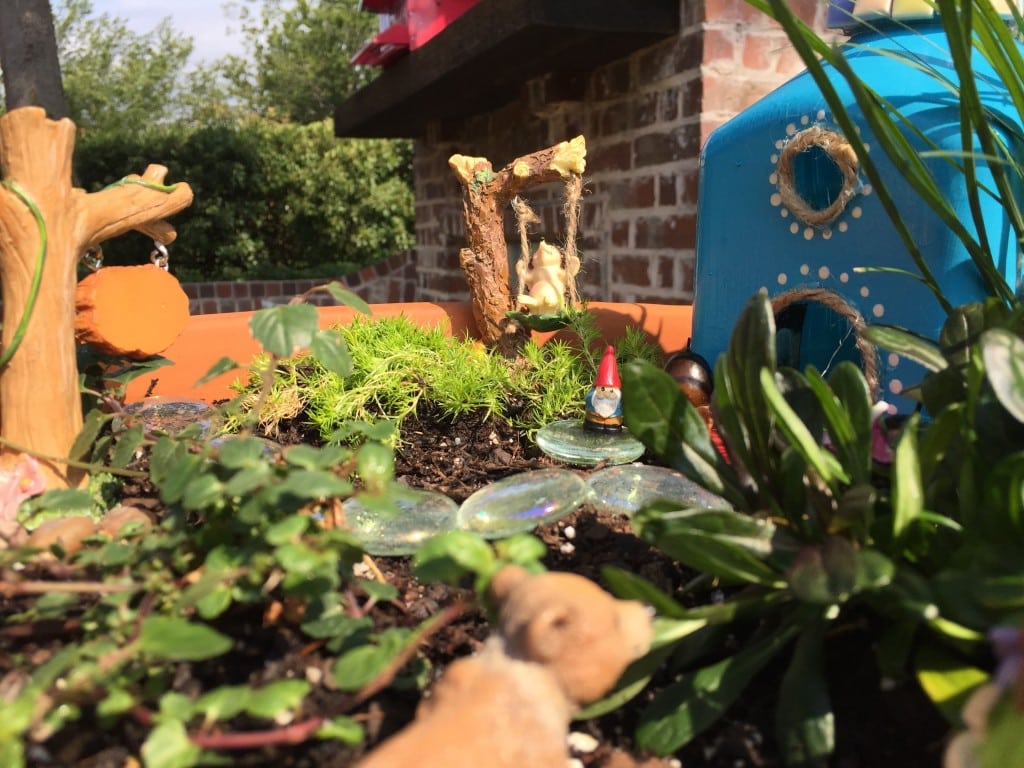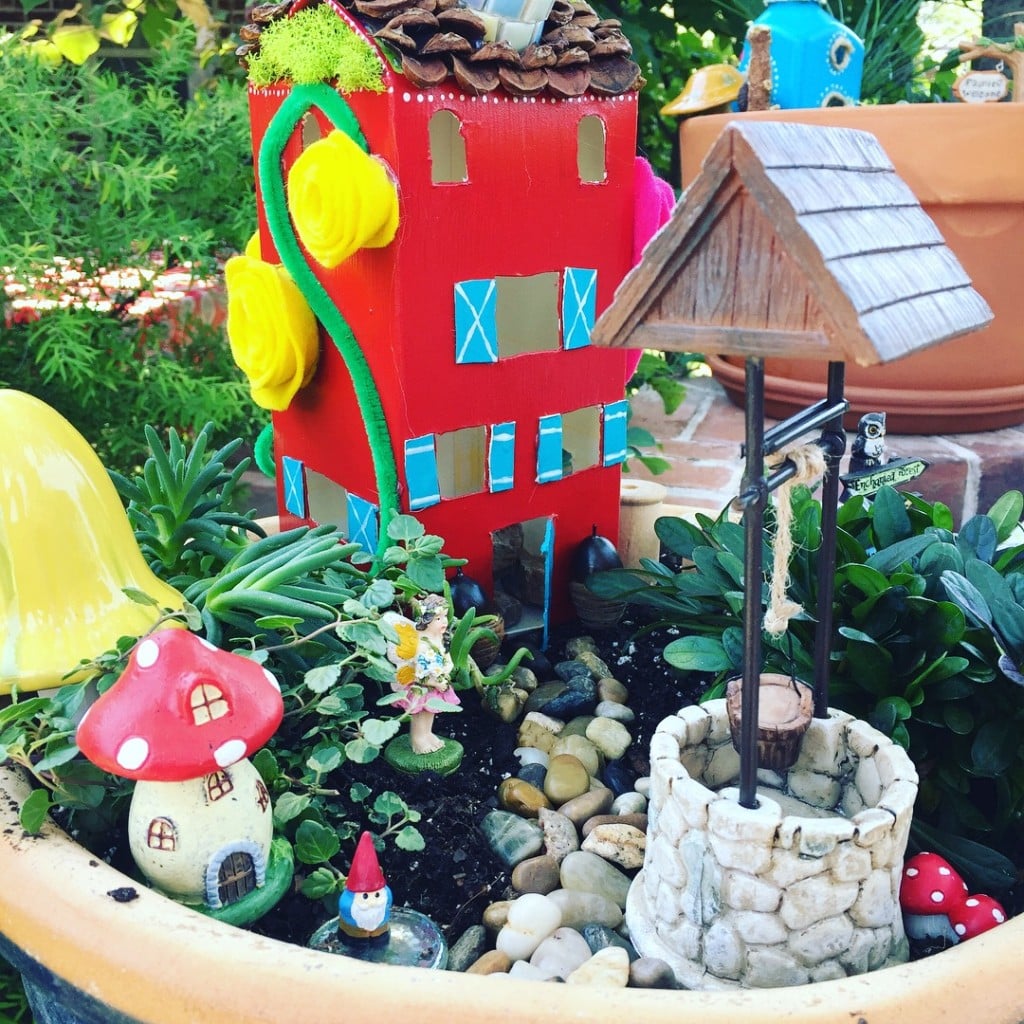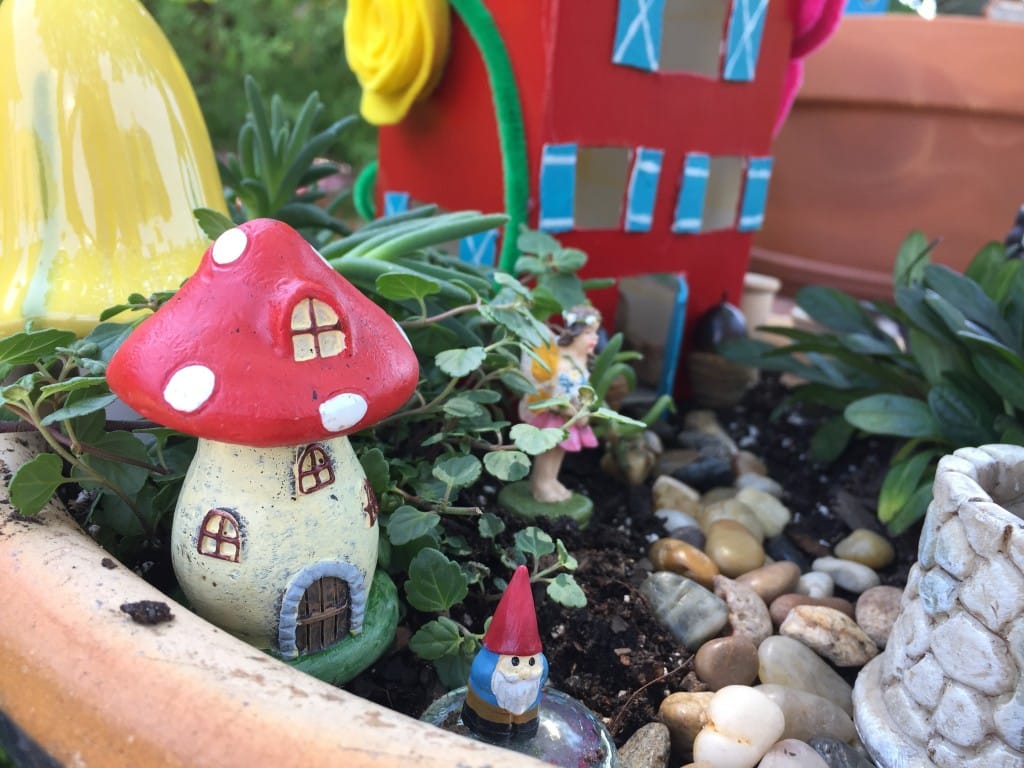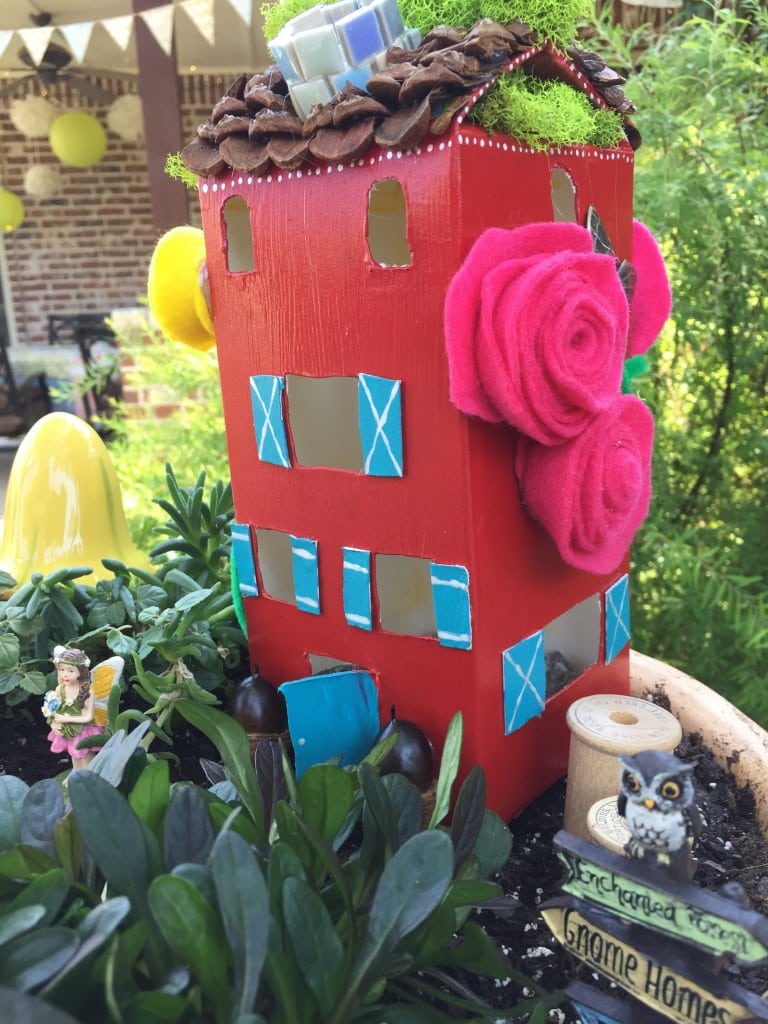 Related Posts via Categories