For the final leg of our Epic Road Trip (see the first part here and the second part here) we left the Black Hills and headed across the state to Minnesota. Dear Husband has a cousin that lives in Minneapolis and she invited us to stay and explore her city.
After an exciting day in the Black Hills, we woke with the birds (again), packed up our tents and gear and headed east. But not before stopping for breakfast and then at a place in Keystone, SD called Cosmos Mystery Area. It claims to be a hot spot of gravitational anomalies but really it is a cabin built to be a life-size optical illusion that will mess with your eyes and inner ear. Most of the time I had to look at my feet or I started to get really dizzy.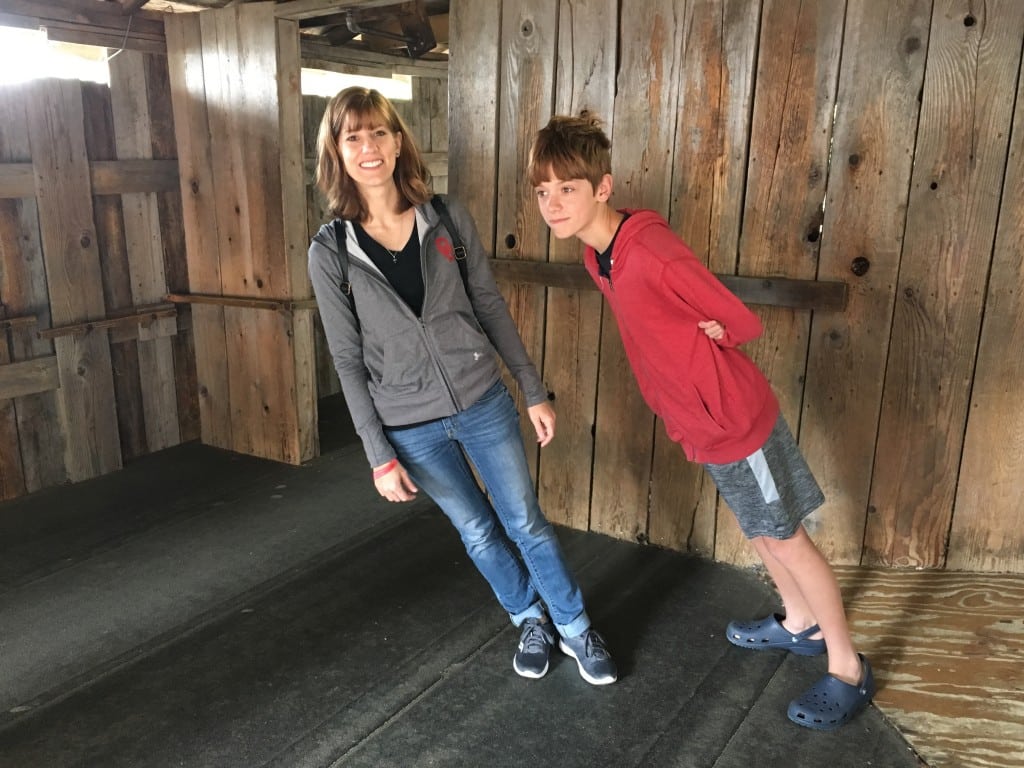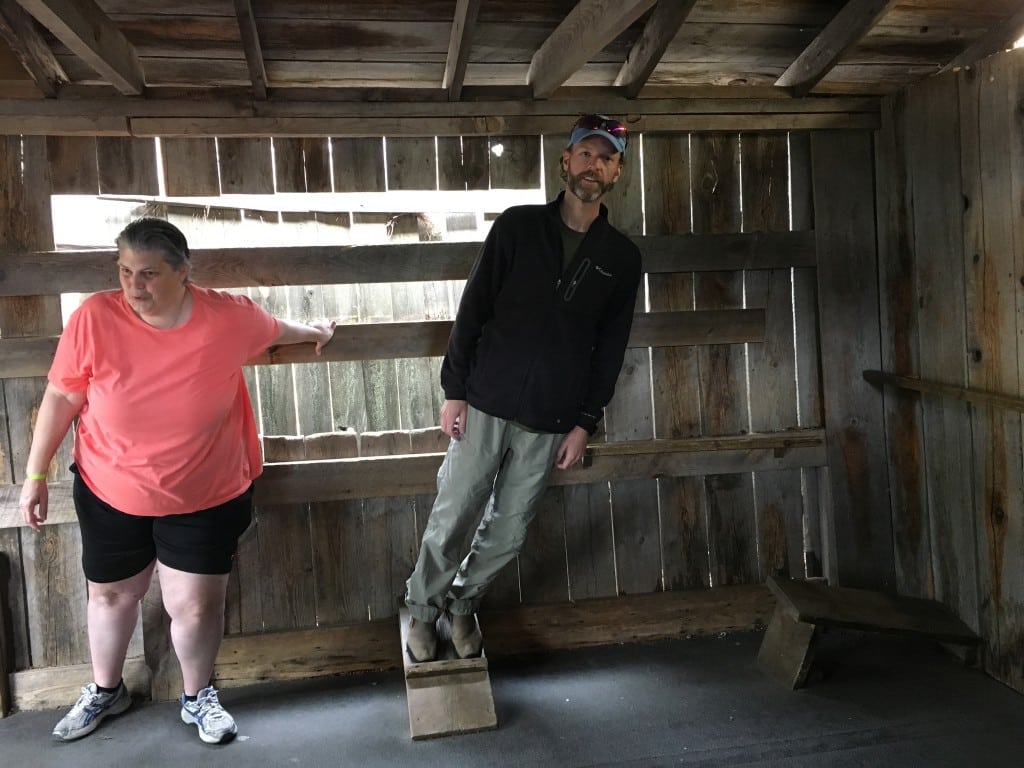 Before we move on to Minneapolis, let me start by saying that we are big Weird Al fans. If you're well versed in Weird Al, you might know where I'm going with this. If you're not, here is the song that was on repeat throughout the drive:
We all have this song memorized and the idea of driving through Minnesota without stopping to see the biggest ball of twine rolled by one man was out of the question. The only problem was that we didn't really take into account just how far and long it would take to drive all the way across South Dakota and half of Minnesota and what time the museum closed.
We pulled up right at sundown (just like in the song). The museum was closed but thankfully the twine ball is on display outside, 24/7.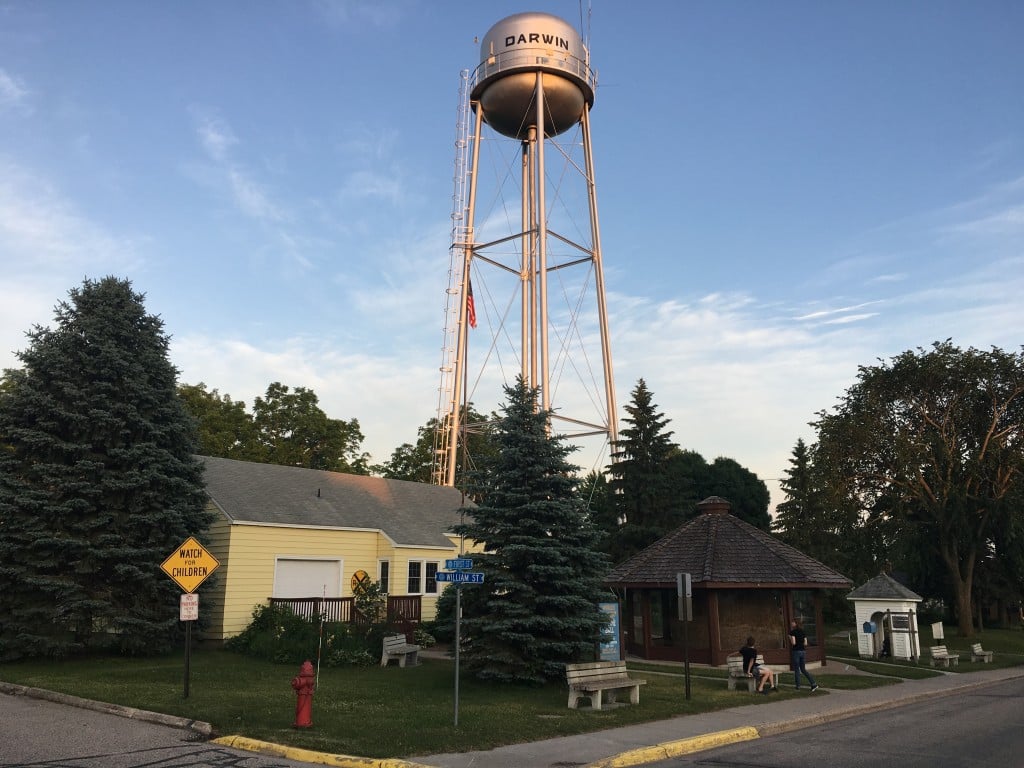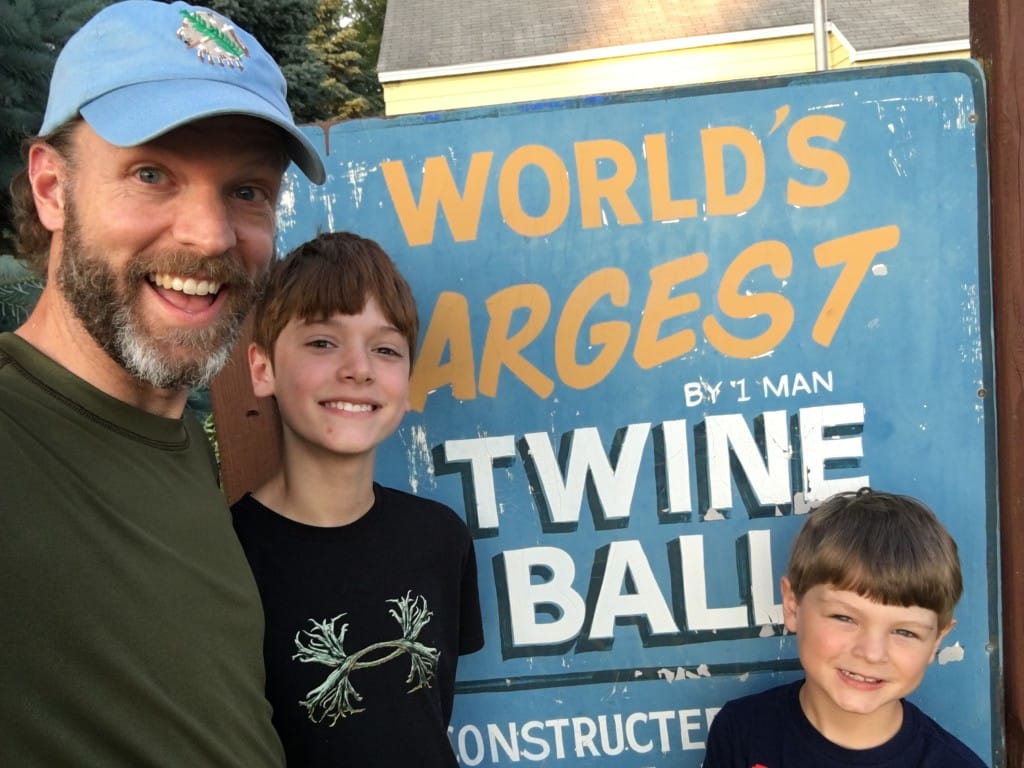 Darwin, MN is a sleepy little town and very few cars passed by while we were marveling at this great, twiney wonder. One of the cars that drove by slowed down and asked if we would like to go inside the museum. Ummm…yes, we would like a private tour.
The lady in the car happened to be the main museum volunteer worker. She said she was at a meeting when she got a call from the mayor who asked if she could pop on over to the museum. That there was a family outside taking pictures and wouldn't the Christian, Minnesota thing to do would be to drop what you're doing at 8:30 pm and go see if they want to go inside and have a look-see.
So we got a personal tour from the very nice lady who has been manning the desk for the past twelve or so years. Yes, we did buy a t-shirt, a miniature ball of twine, a post card and anything else they would sell us.
After the great ball of twine, we made our way to Minneapolis to stay with Dear Husband's cousin and her family. They played host to us and caused us to fall in love with their city. They took us paddle boarding and canoeing, to the Minnesota Zoo, a Twins baseball game, a play featuring Frog and Toad (which was delightful by the way. I may have laughed out loud and wiped my eyes), the sculpture garden, the Mississippi river, and the most charming children's book shop called Wild Rumpus. It rekindled my desire to open my own little book shop a la You've Got Mail.
They live two blocks from Lake Harriet and we spent one afternoon watching the boys play in the sand. It was a lovely relaxing afternoon and confirmed my finding that the key to brotherly love is water and mud.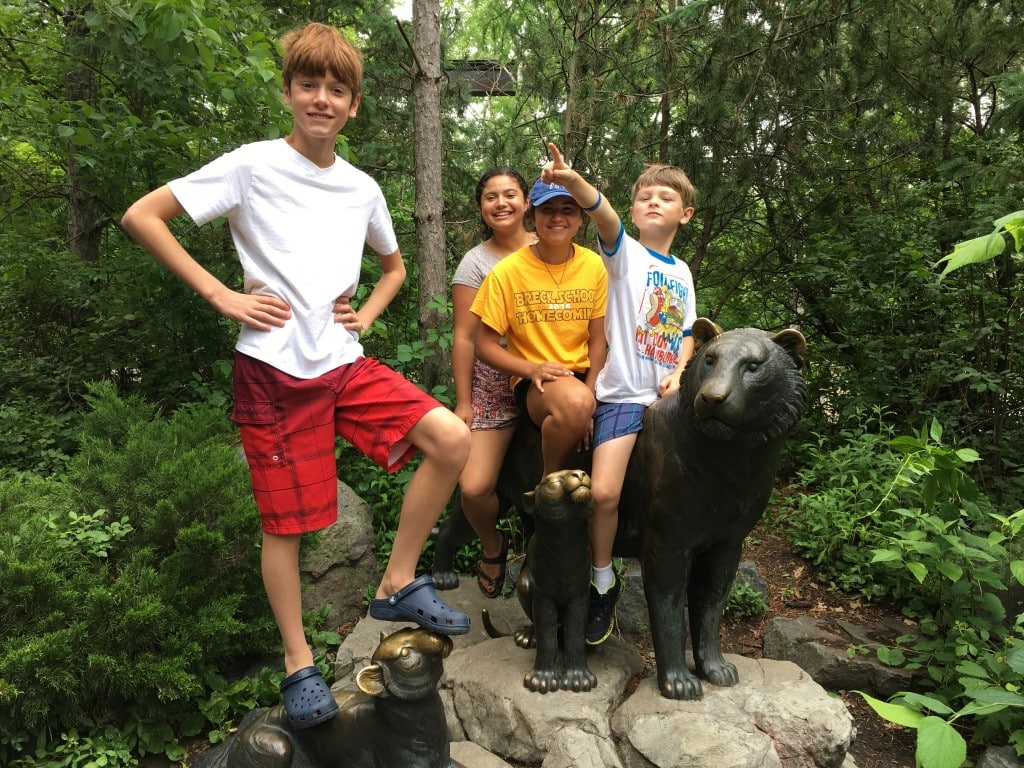 That photo bomb is not lost on me.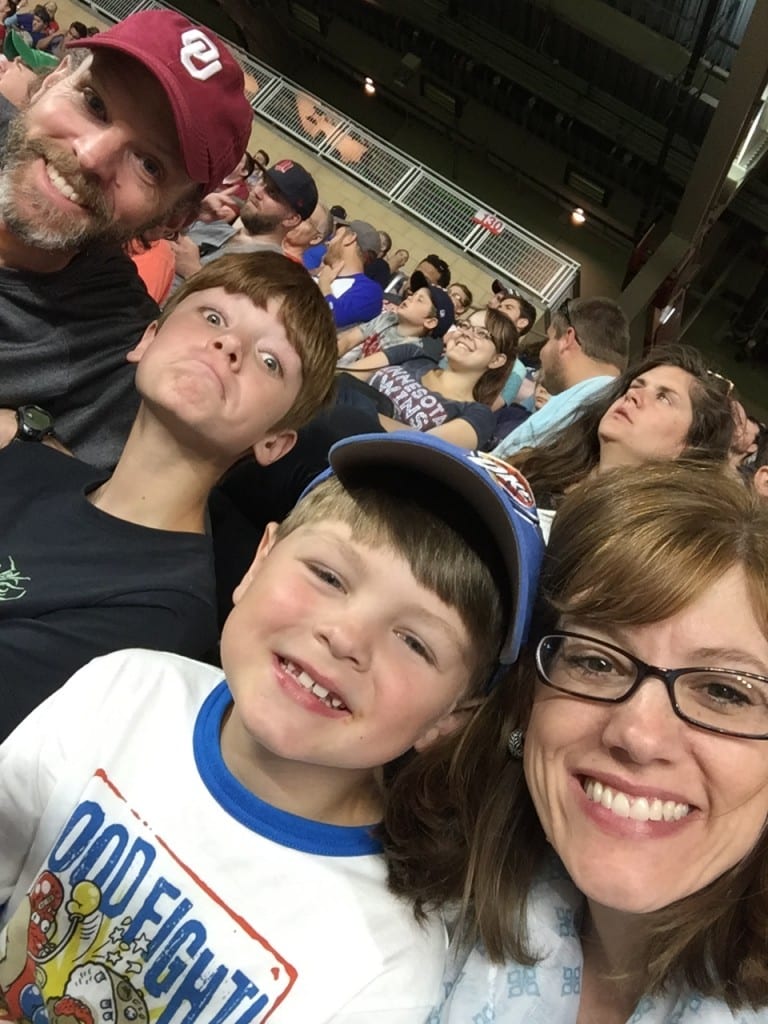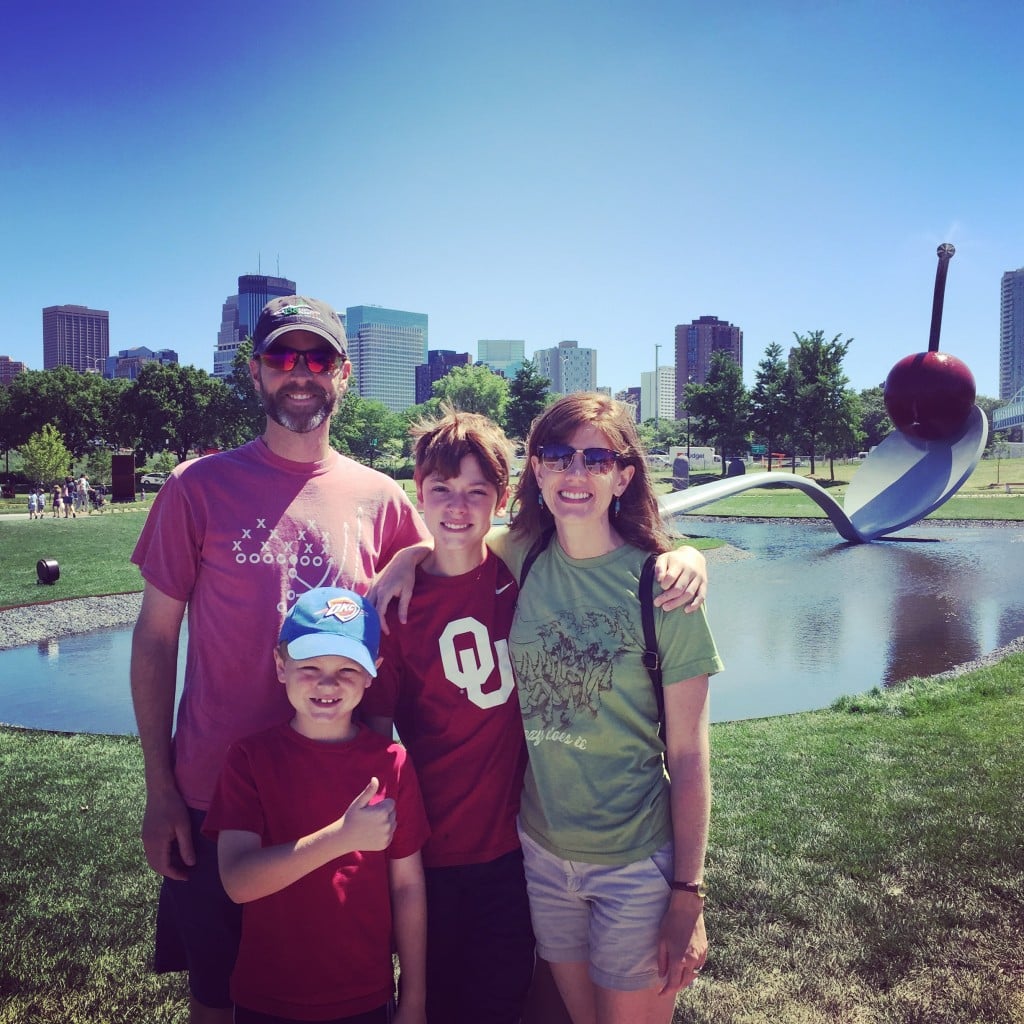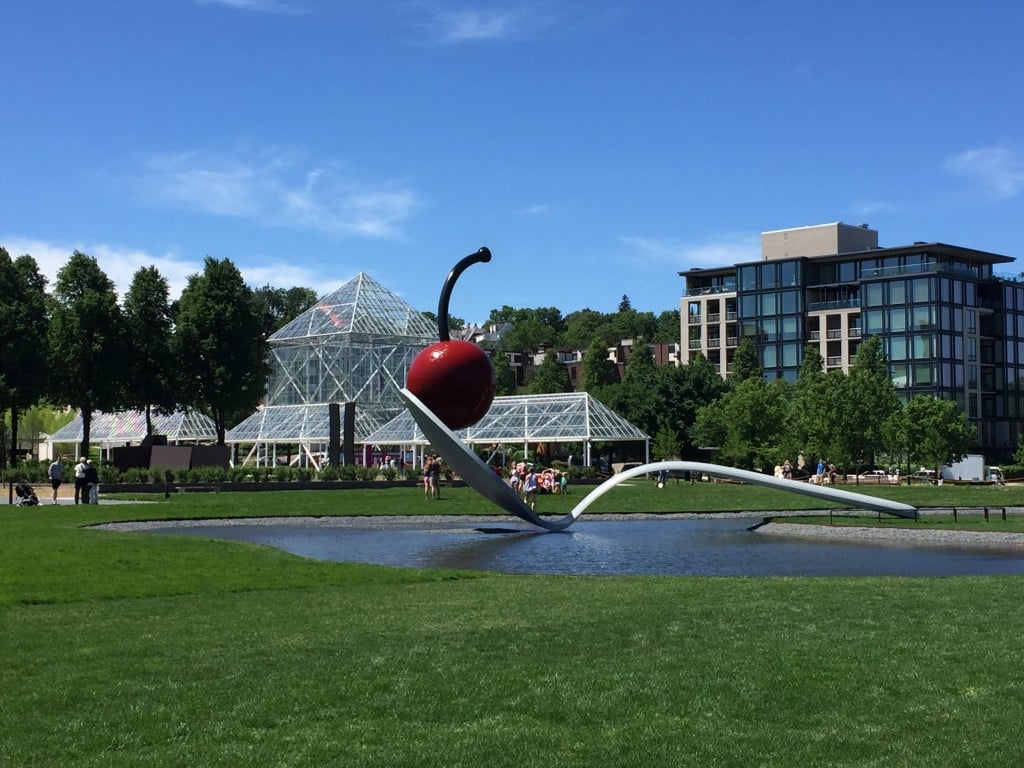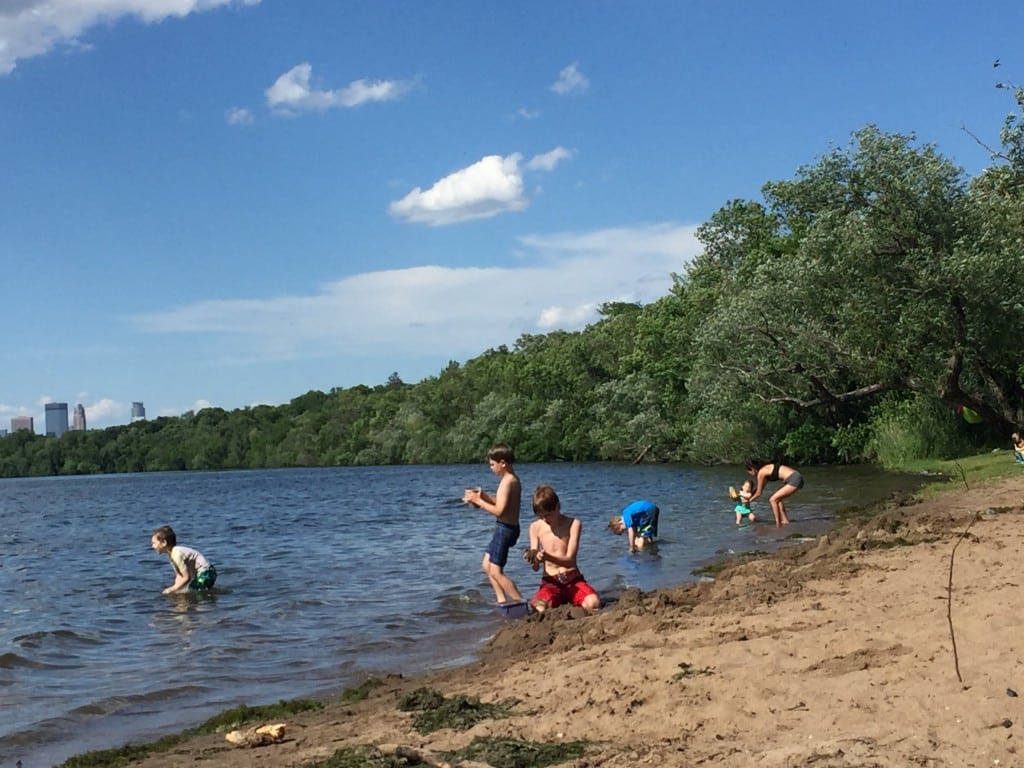 Most nights we at dinner on their back patio under the cool Minnesota air. They introduced us to a hide and seek game called Kick the Can. Playing that game with everybody was one of the best parts of the trip for the boys. They loved all of the other activities but there was something about scrambling around in the dark yard, strategizing on how to beat whoever was "it" to the can, and staying up well past their bed times having fun with the grown ups.
I am now officially in love with Minneapolis and ready to move there. I have even found a house on Zillow that we can afford. Dear Husband reminded me about this little thing called Minnesota winters and what a wuss when it comes to the cold. I told him that we would just become those people who order from the LL Bean catalog and keep our firewood pile well stocked and know the difference between a rick and cord of wood. He then reminded me that one needs a job secured to justify moving our family across country and that moving for the heck of it may have been well and good when we were 23 and didn't have kids but now we have a family to take care of.
Touche.
We headed home by way of Kansas City, where everything is up to date.
Now we are home and lolling away the summer days. When it gets to be 105 here in Oklahoma, I'll be dreaming of the Minneapolis nights.