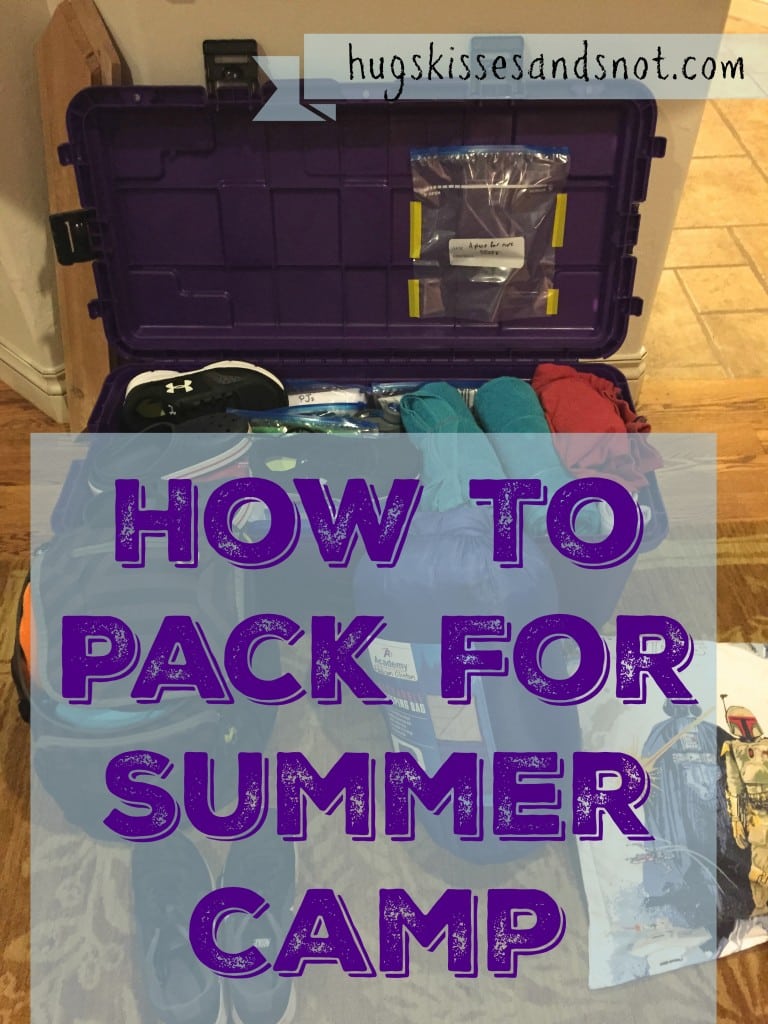 The second week of June we sent Addison off to summer camp in Texas. He has been to sleep away camp before but only for a long weekend and it was close by. This time was different because it involved theme nights, was in a different state and will be a total of 6 nights. I'm not too worried about it because when I was a kid I went for 28 nights and learned quickly how to make friends, how to keep track of my stuff and how to make due if things didn't go exactly they way I hoped.
Learning how to pack for summer camp for 6 nights was a whole thing involving lots and lots of zip-lock plastic baggies. Thankfully, there were helpful tips on the camp website and advice from friends who had been to this camp in previous years. Of course, there was Pinterest but that just leads down a rabbit hole I wasn't prepared to go down. (if you are reading this because of Pinterest, then thank you Pinterest gods for looking kindly on my How To post. Repin, bless you and go with God)
I have no idea how in the world my mom successfully packed my trunk without the help of the internet. She relied on typed out lists and instructions that the camp sent in the actual mail and then hoped for the best.
Those must have been dark times.
Thankfully for us, the interwebs has every bit of information we need and covers every possible scenario.
How To Pack For Summer Camp
The Trunk
Traditional camp trunks are still a thing. I saw lots of them at drop off, so if that is the way you want to go then I'm sure it will be great. I took a large, metal trunk to camp with me when I was a kid and it was perfect. Recently, I saw it in a far corner of my parent's attic. I wasn't brave enough to open it up for fear that the Secret of Nimh set up a colony of rats and mice in there amidst my abandoned camp shirts and half-written letters home.
I was advised by two friends that plastic containers are what kids are doing now. Not plastic container as in, Christmas decoration storage. Plastic container as in, basically a camp trunk made out of plastic instead of metal or pressed wood.
We found ours at Academy Sports & Outdoors. It's technically called a Sportsman Trunk. It has wheels on one side and a hinged lid and was only $25. I was worried that the trunk wouldn't fit under the bunk beds and despite extensive searching, I couldn't find anything on the camp website about how tall your trunk should be in order to fit under the bunks. I'm here to tell you that this container fit perfectly under the bunks at Pine Cove camp. It's 18 inches high and I would expect would fit under most camp bunks. 2 more inches and it would have been too big to slide under.
Shopping For Clothes
Expect every single article of clothing to come back smelly, stained, ripped and disgusting. That being said, do not send your kid to camp in expensive Nike and Underarmor shirts and shorts unless you are okay wasting your money. We had to do a lot of shopping at the end of the school year because Addison had grown out of most of his shorts from last summer. Academy carries a brand of athletic wear called BCG. It is basic, comes in lots of colors and is perfect for sweaty and dirty fun that will most likely ruin their clothes. The best part is that it is super inexpensive. I think the most I spent on a pair of shorts was $7. I also shopped the clearance rack and found an Underarmor shirt fo $10. Score! At least the boy will have one trendy article of clothing.
Label Everything
When I was little, my mom ordered iron on name tags and labeled every single article of clothing (including my socks) with iron on strips, lovingly pressing my name into every last pair of panties with a hot iron. It was a labor of love, to be sure. I'm not sure if those name tags stayed glued to my socks but I'll bet they were good and scratchy while they were doing their job of claiming that pair of white ankle socks with pink ballies as mine and mine alone.
For two brief seconds, I considered buying adorable laundry safe labels with Addison's name on it from Etsy. Then I woke up and realized that 1) I waited too long to actually place and order and receive it in time and 2) I'm in possession of thirteen thousand Sharpie pens and what was I thinking?
Every single article of clothing and every last flashlight and water bottle got his initials in Sharpie. Who knows if it will all come back home or if we will open the trunk to reveal various sundry articles of clothing of some other kid, but at least I tried. Again, if we loose stuff, it wasn't that expensive to begin with. I'm not going to cry and give him grief over a lost Hanes t-shirt.
Separate and Organize
This is where shit gets real. Organization. Go get yourself a large box of gallon size zip-lock baggies and have your Sharpie ready.
I separated all of Addison's clothes by day. One pair of shorts, socks, underwear and shirt when into a bag and I wrote the day on it. I also had extra underwear, socks and white t-shirts in a bag and wrote "extra underwear, socks & shirts". Same with swim suits and jammies. Each night had a different theme night so I would put everything he needed for each theme into its own bag and label the theme. All of this may seem like common sense to you, but to the preteen mind, finding something to wear in the morning is advanced physics.
I showed him how the last day of the week was at the bottom of the trunk with the next to last day on top of that and so on until the first day was on the top. All he had to do was take the bag on top and, voila, clean clothes for the day!
This may sound like overkill, but my mission is to keep it stupid simple. I walked through the entire packing process with him so that he could see where clean clothes were, where his theme night clothes were and where dirty laundry went. Even if he just tosses all the dirty stuff back into the trunk, he will know that anything in a zip-lock bag is clean and ready to wear.
Without the zip-lock baggie system, I imagine all of the clothes getting jumbled around as he looks for a pair of socks on the first day and the entire thing looking like the trash heap from Fraggle Rock. I'm 99% sure it will look like that beloved trash heap anyway, but at least the clean clothes will be separated from the gross clothes by the all powerful plastic barrier.
I put all of his bathroom stuff into a plastic storage box (used for shoe storage) and labeled it with everything that he could expect to find in that box. I did the same for miscellaneous items like pens, paper, bible, flashlight, etc.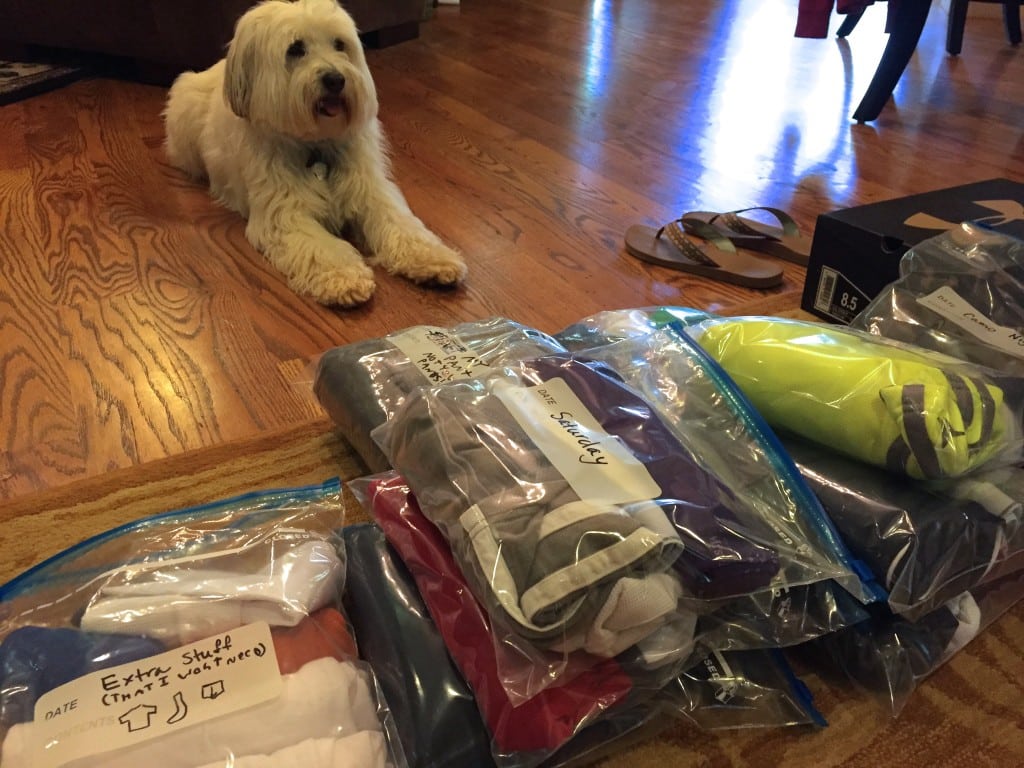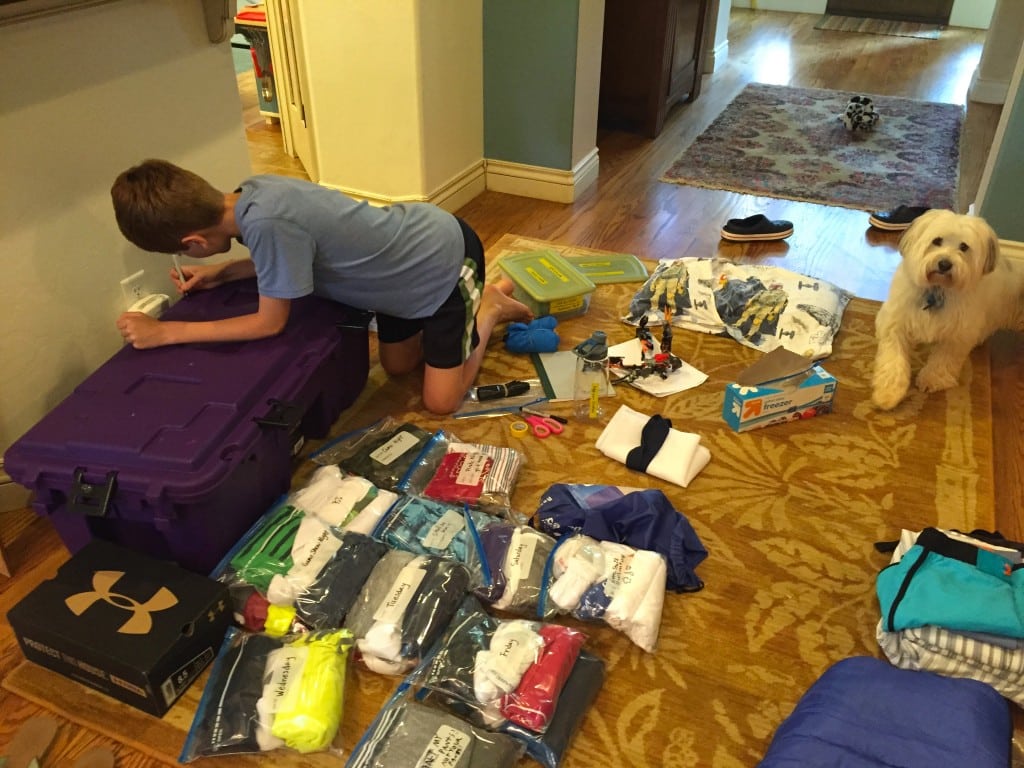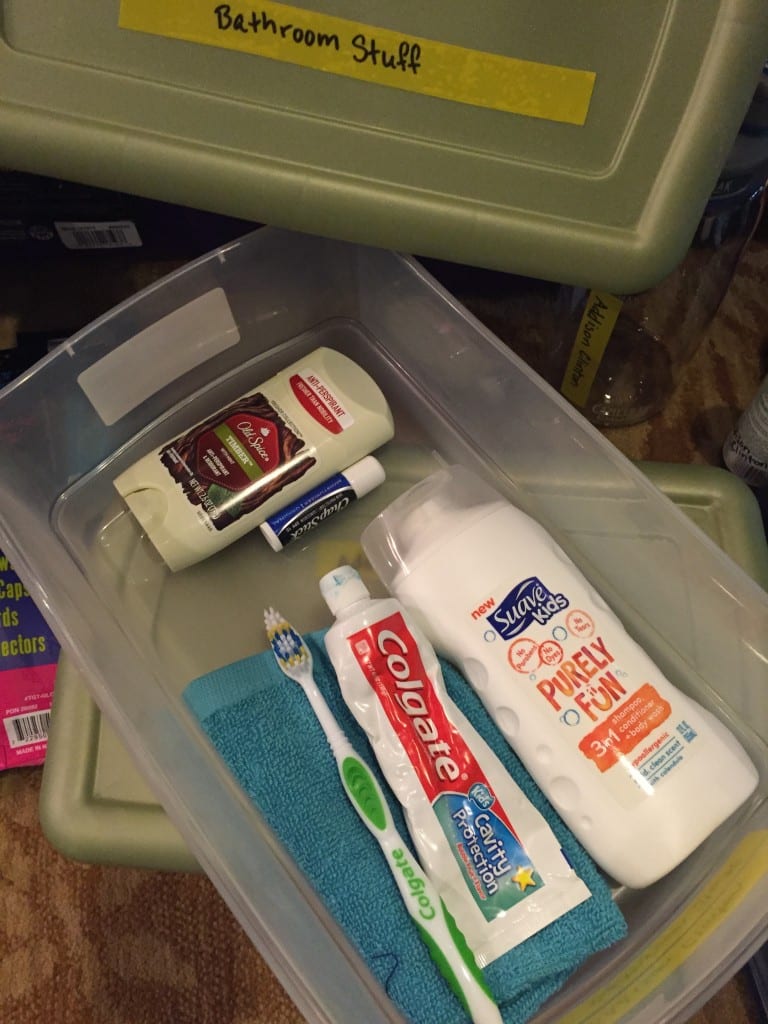 In order to maximize space, I pressed all of the air out of the baggies before loading them into the trunk. Zip-lock baggies aren't air tight, but they will hold that flat shape long enough for you to pack and close the trunk. By the time you reach your destination, they will have filled back up with air but at least you got more stuff in to begin with.
Another way to save space is to roll up the big stuff. I rolled the bath towels up very tight and secured them with a rubber band. Check out the difference between a loosely rolled towel and the tightly rolled towel.
To be sure, this camp trunk is not going to stay this organized. I fully expect it to look like it was sent over Niagra Falls in a barrel by the time we pick Addison up. But at least it was glorious for one day.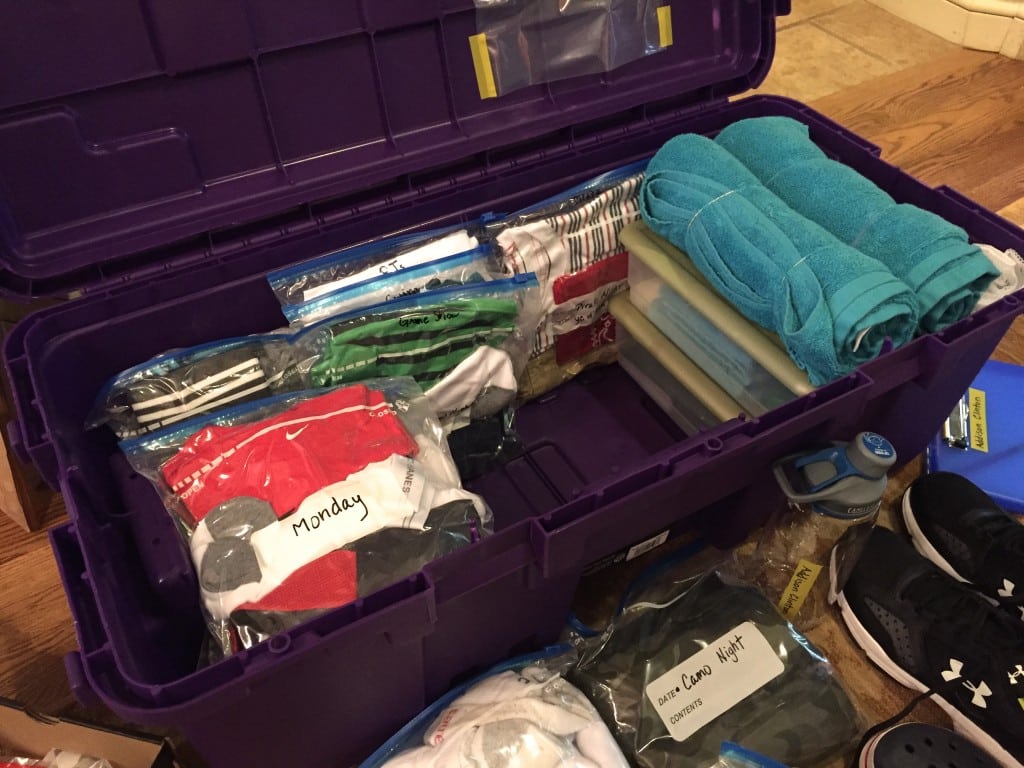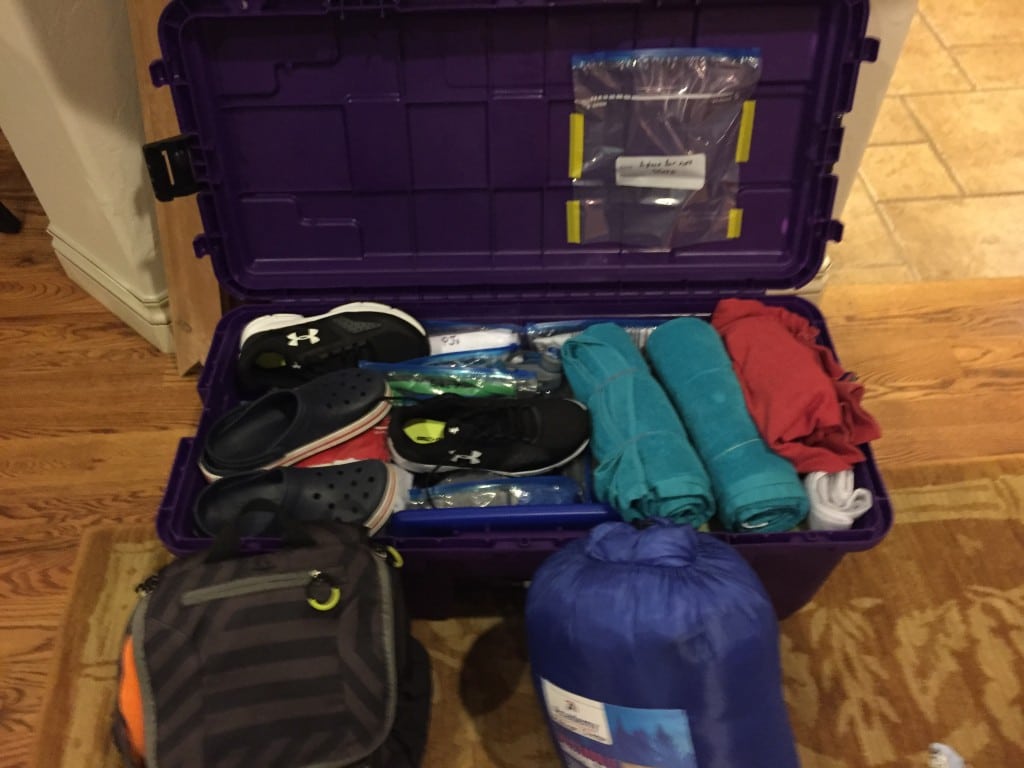 Related Posts via Categories