Recently I posted my favorite holiday card designs on Minted.com. It was a very difficult decision but here is my pick…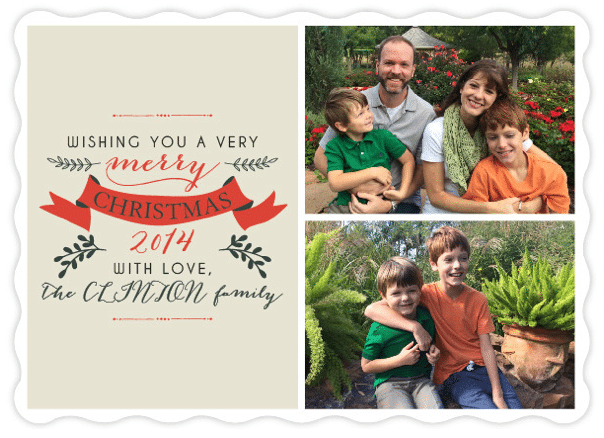 It was a tough decision because 1) we didn't have our four legged family member with us when we took these family pics, so I had to make the choice to find a card that included a single photo of him or wait until next year. Unfortunately, he didn't make the cut. Don't tell him as I don't want to hurt his furry little feelings. For all he knows the entire card is all about him. In fact, lets just let him believe that…the card is just him and I even wrote a family newsletter detailing his adoption and every grooming visit this past year. 2) all of the designs were super cute. I'm really happy with my choice (although I probably would have been happy with any of the choices) and I was even more happy when they came in the mail just a few days after I placed the order.
I can't tell you how relieved I am to have this out of the way. Usually I am a serial procrastinator and scrambling to get a family picture taken somewhere between Thanksgiving and the second candle of Advent. The strain of getting everyone to look happy in "uncomfy" clothes and then paying for express shipping deepens the V in-between my eyebrows and puts me just one step closer to Botox. There is something to be said for planning ahead and following through. Check out my Minted holiday card review below. See first hand how great these cards are.
I'm going to go ahead and apologize for saying "think and creamy" more than once in this video.
Minted Holiday card review
https://www.youtube.com/watch?v=mbG9jLec4Mg
Related Posts via Categories