Recently I discovered the best kept secret in Norman. The University Surplus Store.
The University Surplus Store is a warehouse where all of the outcast furniture from the University of Oklahoma goes to die; or be reincarnated. For the most part it is a sea of worn out office chairs, dusty book cases and metal desks. But amid the standard office furniture that nobody wants anymore one can find treasure. The most amazing thing about the Surplus Store are the prices. Nearly everything is less than $5. Unless it is a really good item then they jack up the price to $15 or $20.
I can't believe I have lived here twelve years and only just discovered this hidden gem. It is only open to the public one day a month and don't event think about trying to get into the warehouse at other times…even if you're with a University employee. They are wise to the ways of people trying to scout out furniture before the rest of the public can see it under the guise of I'm just looking for something for my office and my wife, I mean office assistant, is here to help me decide. Nope. They can see right through that.
Two months ago on one of the open-to-the-public days I fought the crowd of reclaimed furniture store owners, Craigs list trolls, and Etsy shop entrepreneurs to see what the Surplus Store could offer. Right away I saw a stack of retro school desks. Literally a stack as they were stacked on top of each other, four or five high. Thankfully, I figured out the system of claiming furniture you want to buy in time to snag the last one for the low, low price of $2.
I didn't know exactly where I would put this desk but I knew it was perfect for Harry.
Retro School Desk Upcycle
My first step in reincarnating this retro school desk was to clean it up, sand it down and apply a coat of Kilz Original primer. Before adding the primer I used wood putty to fill in the deep scratches and Mike's desk on the drawer. Sorry Mike, where ever you are, this now Harry's desk.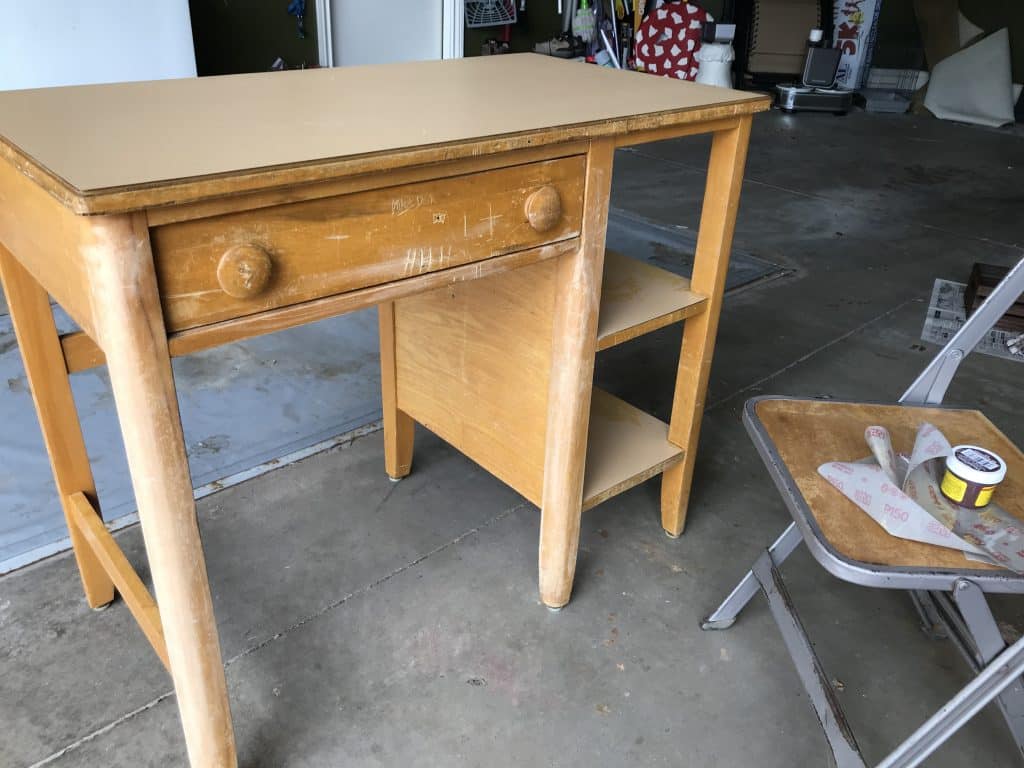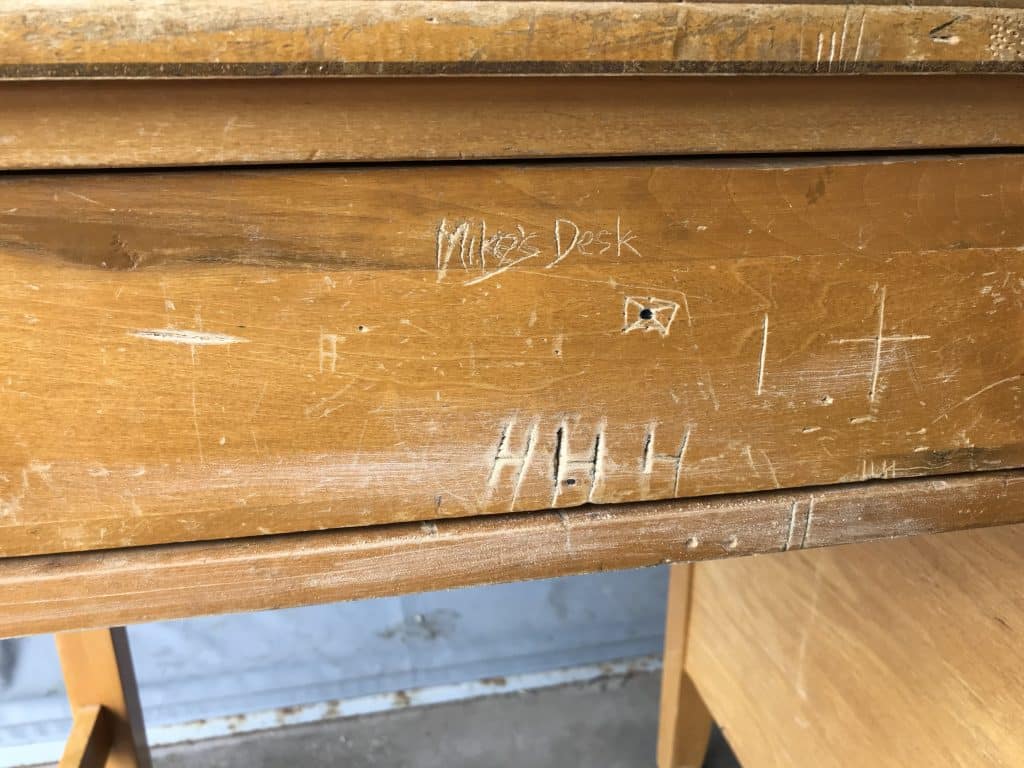 Next I added two coats of interior latex paint. This gallon of paint was free since I borrowed it from my neighbor. This lovely shade of grey is the color of some of her kitchen cabinets and she was kind enough to let me use some of it.
After the paint was completely dry I used Mod Podge to glue fabric to the top and shelves. I decided on fabric because I wanted a pattern on the top of the desk instead of just paint. Fabric would be easier to get a consistent pattern as opposed to scrapbook paper. Wall paper would have worked nicely but I didn't have any wall paper and didn't want to spend the time trying to find a remnant of just the right thing. I knew I wanted a travel themed pattern for the desk and it took me about 5 minutes to find just the right thing at the fabric store.
I intentionally choose a thick duck cloth instead of thin cotton. In my experience in gluing fabric, regular cotton fabric can become almost translucent where the glue is very thick and will appear uneven and inconsistent in the pattern as it dries.
I used a staple gun to secure the fabric to the underside of the top of the desk then applied several coats of clear polyurethane, letting each coat dry completely before applying the next coat. My final coat was a little too thick (I was getting impatient with the many layers of polyurethane to achieve the thickness I wanted) and dried with a bit of a ripple. I'm not thrilled with the ripple on the surface as it's not a completely smooth surface but it is fine for what it is.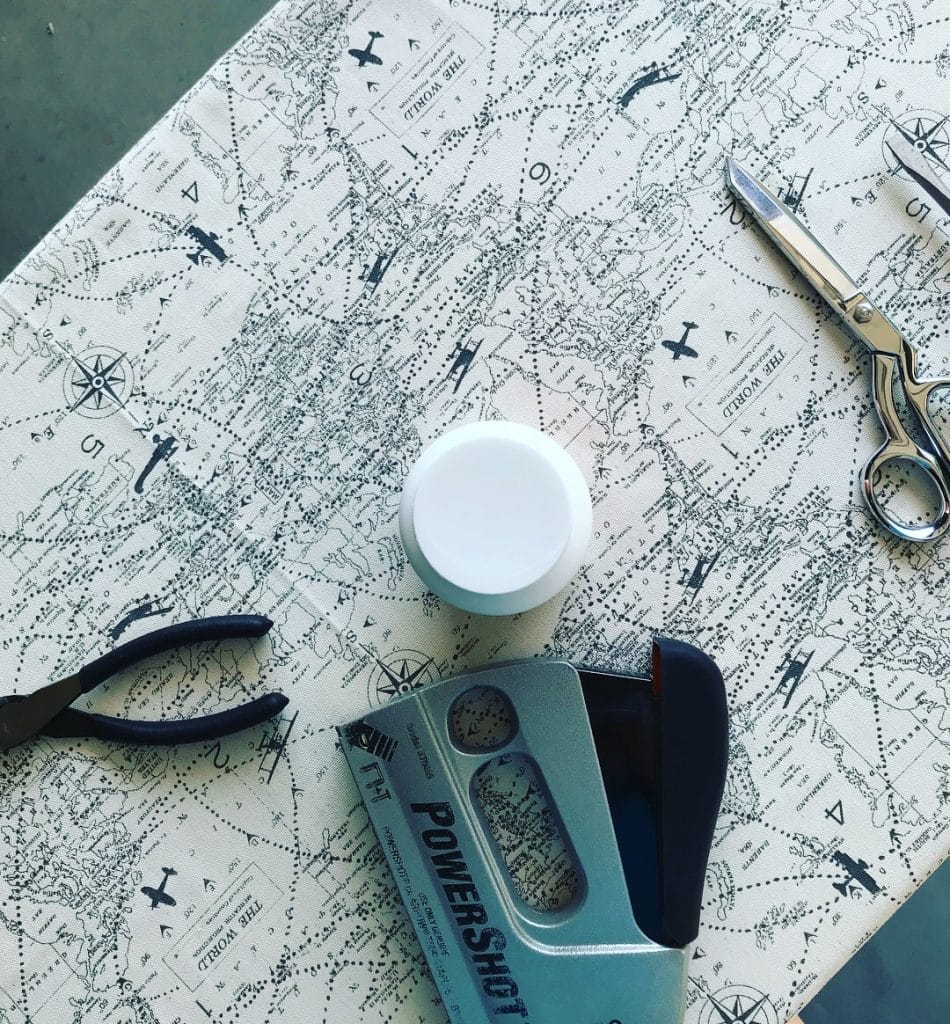 After it was all finished (and sat in my entry way for about four weeks because, life) it was finally time to put it in Harry's room. The only problem was that Harry is out of wall space to add any more furniture. Instead of eliminating his stuffed animal collection, I moved it up on the wall.
All of Harry's stuffed animals (that hadn't made the donation cut) were living in milk crates that were stacked on top of each other. These milk crates are really popular right now and can be found at any craft store. I bought these at Micheal's for about $10 each. I hung the crates on the wall and moved the desk in their place. Ta-da!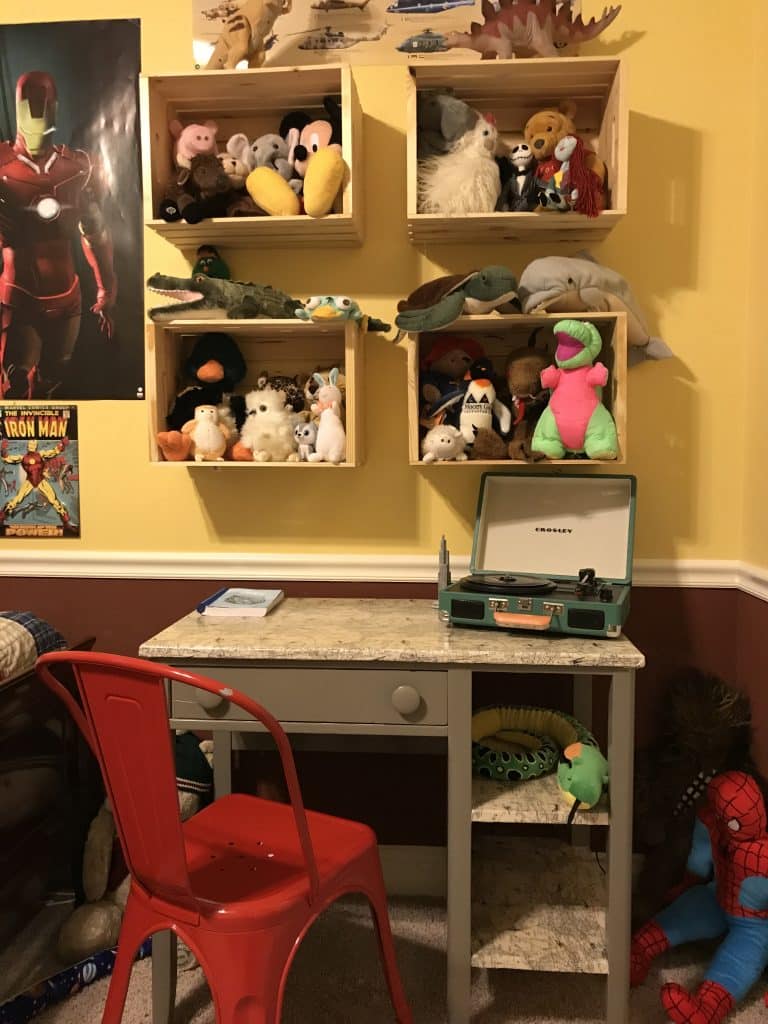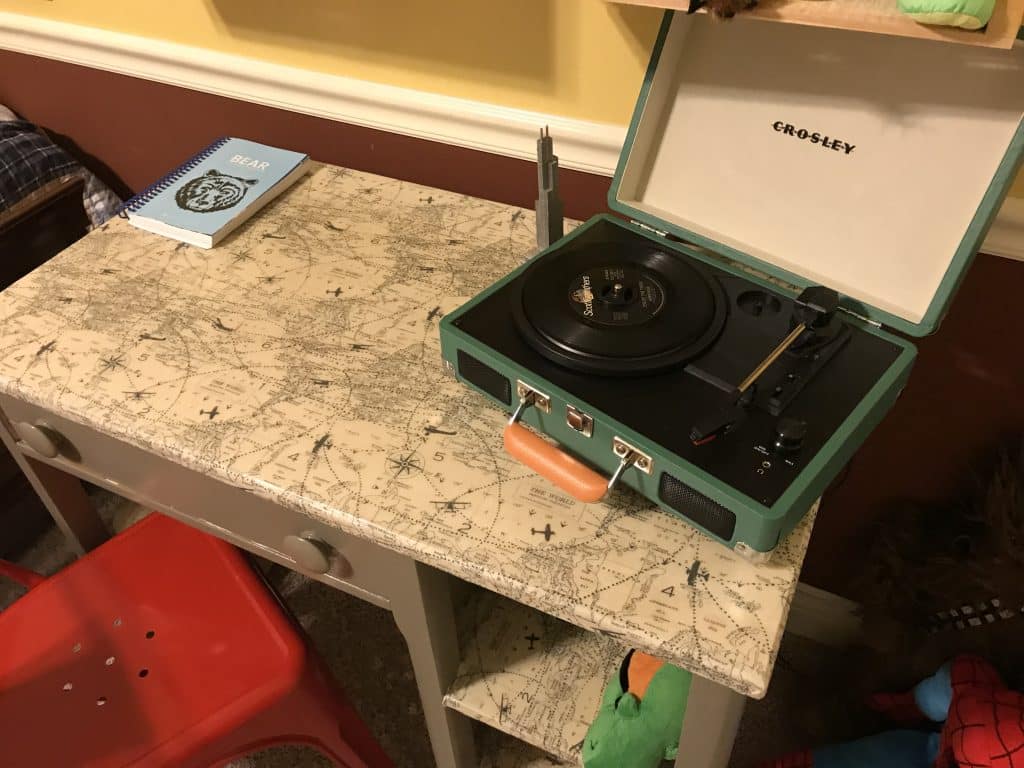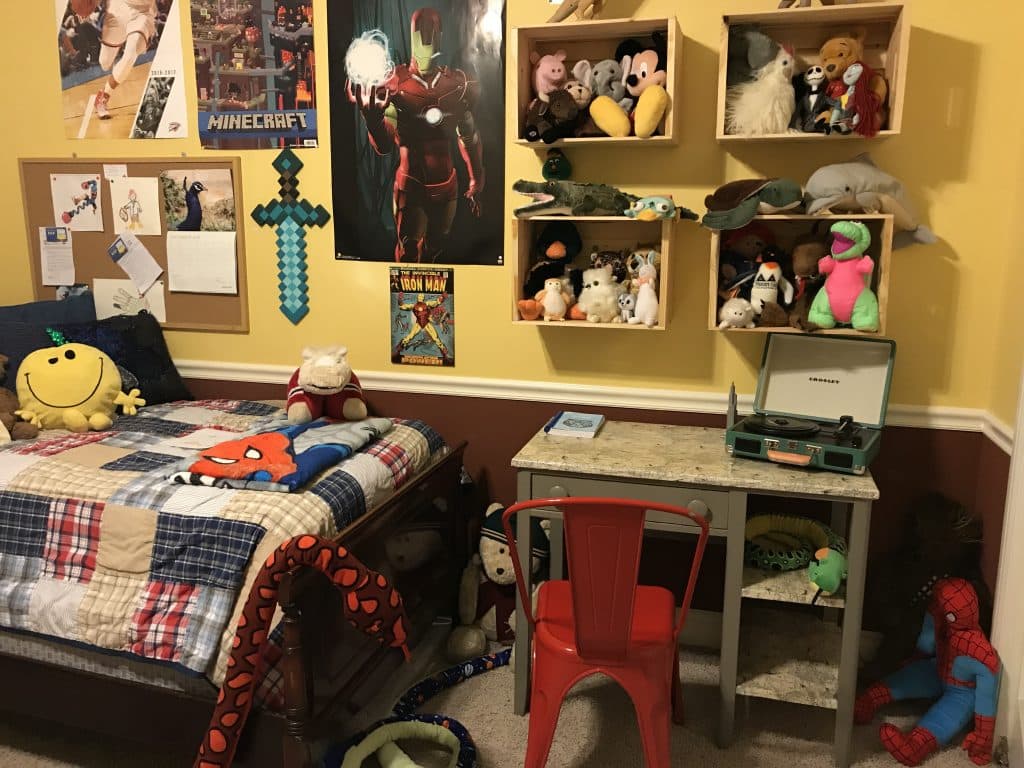 My kids will never have Pinterest perfect bedrooms. There is too much mismatched furniture and random toys for them to be Pottery Barn catalog worthy. But that's okay and I don't really care. I'm not going for a Pottery Barn Kids room. That's not real life. Real life is little boys rooms that will always be a hodge podge of toys, super heros, Legos, Nerf guns, and (clearly in my case) way too many stuffed animals. Sure, Harry's room probably has too much furniture, clutter, and stuff in it but he is happy with it. I've tried to create a fun place for him to feel cozy and safe and creative. He likes it and that's what matters most.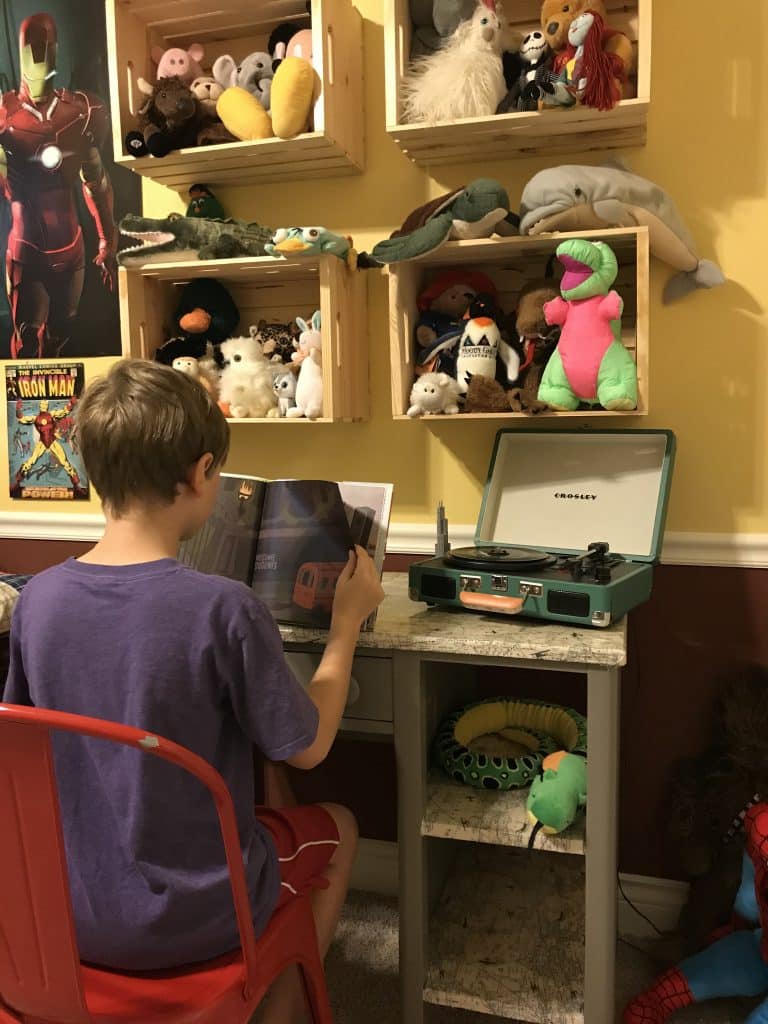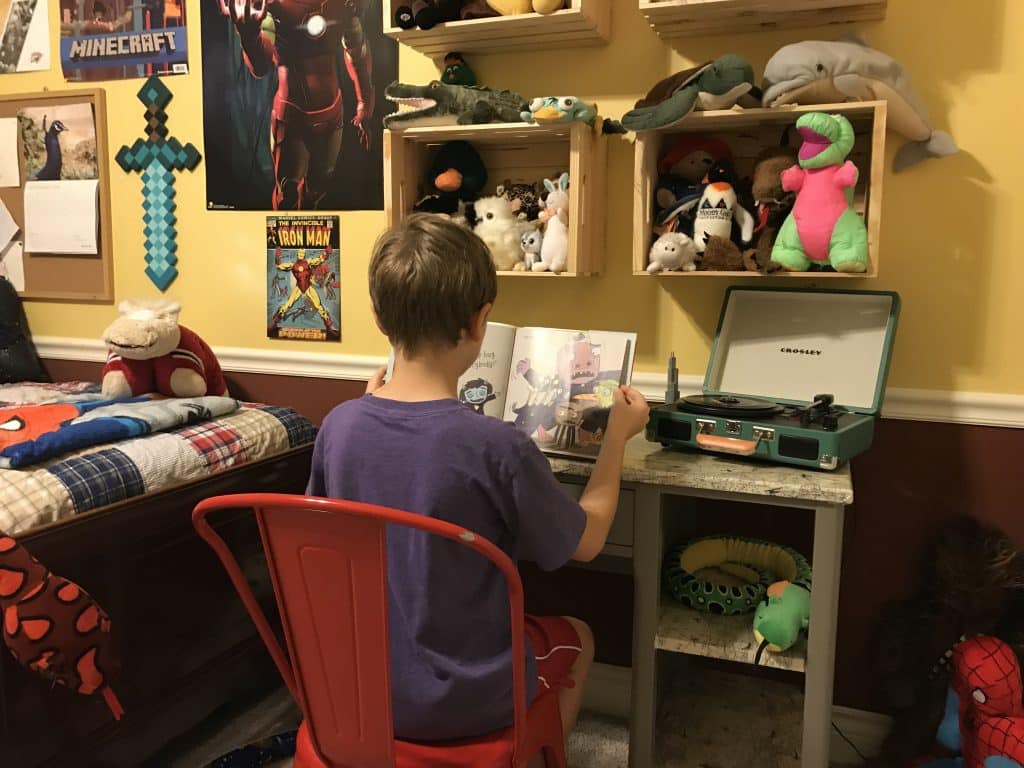 Related Posts via Categories