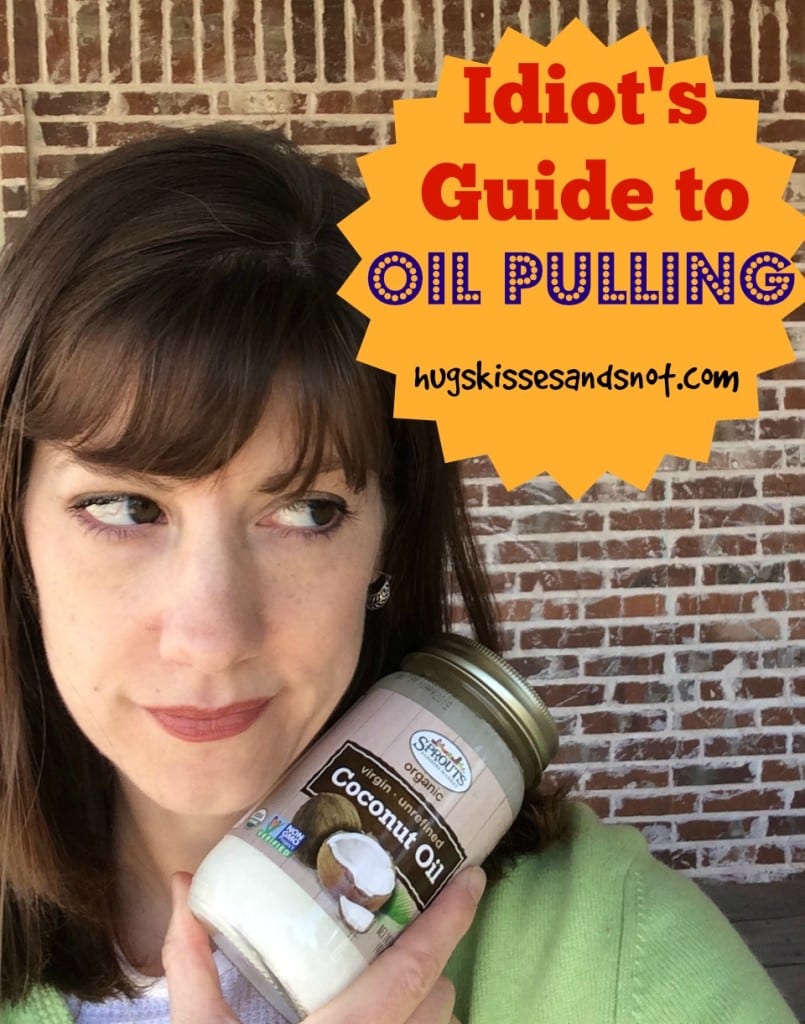 Have you heard to oil pulling? If you frequent places like Whole Foods, know what the 100 Days of Real Food is, or can be labeled as a "health nut" then you know what I'm talking about. For the rest of the regular folks allow me to explain. Oil pulling is the practice of spending 20 minutes each morning swishing coconut oil in your mouth. If this is the first you're hearing of this you are probably thinking something along the lines of: that sounds like about the dumbest thing I can think of.
I first heard of oil pulling was where I get all my news; Facebook. Then it just so happened that one of my favorite bloggers (Jen from People I Want To Punch In The Throat) wrote about why she will never partake in oil pulling. Oil pullers claim many health benefits from the practice, namely, teeth whitening. I happened to see the person who posted it on FB and I have to say…her teeth looked really good. I mean, really great, much better than normal and I started to wonder if there really was something to this oil pulling thing. Before I started making fun of it I decided that I needed to try it out first. So I know what this is all about first hand.
The Idiot's Guide To Oil Pulling
1. It starts off really gross.
Coconut oil right out of the jar is the consistency of Crisco. Imagine right now putting a spoonful of Crisco in your mouth. Did you just gag a little? Well, you should because that first introduction of solidified cooking oil into your mouth is discussing. Thankfully, the oil melts quickly and mixes with your saliva. So now instead of semi soft oil, you have liquid oil in your mouth.
2. You may accidentally swallow a little.
You know that thing when you are in the dentist chair and your mouth is filling up with saliva and that Lava hand soap, or whatever they use to clean your teeth? When you have your tongue pushed to the back of your mouth so nothing leaks down your throat but your reflex to swallow is so strong you can't help it? And then you accidentally swallow just a tiny bit of that nasty-ass cleaning grit they use to torture you clean your teeth? That. The more you swish, the more saliva your mouth produces. You look like a chipmunk using mouthwash and it's hard not to keep your swallow reflex in check.
3. You need 20 minutes all by yourself. No interruptions.
I don't know what kind life of leisure these die-hard oil pullers lead, but I don't have the luxury of 20 minutes by myself when someone isn't talking to me and expecting an audible response.
Here is how my first day went. I started on a Sunday morning, thinking I would have time after my shower while Dear Husband was eating breakfast and the kids were getting dressed. I swished while I got dressed and fixed my hair. Dear Husband came in the bathroom and the following conversation took place:
DH: Have the boys had breakfast?
Me: UmmmmHummmm
DH: Do they have clothes put out that they should wear to church?
Me: Mummmmmm
DH: What do you have in your mouth?
Me: MmmmmmUmmmmmMmmmmm
He leaves. A few minutes pass and he returns to complete his morning routine. We spend a few minutes getting ready in silence that would normally be filled with conversation.
DH: You sure are being quiet.
At this point I couldn't take it any longer so I spit it out in the toilet.
DH: Did you just throw up?
I made it 8 minutes.
4. If you can't stand the smell or taste of coconut then this might not be for you.
Unrefined coconut oil has a coconut aroma and taste. Maybe not as bad as say, Malibu Rum or Hawiian Tropic tanning lotion, but the taste is there. I like the flavor of coconut so I didn't mind it so much. But if the idea of eating a Mounds candy bar makes you feel sick to your stomach than just skip this health fad. I'm sure something just as nuts without the flavor of coconut will come along soon.
5. Give it at least a week before you give up.
"Experts" suggest you make this a part of your daily routine. We both know that's never going to happen. Asking me to add 20 (silent) minutes to my morning routine is like asking me to adopt a rabid cat and give it a bath every single morning. It's just ridiculous. However, I am willing to try this out for one week to see if it makes a difference in my teeth. After that I can say I tried it and then I can start looking for recipes that call for coconut oil.
There you have it, the idiot's guide to oil pulling. Are you ready to try it yet?
Related Posts via Categories