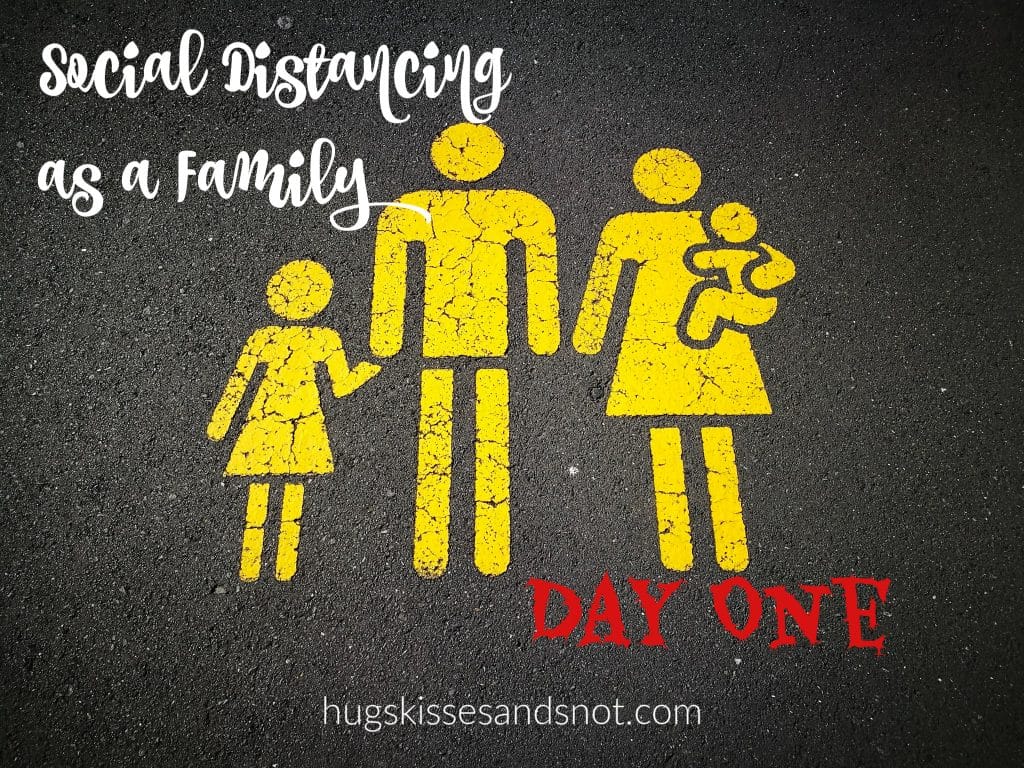 Well, this is quite a pickle we've gotten ourselves into. Isn't it?
I'll admit that two or three weeks ago I thought that this was going to be another SARS, Swine Flu, or a really bad flu epidemic. But the shit hit the fan and well, that escalated quickly.
Dear Husband and I are taking this seriously. We're young-ish and healthy but we have parents who are in their 70's and Adam's mom has asthma. We're not taking chances. So we have told our boys that for the foreseeable future we will be staying home.
So what does social distancing as a family look like for us?
We are very fortunate that Adam can work from home. And if he does need to go to campus, his office is pretty secluded with an easy in and out of the building.
First of all we let our boys know that social distancing as a family means they won't be seeing their friends in person any time soon. This is the hardest part, probably even harder than staying inside with their parents all day, every day. Harry has a playmate right across the street but that mom and I have agreed that the kids shouldn't get together but we've come up with a way to keep them connected and occupied. They love playing Legend of Zelda together so we'll let them connect online through Nintendo Switch and play. It's not the same as being together but at least they can keep up their Zelda adventures. Also, I'm going to fashion a mail box on our Little Free Library so that they can leave notes and trinkets for each other. Telling Addison that he can't hang out with is friends is a really hard pill to swallow since I'm happy any time he wants to hang out in person and not just over video games. So, he will continue to connect with his friends online.
We sat down at dinner to discuss what the weeks away from school will look like. As much as they would like to treat it like summer break and do absolutely nothing, I can't let them become screen zombies. We negotiated a screen time and non-screen time schedule that will start when spring break is over. Since we're all going to be home, we need to have some sort of schedule and something to work towards or else the days and weeks could easily slip by and we have become glassy-eyed and disconnected from each other and reality.
To be honest, I would like to do absolutely nothing during this strange time. It would be the easy route and if I'm being really honest, there will probably be more screen time for all of us than I would like. But to help me maintain some semblance of control on this out of control situation we created a list of things we want to get done. Things on our list include:
Learn how to make pasta (I've borrowed my mom's pasta maker)
Clean out the garage
Collect and price items for the garage sale we'll have this summer when life returns to some sort of "normal"
Clean up the back yard
Clean the grill (ahem…I should have done that last fall)
Art projects, crafts, puzzles, Legos. Maybe even open that jr. chemistry set that has been sitting on the self for 5 years
Make and freeze enough cookies, soups, and casseroles to keep us and our neighbors fed for months
Honestly, this could all fall apart in a matter of days. All my good intentions and high hopes could get crushed under the pressure of a 15 year old's contempt for parental authority. Right now 12 hours a day of playing video games and watching other people play video games seems ridiculous and outrageous. But after 13 straight days alone together I may have found a way to justify 12 solid hours a day of screen time because 8 of those hours are spent in a Marvel movie marathon. And if we're watching together, that's quality family time. Right?
As much as I would love to come out on the other side a better person, I will probably emerge from the Covid-19 quarantine fog having watched the entire Marvel universe 5 times over.