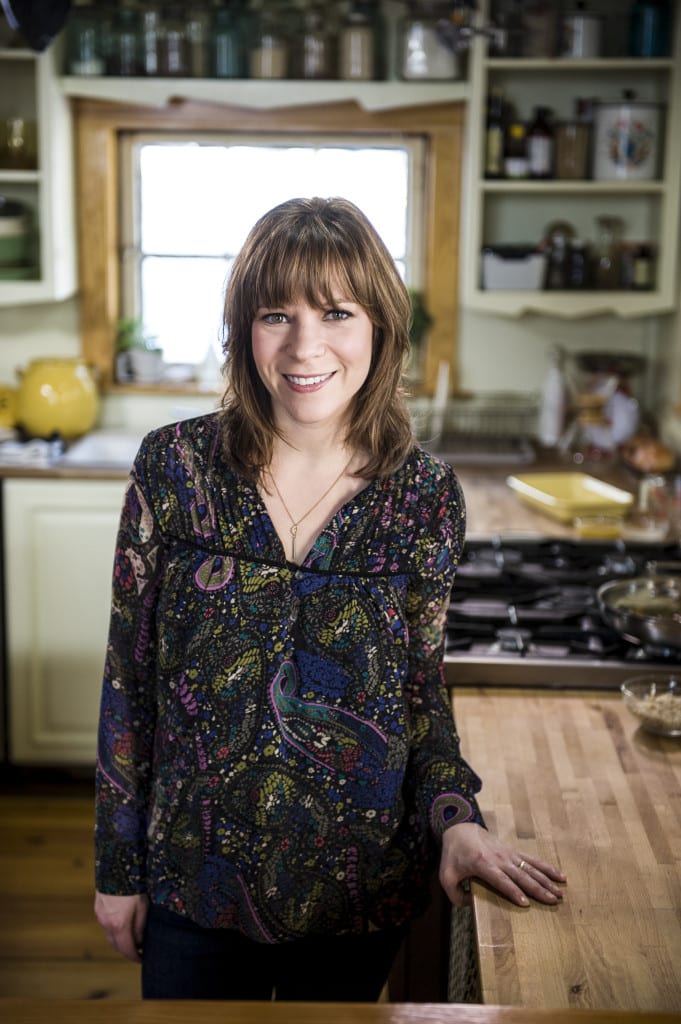 (photo credit: Food Network)
Amy Thielen, host of Heartland Table
This week I sat in on a conference call with Amy Thielan, author and host of Heartland Table on The Food Network. Myself and a handful of other bloggers were able to ask her questions about her experience in New York restaurants, writing a cookbook and hosting her own cooking show on The Food Network.
First and foremost, Amy is a mom. She had a successful career working in high profile restaurants in New York City when she decided to trade it in for a normal midwestern life. When she became pregnant with her son she knew the stressful, fast paced lifestyle of New York restaurants no longer worked for her. She moved back to her roots in Minnesota and started a new career as a columnist and cookbook author.
After Amy moved to Minnesota she started writing for newspapers. She had a regular food column in her local small town paper and it was that success that helped her spring board into cookbook author and eventually cooking show host. She had a blog but it wasn't very successful because she didn't put the time and effort into it that it required. Instead she focused on traditional print media. I found that really interesting because now a days it seems that there are so many cooks who have an online presence that the two seem to go hand in hand.
Amy's mom played a large role in her love for cooking and food. Her mom was a stay at home mom and always in the kitchen. Family conversations often revolved around what they were eating, what they were going to eat next, what they ate last week. I get it. When I'm on vacation with my parents the first thing we decide when we are eating breakfast is where we are going to eat lunch. Then at lunch the topic of discussion is where we will eat dinner. Other families do that too, right? I talk to my mom on a very regular basis and almost ever conversation involves something about what we have made recently in the kitchen. It's just a part of life.
One thing I took away from this call was that I could never, ever work in a fancy-schmancy restaurant. 12 to 18 hour days, high stress, scrutiny, hazing. No thank you. I'll stick to my little family kitchen. Negative critiques from my 9 year old are more than enough for me, thank you very much.
Amy's show, Heartland Table, starts this month, Saturday, March 8, 10:30 am ET/PT on The Food Network. Check it out
Related Posts via Categories