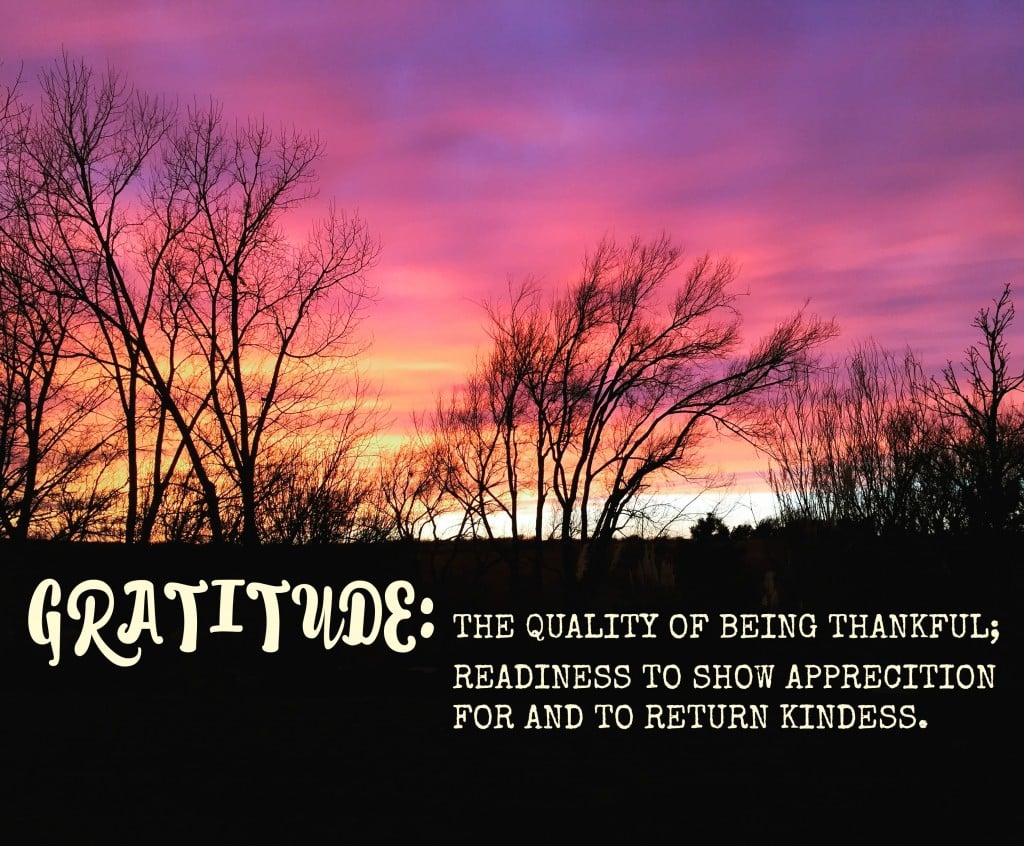 The beginning of a new year and once again all the bloggers are coming up with their word for the year. I admit, I really like this practice. Last year I chose the word(s) "Be Brave". All year long I went back to that concept. Whenever I was trying to decide to do something, take a chance, talk myself out of or into something I would think to myself "be brave" and the right decision would present itself. I dove into the year with my brave life vest and continually came back to the concept of being brave, taking calculated risks, hitting "publish" when I wasn't exactly sure of the outcome but knew in my heart that I needed to do it. And it paid off. I'm very happy with how 2015 turned out.
This year I've been thinking of what theme for 2016 should be and I kept coming back to the idea of being grateful. I have so much to be grateful for and I don't want to take it for granted. I'm constantly trying to drive home the lesson of gratitude to my boys, especially 11 year old. I see him struggle with comparing his possessions (or the lack thereof, and trust me there is no shortage of stuff) with those of his friends. He can see the glass half empty and I fear that he will go through life thinking that he doesn't have enough of this or that and not see the beauty and bounty right in front of his eyes.
Back in November I applied to be on a book launch team for a new book by Kristen Welch called Raising Grateful Kids In An Entitled World. This title seemed right up my alley so I said my "be brave" prayer and applied to be on the team. I never heard back from the publisher and completely forgot about it…until I received a launch team "thank you" gift on Christmas Eve. Turns out I do get to be on the launch team, get a sneak peek and help promote the book. I was so grateful.
My next nudge towards gratitude was the next day. On Christmas day I received a Christmas gift in the form of cash with the instruction to pay it forward as I see fit. The only stipulation was that I couldn't pay it forward to myself or an immediate family member. I love the concept of paying it forward and feel like it is the love child of generosity and gratitude.
So, being grateful and gratitude took root in my mind.
Before writing this I looked up the definition of grateful and gratitude. They both are defined as the quality of being thankful and showing appreciation for kindness. However, the word "gratitude" has one little addition to its definition; "readiness to show appreciation for and to return kindness."
Return kindness. I can be thankful as the day is long but what good does it really do me if I am not willing to pour it back into the world?
So, that was the longish version to say that my mantra for 2016 is gratitude.
Now for the fun part. I'm going to start right now with returning the kindness. I'm so grateful for you, dear reader, and all the new adventures blogging has brought to me that I want to pass along some gratitude love.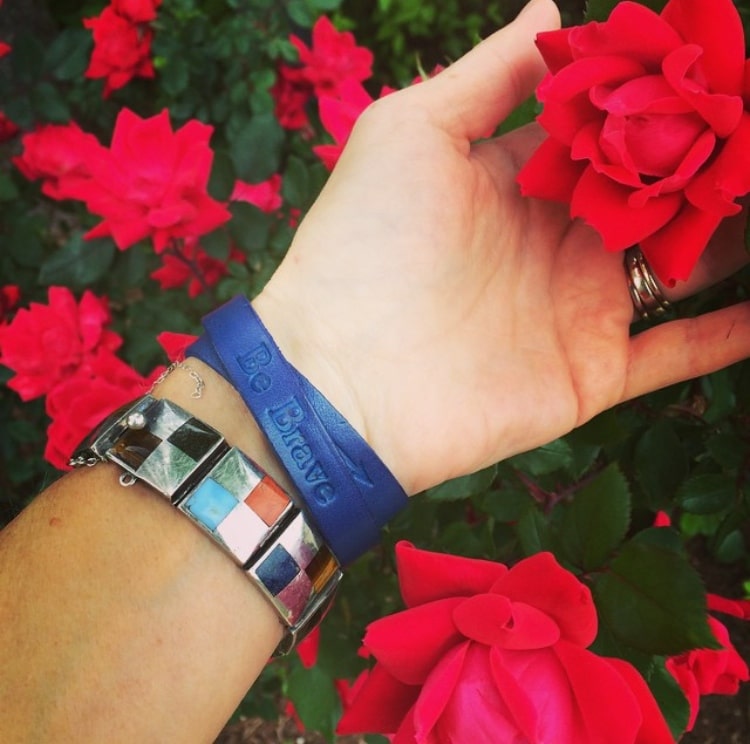 Last year I bought this little leather cuff to help keep me on my brave track. Fashion that doubles as inspiration; yes, please. I just ordered one for the new year and now want to give one away to one of you lovelies. This is my small way of saying thank you for being here. Long time reader or brand new, it matters not. I'm just grateful to have your support. It can say anything you like…as long as it's family friendly and 14 characters or less.
All you have to do is leave a comment.
What is your word for 2016? That's all I ask of you…no need to share this post or like it on FB or repost on IG or tweet it out or jump through all the social media hoops. Forget all that nonsense, just leave a comment and one person will be chosen at random to receive their own personalized cuff. I'll be eager to hear what you have in store for 2016 and will accept comments for one week. Next week Harry and I will pull a name out of a hat then we will communicate to see how you would like your cuff personalized.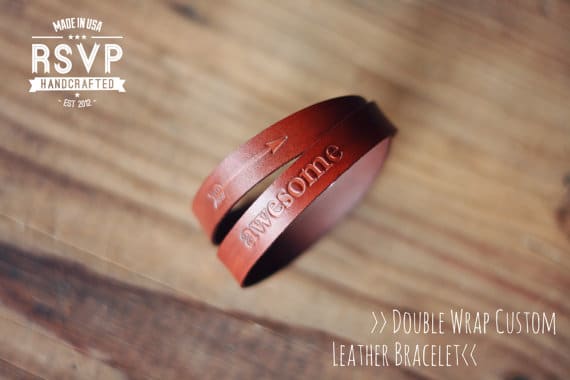 I have scoured Etsy and come across this craftsman. I don't know him and am not receiving a kick back, I just really like his products.
Related Posts via Categories