Last I left you, I had given an update on all the downstairs paint. I'm sure you have been waiting with bated breath and wondering when the heck I would post another Ft. Clinton update. Rest assured, a whole lot has happened since the paint update but, in true renovation fashion, I'm taking it slow with the blog updates.
Somewhere around mid-February the drywall was installed. Let me tell you, that was a mess. Drywall creates a mess if you so much as look at it wrong. Then you start cutting and installing and forget about it. The drywall guys were here for about a week installing in the hallway, hall closet, stairwell and new upstairs room and left a fine film of drywall dust all over the living room and kitchen in their wake. Even after I cleaned and wiped down all the surfaces, new drywall dust that was hovering in the atmosphere, waiting for me to clean, would settle on the countertops. Oh, and the crew left a nice little mess in the hallway leading back to the boys bedrooms for us to clean up.
Thankfully, the mess of drywall was soon followed by plaster and wall texturing which meant the trim carpenters could get in the house and start their magic. Brothers and trim carpenters extraordinaire, Jerry and Johnnie, are artists when it comes to wood. They installed baseboards along the hallway, stairwell and new room. They turned a 90-degree edge into a smooth, rounded corner by hand with a sander, they took my vision of the shutters I wanted and turned them into reality. Most importantly, they installed our spiral staircase and built the platform that it leads up to. Prior to the staircase installation we had a magnificent lookout with no way to get up there.
Since the staircase only came with instructions on how to put it together, Jerry and Johnnie had to come up with how to build the lookout platform from scratch. My first time to the top of the stairs I must admit that I was a little scared that it was all going to come crashing down. I'm happy to report that so far so good. It has held three adult males (that is about the most that can fit into the lookout at once) and is holding firm.
The Spiral Staircase
Day 72
Day 82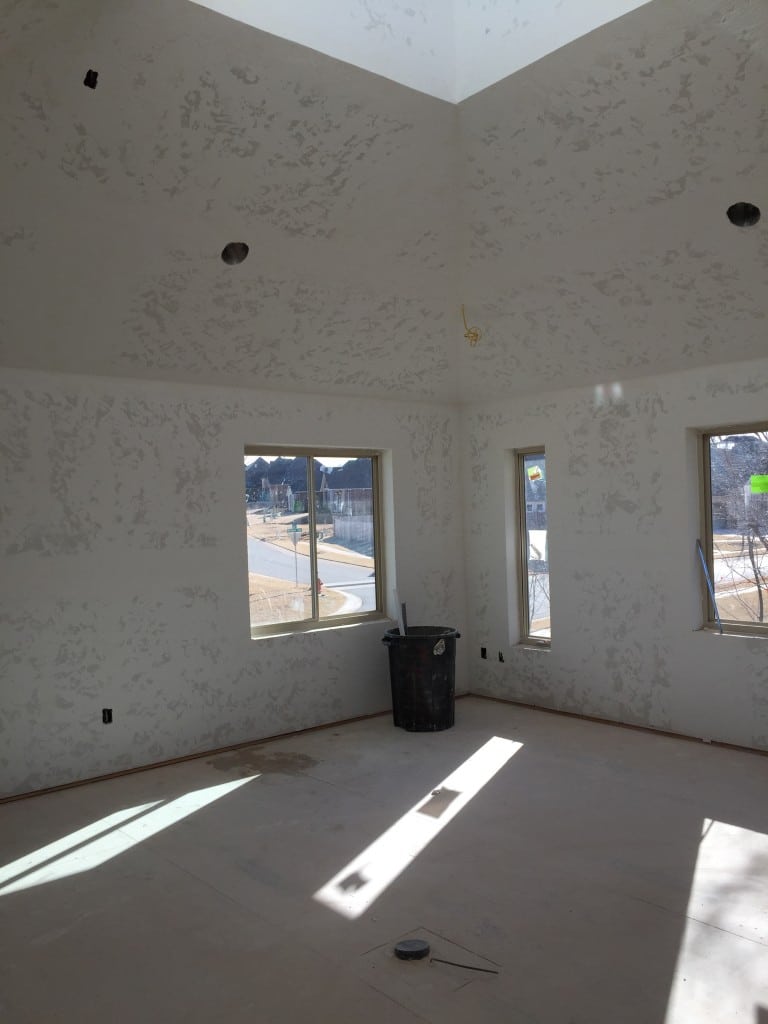 Day 97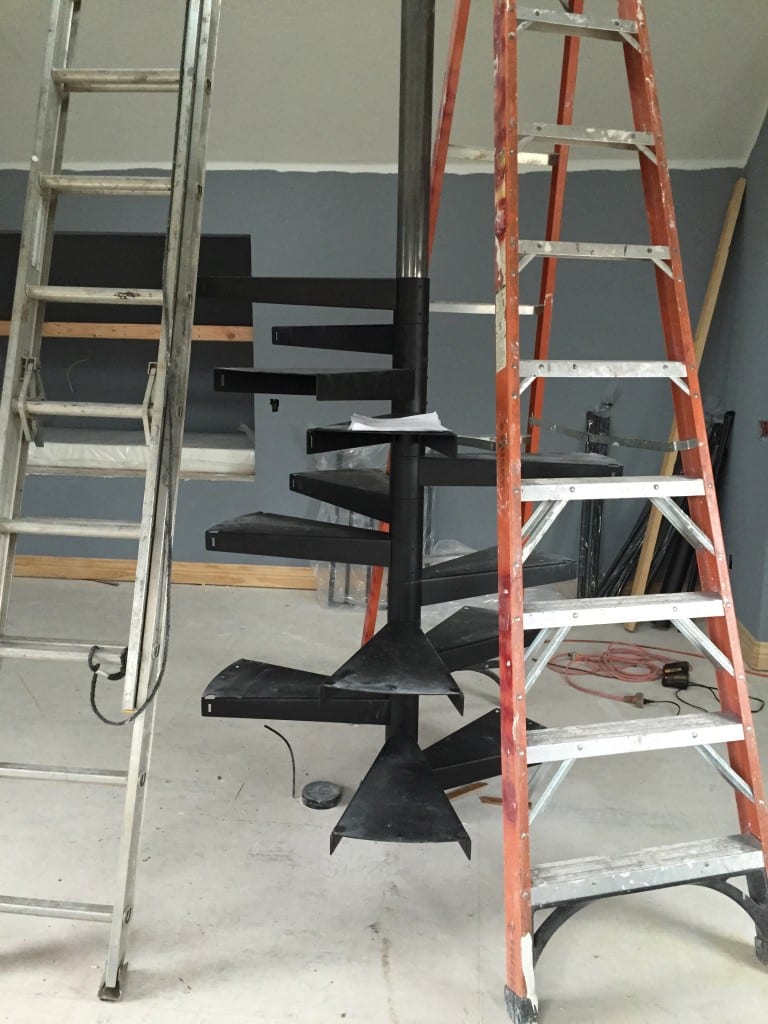 Day 98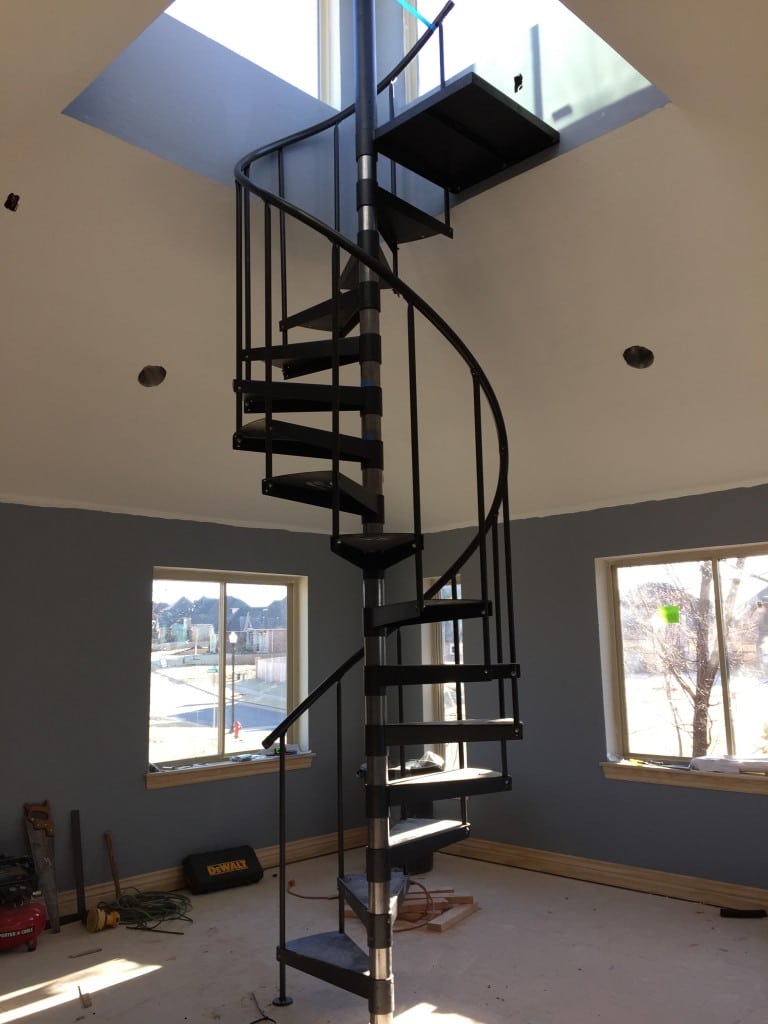 Day 99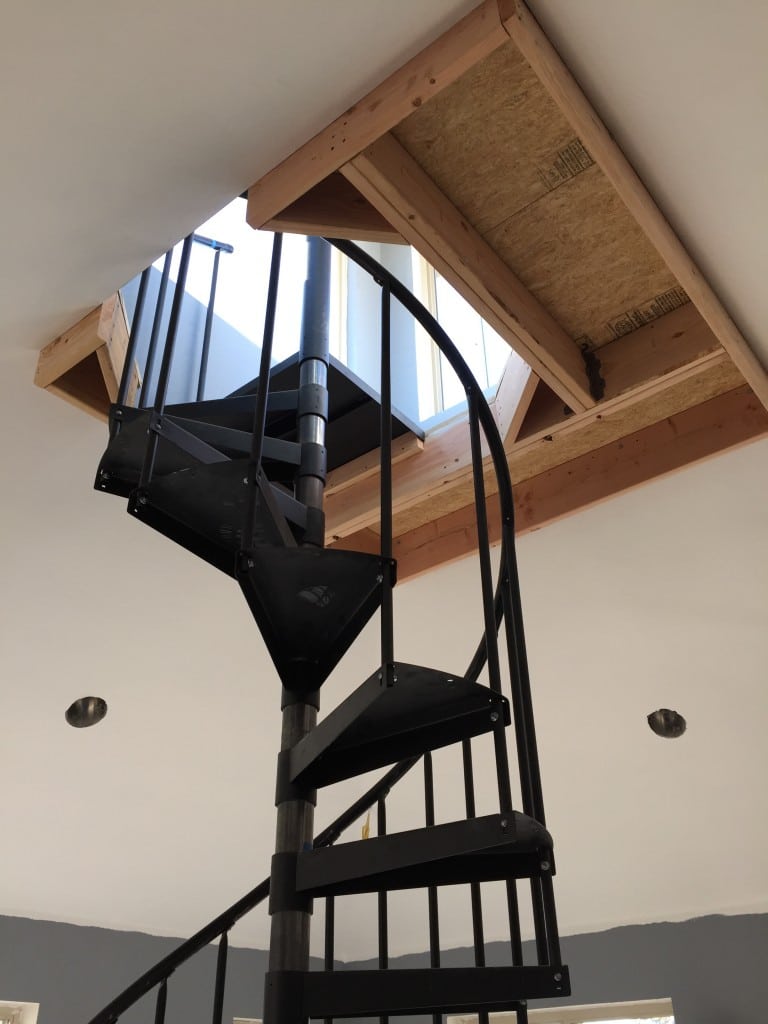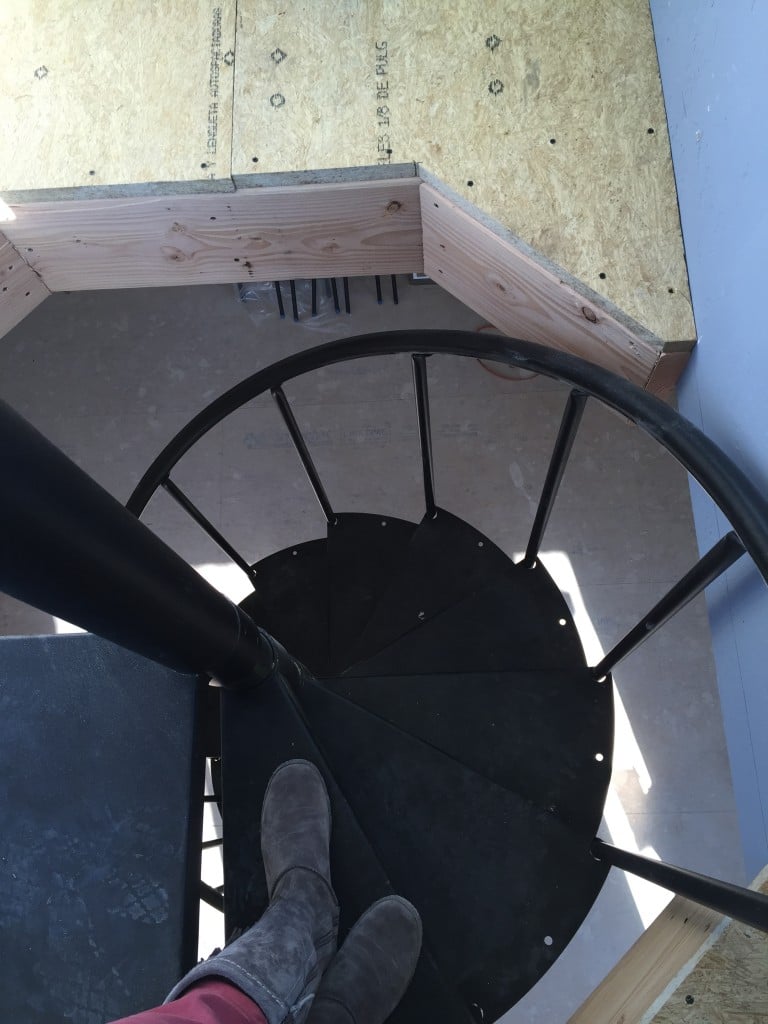 Day 105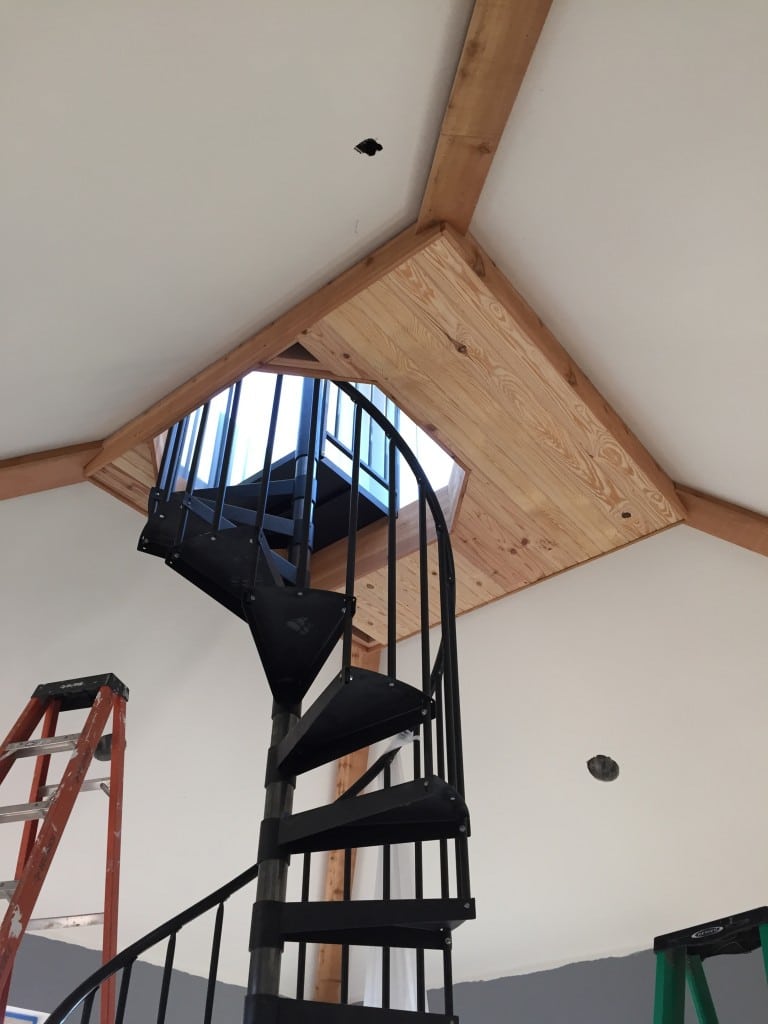 Day 106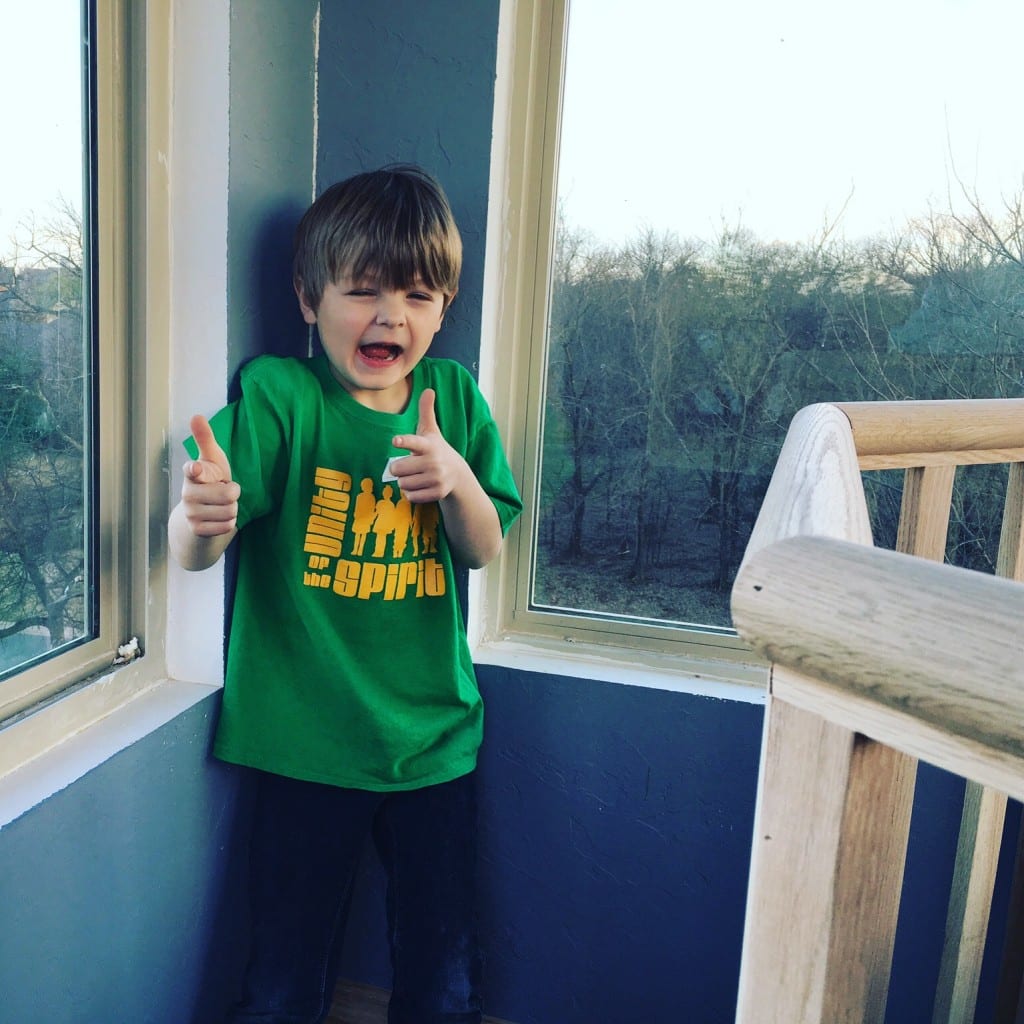 Once the trim carpenters had 90% of their work completed, the electricians could come in and install the light fixtures. I found the rustic tin pendant lights on Houzz.com and the sconces through my lighting company. I'm in love with the sconces because they cast a patterned shadow on the ceiling at night. When I showed the picture from Houzz.com to the lighting showroom rep, she was amazed by the price and advised me to buy them from Houzz as she wouldn't be able to find that exact fixture or beat the price.
We put sconces inside the bunk beds with pull strings so sleepers can enjoy a book in bed then easily turn out the light. So far Harry and Addison have stayed up in Ft. Clinton several nights and happily used their reading lights. We installed the same sconces in the stairwell. We wanted to create enough light to safely climb the stairs but not too bright. These LED bulbs provide the perfect amount of light. They are pricey at $10 a pop but are promised to last for decades. Let's hope so because we have a total of 9 LED bulbs in the room plus 4 LED ceiling cans and two outdoor LED bulbs. I can do the math on the cost of just lightbulbs but it makes we wince. But decades…they will last for decades. Come to think of it, all the math regarding this project makes me wince.
The Lighting
Day 114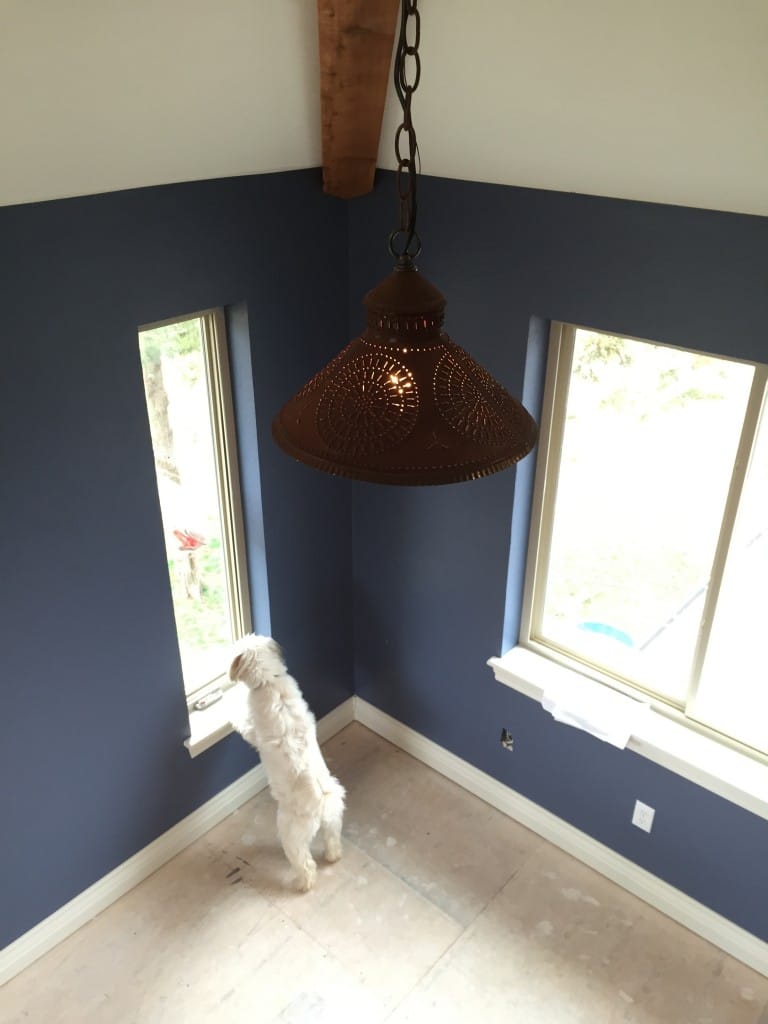 Day 120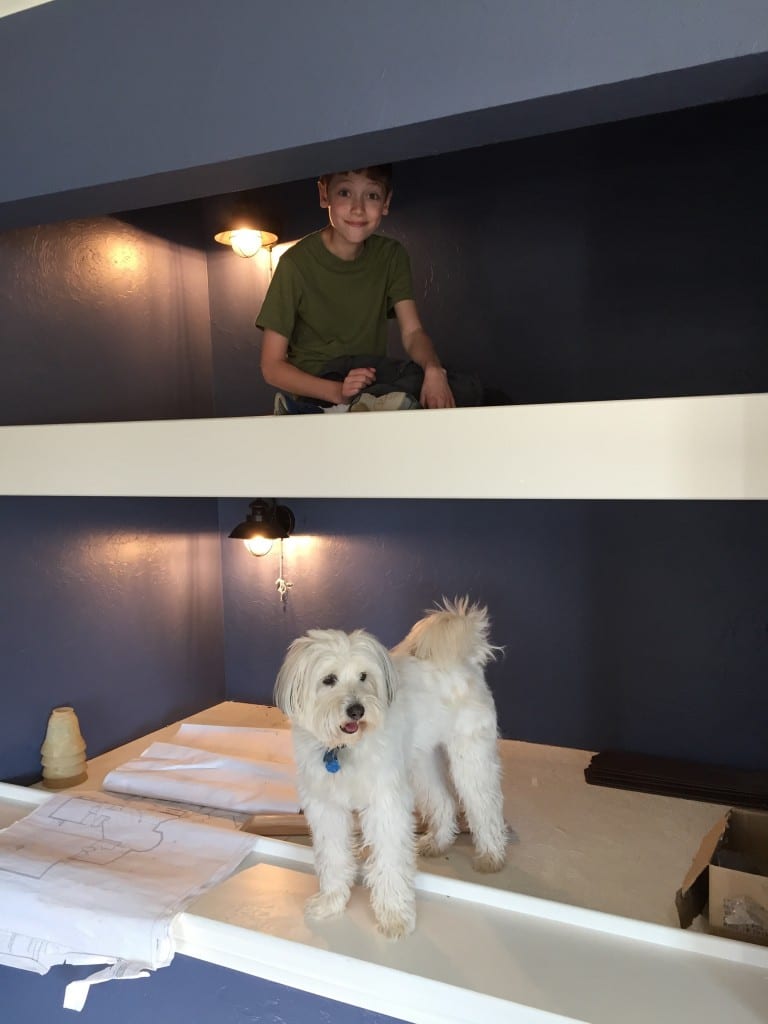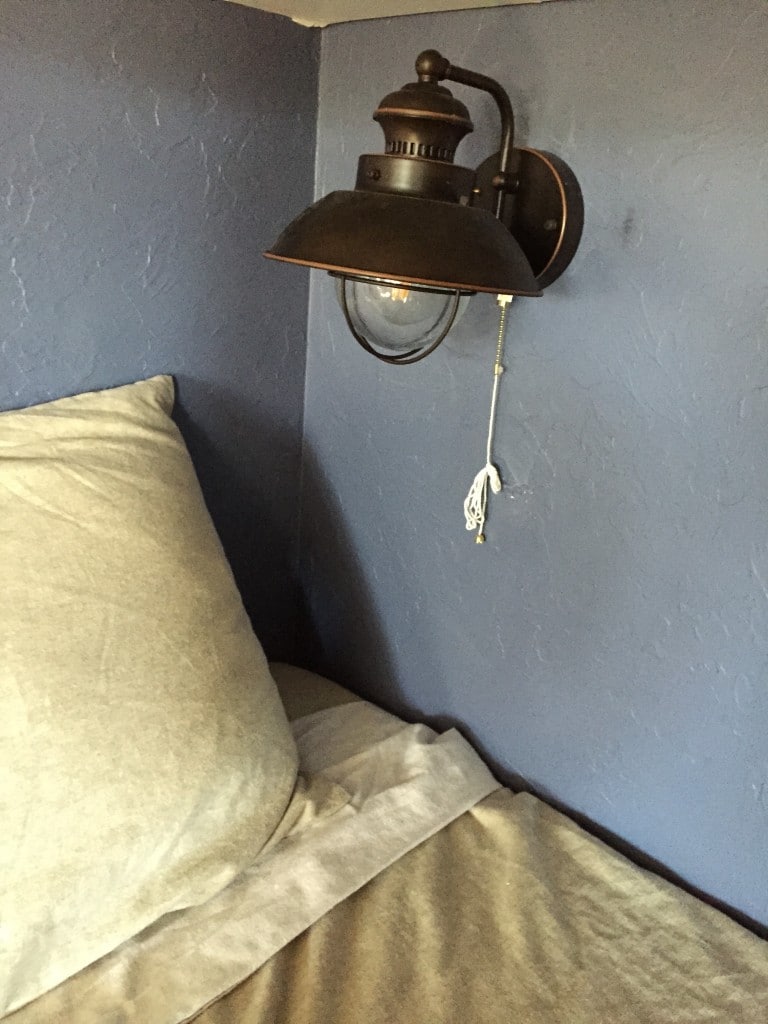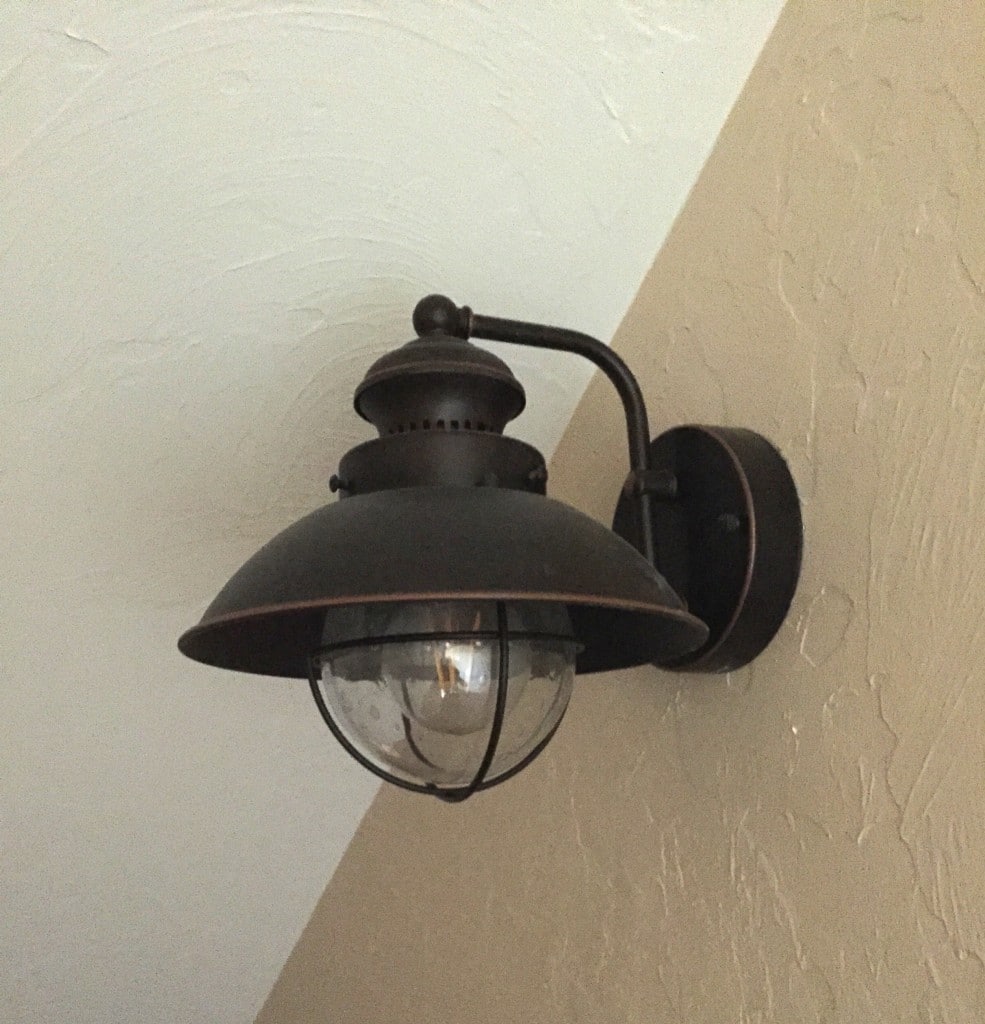 The Carpet
They say that once the carpet is installed, you are nearly there. Well, the day carpet came I was so excited I actually got a stomach ache. The thought of this project being almost done was almost more than I could handle. Almost. New carpet meant a new vacuum. Never in my life have I enjoyed vacuuming so much. Being able to vacuum up all the tiny bits of carpet and fuzz, emptying out the canister 3 times then laying down on my brand new, clean, soft carpet. It was like my life was complete. That day my happiness was defined by carpet. Whoever says you can't buy happiness is an idiot. You can and it's in the form of newly installed carpet.
Just when I thought I couldn't get any happier, my joy level bumped up to 11 with the installation of shutters. I had a vision from the very beginning of window shutters instead of blinds for curtains. This was our own little fort and I wanted wooden shutters on the inside that we could close for privacy and to block the light. Thank goodness for Houzz and pinterest because my contractor and carpenters looked at me like I was speaking another language when I tried to explain what I wanted. But oh boy, did they deliver. Jerry and Johnnie build these shutters and they are exactly what I envisioned. We plan to add rustic latches but the hardware store doesn't have what we want. Etsy here I come.
Day 122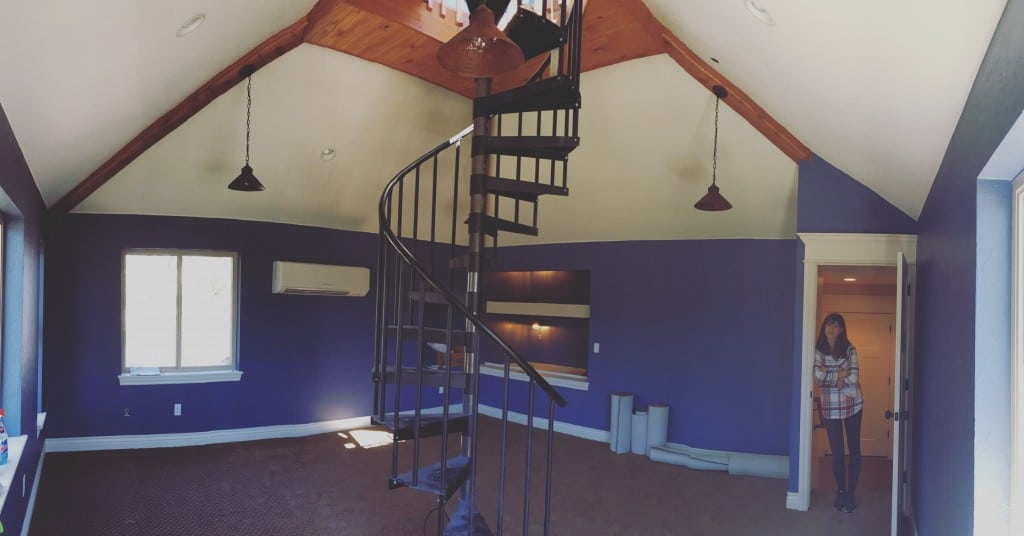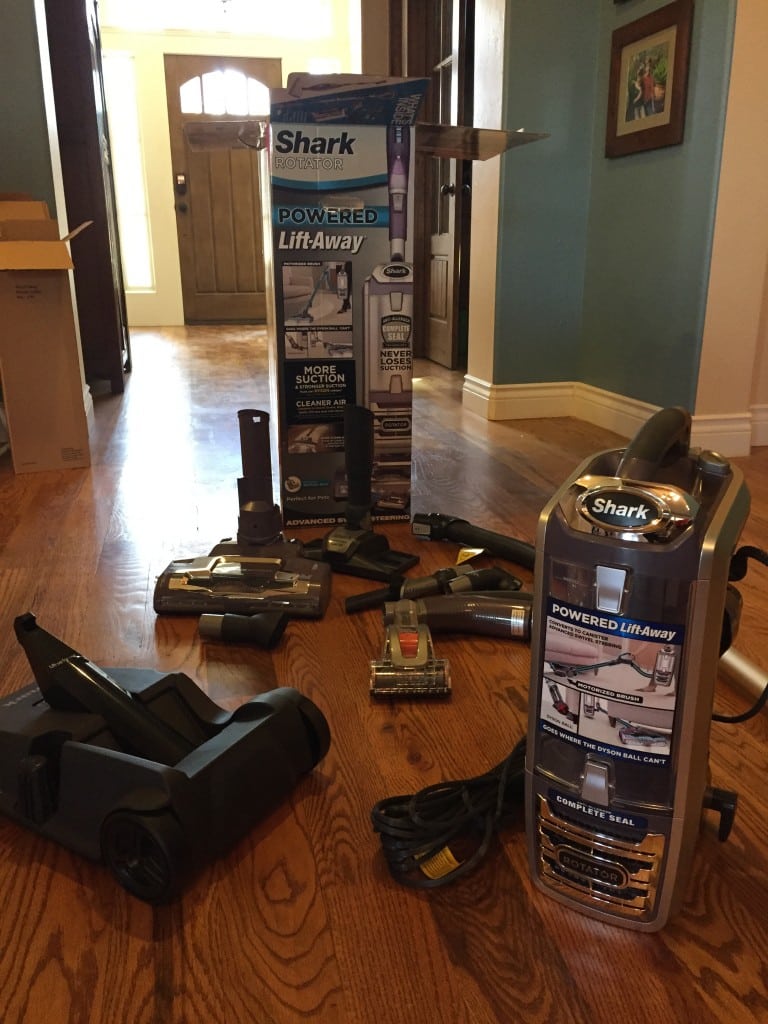 Day 125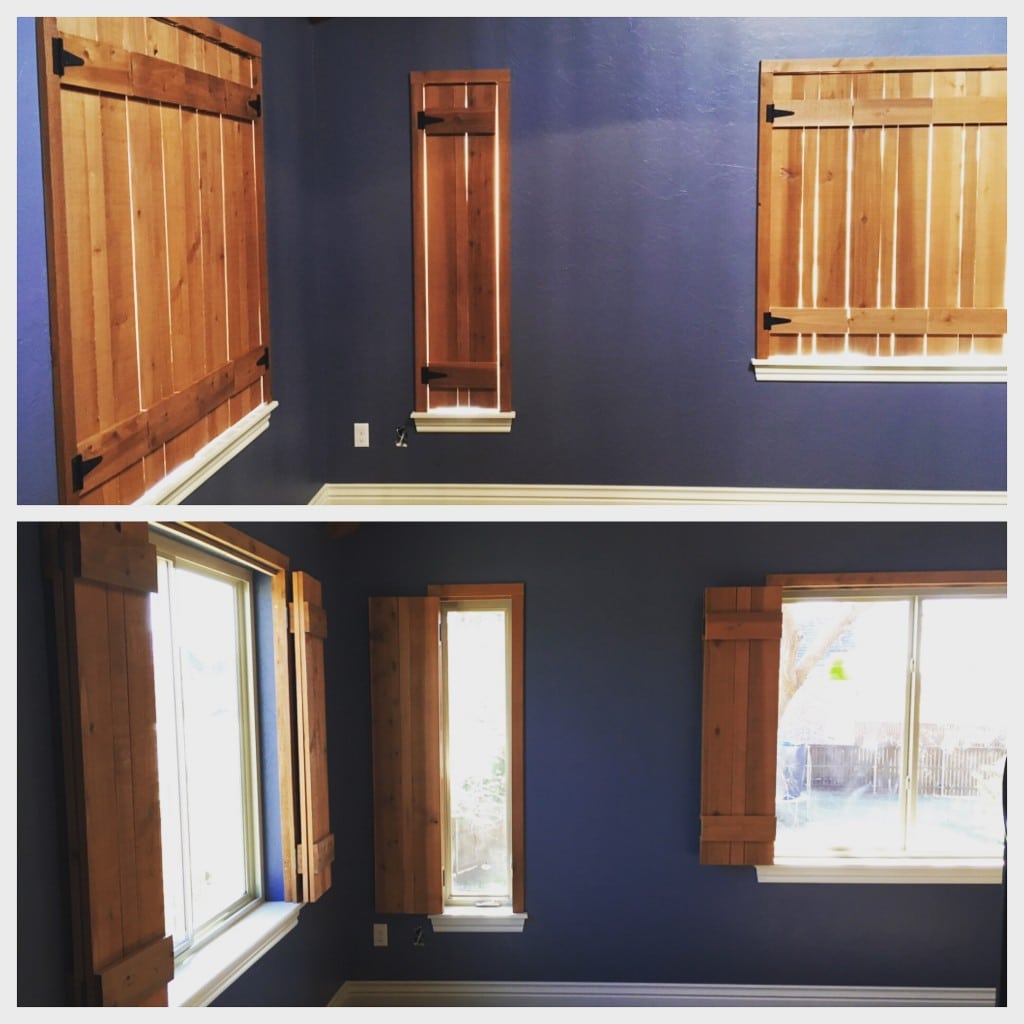 More to come: furniture and finishing touches. In the meantime, find all the fun pics and updates on Instagram and searching hashtag #ftclinton
Related Posts via Categories