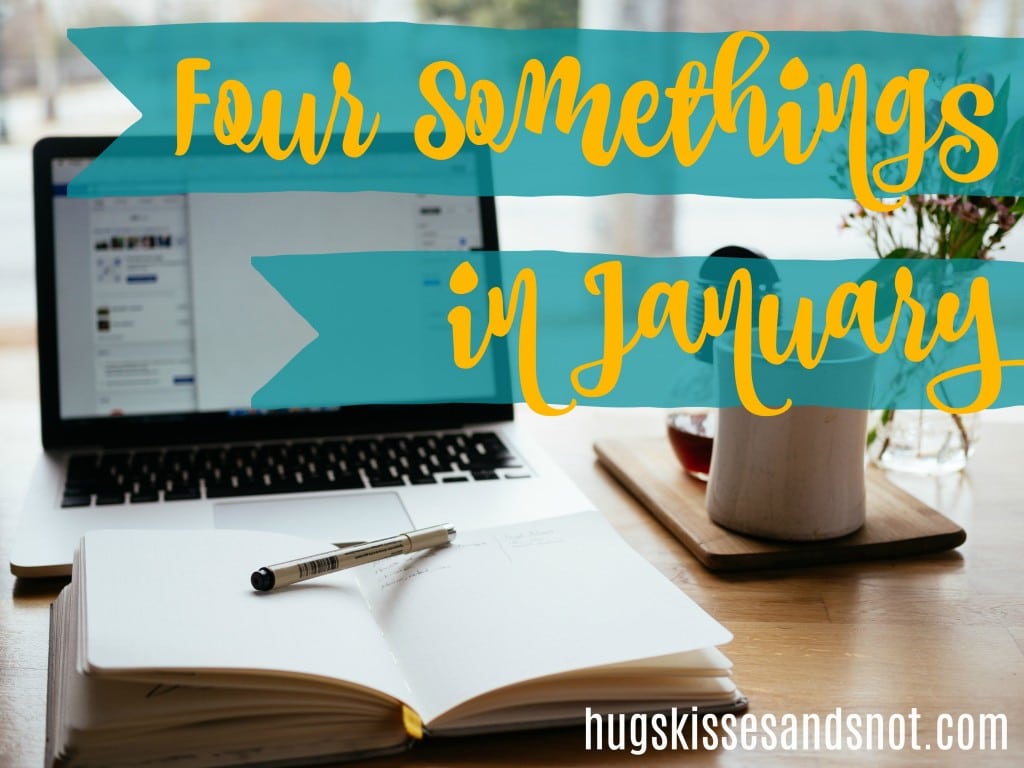 In an effort to keep up with my 2018 goals, I am working hard on writing every week. Thankfully, I have found some writer friends who help me keep up with my goals. One such friend has started a monthly writing challenge. Share Four Somethings encourages you to reflect on the month and share in the following four categories: Something Loved, Something Said, Something Learned, Something Read.
Something Loved
This may sound silly but I loved the Paddington 2 movie. We just went to see it and I was pleasantly surprised at how much I enjoyed it. I wasn't overly impressed with the first movie so I went in with low expectations and came out completely charmed. One of Paddington's defining characteristics is his ability to see the good in people, even the not so nice ones. He isn't naive but rather, determined to make the best of a situation regardless of his circumstance. He seems like a Choose Joy kinda guy.
Something Said
I volunteer at an organization that (among other things) outfits kids with new clothes for school. We work with the school district and school counselors to identify the kids who are most in need. Each year we provide over 1,700 children, Kindergarten through 12th grade, with new clothes, undergarments, hygiene kits, books, etc. Recently, one of the school counselors sent us a letter to tell us what she has observed over the years of bringing kids to Operation School Bell.
Here is an excerpt from her letter:
Operation School Bell is so much more than just new clothes, a book, or a stuffed animal. This program communicates to students that their community supports them, that their community thinks they are special, and that their community thinks they are deserving and that they should be confident in who they are!
What she said reminded me of why I work so hard to bring volunteers and community leaders together to make Operation School Bell a success. It is so much more than a new coat to keep them warm in six degree weather (although, that in and of itself is very important). The kids who shop with us leave knowing that they are cared for. That they are worthy of something new and not just a hand me down. They are handed dignity when someone takes the time to shop with them, looks into their eyes and has patience with them as they take their time with their choices.
I'm so touched that this counselor would take the time to share her experience. She knows first hand the stress and emotional baggage these children bring to school with them everyday. She understands that something as simple as pants that fit and new clothes or even clean underwear can relieve some of the shame they may bring with them to school each day.
Something Learned
I learned that I'm a little more afraid of heights (or hurting myself) than I thought.
I took Addison to an indoor rock climbing gym a few weeks ago. We had a great time climbing and my arms and hands were completely worn out and shaking after thirty minutes. The tallest walls are about thirty feet and on these walls you are hooked up to a harness and rope that will slowly lower you down if you let go of the wall. I made it to the top of a few of them but this is not where I became a scaredy-cat.
There is a structure you can climb on that does not allow you to tie in. It is completely a free climb. Once on the top you have to get back down by either climbing or jumping. It's only about ten feet off the ground and Addison tried to get me to jump by proving that it isn't that big of a deal. I knew my forty-two year old knees would not handle the jump as easily as his ten year old knees, regardless of how cushiony the mat was, so climbing down was the only option. Suddenly, I was very nervous and worried about slipping on the hand and foot holds and hurting myself. I've never been scared of heights before so this feeling was new and surprising to me.
Is this a result of turning forty? Is my mortality and aging body parts becoming more present in my mind? Whatever the reason, I realized I'm not as brave or sturdy as I once thought I was.
Something Read
This weekend I drove the boys to visit my parents. It's only three and a half hours but for some reason I really felt like we needed an audio book. I settled on Wonder
by R.J. Palacio and boy am I glad I did. The story of the main character's struggle and how his family deals with his disabilities is exactly what my thirteen year old needed to hear. Like most teenagers, my teenager is very selfish. Everything is all about him and his needs. Listening to a book about a boy who has to find the strength to make it through each day despite his unfair disabilities or the horrible way kids treat him puts normal teenage (and even grown up) problems into perspective. Hopefully, it is making him think about how he treats others, even the little actions that we don't really think about.
Another "Something Read" in January is Anchored: Finding Hope in the Unexpected
by Kayla Amiee. Anchored is a memoir of the first year of life of Kayla's daughter. At 24 weeks premature, Kayla's daughter was considered a micro preemie and the odds were stacked against her. Kayla recounts the agony of being in the NICU for over 5 months and then the struggle of bringing home a micro preemie and feeling like it was her job just to keep her child alive.
The book really got good for me when Kayla opened up about how difficult it was on her marriage. Up until then it felt like an interesting and sometimes heartbreaking story. When she relieved the strain of the emotional and financial toll it took on their marriage, I felt like she was really telling the whole story. Suddenly it became very real.
What have you read or learned or said or loved this month?
p.s. This post contains affiliate links.