Disclaimer: I was compensated for this post. However, all thoughts, opinions, recipes, veggies and friends are my own.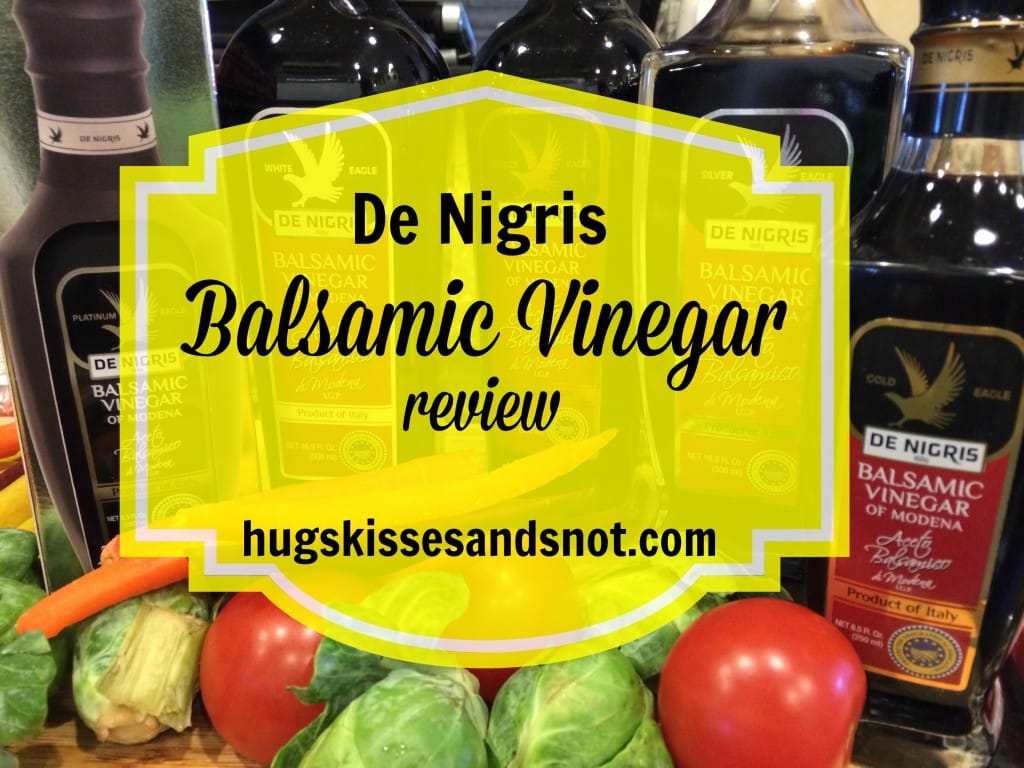 Up until recently I thought all balsamic vinegar was pretty much the same. It's all dark, vinegar-y and makes tasty salad dressings. Au contraire mon frere'. My eyes have been opened to what really good balsamic vinegar tastes like, how it can enhance what you are eating and why it is SO much more than just a salad dressing.
I was given a selection of De Nigris vinegars so I could taste test. I decided to do a balsamic taste test over roasted veggies, caprese salad and vanilla bean ice cream. I will jump at any excuse to fix yummy food and have friends come over. Thankfully Christine and Lindsey were available to attend my impromptu tasting. They were excellent test subjects, provided me with excellent feedback and are super cute to boot.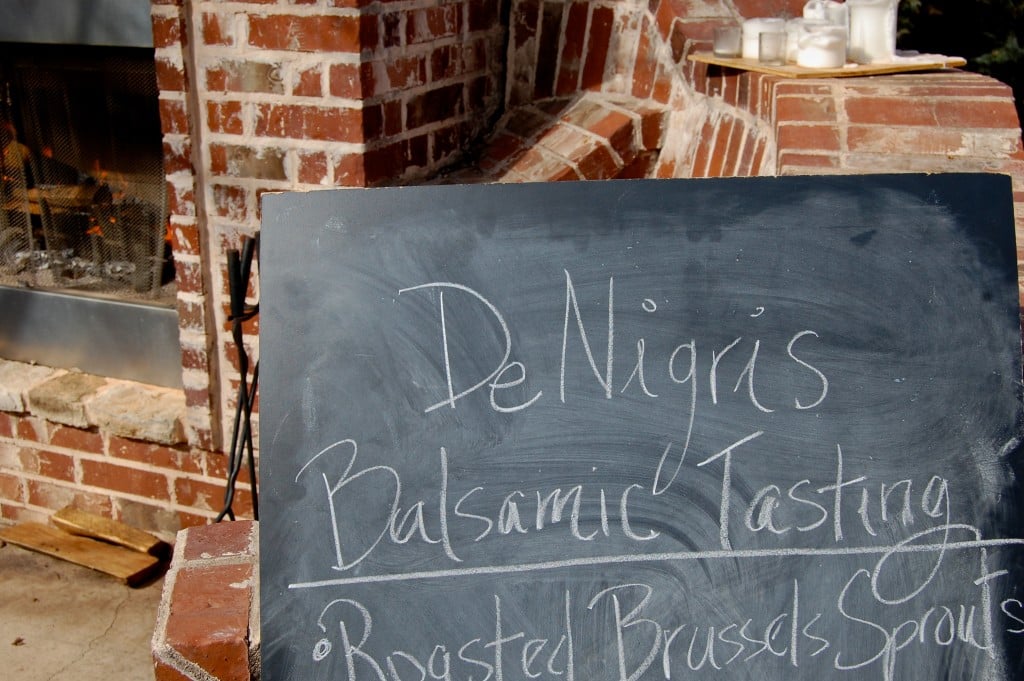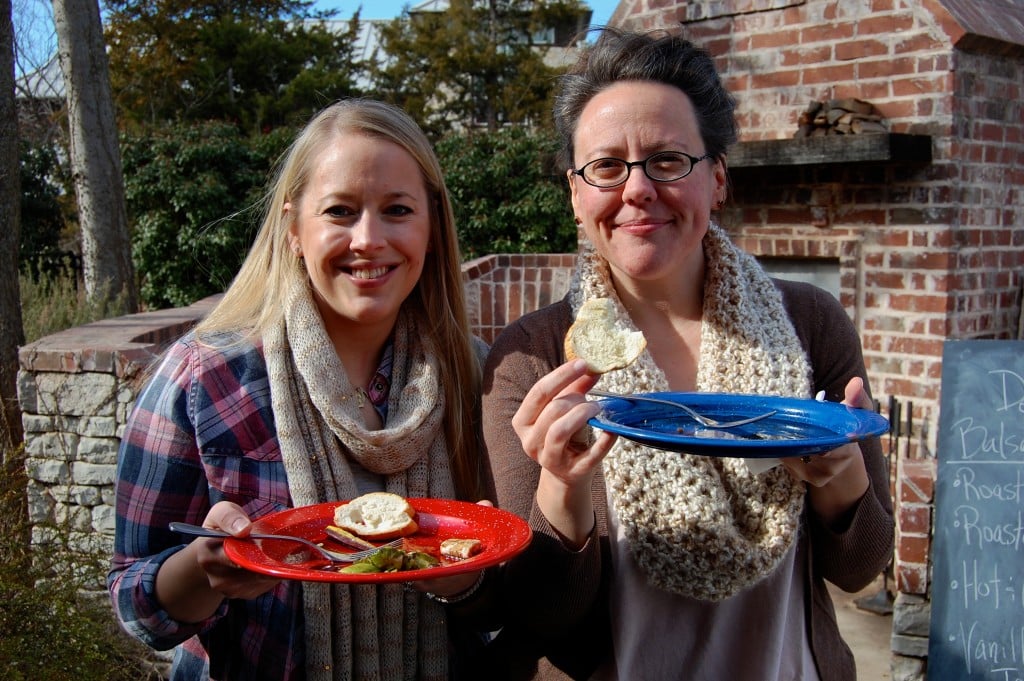 On to the tasting!
De Nigris Balsamic Vinegar Review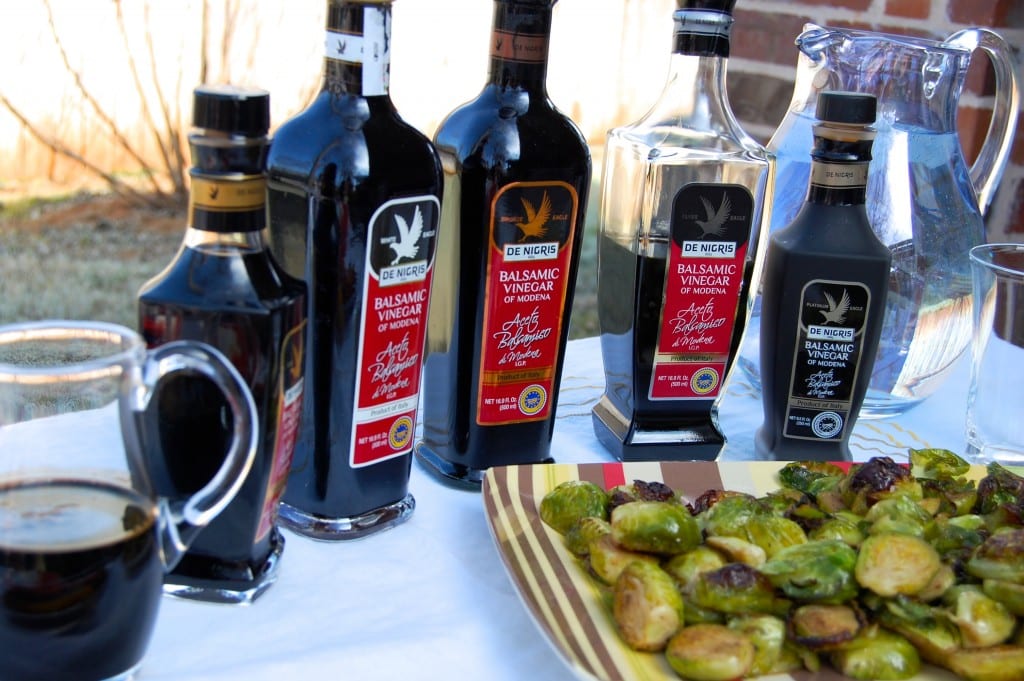 The first thing I did was make a balsamic reduction using De Nigris Silver Eagle Balsamic Vinegar. To make a reduction use two parts vinegar to one part sugar. I used one cup vinegar and 1/2 cup sugar, simmer on medium low heat until reduced by half. Don't reduce too much or it will become too thick and turn to the consistency of tar. (don't ask how I know that…rest assured that mistake was NOT made using fancy vinegar)
First we started on the roasted veggies. I roasted rainbow carrots (fancy carrots from Sprouts that come in a rainbow of colors) in the broiler. Season with salt and pepper then drizzle with olive oil. I also roasted brussels sprouts (recipe at the bottom of the post)
We had 5 De Nigris balsamic vinegar varieties to taste; White Eagle, Silver Eagle, Bronze Eagle, Gold Eagle and Platnum Eagle. We all agreed the the White Eagle went best with the roasted carrots. It had a very bright, vinegar flavor and balanced out the sweet of the carrot really well.
The Gold Eagle did really well on the brussels sprouts. It had a darker, "smooth" taste and went well with the more mild sprout flavor. Personally, I loved the reduction on the sprouts the best but we all agreed that the Gold Eagle could make an old shoe taste delicious. It would be really delicious with olive oil and bread for dipping.
Next we sampled tomatoes and fresh mozzarella. It wasn't a complete caprese salad because the store didn't have fresh basil but it was still delicious drizzled with olive oil and seasoned with sea salt and fresh cracked pepper. Again, I loved the balsamic reduction on the tomatoes and mozzarella but the Bronze Eagle was also delicious.
We decided that the White Eagle and Silver Eagle would make really delicious salad dressings while the Bronze and Gold Eagle would be delicious on fish or to finish off a filet under the broiler.
Now on to the most beautiful and awe inspiring part of this entire experiment. Balsamic vinegar on vanilla bean ice cream. You may be scratching your head, but trust me on this. With the right vinegar this becomes a transcendental experience. All three of us felt like we had just been eating sand disguised as ice cream up until now and all agree that we can never eat ice cream with out this nectar of the gods again. De Nigris Platinum Eagle Balsamic Vinegar. I don't know exactly how to describe how delicious this was. The vinegar was thick, sweet and bright but not too sweet. In fact it seemed to cut down the overly sweetness of the ice cream and bring out the vanilla bean flavor.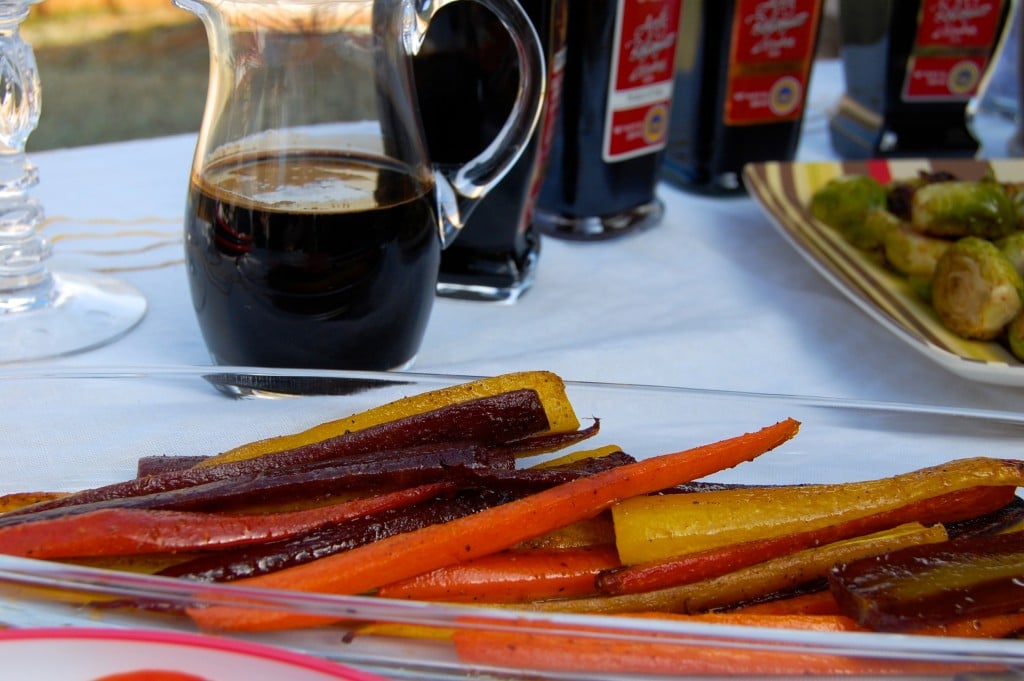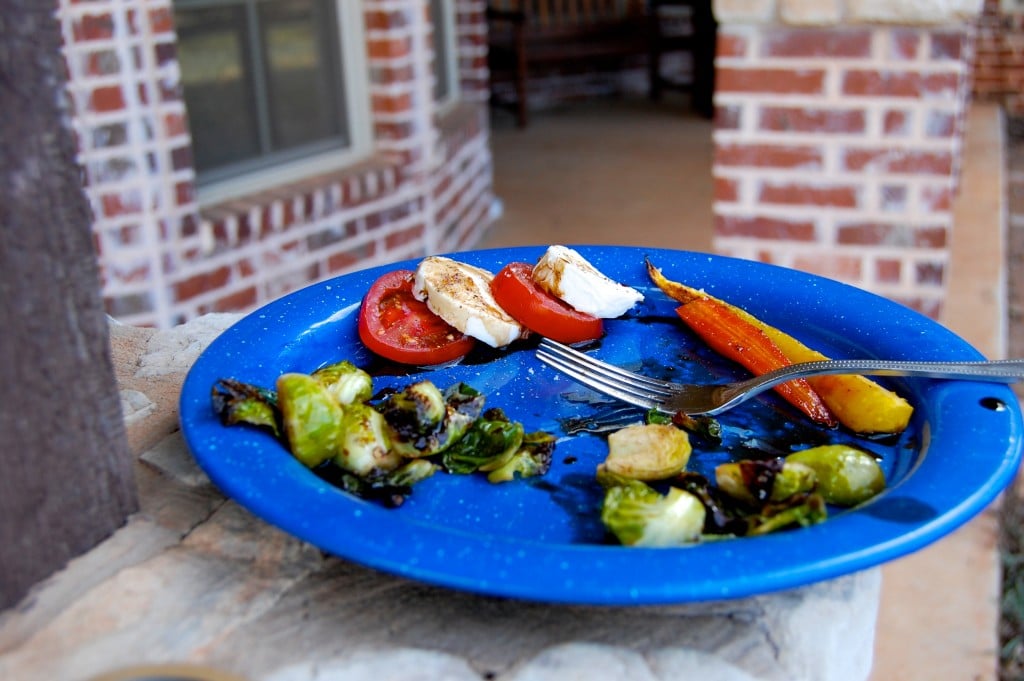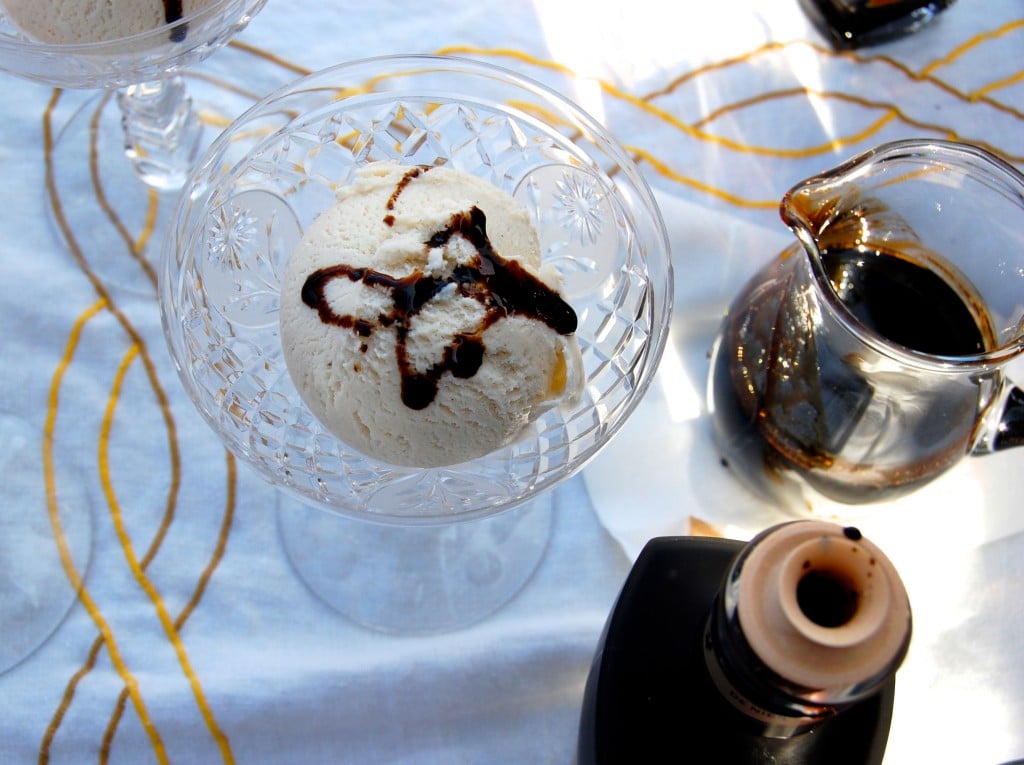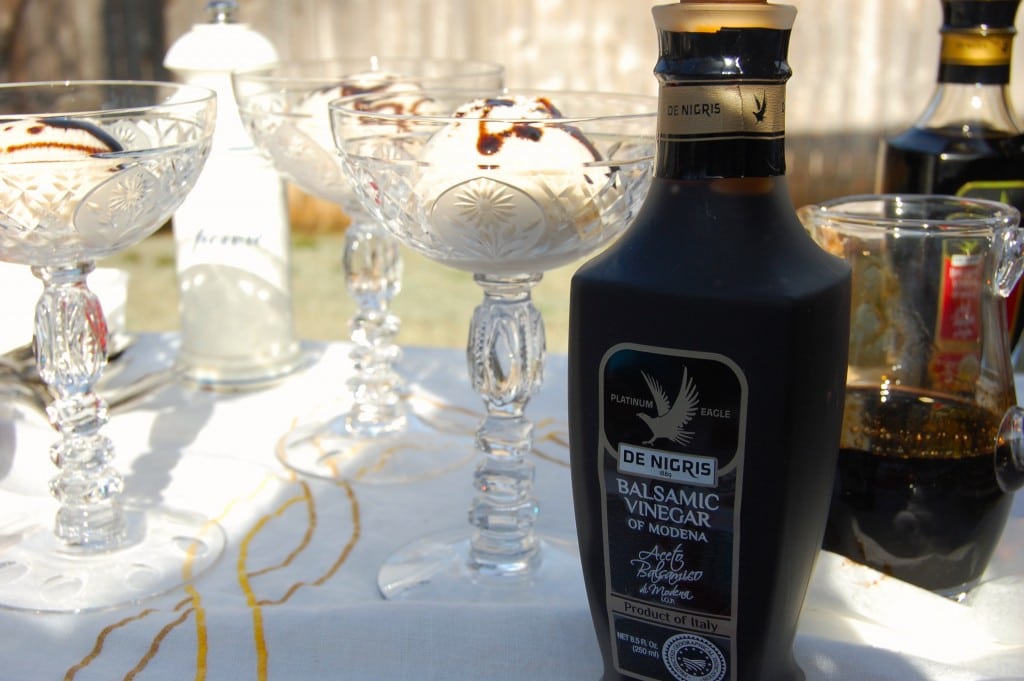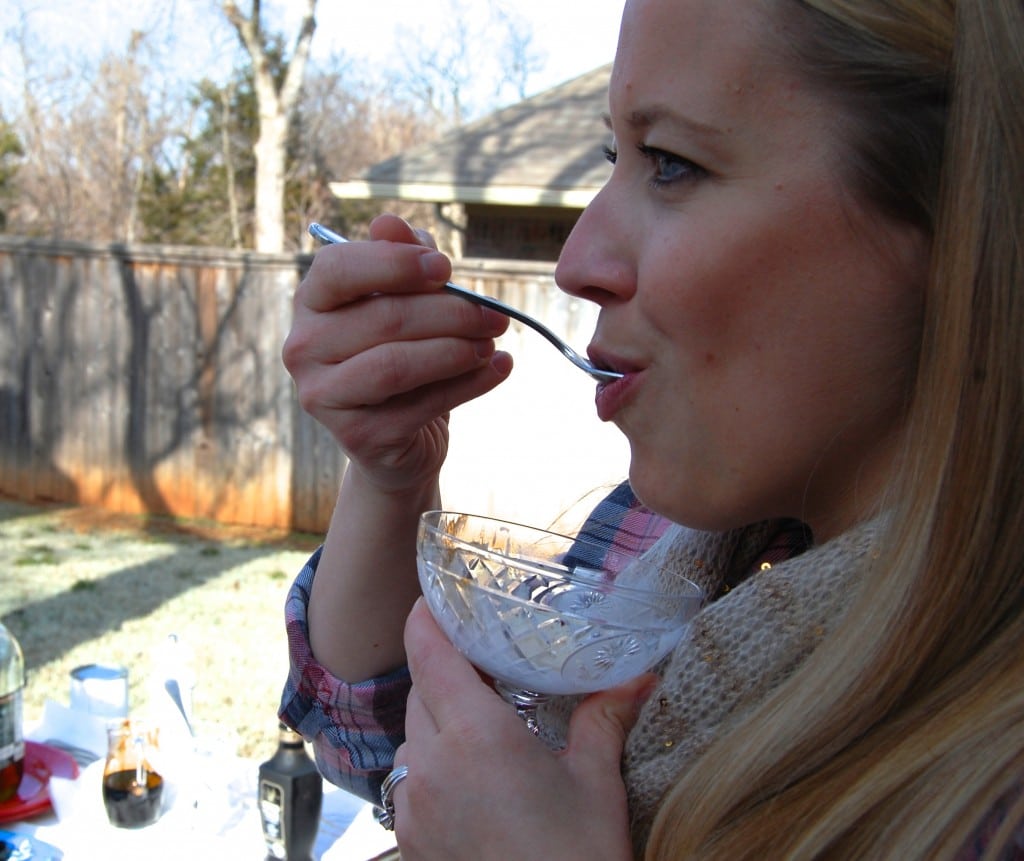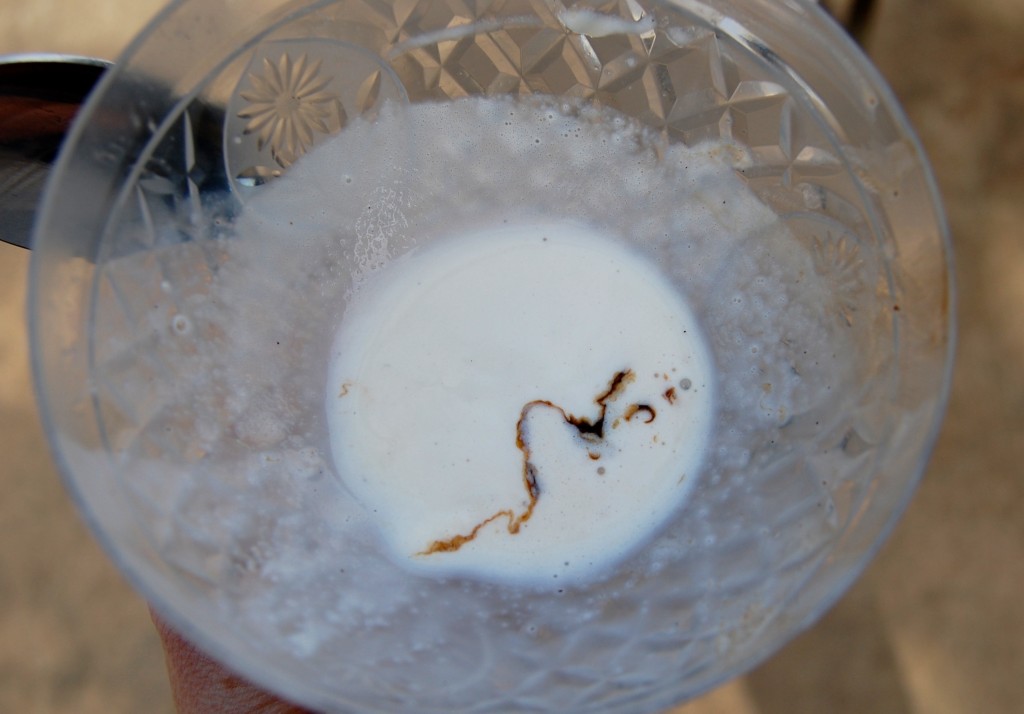 How beautiful is that? You can find De Nigris balsamic vinegar at Wal-Mart or on Here is my recipe for roasted brussels sprouts with balsamic reduction. Enjoy!
Roasted Brussels Sprouts with Balsamic Reduction
2015-03-09 18:57:23
Ingredients
1-2 lbs brussels sprouts, trimmed and halved
4 Tbs. olive oil
1 Tbs. sea salt
1 tsp. black pepper
1 Tbs. garam masala
3 Tbs. brown sugar
1 cup balsamic vinegar
1/2 cup sugar
Instructions
Preheat oven to 450 degrees
Combine brussels sprouts, 2 Tbs. olive oil, salt, pepper, and garam masala. Set aside.
In a heavy sauce pan, combine vinegar and sugar. Stir over medium/low heat until simmering. Stir frequently until vinegar is reduced by half. Remove from heat and transfer to a glass container.
Heat remaining 2 Tbs. olive oil in a large pan. Sauté brussels sprouts, stirring frequently, for 5 minutes. Transfer to a foil lined baking sheet that has been sprayed with non-stick cooking spray. Sprinkle brown sugar over brussels sprouts. Roast in oven for 10-15 minutes or until some edges become brown and crispy, stirring once while baking.
Hugs, Kisses and Snot https://hugskissesandsnot.com/