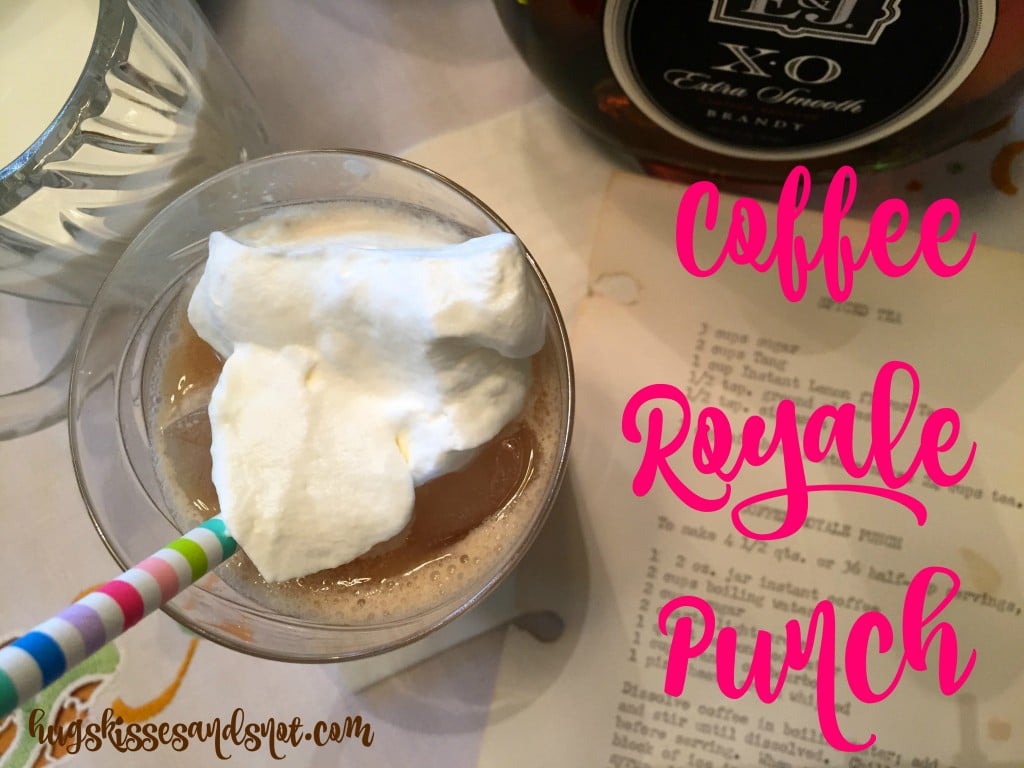 I'm back with another recipe from my YouTube show, Recipe Archaeology. Coffee Royale Punch was way too delicious not to share here. I knew at the first sip that I would need to share the full recipe here because I would be crazy not to share this goodness with the world.
I think my favorite thing from this video is Christine saying that she wanted to swim in this drink like Scrooge McDuck swims in his money.
This recipe for Coffee Royale Punch came out of my grandmother's recipe book. She was an entertainer galore and knew how to throw a party. There should be a line Proverbs 31 about women who can entertain. Something along the lines of:
She gathers her friends together, feeds them, welcomes them into her home and they are her honored guests. Never does a guest go thirsty or feel any pain. Her canapes are revered among women and sought after at social clubs. Esteemed by her friends and husbands of her friends is she.
Several years ago my dad gave me some home movies from my grandparent's life together. They are in black and white and I assume recorded on reel to reel or super 8. I know they are from the 1940s because one of the videos is from when my grandmother came home from the hospital with my dad. She was brought home in an ambulance and she was carried into the house on a stretcher because that is just what they did back then. Now-a-days they give you about 24 hours to get your wits about you, slap a giant pad between your legs and send you out the door calling out to check that the car seat is installed correctly as the sliding doors close leaving you standing in the drive up.
But I digress.
My grandmother surely served Coffee Royale Punch at one of her many parties. One of the home movies shows what looks to be a New Years Eve party with her guests in silly hats, parading themselves around the room, smoking up a storm, drinks in hand. Ahhh the good ol' days of when cigarettes were doctor recommended.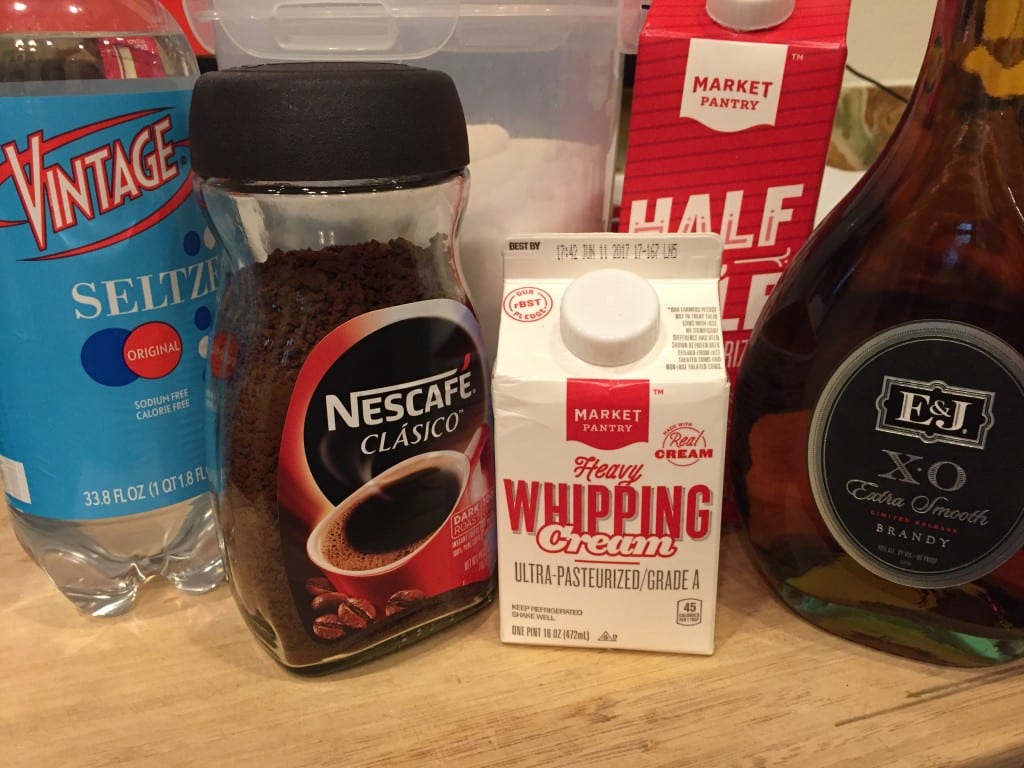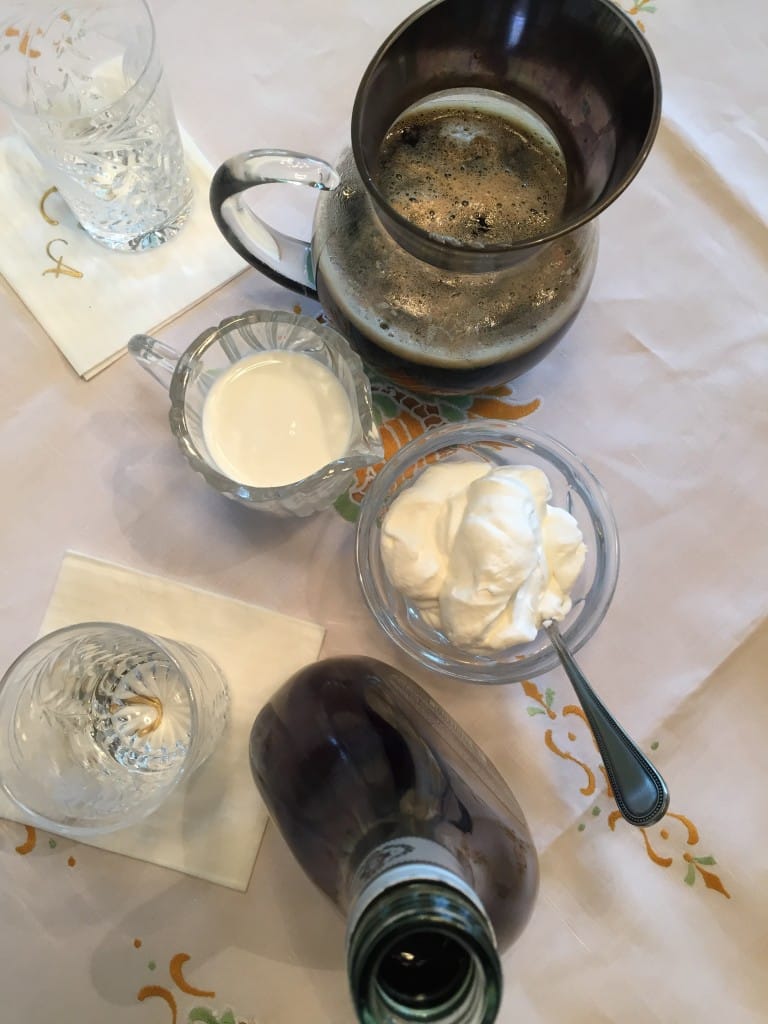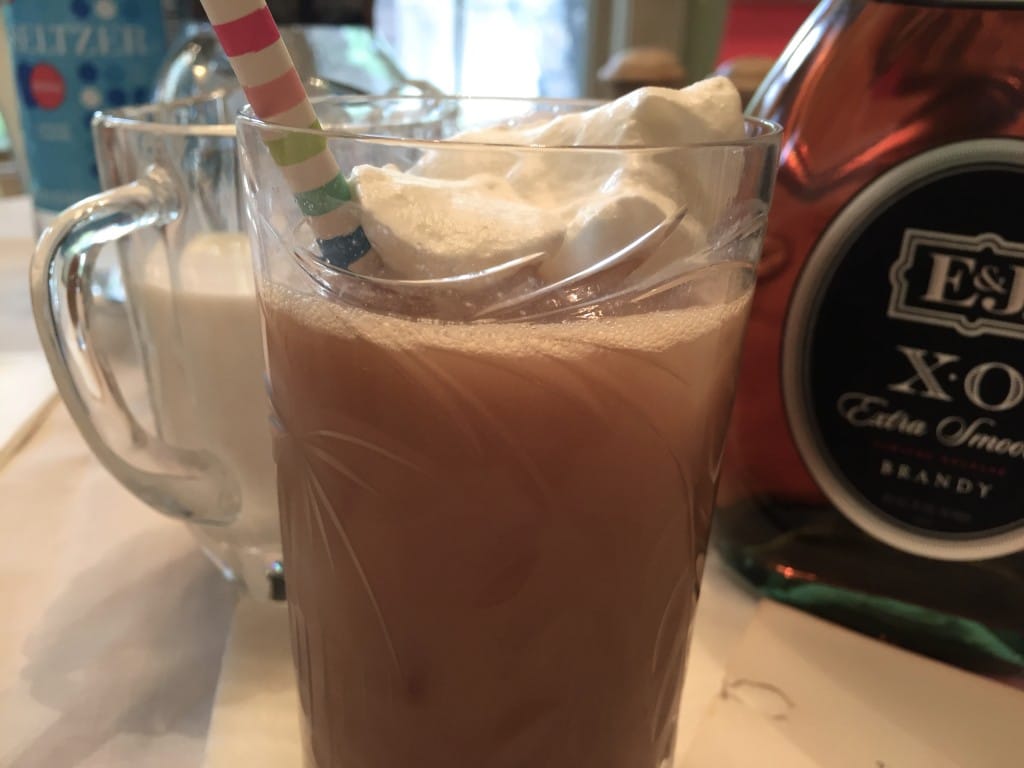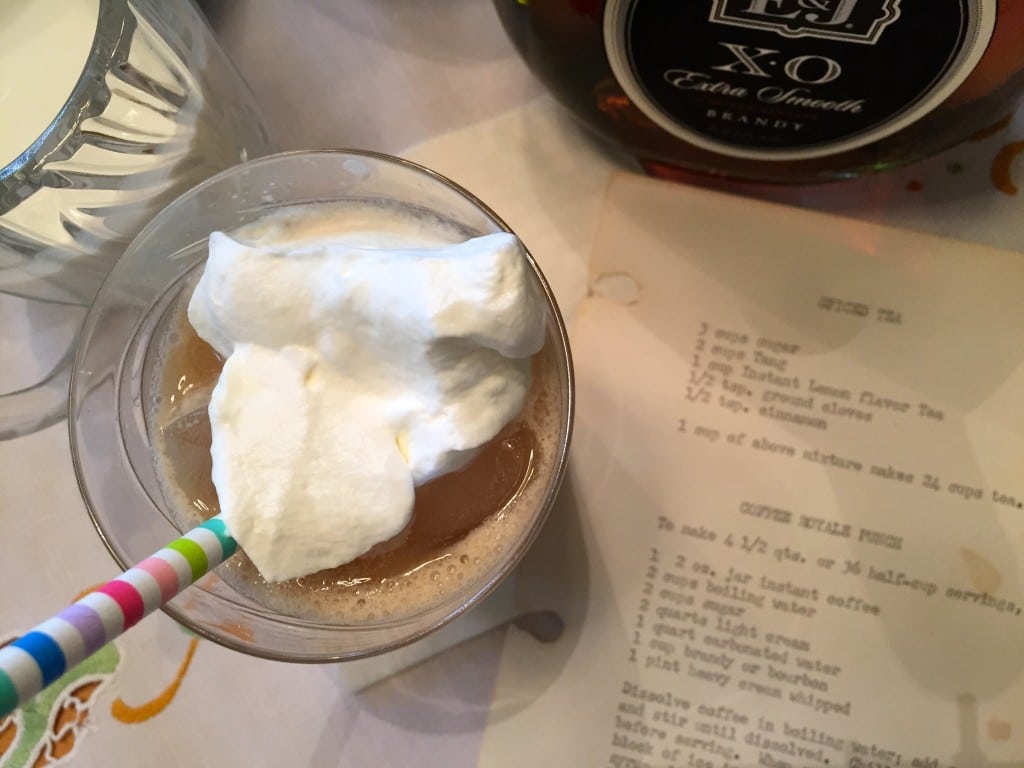 I can picture this concoction in her big silver punch bowl atop her mahogany table. Friends playing bridge or maybe served after dinner. Either way, it's a crowd pleaser.
The amounts listed in this recipe are to make it in a big batch and serve it in a punch bowl. If you just want to make a few glasses, then pour equal parts coffee syrup, brandy, and seltzer then top with half and half and a generous dollop of unsweetened whipped cream.
Coffee Royale Punch
2017-04-25 13:27:03
Ingredients
2 oz. (1/4 cup) instant coffee
2 cups boiling water
2 cups sugar
2 quarts half and half
1 quart carbonated water (seltzer)
2 cups brandy
1 pint heavy cream, whipped
Instructions
Dissolve coffee in boiling water, add sugar and stir until dissolved. Remove from heat and chill until ready to serve.
When ready to serve combine coffee syrup, half and half, carbonated water and brandy into a punch bowl. Top with whipped cream and stir lightly to blend.
Serve over ice.
Hugs, Kisses and Snot https://hugskissesandsnot.com/