This past weekend I had the honor of being a cast member in Listen To Your Mother Oklahoma City. If you're still not exactly sure what a LTYM show is then watch my interview with one of the show's producers Misti Pryor.
This was such an amazing experience to be a part of and watch. 14 stories about motherhood, being a mom, moms, grandmothers. You name it, these women covered it. We laughed, we cried, it was better than Cats.
My piece was called Define Motherhood, I Dare You. Because the individual stories won't be available on YouTube until later this summer, I'm sharing my story here. I hope you enjoy it.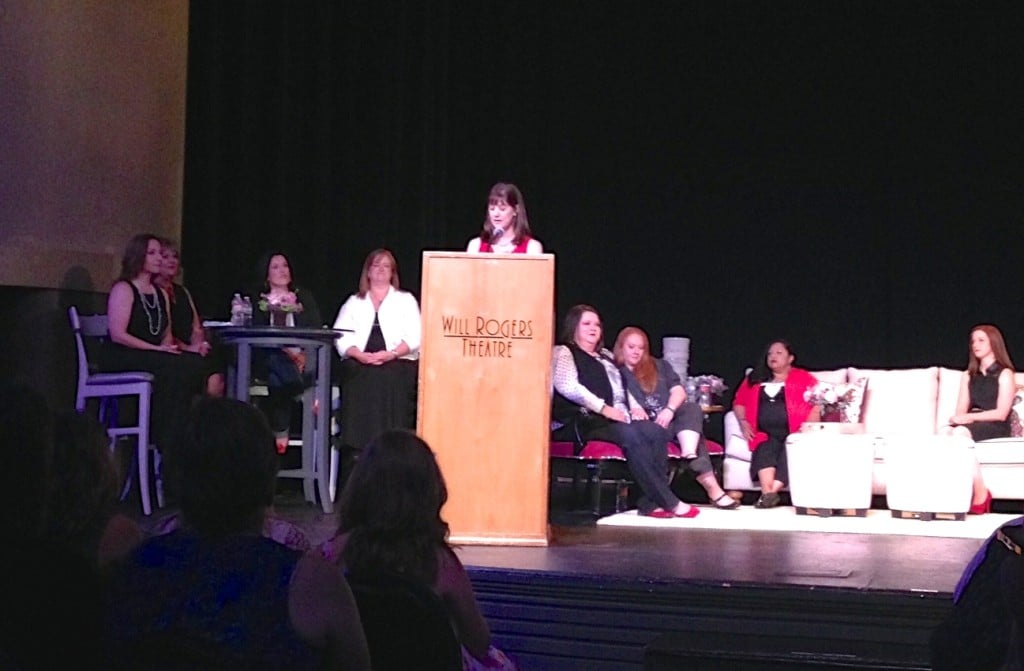 Define Motherhood, I Dare You
When I try to define motherhood or myself as a mother I'm not exactly sure how to do it. What words do I use? How do I define emotions?
How can I give meaning to the deep joy and love you feel when that tiny face lights up? There's no one else in the room, no one else in the entire world but you and that baby. He is completely dependent on you, and his world is so defined by your connection that he doesn't know where he stops and you begin. Your heart is so full of amazement and awe when he breaks into that grin, because you know that it is only for you.
How can I define the level of despair you feel when the crying just won't stop? Or just when you think one tantrum is over, and a new one erupts. When you are bone tired and exhausted physically and emotionally that all you can do is lock yourself in the bathroom and sob. You wonder what in the hell are you doing? This must all be one big joke the universe is playing on you. You wonder what idiot thought you could possibly successfully parent these miniature insane creatures? Who had the hair brained idea that you could be a mother?
How can I possibly describe the mixture of joy and fear you feel as you hold a brand new baby in your arms and your older child comes into the room? The fear you had been hiding all these months comes bubbling to the surface; the fear that you may not have enough room in your heart for two. Then you see his little face. It is one of relief because he is reassured that mommy is okay, and still alive, and will be there to slice bananas just right in the morning. You see that hope and smile. Your heart bursts open and you know without a doubt that there IS room for two. Your heart is an ocean, and the depth of your love for these precious ones knows no end.
How can I explain the exasperation you feel when you are doing laundry and you find the word "poop" inscribed in permanent marker on Pottery Barn sheets? When you feel like you are talking to yourself. When no instructions are being followed or warnings being heeded. How can I tell you about the level of soul crushing defeat you feel when it looks like Nickelodeon filmed an episode of Double Dare in your living room 10 minutes after you just finished picking up?
How can I express the pride you feel when you watch your child make the right choice even though it may have been hard. When you see him tentatively testing the waters of his individualism and you know, despite the ups and downs, this is a really good kid. Watching him spread his wings and trying to make sense of a confusing mixture of sadness, pride, loss and joy. The innocent baby is being left behind but the confident child is inside wanting to come out, he just needs a little encouragement, support, a push and then to be left alone to soar. He may crash and burn but you'll be right there just in case he decides he needs his mom or when he's ready to try again.
Joy, love, fear, despair, depth, pride. There just aren't enough adjectives in the dictionary to describe what it means to be a mother. Do you know exactly how to define motherhood? Just try, I dare you.
~~~
Like what you see? Want to see more? Make sure to sign up for an email subscription to get posts delivered to your inbox.
[jetpack_subscription_form]
Related Posts via Categories