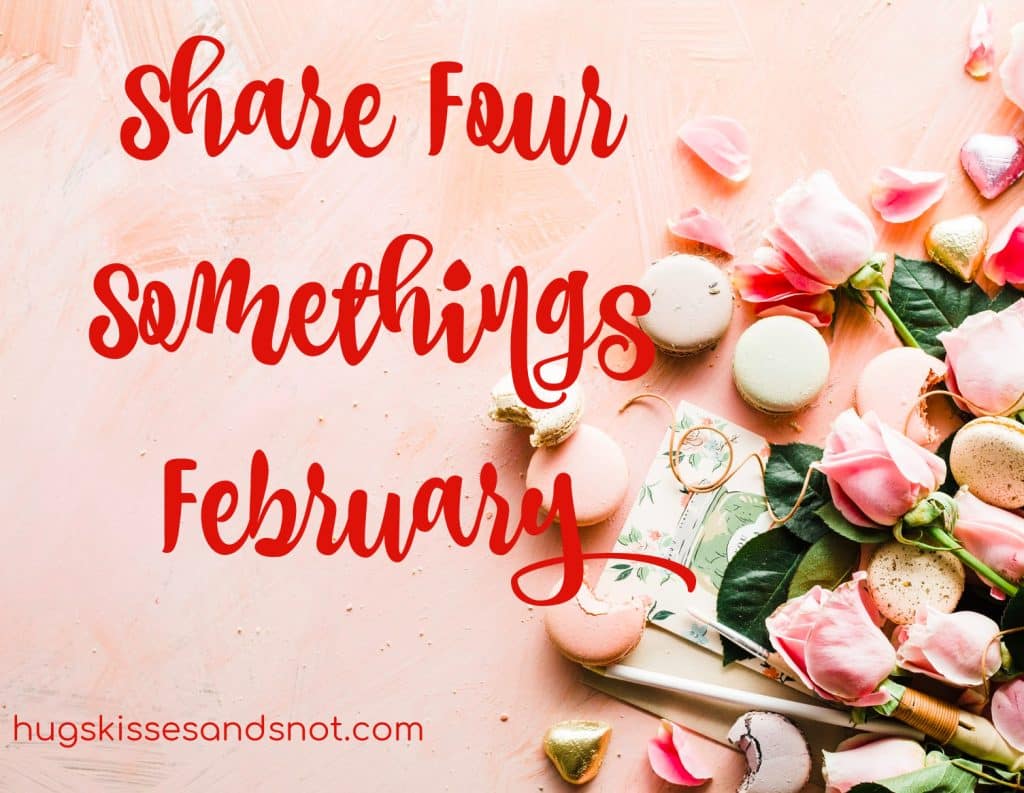 We're already a week into March! Time to look back on February, link up with Heather Gerwing and share something that I have loved, read, treasured during the month of February and what I'm looking ahead to.
Something loved
My new couch!
It was thing I was looking forward to last month in Share Four Somethings January and now it's heeeeeeerrrrrreeeeee. We had our old couch for nearly 20 years and it had seen better days. The new couch is here and it is a dream. It has plenty of room for all of us and Adam and I don't have to fight for space to put our feet up when watching tv. I was a little scared about getting a sectional but Adam really wanted something that would give us a lot of seating. I adore the way it makes the living room feel a little bit separated from the kitchen. Apparently, open floor plans are starting to fall out of favor but there isn't much you can do about that unless you want to do a major remodel or just build a new house. Creating a cozy living room space is a great compromise. We couldn't be happier with the new couch.
I put the couch on Facebook Marketplace and within hours I had a taker. The old couch found a new home with an older gentleman who is raising his granddaughter and whose dog had diarrhea all over his previous couch after getting into the garbage. We talked on the phone to make sure it would work out and I learned the story of why he needed a new couch, that he was raising his granddaughter, that he is former law enforcement but retired, that he hurt his back and needs to take it easy, that he lived not to far from me, that his neighbors could help him unload the couch and that he could be at my doorstep the next day. Did I mention that he liked to talk?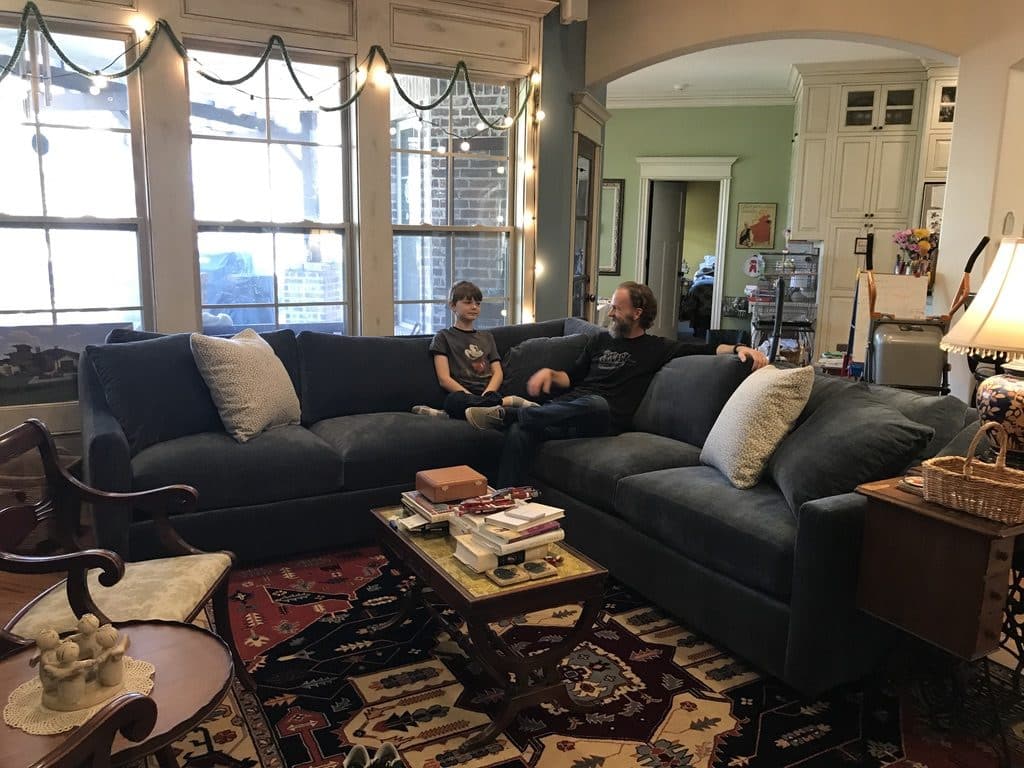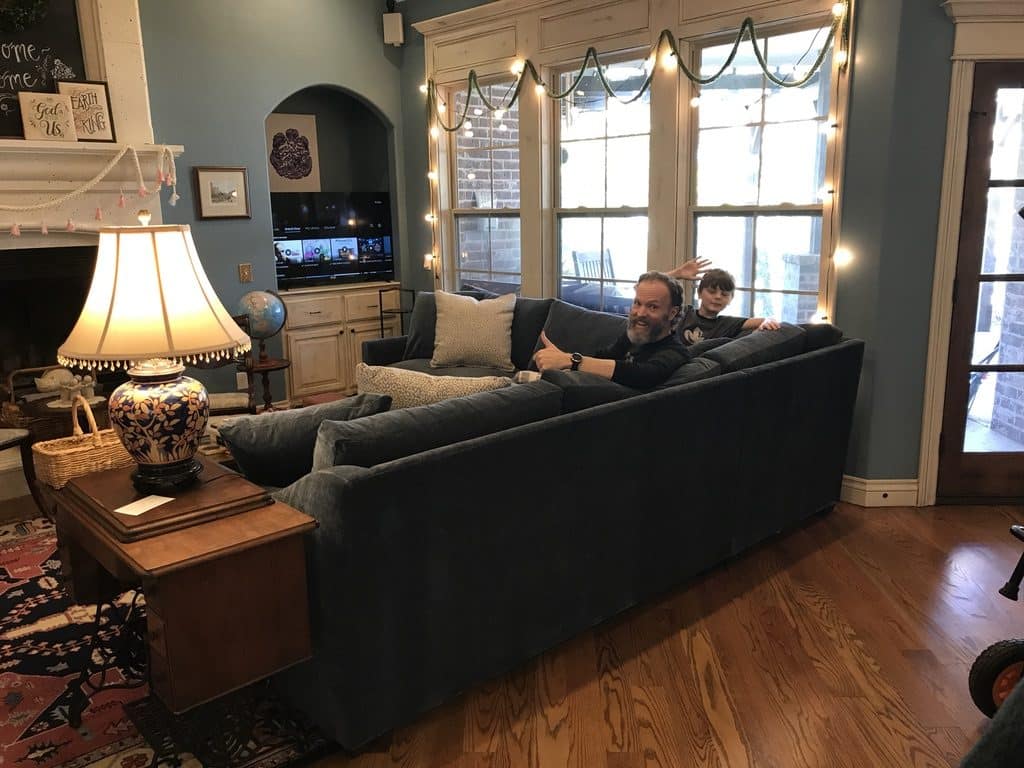 Something Read
Lamb: The Gospel According to Biff, Christ's Childhood Pal
Christopher Moore brings his wild imagination and hilarious story telling to the years of the life of Christ that are inexplicably left out of the bible. Told from the point of view of Biff, Christ's childhood friend, we are taken on a journey of adventure and enlightenment from Nazareth throughout Asia and back. Let go of those clutched pearls and give this book a read.
My book club finished reading Across That Bridge by the late John Lewis. He chronicles his life and his fight for social justice during the sixties at the side of Dr. King and through his time as a public servant in Washington D.C. He is honest about the struggle he faced as a young man, the struggle of African Americans then and now but is also very hopeful and encouraging. At a time when it feels like everything is burning down and my hope for humanity is at an all time low, reading John Lewis made me feel that perhaps all is not lost.
Something Treasured
Teachers getting vaccinated! I have several teacher friends and watching them struggle in and out of the classroom this year has been agonizing. They are in the classroom with hundreds of kids each day, being the educator, counselor for kids who are struggling with depression and isolation, tech guru on the fly when asked to simultaneously teach class in person and online. All while trying to maintain their own level of fear and anxiety. These folks deserve hazard pay for what they have been put through this year. What teachers have done this year for the insulting salary they are given is astounding. It's a wonder we have any teachers left in the school system at all after this year.
However, vaccines finally opened up to teachers here in Oklahoma and seeing all the posts of these warriors getting their vaccine is something I truly treasure. Knowing that all of my friends who are on the front line of teaching are finally getting to a safe place lightens my soul in a huge way.
Something Ahead
Vacation! We are actually taking a trip. A real trip that involves an airplane and a hotel stay.
It is our tradition to vacation in Palm Springs with my in-laws every other year for spring break. In January we still didn't think this trip would happen as California was still pretty shut down and my sister and brother-in-law weren't vaccinated. But the stars aligned and everyone got vaccinated that needs to be vaccinated or has an antibody. California started opening business back up, Marriott called to say they were honoring reservations, airfare to Palm Springs was surprisingly affordable and voila, I should be pool side with a frozen cocktail this time next week. Of course, there is a little voice in the back of my head telling me that something will go horribly wrong. But I'm trying my best to stay optimistic and allow the thrill of a family vacation for the first time in almost two years keep my spirits high.