If you're here because your planning a trip to Sea Base Florida with your Scout Troop and are looking for a Sea Base Packing List, you've come to the right place! I've even created a printable PDF.
This Sea Base Packing List is an unofficial list.
You can find an official packing list on the Sea Base site. But the other adults and I discovered that their list wasn't as informative as we would have liked. It also left out key information for women. Imagine that, women being left out of the equation. Huh. Never experienced that before (that was supposed to be read with dripping sarcasm).
When it comes to a high adventure trip like Sea Base, half the battle is knowing what to expect and being prepared. Prior to my trip I found very little information online about what to expect. I hope that this blog post will be helpful for people like me who like to know what they are getting into. This list will also cover information specific to the Out Island Adventure as well as packing tips for adult women planning to spend a week at Sea Base. I'll include explanations to the items I purchased and where you can buy most of it.
Scroll down to the bottom of the post for the printable PDF of my Sea Base Packing List.
This list includes affiliate links. It's my duty as a blogger to let the reader know but every link I provide is to a product I actually used and recommend.
Unofficial Sea Base Packing List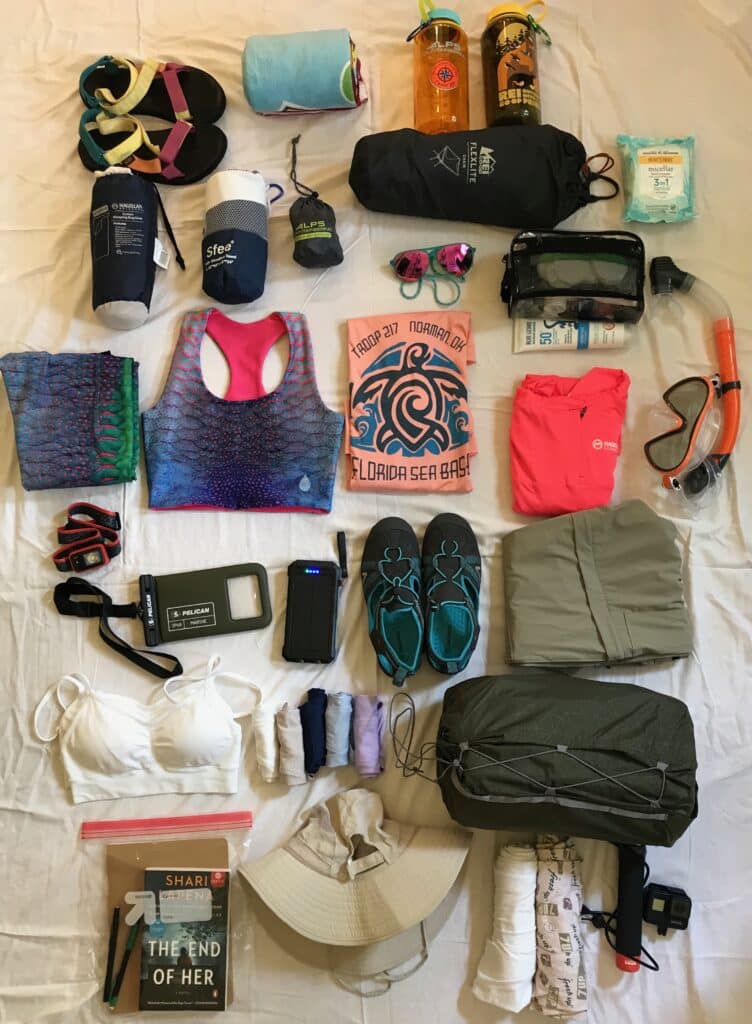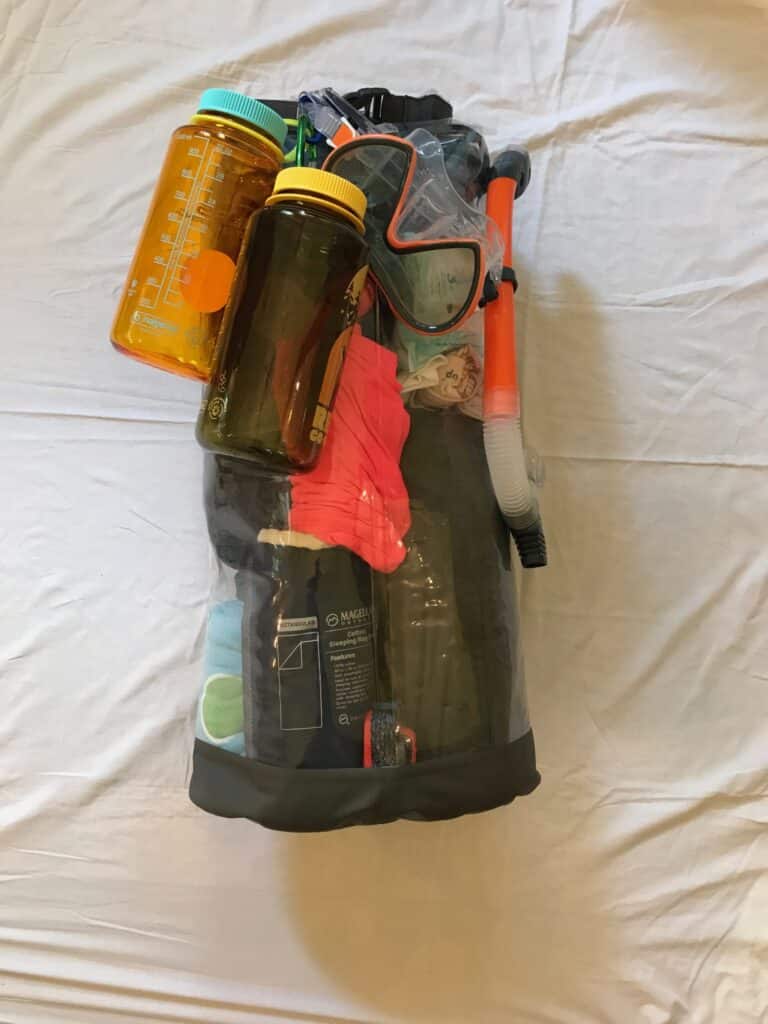 Let's get right to it:
For everyone:
One swim suit and long sleeve swim shirt
One zip away pants
One long sleeve quick dry shirt
underwear (one pair for each day)
Two neck gators
One light rain jacket
One set of close toe water shoes, e.g. dive booties or water socks.
One set of sandals, e.g.Tevas or Chacos
One set of pajamas
Two pairs of tall socks
headlamp with a red light
polarized sunglasses with a cord
Two wide mouth Nalgene water bottles
One twin sheet or sleeping bag liner
inflatable sleeping pad
inflatable pillow
One microfiber beach towel
One regular beach towel
sunscreen: 3 5oz. tubes per crew of Blue Lizard sunscreen
Skin So Soft: 3 bottles per crew
snorkel and mask
35 or 50 liter waterproof roll top dry bag
toiletries (toothbrush, toothpaste, Rx or OTC medication, contacts/glasses, etc.)
water flavor, e.g. Crystal Light single use packets or squeeze bottle of concentrated water flavor
Frog Tog neck cooler
wide brimmed hat
Optional:
Waterproof camera, e.g. Go Pro
camp chair
camping hammock
solar powered charger
waterproof phone case
flushable wipes
journal and/or book
folding fan

For women:
Two sports bras
face wipes, e.g. Burts Bees or Cetaphil
mincellar toner and cotton pads
feminine hygiene products
prescription for Diflucan or Fluconazole
SPF 50 sunscreen for face
lip balm with SPF, e.g. Jack Black spf 25 lip balm
Now for the breakdown and nitty-grity.
Swim suits
For males: swim trunks with smooth, fitted liner. NO MESH LINERS! Mesh liners will rub and irritate your private bits after a long day in the water.

For females: One piece swim suit and quick dry shorts (think work out shorts) or swim pants and sports bra style swim top. I wore swim pants and swim sports bra from Waterlust. I highly recommend this brand. They only make swim suits so they are committed to quality and are dedicated to preserving the marine ecosystem. Swim pants eliminated any need to apply sunscreen. Was it difficult to adorn a damp swim suit every morning? Yes. But these swim pants saved my skin so it was worth it.

For both male and female: one long sleeve, quick dry swim shirt. I recommend getting a loose fitting shirt as opposed to a skin tight rash guard. You want the ocean breeze to flow through the fabric. It drys much faster and keeps you cool.

Men can wear swim pants as well. One adult male on our trip wore swim pants under his swim trunks and recommended it. Swim pants prevented sunburns and bug bites. However, none of the boys on our trip wore swim pants because it wasn't something they were used to. They all had bug bites on their legs but they dealt with it.
Pants and shirts
You only need one pair of zip away pants. All of the adults wore them in pant mode when out of the water and none of us suffered from bug bites. The boys almost all wore them in short mode and suffered greatly from bug bites.

You only need two long sleeve, quick dry shirts. One to wear while wet and one to change into while in the camp site. Yes, they will get dirty and gross but that is part of the experience. Again, they help with sunburn and bug bites. I always had long pants and long sleeve shirts on and the only part of me that got bug bites were my feet and face. But if you wear long socks with your sandals, bugs won't be a problem on your feet and ankles.
Dry Bags
Sea Base does provide 50L dry bags but they have been used and used and used again. Thus, they are not longer 100% waterproof. I bought a 35L clear dry bag, packed it to the brim and then packed that inside the Sea Base dry bag.

My fellow female brought a variety of smaller dry bags that came in very handy while out on the boat or canoes. She used them for first aid items, phone, and anything else she really didn't want to get wet.
Sleeping
You do not need a sleeping bag if you are doing the Out Island Adventure. There are two nights spent in an air conditioned dorm but a liner and towel will suffice. Don't bother with trying to pack a bulky sleeping bag.

If you can sleep on the ground without a sleeping pad, more power to you. That is not the life I want to live. My son, on the other hand, forgot to pack his sleeping pad and he was fine. If you do need to pack a sleeping pad, find one that packs down small enough to fit inside your dry bag. If it's outside of your dry bag on your way to the island it will. get. wet. I have the Sea To Summit Camp Plus from REI. It packs pretty small but not as small as the lightweight backpacking pad. But I was willing to give up a little space for comfort.

The tents are h.o.t hot. No two ways around it and you can't leave the door open unless you want to spend all night fighting mosquitos. The Frog Togg neck cooler was a life saver as well as just a little something to fan yourself. I used a piece of paper just to get some air flow. in hind sight it would have been nice to have a little folding fan to fan myself with as I was trying to fall asleep.
Electronics
Scouts are not allowed to have their phone while on the island. Adults, however, can have their phone as long as they promise to only use them as a camera. However, this policy is up to your crew mate. If the crew mates notices an adult using their phone to check the time or use it for other than the camera, they can and probably will ask you to put it away for the rest of the trip.

I had a Go Pro camera that I used for snorkeling and swimming. It was fun to have that option and provided the group with some fun action shots and videos. But if a Go Pro is out of your price range, waterproof digital cameras can be found for less than $100 that do a fine job.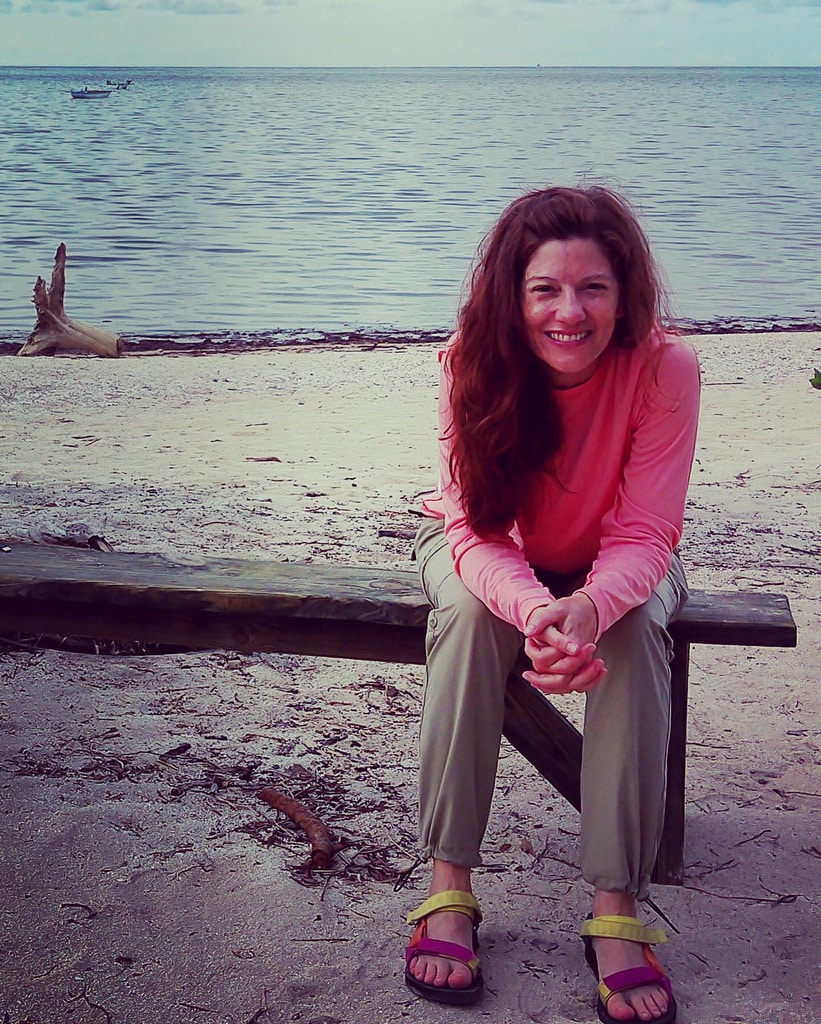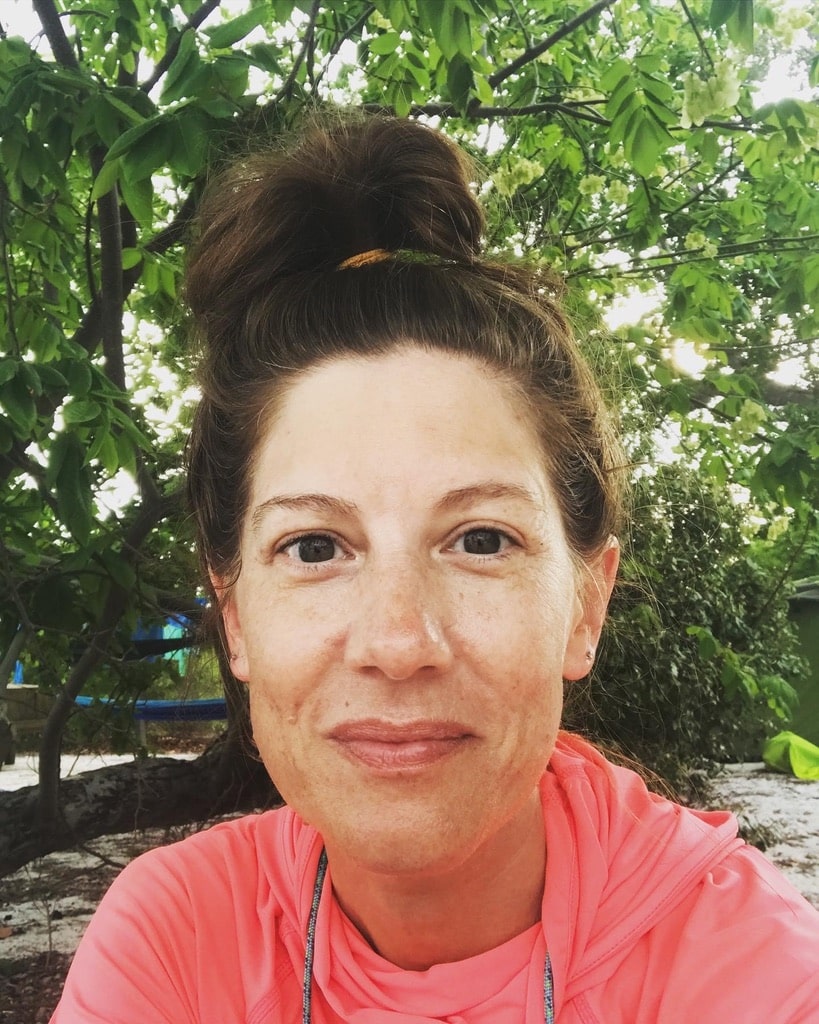 Sea Base Packing List for Women
It's time for the real reason I created this list: The Ladies.
When preparing for our trip to Sea Base, I had a difficult time finding information about what I would need as a female participant. Other than bringing feminine hygiene products and a one piece bathing suit, there wasn't any information about anything else.
Let's start with the most important thing that needs to be taken care of; the vagina. You know what thrives in a dark, wet environment? Yeast. You know what is expected of you at Sea Base? To be in your wet swim suit most of the day. Sea Base conditions, while lots of fun and build character, are also prefect conditions for developing a yeast infection. You know what I don't need to build character? A yeast infection.
I made an appointment with my Gynecologist before leaving on our trip and told her exactly what I was doing. Without batting an eye, she prescribed me Diflucan as a preventative measure and instructed me to take it on days two and five of the trip. She warned against waiting for symptoms to start. Getting ahead of a possible yeast infection is key because nothing can ruin a trip faster than feeling that itch and knowing you are days away from getting to see a doctor. If you know, you know.
If you're a female and planning on attending Sea Base but are still on the fence about taking an antibiotic before you have symptoms; here is more evidence. The other woman on the trip went to her Gynecologist and was given the exact same advice. Two separate doctors came to the same conclusion!
Regarding swim suits.
I opted to purchase swim pants from Waterlust (which are basically swim suit material leggings) instead of a regular swim suit. The female employees at Sea Base seemed to mostly be wearing a one piece swim suit with athletic shorts. I liked the swim pants because I didn't have to apply sunscreen. Either option allows for modesty and not having to worry about your bikini line needing to be manicured. There is a lot of hauling yourself out of the water and into a canoe or on a dock. The last thing I want to worry about while trying to swing my leg over a canoe is whether or not my lady bits might be on display.

Regarding hair.
I brought leave-in conditioner but opted to leave it in the locker on base at the last minute. Items with a lot of fragrance are discouraged because of the wildlife on the island.
We were in and out of the ocean all day, every day and my hair was a salty top-knot mess by the end of our island adventure. I tried to untangle it with my fingers each night but decided to wait until we got back to the base before I would worry about what was happening in the bird's nest that was taking shape atop my head. I discovered that there is no such thing as naturally occurring "beachy waves" hair. It's just a marketing ploy by beauty companies to make GenX women think that if Brook Shields could look that good in Blue Lagoon then maybe a product could do the same thing for us.
Regarding skin care
I've worked hard to keep my 47 year old skin looking the best it can and I didn't want a week in the Florida sun to undo all that work. You know what is the number one cause of wrinkles and age spots? The sun. You know what you can't escape at Sea Base? The sun.
I applied Blue Lizard SPF 50 Face Lotion early and often and Jack Black SPF 25 Lip Balm. Personally, I prefer the texture of Jack Black lip balm to Sun Bum SPF lip balm. Use whatever you like, just make sure to use it.
Each night I used Burts Bees Sensitive Skin moist towelettes to clean off the salt, sweat, and general gross feeling of the day from my face, neck, decolletage, and arm pits. They are fragrance free and offer a nice little cool down in the hot tent. I also brought a very small travel bottle of Burts Bees Sensitive Toner with Aloe. I could have probably been fine without this item but it took up very little space and it was for my own peace of mind that I was doing my best to take care of my skin.
I also ended each day by applying Burts Bees Hyaluronic Acid face serum. Did it do anything to help fix the sun damage I received that day? Probably not, but it was more for my own peace of mind that I was making an effort. It's fragrance free so I didn't need to worry about animals. It's only a 1 oz. bottle so it packs very easily when weight and space are a concern. It's inexpensive enough that if it got lost I wouldn't be heartbroken over the money wasted.
There is so much to think about when it comes to preparing for Sea Base. Keep in mind that there will be more to pack for your trip that will stay in a locked cupboard. Just because I don't list shampoo, soap, deodorant, etc. on this list doesn't mean you won't need it. For example, you will want to leave your beach towel, clean clothes, and shampoo/conditioner at the Base so when you return from Munson Island you can make a mad dash for the showers.

My hope is that this blog post will assist anyone who is planning a trip to Sea Base. Especially women. If you use my list or have been to Sea Base, please let me know in the comments!

Please enjoy this printable PDF of my Unofficial Sea Base Packing List!
Printable PDF
sea base packing list

Related Posts via Categories