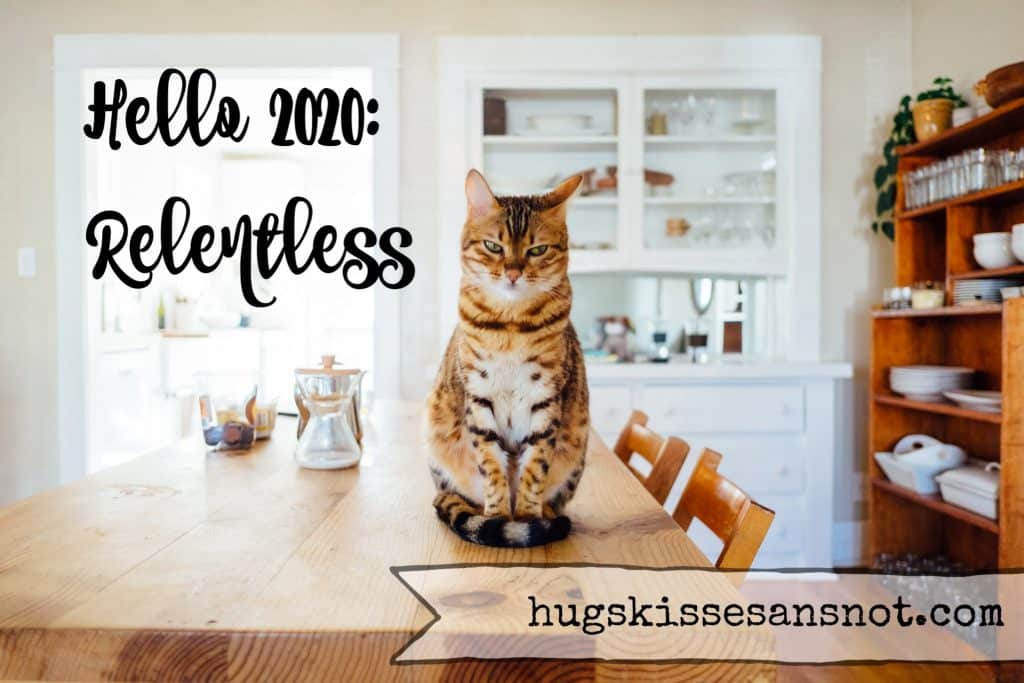 Well, hello there 2020. I've seen you coming for quite some time and have been anticipating your arrival.
I have one word for you 2020; relentless.
If the past several years are any indication, 2020 is shaping up to be a relentless shit show. As much as I want to hide my head in the sand I'm planning on being just as relentless.
Relentless in my pursuit of joy because I have to continue to search for and choose joy or I will be consumed by this dumpster fire.

Relentless in my pursuit of faith because quite frankly it feels like faith is hanging on by a string. The church seems to be eating itself alive and there are times when I'm ashamed by my fellow Christians. Thankfully faith is not made of buildings and rules made up by old white men. Faith is belief in something bigger than myself, bigger than the powers that be, bigger than the mess we have made of our well-intentioned rules.
Relentless kindness. It's so much easier to be dismissive or assume the worst about people. It's so much easier to look inward and care only about myself but if Mr. Rogers, Jesus, and Mary Poppins taught us anything it is that we can be both kind to ourselves and to others. That being kind to others is being kind to ourselves.

Relentless hope. We were created in the image of one who is so much bigger and grander than we have allowed ourselves to be. Hope says that it's not too late to be who we were meant to be. It's not too late to do better, to try again, to make a better choice. Hope is a fresh new day with a new chance to get it right.
To be quite honest I don't have very high expectations of you, 2020. I'm a worst-case-scenario kinda gal and my expectations are pretty low right now. That is why I have to be relentless in not allowing you to get me down and why I have to relentlessly search for the good you have to offer. Because I could so easily be swallowed up in the misery we have created, I have to be relentless in my search for beauty.
Relentless joy.
Relentless kindness.
Relentless faith.
Relentless beauty.
Relentless hope.
Relentless love.
2020, you think you want to offer anger and racism and separation and screaming faces and angry tweets. You will try to offer it relentlessly. But I will push back just as relentlessly. That is not who you are and it's not who I'm going to allow myself to be. I see your politics, elections, and raging wild fires and I raise you new baby smell, musical theatre, and public libraries. Relentlessly.