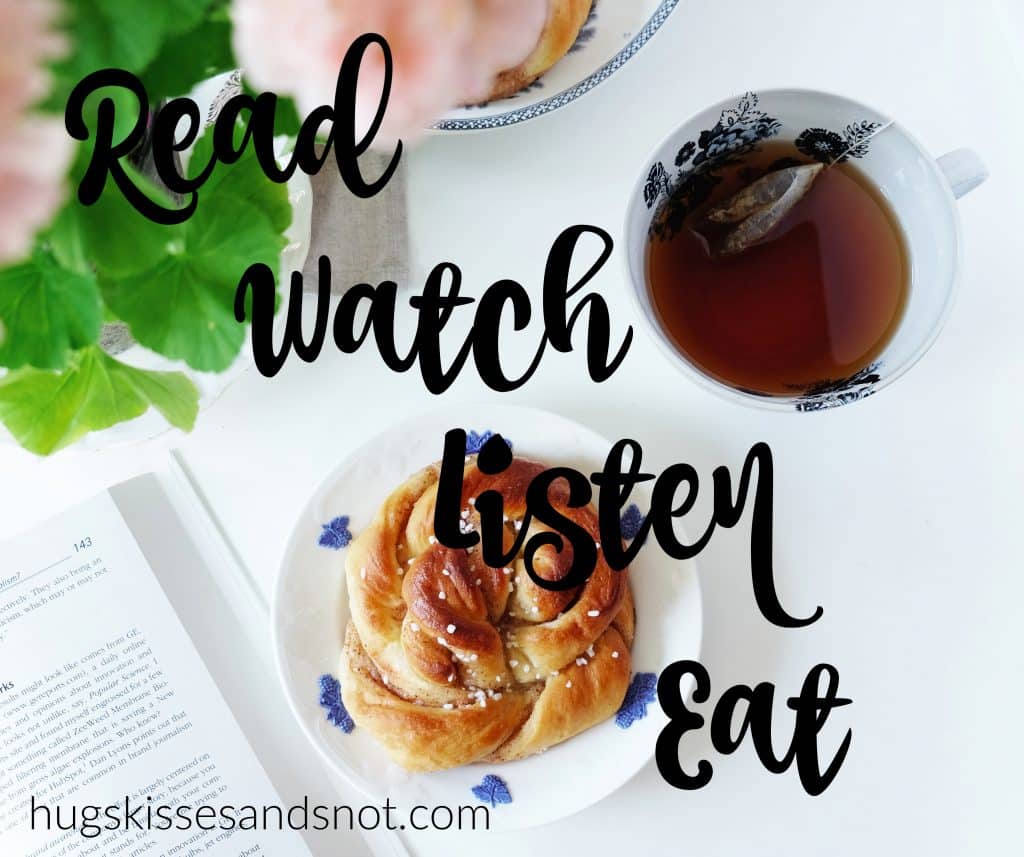 Way back in February I put together a list of things to Read, Watch, Listen and Eat from that month. I created the list with the intention of monthly highlighting things I found interesting, insightful, joyful, and helpful just as a way to say 'here, try something new'.
Then the world slowly turned upside down and showed us that the dumpster fire we thought was 2016, 2017, 2018 and 2019 was only the introduction of the Stephen King novel that is 2020. Act one of the real shit show got started and my good intentions to share links to what I find enjoyable quickly derailed.
But I'm trying to make sense of the senseless and continue to come back to what give me joy; being here on my little blog. Here are some things that I have enjoyed over the past few months.
Read Watch Listen Eat
What to Read
The Book of Longings
by Sue Monk Kidd
The Book of Longings is a fictional account of Anna, the wife of Jesus. You may be clutching your pearls but this was a powerful novel. I stayed up way past my bed time to finish the book and bawled like a baby. This story brought Jesus to life in a way that I have not experienced and told his story in a way that made his love real and tangible.
Where'd You Go Bernadette
by Maria Semple
If you're looking for a fun read about a misunderstood woman, this is it. Bernadette is quirky, architectural genius who has let her professional failures define her life, her marriage, and how she parents. Her distaste for those everyone outside her immediate circle influences how her family lives and interacts with their community. It is written in an interesting style that feels both like a traditional novel and a bit like you're spying on private correspondence.
A Perfect Memorial for an Imperfect Man; Ulysses S. Grant by Michael Hewitt. Dear Husband's cousin wrote this opinion piece for The Washington Post back in March. It is an excellent commentary about American leadership but it was, unfortunately, quickly buried in the news of pandemic. However, it is just as relevant now as it was four months ago.
What does it say about the man that he faced fear, failure and victory with seemingly equal temperaments? It shows he was a leader with courage, but not bluster, a leader of conviction, but not folly, of mercy, not revenge; a leader who asked for no more than he was willing to give.
America Is In The Grips of a Fundamentalist Revival (But It's Not Christian) by David French. David French is new to me. He is an Evangelical writer who appears to have an open mind and open heart to be willing to examine faith and politics from multiple angles. This article examines how both the left and right sides of polarizing politics have created a fundamentalist style religion that is leading us down a dark path. He explains the difference between a fundamentalist religious system versus other styles of religion and how the fundamental political religion that both sides of the spectrum have created are a threat to common sense.
What to Watch
Becoming – (Netflix)
Michelle Obama is one classy lady. Becoming is the documentary version of her biography that came out last year. It is so encouraging to watch a woman who refuses to be beat down. Who spent her entire childhood proving herself and her adult career encouraging girls, pushing forward despite constantly receiving push back and being a positive role model (something we desperately need more of).
Hamilton – (Disney+)
Do I really need to explain myself here? If you don't have Disney+, get it for $6.99 on your smart tv, watch it with and without the subtitles, and then cancel if you don't want to watch all the other content Disney has to offer. It's a fraction of the cost of going to see the actual show in the nose bleed section (if we could even go to see live shows anymore)
If you haven't seen it or are not that familiar with Lin-Manuel Miranda; in my personal opinion he is a genius at composition, lyrics, and musical creation. However, he is a terrible vocalist and dancer. He surrounded himself with some of the most talented musical theatre performers working today and that makes his lack of on-stage talent even more apparent. So, go into this knowing that he is a musical genius but not a great performer. We can't all be amazing at all the things all the time.
Just Mercy – (Rent through Red Box or stream through various streaming platforms like Amazon Prime, Fandango Now, YouTube, etc.)
The movie based on the best selling book by Bryan Stevenson tells the story of a black man wrongly accused of murder, tried with no evidence and testimony that was clearly cohered and blatantly false and then sent to death row.
What to Listen to
Jen Hatmaker For The Love podcast episode: White Women's Toxic Tears with Lisa Sharon Harper
Let's face it ladies, we have been taught to use our tears to our advantage. Not getting what we want? Turn on the water works. Get pulled over for speeding? Misty eyes and sob story. Done someone wrong but you don't want to apologize? Tears will deflect guilt. But what about when we use our tears as a weapon against someone of color?
What to Eat
In my continued fascination of Black Treacle (which is basically molasses but has a deeper and more intense flavor) I made Black Treacle Ice Cream for Recipe Archaeology. Stop the presses and pick up your spoon. It starts off tasting like caramel but then you taste hints of coffee, spice and a nutty quality you can't quite put your finger on. Find the recipe for Treacle Ice Cream on our website