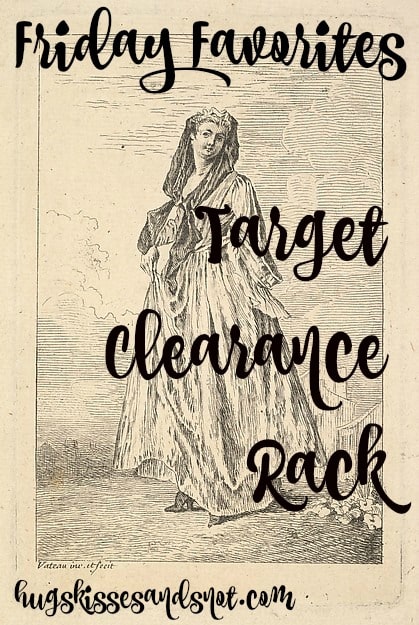 I'm not going to lie…I love clothes. I was voted "Best Dressed" my senior year in high school for crying out loud. What I don't like…paying for clothes. I am a super cheapskate when it comes to paying full price or high ticket items. I'm extremely grateful when I'm gifted shoes or clothes that are high dollar or designer label. My dad knows how to make me happy…sometimes he buys me shoes from Neiman Marcus that are more works of art than they are footwear. But when I'm constantly thinking about the grocery bill and how to save for vacation, spending a lot of money on clothes is low on the priority list.
That is why I love it when Target starts to make room for spring fashion. There may be six more weeks of winter left but swimsuits and jumpers are already making an appearance in the stores. And because room needs to be made for all the Xhilaration coverups and short shorts I made a bee-line for the Target clearance rack this week to see what the Target fashion gods decided to bless me with.
The 70% off clearance racks were packed. Which is where I found this adorable little dress for $8.38. EIGHT DOLLARS AND THIRTY-EIGHT CENTS. What the what?!
Top to bottom: Lip color is Fly Girl from Lipsense, $24.00. More than I would normally pay for a lipstick but I'm trying it out from my friend who sells Lipsense. Scarf was about $1.50 from a store that shall remain nameless but rhymes with ball-fart. Dress from the Target clearance rack for $8.38. Tights also from Target (these are my favorite fleece-lined tights) for $10.00. Boots are Ugg and I'm not sure how much they are because they were a gift. Let's just say, a lot.
There you have it, frugal fashion from the Target clearance rack. I say beauty is in the eye of the beholder and this little flannel shirt-dress hit the sweet spot.