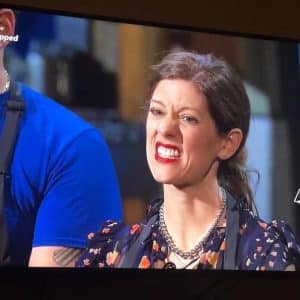 In case you didn't hear…I was on the Brady Bunch episode of Chopped!
Crazy, right? I know.
After the episode aired I've gotten a lot of questions like; What is it like to be on Chopped? How did you get on the show? Did you know who the judged would be?
So…What IS it like to be on Chopped?
I try to answer as many questions as I could as well as recap my experience on the Recipe Archaeology website.
Up until recently I have had to keep a very big secret from my friends and acquaintances: I was a contestant in an episode of Chopped.

It all started way back in November of 2018 when I received an email from a Chopped producer. She had been down a rabbit hole of retro cooking websites and found Recipe Archaeology on YouTube. She wanted to know if Christine and I be interested in applying to be on the show.
Keep reading HERE
Chopped shared a lot of great photos from the episode on Twitter however, I'm not allowed to share them on a blog or website (boo on you Chopped legal team). But they are free game for social media. Hop on over to the Recipe Archaeology Instagram feed to see those pics.