Today's social distancing as a family is brought to you by box wine.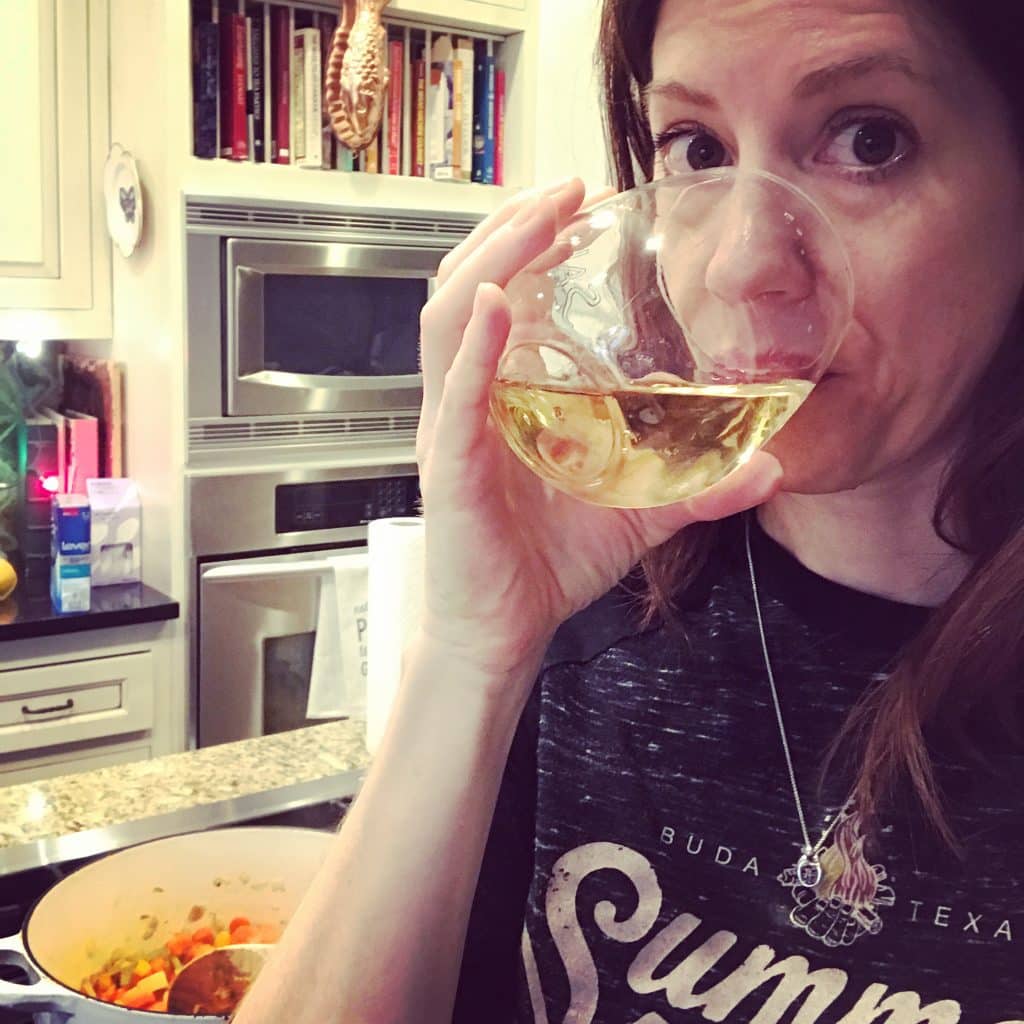 Technically, we're still in spring break mode. That means one of us went to work in the home office while two of us were in our pajamas until 11:00 and the fourth person in our family stayed in pjs until 6:00 pm.
Harry and I watched Frozen and Frozen II. Disney decided to do it's part toward COVID-19 quarantine and added it to Disney+ ahead of schedule. This was my first viewing of Frozen II. Two things: 1) what in the hell is up with the full on 80's rock ballad video in the middle of the movie? Seriously? Was that just a nod to all the Gen X parents who grew up watching Poison and Bon Jovi videos on MTV who are now stuck with Frozen II on a loop in their house? 2) The four elements with a mysterious fifth element was a total rip off of the sci-fi classic The Fifth Element. Lelu Dallas is my original favorite female super hero.
I picked up a pretty big grocery order from Walmart on Sunday anticipating all the stay at home meals. Tonight's meal is chicken noodle soup.
This recipe could not be easier or more comforting. It's one of those things that is a stone soup type of concoction. Just pull out whatever is in your fridge. I started by cooking 3 lbs. of frozen chicken thighs in the Instant Pot this morning and saving the broth in the fridge so that the fat would rise to the top.
Next just saute onion, celery, yellow bell pepper, and carrots in a heavy pot. Add white wine when things start to get soft. Season with what ever floats your boat. I used celery salt, dill, garlic powder, white pepper, salt and a bay leaf. I added a package of pre-cut butternut squash. Add the broth from the Instant Pot and a box of bone broth and water. Simmer on the stove top for an hour or until you're ready to eat. Cook some egg noodles when it's time to eat and there you go. Comfort food to keep your spirits up in the middle of a world wide crisis.
Tonight's family movie line up includes Raising Arizona. It is way past time that the boys learn to appreciate what made us all fall in love with the Coen Bros.