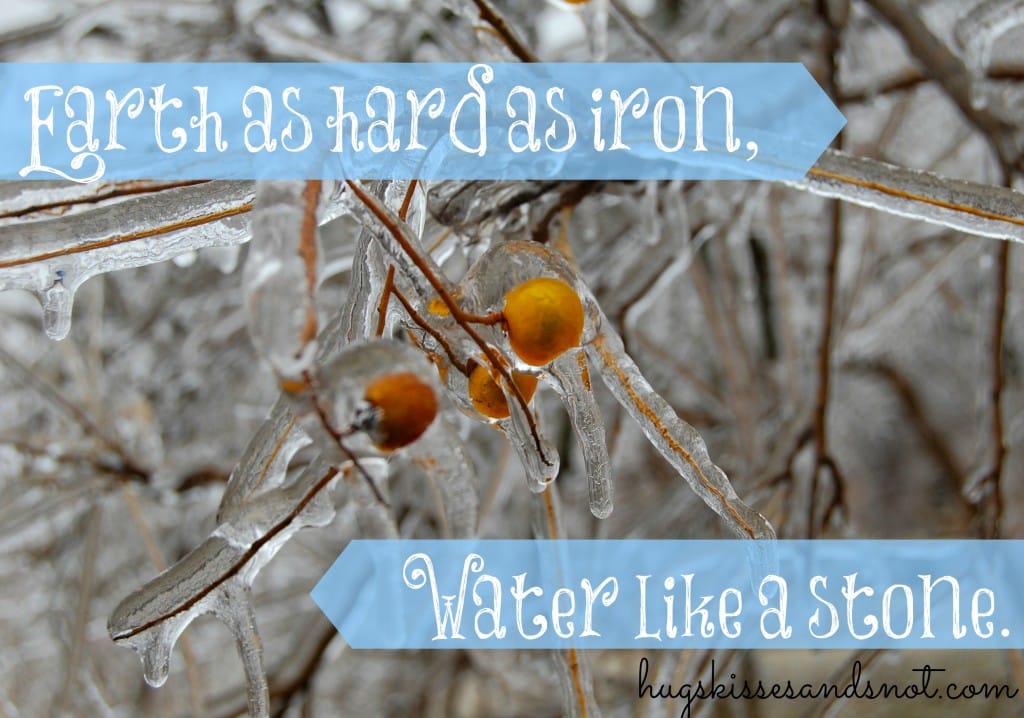 Christmas music. I love hearing all of the velvet voices of the classic Christmas songs, Nat King Cole easily being my favorite. I love Harry Conick Jr's jazzy Christmas piano and the hand-raiser in me warms when I listen to Michael W. Smith's Christmas albums. Smitty knows exactly when to throw in a minor cord to get the full effect of Christmas magic. However, that Christmas Shoes song has got to go. That thing is terrible. I think it was written specifically to get moms sitting in the pick up line choked up for no good reason.
There is one Christmas carol that is not very well known but has become one of my favorites. It's not as joyful as Hark the Harold or Angels We Have Heard On High, it's not as sweet at Silent Night nor is it etched into everyone's memory like Joy to the World. The song I'm thinking of is In The Bleak Mid Winter.
In the bleak mid winter, icy wind made moan.
Earth stood hard as iron, water like a stone.
Snow had fallen, snow on snow,
Snow on snow.
In the bleak mid winter, long ago.

Angels and archangels, may have gathered there,
Cherubim and seraphim rising in the air.
Only holy Mary, in her maiden bliss,
Worshiped the beloved with a mothers kiss.

What then can I give him, empty as I am?
If I were a shepherd I would bring a lamb.
If I were a wise man I would know my part.
What then can I give him? I must give my heart.

In the bleak midwinter, frosty wind made moan,
Earth stood hard as iron, water like a stone.
With the love He gave us, we must do our part.
With the love He gave us, we must give our heart.
This time of year we are supposed to be filled with joy, should happily swipe our credit card and hang lights with a song in our heart. All the other Christmas songs tell us to be cheerful and happy, but there are times when that just doesn't seem possible. For whatever reason our heart has turned to stone. This carol is the theme song for those years when you can't seem to muster up any Christmas cheer and in the place where we should feel joy we only feel empty. Sometimes winter seems to have an effect on more than just landscape.
A few years ago I was in the middle of the holiday rush. Driving all over town shopping, decorating the tree and for some reason in the middle of it all I felt lost. Even though I heard the festive songs on the radio and the calendar told me Christmas was right around the corner, my heart didn't feel anything at all. I felt lost in the middle of the hustle and bustle. Somehow, my heart heart felt like the first verse of this song, hard as iron and frozen. It's times like this that we are weighed down with the struggle of everyday life. Like each new layer of snow; each struggle buries us until the landscape of our heart and mind is unrecognizable. Worries of how to make ends meet, how to pay for expensive gifts when kids don't understand budgets, hard work at the office going unnoticed, not feeling appreciated at home, whiny kids, screaming babies, a messy house with no help in sight…it all feels so…bleak.
This song reminds me that it is okay to feel a little lost this time of year. When we feel like there is no place for us, or no one understands, when we feel lost…there is one who suffers with us and knows exactly why our heart is hard. One who was caught in-between. Heaven didn't want him because earth needed him. We desperately needed him yet, we didn't want him. On that cold, dark night heaven sent him to us, the angels rejoiced over him yet only his mother's kiss and arms could comfort him. Imagine that, helpless yet divine. That is how I imagine our souls, helpless yet divine. Inside our fragile hearts, so easily broken, the holy spirit longs to reside.
When our hearts have become as hard as iron there is only one thing to do with it…give it up. When our souls are empty and we feel like we have nothing left to give…to our spouse, our boss, our kids, anybody…we must give it away. When the strain of the season drops the temperature of your heart a few more degrees, allow the duet of a cry of a baby and the song of angels to warm it and melt your heart. It may be empty but that is exactly how He wants it…empty so that he can fill it with His love.
Related Posts via Categories