Over the past few weeks I've been dabbling in using writing prompts. The great thing about writing prompts is that it pushes you to think about topics that I may not normally pursue. It also gives me the opportunity to see what other bloggers have to say about the subject. It's amazing how many points of view you can find on just one topic.
This week I'm linking up with Mrs. Disciple and sharing five books that I would re-read in a hot minute.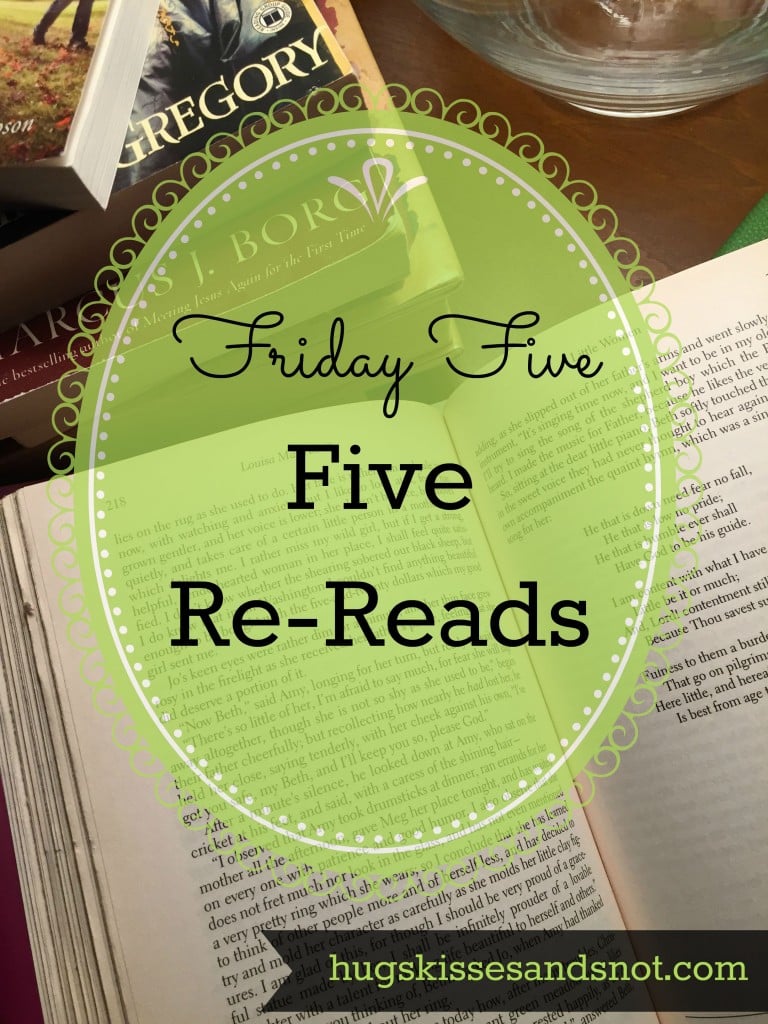 Little Women
Little Women is one of those books that just makes me feel good. I can pick it up and flip to any page, start reading and all is right with the world. It's probably best to start from the beginning but once you know this book it's not hard to jump to any chapter and know where you are in their journey.
As soon as I finish the Outlander book I'm on I think I'll read this one.
2. Any book from the Anne of Green Gables
series
The Anne of Green Gables series was integral in my youth. My elementary best friend introduced me to the series and we would act out scenes from the book and pretend that we lived in another era. (Sometimes I think that I may have lived in a pre WWI era in a pervious life.) After I read all of the Anne books I read every single book that L.M. Montgomery wrote and devoured the stories. Those words made their way into my mind and have stayed with me ever since. I have all of Montgomery's titles on my kindle (thanks to a .99 flash sale on Amazon). Recently I read Rainbow Valley on a whim and it completely held up. It was everything I remember and more now that I was reading it as an adult. Anne takes a back seat in this book to her children and their friends and all their little personalities, problems & joys are so endearing.
I have this dream to make a mecca trip to P.E.I. They have an Anne of Green Gables festival every year and I am determined to go. I don't care if I go by myself or with a friend or a group, I'm making it to that dang island.
3. Harry Potter
I've made it through the series twice, once before I had kids and a second time reading out loud to Addison. Reading it as a parent is powerful. Last year I wrote an open letter to J.K. Rowling explaining how special that experience was to me. The imagery and symbolism in the book is so meaningful as I watch my own boys navigate childhood and growing up. I can't wait to read them all again to Harry.
4. Contact
Contact by Carl Sagan has so much to say about faith and believing in something great than yourself. I found this book extremely powerful. It is a long one and can be heavy so I have only read it a couple of times but thinking about its message of living by faith makes me want to pick it up again.
Thinking about Contact makes me want to read Interstellar. I was blown away by the movie and am curious to see what the book is like.
5. To Kill a Mockingbird
Harper Lee was so ahead of her time with this book. Whenever I get really depressed about society and where we are headed I can pick this book up and know that not all is lost.
Those are my top five re-reads. What is on your list?
Related Posts via Categories