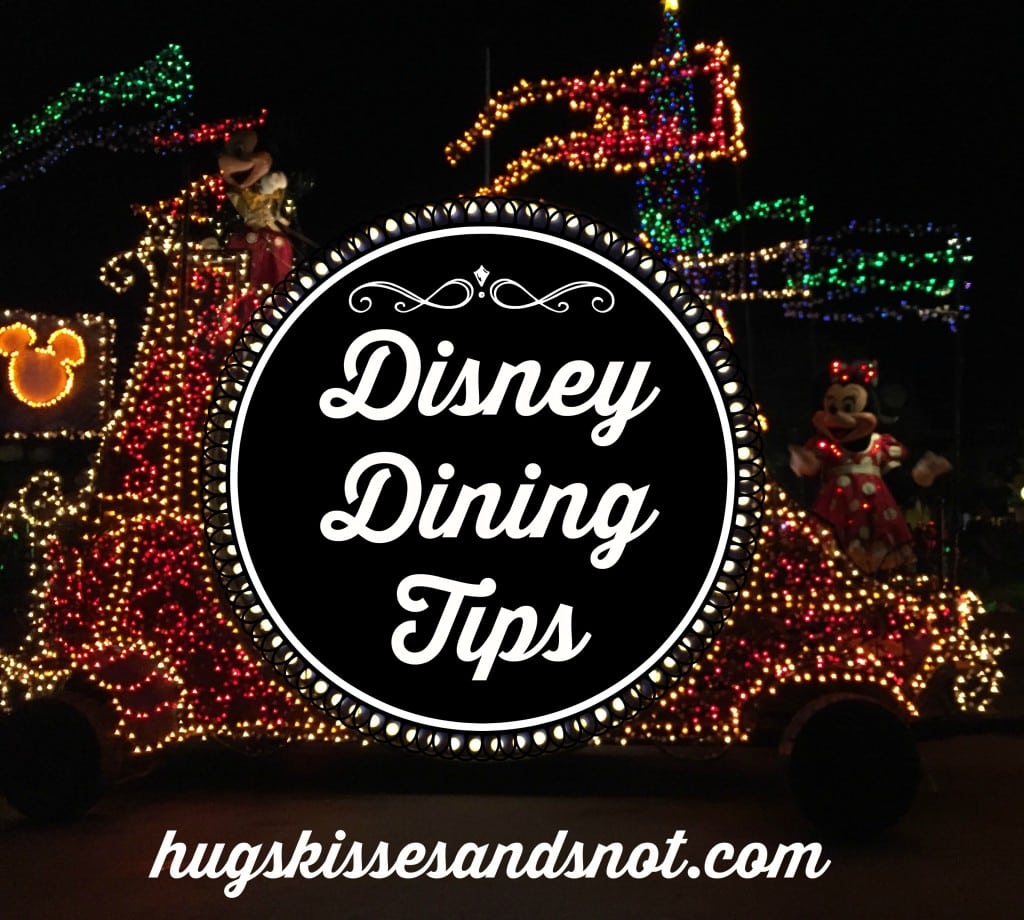 After our trip to Disney World I have some thoughts and insights on Disney meals. These Disney Dining Tips are designed to share our experience and give those looking to stretch their dining dollar at Disney.
Let's start with some basic information about us and our trip.
We are a family of four; two boys ages 11 and 5 at the time of our trip.
We stayed at the Swan Resort and we ate every single meal either at our hotel or at one of the parks.
We opted to NOT get a Disney Dining plan. After talking to several friends who had recently used the Disney Dining Plan we decided it was not for us. Mainly because of the amount of food you receive on the plan. I learned that if you don't order everything on your plan each day you feel like you are wasting your money. However, if you do order everything on your plan each day the abundance of food is overwhelming and you end up wasting a lot of food unless you want to gain 20 lbs. in less than a week.
Tip 1 – Reservations
It's nice to have a few reservations so you know you won't have a long wait when you're ready to eat. However, don't over schedule your meals. If you have too many reservations you will feel like the entire trip is planned around the meals and you will end up pulling the kids away from something fun in order to make it to your next reservation.
I used the My Disney Experience app to make reservations and manage our schedule. If you have your heart set on a character dining experience you should make those reservations months in advance. I was hoping to get to the Supercalifragilisticexpialidocious breakfast but the reservations were full two months before out trip. Because this breakfast was at one of the Disney resorts and would take us about 45 minutes to get to, I wasn't wiling to risk showing up with out a reservation and either not getting in or having to wait 45 minutes for a table.
Another restaurant that requires a reservation is Teppan Edo in Japan at EPCOT. This is a habachi style restaurant and very popular. Reservations were completely full on the app nor where they taking walk ins. Reservation way in advance only! But, right next door is Tokyo Dining. The walk up wait was only 30 minutes
HOWEVER, just because the app says that all the tables are booked for the restaurant you want, don't give up. I wanted to eat at Via Napoli Ristorante e Pizzeria (a popular Italian restaurant in EPCOT) but the app showed it was full. We took a chance to see what the wait was for non-reservation and we only had to wait 20 minutes. Enough time for Dear Husband to visit the wine bar right around the corner.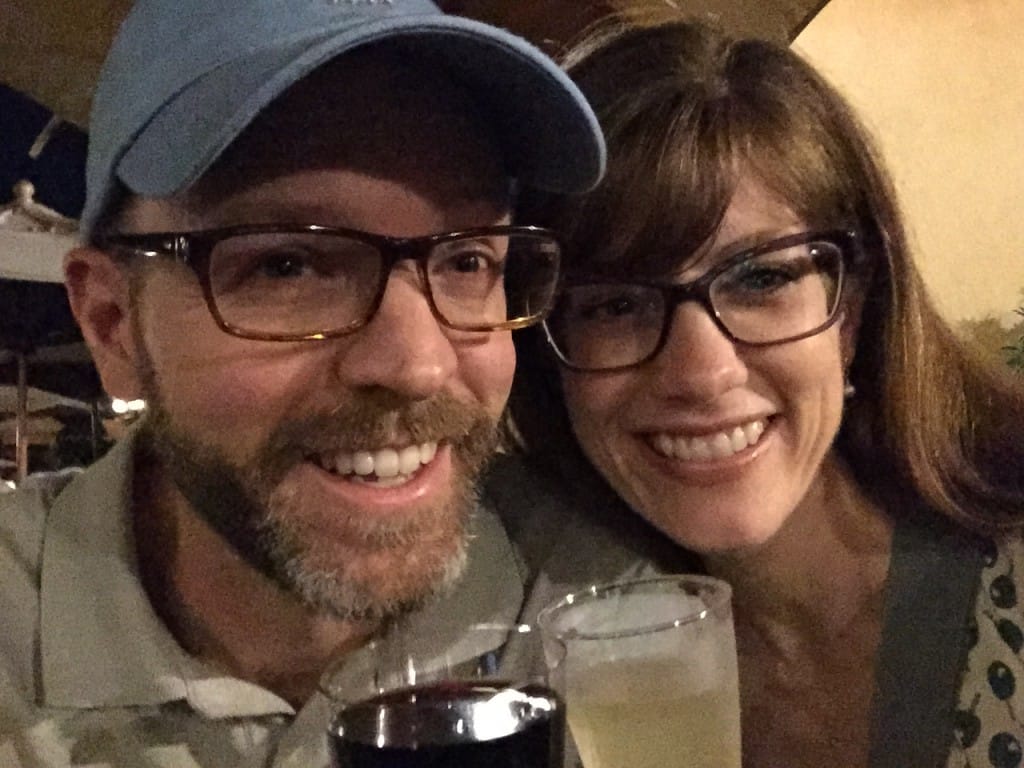 Here we are waiting for our table at Via Napoli. Dear Husband has this tip: don't try to order Champagne in Italy. They will tell you to go to France.
We gazed into each others eyes over vino and tried to ignore the kids and pretend that we really were in Italy. Someone wouldn't let us forget where we were…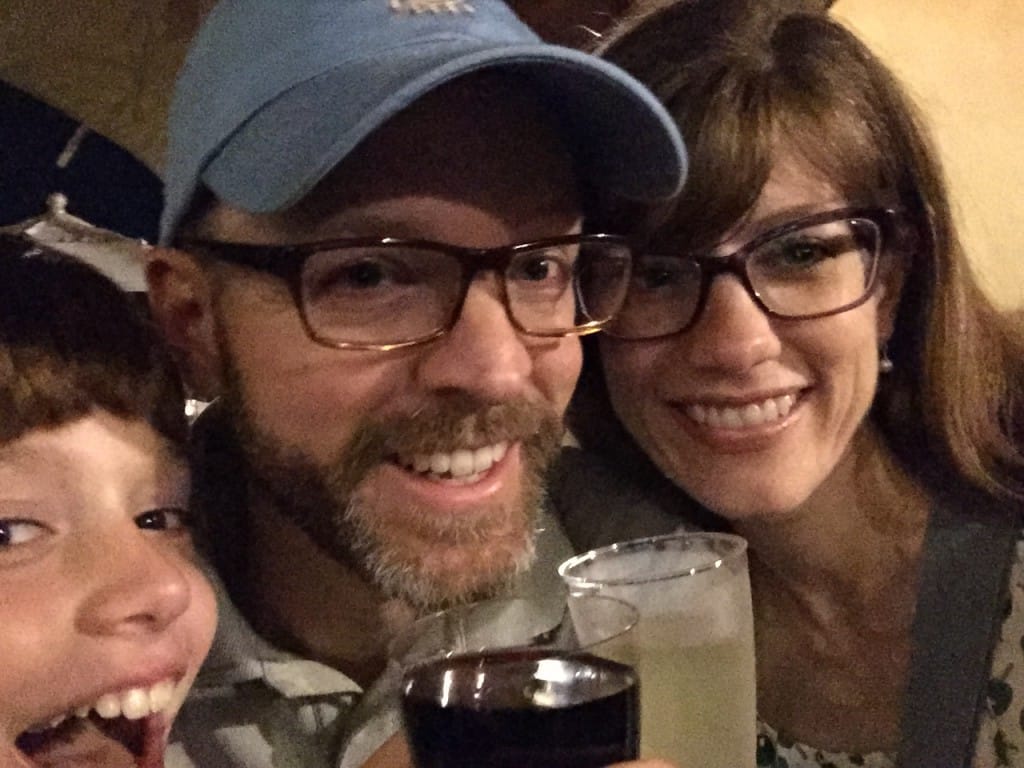 Tip 2 – Sharing Meals
Unless you have a belly that requires the 72 oz steak and all the fixins at the Big Texan, the portions at the restaurant are more than enough for one person. Dear Husband and I always shared an entrée at a sit down restaurant. To make sure that we would both have enough we would also split a small salad. Combine that with all the food the kids don't eat off of the kids meals and I never felt like I didn't get enough.
For example: We had lunch at Tony's Town Square Restaurant on Main St. in Magic Kingdom. One adult portion of spaghetti and meatballs was enough for three of us! I also ordered the caprice salad and we still had food left over from Harry's kid size portion. At Via Napoli in Italy at EPCOT Dear Husband and I got the family style salad (which was huge) and split a personal size pizza. The table next to us was on the dining plan. They were a family of four (two small children). Between the four of them they had two huge bowls of pasta, salad and a huge pizza that would easily feed 8. It was nuts.
The quick service portions are a little smaller than the table service so we typically each got our own meal. However, if we were trying to be super economical we probably could have made it work with sharing meals and sides.
One thing I'm not willing to share is the Dole Whip. I need all that delicious pineapple goodness to myself. Go get your own.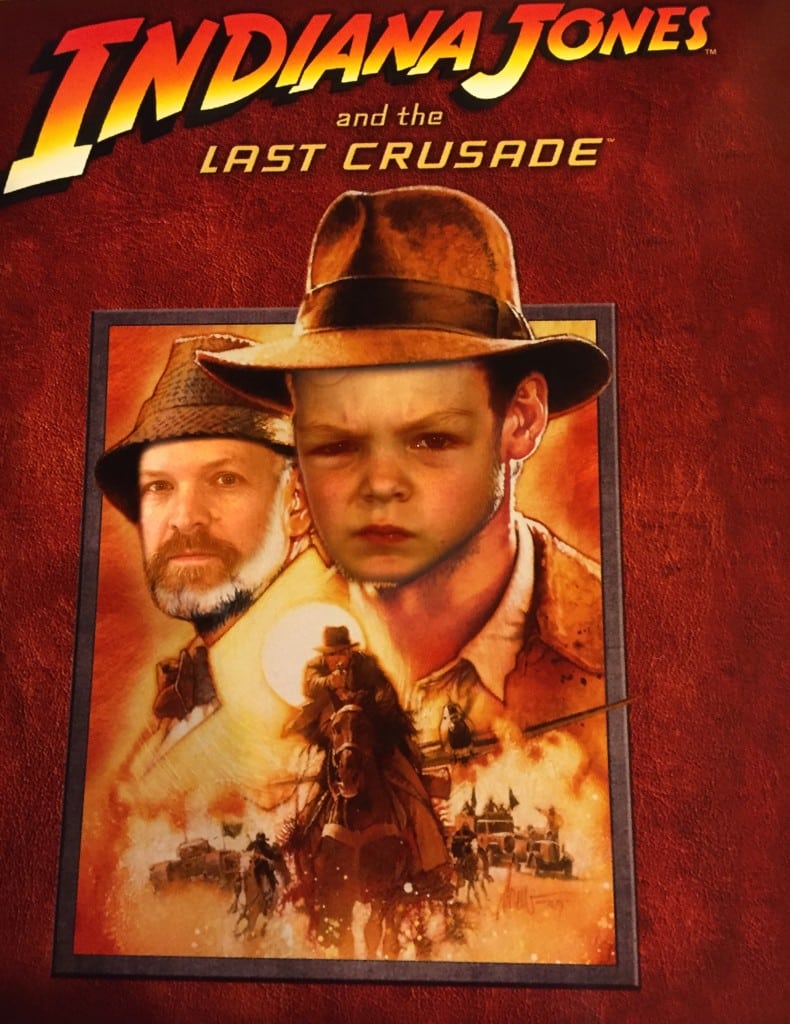 Tip 3 – Time Management
If you do have reservations take into consideration how long it will take to get to the restaurant and what you want to be doing close to that time. You don't want to have to race across the park with little ones in tow to try to get to your reservation. We were in Tomorrowland getting bamboozled into buying an overpriced picture of Harry and Dear Husband as father and son Dr. Jones' when I realized we were getting close to our reservation time for Tony's on Main St. I figured 10 minutes would be enough. Nope. Maybe we could have gotten there on time if the park were empty. But when you're dodging crowds, strollers, motorized carts and balloon vendors Tomorrowland to Main St. can not be done in 10 minutes. Thankfully all the restaurants will hold your reservation for 15 minutes and even after that they will still seat you.
If traveling to various properties find out how long it will take. We had breakfast reservations at Boma (which was fabulous) at the Animal Kingdom lodge and gave ourselves 40 minutes to get there. Turns out I should have planned on almost an hour travel time. It is a 30 minute bus ride from the Swan to Animal Kingdom (assuming everything is running on time). Once at the Animal Kingdom you have to cross over from arriving buses to departing buses and wait for the Animal Lodge bus. It is another 10 minute ride from Animal Kingdom to the Lodge.
Tip 4 – Recommendations
Quick Service: Almost all of the quick service restaurants were great. My top picks are Pecos Bill Cafe in Frontierland in the Magic Kingdom. Pecos Bill Cafe has a free salsa bar where you can load up on guacamole, salsa and sour cream to make a small meal feel much more substantial.
Yak & Yeti Cafe in Asia in Animal Kingdom had healthy choices like curry and grilled veggie wrap but also offered the kid friendly basics. If you don't want to listen to the continuous dance mix from the Indian DJ next to the order stands there is plenty of seating in the back far enough away from the thumping bass.
Les Halles Boulangerie-Patesserie in Paris in EPCOT has an incredible selection of pastries as well as soup in a bread bowl or baugettes stuffed with brie, apples or deli meat. There is also an ice cream shop right next door in case someone in your group isn't into pastries.
Table service: My top picks are Boma at the Animal Kingdom resort lodge. The breakfast buffet is pricey but amazing. The selection of traditional and non-traditional breakfast items is outstanding and the juice they serve you when you first sit down makes you think you are on a tropical island.
Via Napoli Ristorante in EPCOT is great for dinner and the portions are large enough for two adults to share. The Italian waiters are the cutest ever.
Tokyo Dining in EPCOT is great if you want your kids to experience something a little different from the typical kids meal. I've had better Miso soup but that along with a pot of hot green tea really hit the spot after a long day on my feet. Pretty much any restaurant in the World Showplace in EPCOT is going to be great.
Not Recommend: The Garden Grove at the Swan Resort. Out of all of the places we at The Grove was the most disappointing and the most expensive which made it a double whammy. Soup salad and dessert are included in the price of every meal but the dessert bar felt more like a dessert buffet at a swanky event where the desserts are super fancy and small but not really that appetizing. Because each meal includes soup/salad/dessert it makes it difficult to share an entrée. You can't really tell the waiter that you are going to share and then expect him to trust you when you promise not to eat off your hubbie's salad plate. They want you to get your own salad for a cool $18. The kids meals (also over priced at $15) also come with soup/salad bar but the last time I checked, my kids weren't falling over themselves to get to the spring mix and clam chowder. This ain't the Golden Coral.
Lets sum it up: In a spirit of transparency I'm going to tell you exactly what we spent on food. This number is brought to you thanks to Dear Husband's affinity for keeping receipts and speadsheets. My hope is that this will help anyone trying to make a decision as to whether or not to purchase the dining plan.
For four days in the park (three meals a day, snacks and drinks for four people) and two travel days we spent $1,034. According to the 2015 pricing info on wdwinfo.com (keeping in mind that our 11 year old is considered to be on the adult plan) we would have spent $1,433.80 and that is not counting meals upon arrival and departure. One thing we did not do that might make the dining plan worth it is character dining. Character dining can be very expensive and can be included in your dining plan. If you want to do more than one character dining experience you might consider the dining plan in your budget.
There is no way around it; food is crazy expensive at Disney World so just get ready to eat your budget. Right off the bat I had to get myself into a different frame of mind than I am used to when it comes to budgeting. If I worried too much about how much everything was going to cost then the trip wouldn't be any fun. Everyone knows Disney World is an expensive trip but you have to mentally prepare yourself for the cost so you're not shocked into becoming Ebenezer Scrooge at every price tag. However, with a little planning you can save a little bit of money and not eat yourself into oblivion.