This is a "sponsored post." The company who sponsored it compensated me via a cash payment, gift, or something else of value to write it. Regardless, I only recommend products or services I use personally and believe will be good for my readers. I am disclosing this in accordance with the Federal Trade Commission's 16 CFR, Part 255: "Guides Concerning the Use of Endorsements and Testimonials in Advertising."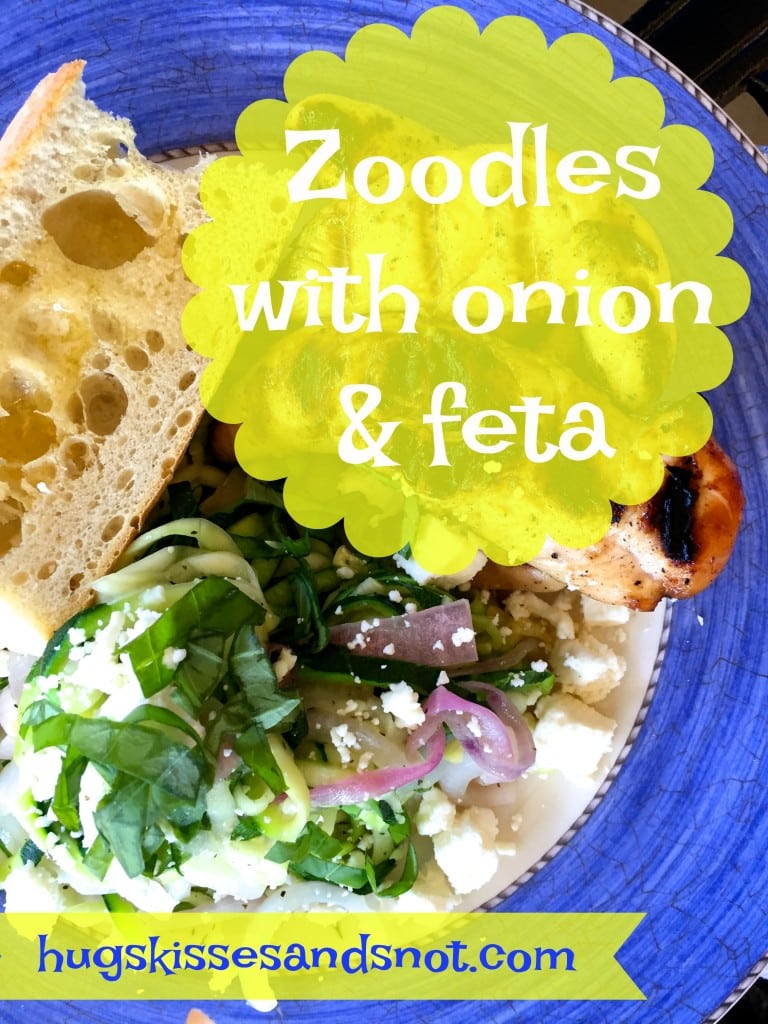 Did you know that one in four children in Oklahoma go hungry every day? One in four. That means that about five kids in my little Harry's first grade class came to school with empty bellies. About 20 kids in all of the first grade classes and about 158 kids in the entire school come to school hungry. That's just one school in our town.
No wonder discipline problems in schools are out of control.
Childhood hunger is especially difficult on the weekends and during summer vacation because these children rely on the school cafeteria for their meals.
How is that even possible?
In one of the wealthiest countries in the world. In one of the most technologically advanced, where a large portion of the world's food is grown, kids come to school hungry. How is it that one in four children is hungry every. single. day?
The Mediator in me is writhing around on the ground, convinced that the world is going to hell in a handbasket. I want to help every one of those kiddos but become overwhelmed by the enormity of it all. Thankfully there are organizations that help regular people like you and me make a difference.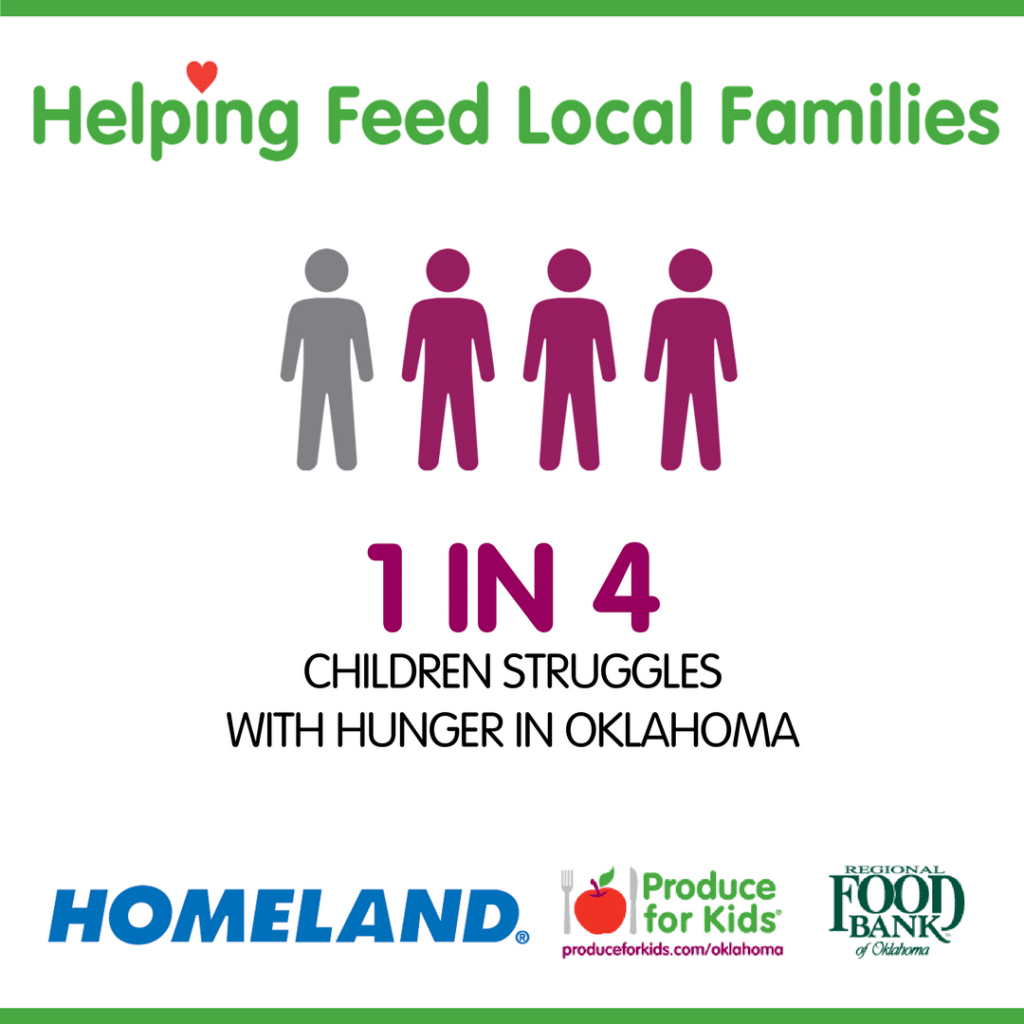 Produce for Kids is dedicated to getting more fresh fruits and veggies into the bellies of kids. Produce For Kids has partnered with Homeland grocery store to help raise money for the Regional Food Bank of Oklahoma.
In 2016 Produce For Kids provides 37,700 children with meals and more than 21,000 students benefited from the backpack program. During the month of June, shop at Homeland and the Regional Food Bank of Oklahoma will benefit. Over the past three years, over $40,000 has been raised to help support the backpack program in which students are provided with backpacks full of healthy, shelf-stable food.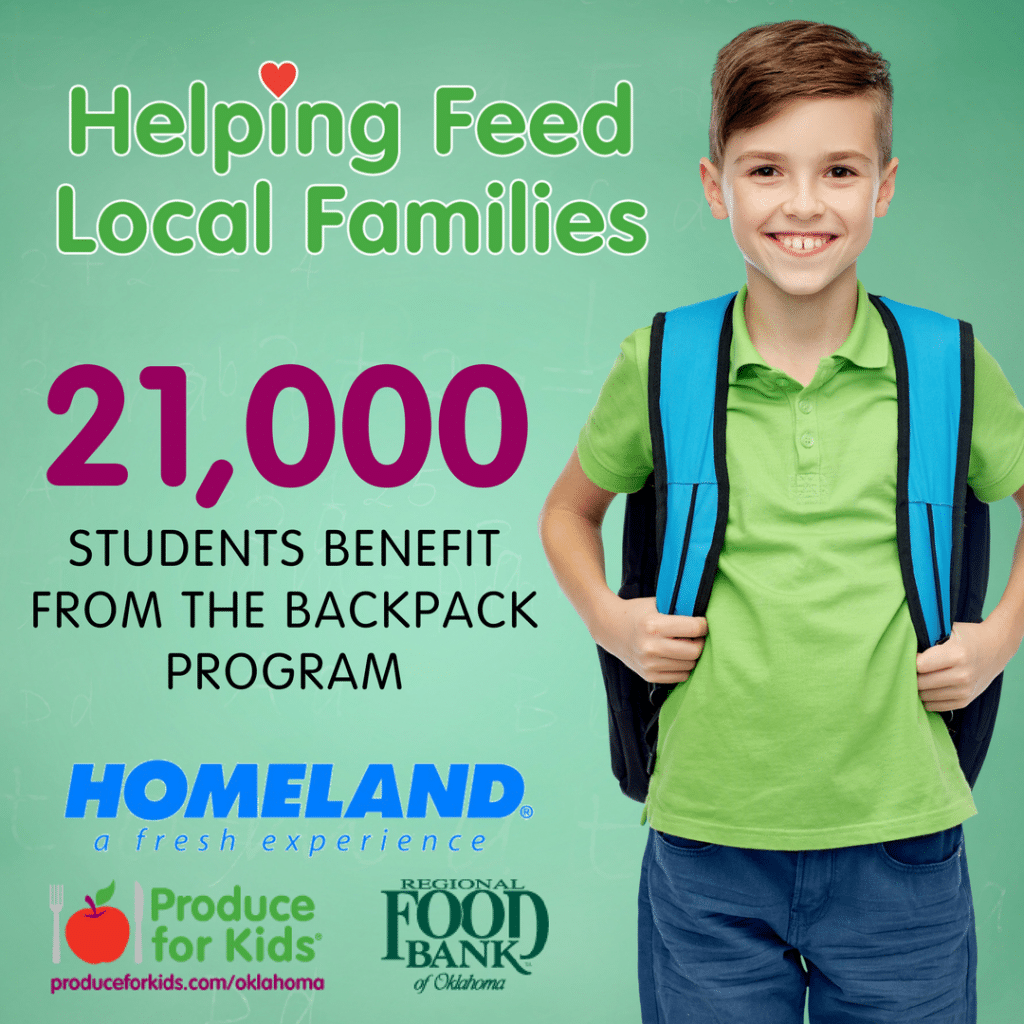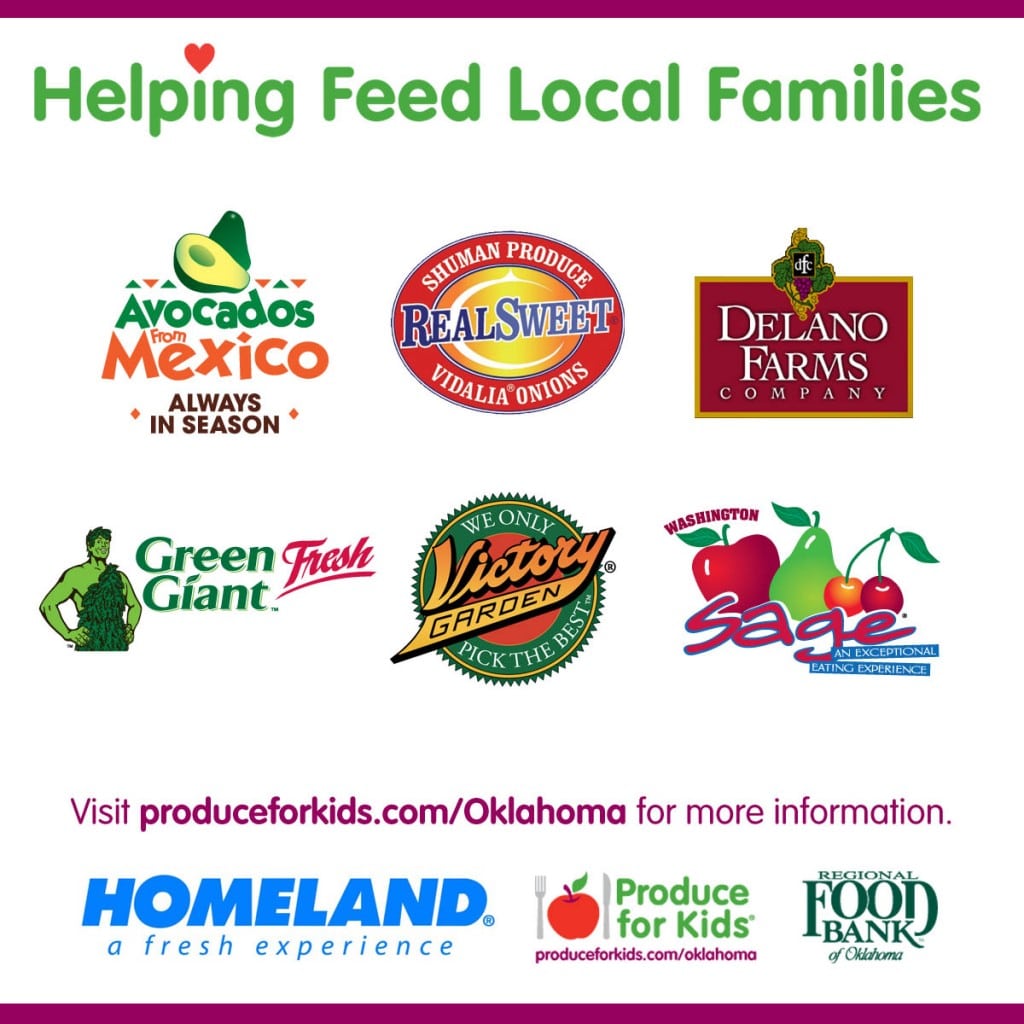 Produce for Kids is all about families eating more fruits and veggies as well as giving back to the community. Not only to they have this amazing program to benefit the Regional Food Bank of Oklahoma but they have tons of healthy recipes to get you inspired to prepare more fresh fruits and veggies at home.
Now that you know how to help those in need while also doing your regular grocery shopping (make sure to do it at Homeland in June to make sure the Regional Food Bank benefits) let's talk about new ways to fix veggies.
I'm always looking for ways to trick encourage my boys to eat more veggies. This week I found it.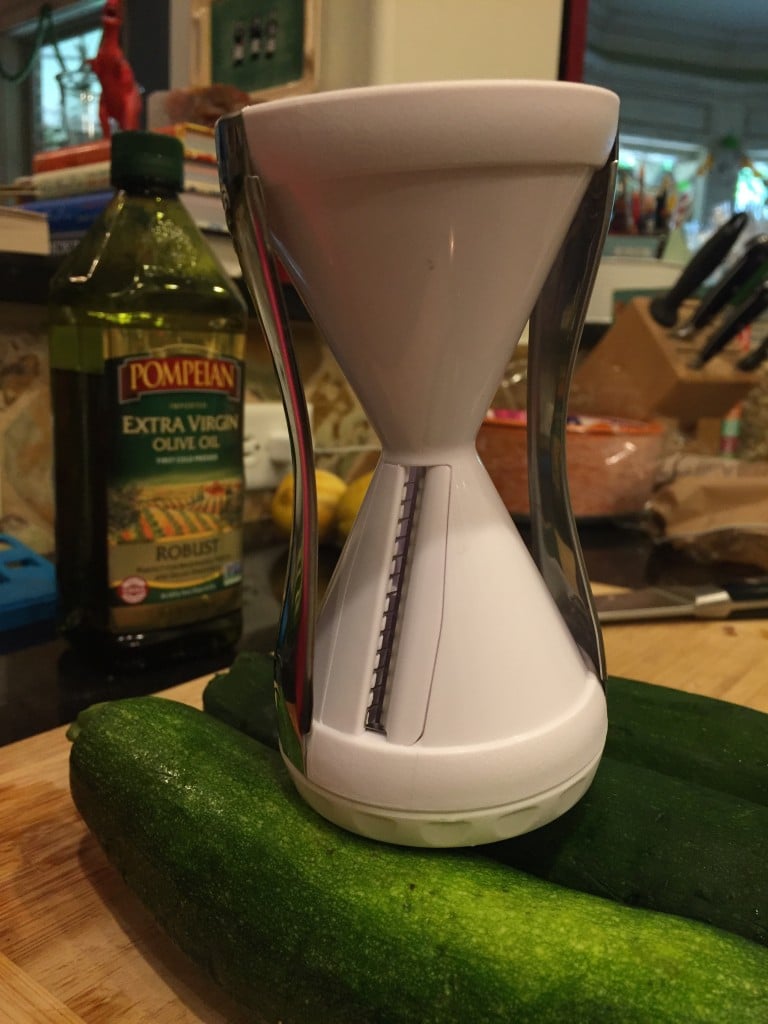 I purchased this little device at Beth Bath and Beyond (you can also find it here on Amazon -> Veggetti Spiral Vegetable Slicer
) and it is my new best friend. I've heard about this zoodle craze but have never actually tried making zucchini into pasta. Not really pasta, per say, just zucchini shaped like pasta.
I say this magic little kitchen tool is my new best friend because Addison ate the zoodles and he didn't gag or grimace. He actually said they didn't really taste like much and weren't that bad. That, my friends, is the highest praise you can get from this kid regarding green vegetables.
I was so happy I nearly did a back flip. It was a seriously good day.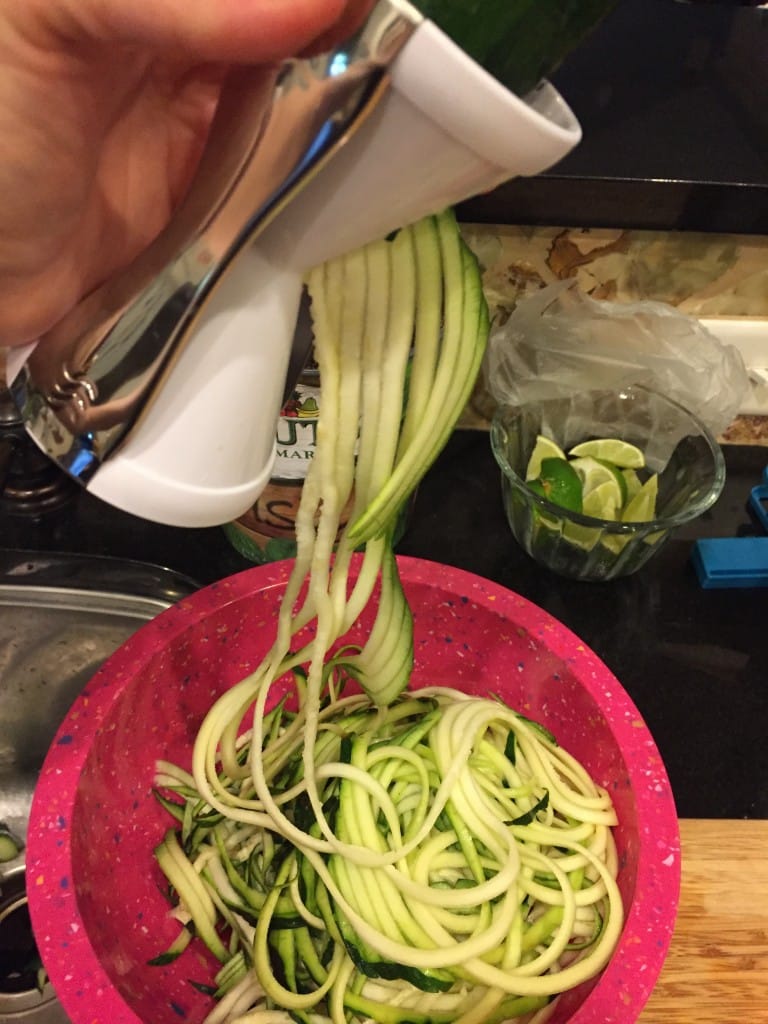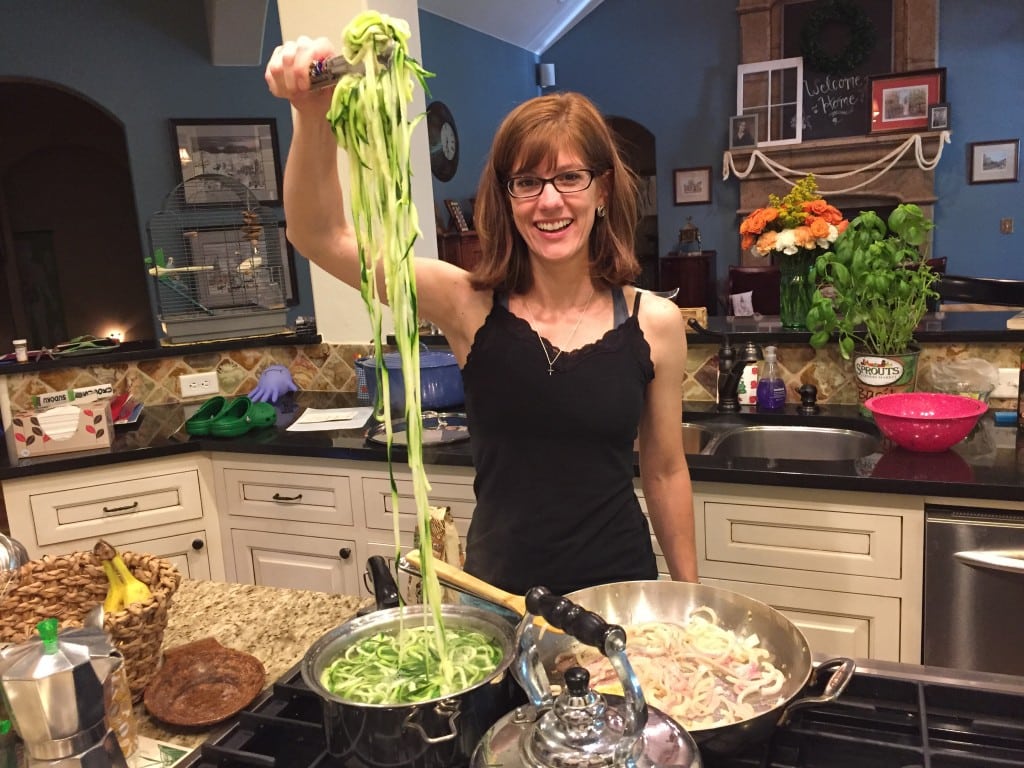 Since I was creating a recipe for Produce for Kids I knew it had to be easy and delicious as well as use at least one of the participating brands from Homeland. This recipe for zoodles with onions and feta is seriously easy and seriously yummy. Check all the boxes.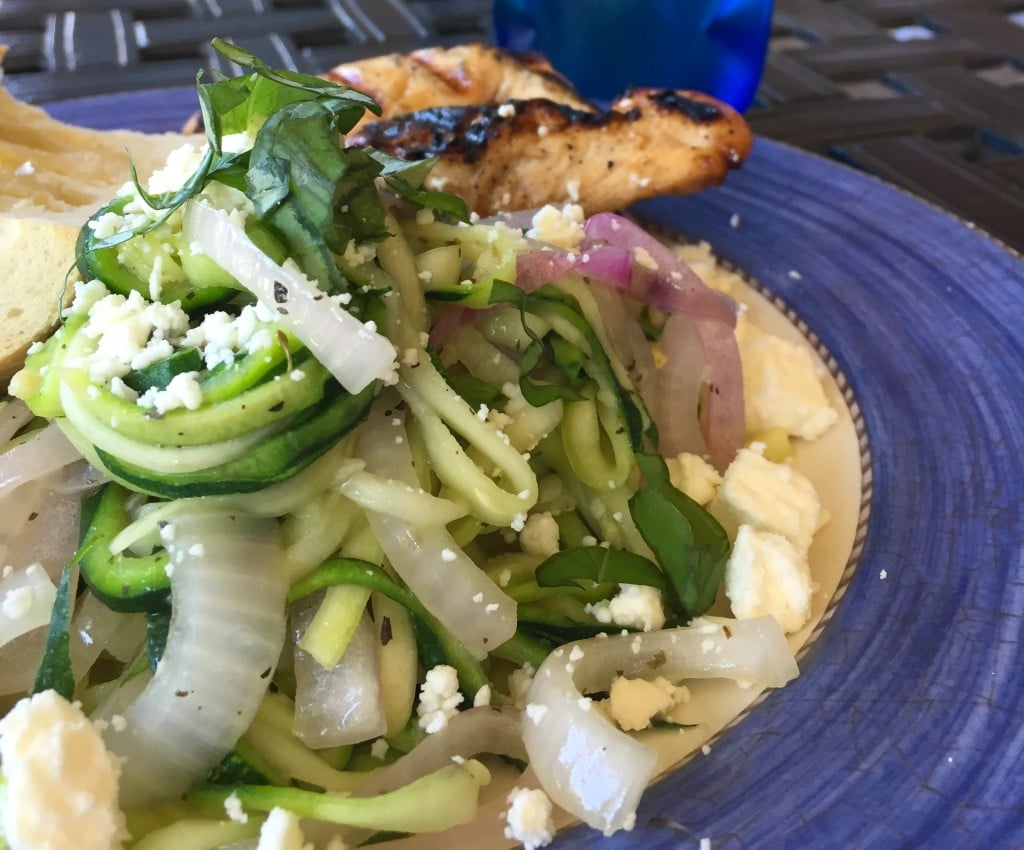 Zoodles with Onions and Feta
2017-06-07 15:47:35
Ingredients
3 medium zucchini
1 Vidalia sweet onion, sliced
2 cloves garlic, minced
2 Tbs olive oil
2 Tbs butter
salt & pepper
dried herbs de provence mix
fresh basil, sliced
feta cheese
Instructions
Using a Veggitti slicer, cut zucchini into long, pasta like ribbons. Set aside. Set a pot of water to boil.
Saute onion and garlic in olive oil until tender.
Drop zucchini all at once into boiling water and cook for one minute. Drain and combine zucchini with onions. Add butter and combine. Season to taste with salt, pepper and herbs de provence.
When ready to serve, sprinkle each portion with fresh basil and feta cheese.
Hugs, Kisses and Snot https://hugskissesandsnot.com/