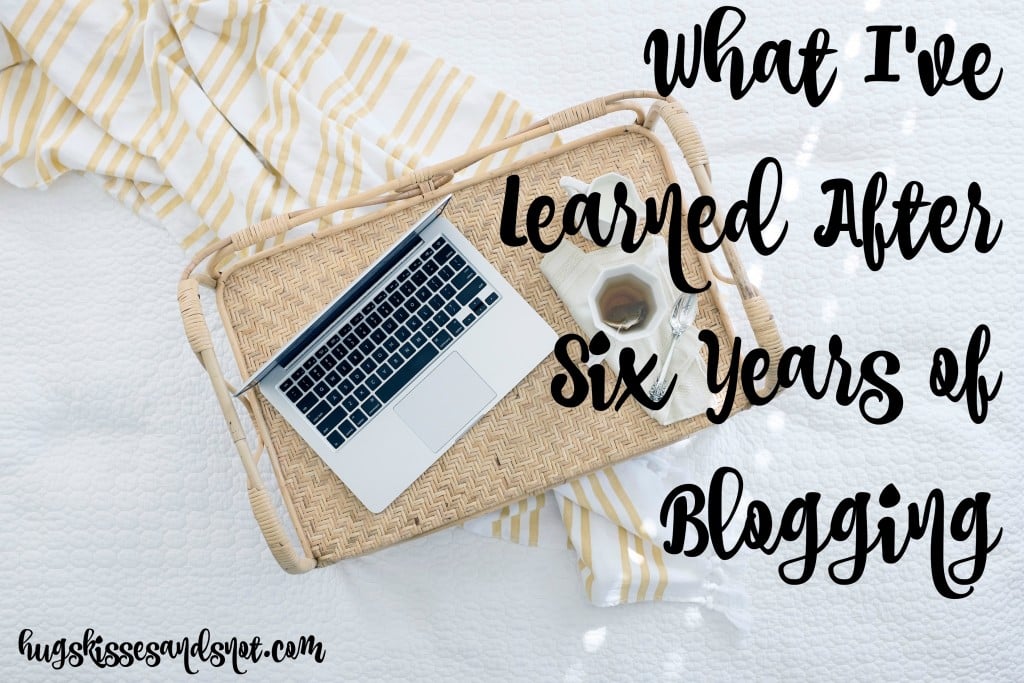 Today marks six years of blogging. Six years of hugs. Six years of kisses and six years of snot. Tons of snot.
Six years ago I started this blog after attending a Pioneer Woman book signing with the secret hope that I too, would become a blogging superstar. I had a secret hope deep in my bones that hundreds of thousands of people would suddenly want to follow me on Twitter and Facebook and be scrambling to share my hilarious and heartfelt posts. I had a super secret desire that The Today show would call and want to whisk me out to New York and talk about where I got my inspiration and how amazing my life must be.
What I've learned after six years of blogging is that none of that is ever going to happen. All of those silly hopes aren't wishful thinking, they are ridiculous thinking. They are ego-centric, self-centered thinking.
After six years of blogging, I have finally adopted Dorris Day's Que Sera, Sera as my theme song.
Whatever will be, will be.

Here are a few things that I have learned after six years of blogging. Keep in mind, if you are a blogger, these are things that I have discovered. They may not be applicable to all bloggers. You do you and go with God.
Analytics
For the non-bloggers in the house, analytics is a thing that keeps track of everyone who visits your website. It will tell you all sorts of things like where they are from, how long they stayed on your site, which pages and posts they visited, what color underwear they are wearing. If you're a numbers person and create spreadsheets for fun on a Saturday night, it can be fascinating. If you're not a numbers person, it can make you feel like an idiot.
Here is the thing with analytics. Every blogger conference and major brand you want to work with will tell you that your analytics should be off the charts. You should work your yoga pants off to get those numbers up. Real bloggers, successful bloggers, have monthly page views that are at least five digits. High five digits, none of that 11,000 crap. They will tell you that you must have a social media following that is at least six digits and they will sell you online courses on how to achieve just that.
I've spent years worrying over my analytics. They were never up to par and I stayed up late trying to figure out what I was doing wrong. Unfortunately, you start to judge your worth as a writer and blogger over those numbers and compare yourself to more "successful" bloggers. It's a pretty terrible feeling. I have written about giving up on analytics and numbers before, and for a time I would. But eventually, I would come back and check to see if I had any more subscribers or if my monthly page views had gone up. Inevitably, I would get sucked back into the analytics pit.
After six years of blogging, that desire to have those amazing numbers, page views, Facebook following as gone away. If I could uninstall google analytics from my website, I would. But that sounds time-consuming and confusing and I don't really want to mess with that. So, I just don't look at them anymore. I just really don't care. I wish I could say what changed, what is different now than a couple of years ago, but I can't. All I know is that I could really care less how many views or followers I have.
If a brand wants to work with me, awesome. If not, their loss.
What I do care about is whether or not typing these words out gives me joy. What I do care about is the one person who will read something and laugh or cry or take it to heart.
I have one fan that I know of (besides my mom and my husband). Her name is Katie and she is in her 90's. I speak to her about once a year and every time she tells me how much she enjoyed this or that. She tells me how she loves seeing a new post pop into her inbox and can't wait to read it, no matter what it is. If I can make a 90-something-year-old woman happy, then that is a job well done.
Money
Hear me now…there is not one clear-cut way to make money blogging. Some people make lots of money and some people make negative money. But there is no one way like a regular salary. You must have many pots on the fire and constantly stirring them.
Admittedly, I would love for this to be my full-time job but that goal has alluded me all these years. Probably because I don't care about analytics. However, I'm still trying to make that happen, through different routes than before, but it all seems pretty much a crap shoot. All I know is that I have to do the next right thing for me and with an intention of love. I have to move forward and make decisions with the hope and prayer that if I'm meant for a career in writing, the path will make itself known.
Real money may never come, and I have to be okay with that. Because when you are driven by the almighty dollar, then joy will always come second.
"You were never poor as long as you had something to love." -Anne Shirley, Anne of Windy Poplars
Friendship
One very important thing I've learned after six years of blogging is that you must have a tribe. You must have friends, outside of your regular, in-real-life friends, who understand what you are doing. I'm very grateful to have found several people who I can call my "blogger friends". Some of them I've never met in real life and some of them I have the privilege of knowing in real life and I'm thankful for both. I've met all of my dear blogging friends through various on-line groups that I trust and have slowly, over time, developed friendships with them.
The main ingredient when it comes to these online friendships is trust. You first must be assured that the avenue you are meeting them through is a trustworthy place. There is way too much crazy and ugly stuff online and one must move through the internet with care and caution before entrusting your time and friendship with a group of people.
The next ingredient is time and patience. Because most bloggers are coming from different places in life, it takes time and persistence to develop friendships. Not everyone is at a place in their life where they can message back immediately or reply to comments right away. Grace and patience have to be offered up with the invitation of friendship. Like real-life friendships, you can't force it and must be willing to give it time. You can't be selfish with you desire for friendship and only enter into the relationship with an attitude of "what can this person do for me". People will quickly see through that.
So there you have it. What I've learned after six years of blogging.
Que sera, sera. I guess we'll see what the next six years bring and whatever that will be, will be.