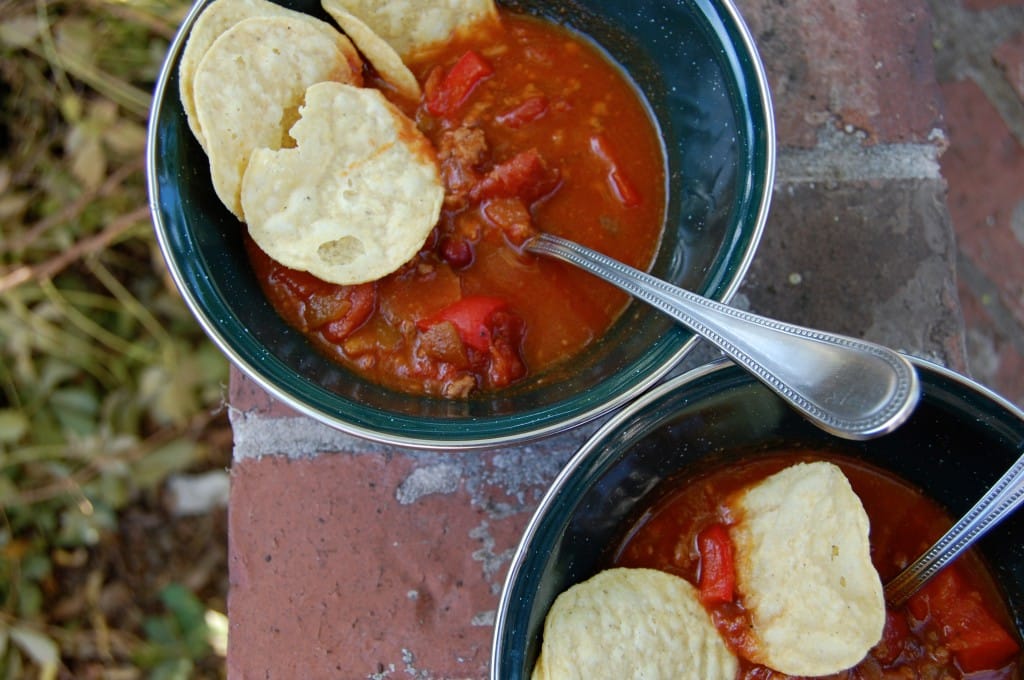 I love this time of year. Changing leaves, fall colors, crisp air, Halloween, Pumpkin Spice Latte, soup and chili.
Side note…if you are in danger of spending the kid's college fund on Pumpkin Spice Latte then check out Coffee Mate Pumpkin Spice Latte creamer. It is heaven in a bottle. Unfortunately, it's only available for a short time. I almost had a panic attack at Target yesterday when I thought they were all sold out. Thankfully, I found it in the special-seasonal-creamer-section instead of the regular-ol'-creamer section.
What was I talking about? Oh yeah, chili. This calls for "Chili Ready" diced tomatoes. It's just diced tomatoes but they have added chili spices to the mix. The only two brands that I've found this in is Hunts and Red Gold. I'm in love with both. I've even used it in homemade pasta sauce. My life now has meaning.
This will warm you up all the way to your toes.
Ingredients:
4 cloves garlic, minced
1 sm onion, diced
1 lb. ground beef
olive oil
1 tsp. coarse salt
1 tsp. ground black pepper
1 tsp. Lawry's Season Salt
1/2 tsp. cumin
1/2 tsp. chili powder
Saute onion and garlic in olive oil until translucent. Add ground beef and cook until no longer pink. Drain fat. Add spices and combine.
1 can tomato paste
1 can Chili Ready diced tomatoes (Hunts or Red Gold)
1 large can diced tomatoes
1 can pinto beans (drained and rinsed)
1 can red kidney beans (drained and rinsed)
1 can mild green chilies
1 to 2 cans beef broth
Add tomato paste and mix well. Add the rest of the ingredients and combine. Simmer on low for 30 minutes to an hour.
Bring on the rainy weather.
Related Posts via Categories