Today I have the honor of sharing a story from a writer friend of mine. My sweet friend Julie is trying her damnedest to make her dream of writing a book into a reality. Recently she shared with me a frustrating experience she had at a writer's workshop. I'm so proud of her for turning what could have been a crushing blow to her dream into material for her book. She could have walked away defeated but she turned lemons into lemonade. When I read it I knew I had to share it here. If you are a writer, published author, wanna-be author, lover of stories, whatever; I'm sure that Julie's story will resonate. Please give her some love.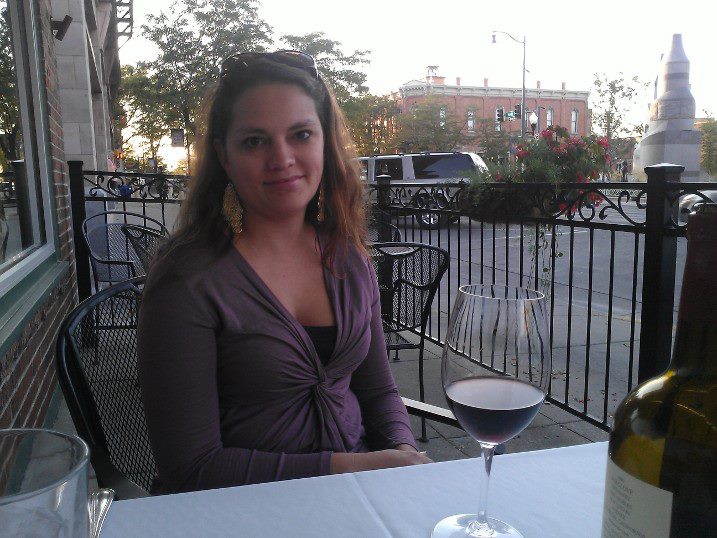 Allow me to introduce myself. I am a mother, a wife, a part-time librarian. I am a runner, a lover of wine and really good cheese, which is where the running comes in! I teach pre-school Sunday school, clip coupons, and do about a hundred other things that would make the teenager I once was positively gag. I am a reader and a writer. I mean, I want to be. Think about it, a job that you can do in your jammies while eating a turkey dog? Um, yes please!
I'm currently working on three separate writing projects, mainly because I have the attention span of a gnat and like to switch it up. I love a good romance novel and am working on my very own, set in my lovely home state of Oklahoma. The inspiration came to me in a dream. I don't want to make parallels, but Stephanie Meyer got her start in dreamland too so it's practically meant to be, right? I also write down the stories that I make up for my children at bedtime. They love them and maybe one day someone else will too. But, the main project that I am working on right now is what I like to call my "Mommy memoirs." Write about what you know, right? Each chapter is titled with something completely ridiculous that I have actually said to my darling offspring (or someone else), such as "Mickey Mouse Eats His Sweet Potatoes" "Mommy Needs a Time Out" and "Stop Pretending That Your Graham Cracker is a Gun." The following is the latest chapter:
I Should Have Gone for a Pedicure
In an effort more legitimize my writing "craft" and frankly, to get a few hours away from my family on a Saturday afternoon, I signed up for a very exciting sounding writer's workshop. The workshop was to be led by a well-known and prolific writer who just happens to be from my hometown. As an extra bonus, I live in a lovely town that supports the arts, meaning that this program was brought to yours truly free of charge. Free!!! You can't beat that with a stick, right?
I arrived nearly late, which in my world is also known as nearly on time, because I'm just a "half full" kinda gal. I may or may not have accidentally gotten into a texting convo with my girls, giddy about the prospect of being out of the house for a few hours to do "me" stuff. Whatevs, I had my butt in the smallish uncomfortable chair before any actual work-shopping took place.
The author, let's call him Mr. B to avoid any potential lawsuits, began by introducing himself, and his books, many of which were strategically for sale at a nearby table. He dropped the name of his prestigious publishing house and consoled us that not everyone, obviously, would be gifted enough to be under this grand umbrella of approval. He then ticked off his numerous awards, bestseller status, and soon-to-be miniseries syndication.
Hmmm…not exactly the start that I would have expected but the man is entitled to introduce himself and even be proud of his achievements, right?
Then, as an icebreaker of sorts, he started asking for a show of hands for writers of poetry, fiction, non-fiction, etc. As I raised my hand for the non-fiction question, he looked directly at me.
"What are you writing?" He asked.
The career student in me preened at being called on by the "teacher" so quickly. Obviously, he could see that I was special and serious about this writing business. Here we go, I thought!
"Well, it's called Get Out of the Dishwasher and is about…"
"The dishwasher?" He asked with incredulity and a faint hint of derision. "What does that mean?"
I forged on. "It's a series of stories about my experiences as a mom, mostly humorous but…"
"Why don't you just write a blog?" He interrupted…again.
"Well, um…" I faltered. "I actually have before but…"
"Right." He turned from me and addressed the room at large over my quickly shrinking voice. "Is anyone writing non-fiction about something other than washing dishes?"
And that was that, my project was dismissed.
Someone went on to explain his project about the little-known time Edgar Allen Poe spent as a soldier, another about her belief in a philosophy called mysticism, and so on.
I sat in my smallish uncomfortable chair feeling like I was in sixth grade and had just been pantsed in front of the entire class. I felt my heart race and the hot burn of tears at the back of my eyeballs.
Do not cry! I admonished myself. It would be the final blow, my humiliation complete. I considered just getting up and leaving, which would have been quite obvious in a room of about 20 people.
Instead, I sat there. I seethed. I hated myself. I hated him. You're an idiot, I thought. No, he's an idiot! Is this really what I'm writing about? Washing dishes? Why don't I just write a blog? Obviously, moms don't read whole books. We're all too busy washing the damn dishes. We haven't a thought in our pretty little heads about real issues, about the real world.
Except, there's this: I know moms who are doctors, who are community volunteers, who are teachers and business women and chefs and school administrators and police officers and managers and soldiers and politicians. Who are kicking ass and taking names and also being freakin' fantastic moms. And they care and they vote and they pray and they read and they matter. They matter and deserve to be heard in all formats: blogs, books, newspapers, radio, whatever they want to put their pretty little heart and soul into.
So I sat in my smallish uncomfortable chair. I listened to a mystery/thriller author discuss the mechanics of poetry, something most of us learned in Freshman Composition II. I listened to him read from his own, recently published and of course for sale, book of poetry. I even politely nodded and smiled occasionally, lest he know that he had hurt me. I texted my friends, all just moms of course (except when they are saving lives and teaching children and rocking the business world), and said "I've GOT to get out of here!"
They were shocked. I had been anticipating this awesome event for weeks. I was so excited for the opportunity of learn from this guy. What the hell had happened, they wondered.
Finally, finally, he released us for a break. I immediately dug out my keys to my mommy mobile, which smells constantly like processed cheesy crackers, and put on my clearance rack designer sunglasses. You see, in the age of inflation, we moms have to be pretty organized with our money to afford all of that dish soap, and don't even get me started on laundry detergent, that shit is liquid gold these days. With my head up, I walked out the door. I managed to not give him the finger on my way out.
You see, what Mr. B didn't realize or care about, is that in addition to being a mom, I'm also a lady.
As a parting thought, my book about washing dishes is as of this moment at nearly 47,000 words. I estimate the completed product will be between 60,000-75,000 words. That's a lot of damn dishes! I think I need a manicure. And a pedicure too.
This chapter is dedicated to the Mr. B's of the world. Thank you for your wisdom, but you can keep it.