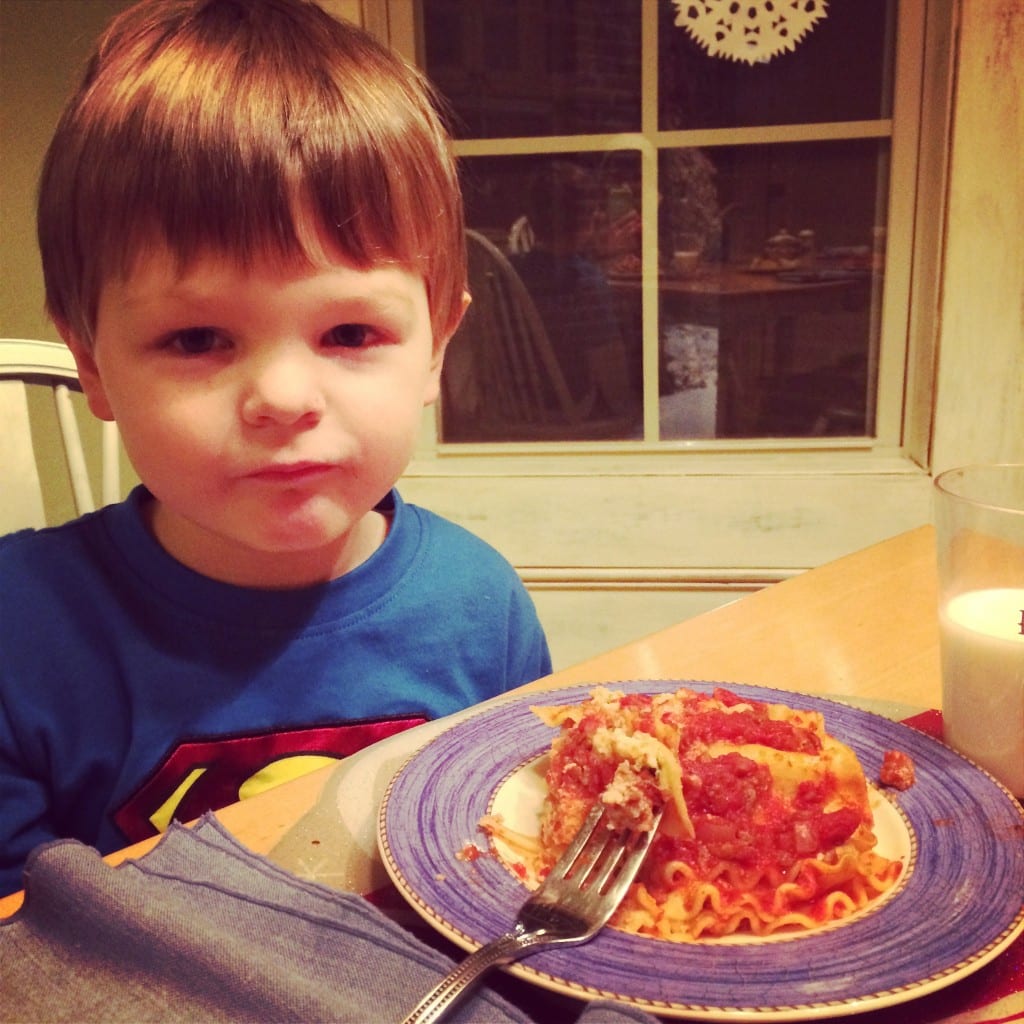 This is actually a happy face. He changes expressions so often it's hard to capture the exact one I need.
We're on our second snow day here on the windy plains and I've decided to mix things up a bit. Instead of a regular sausage lasagna recipe blog post I decided to to a vlog post. *gasp* I know, I know. It's wild and crazy. Don't worry, it won't happen too often.
A few weeks back my friends at Red Gold Tomatoes sent me a little a package of Red Gold Tomatoes and no bake lasagna noodles. I've been a busy little mamma so I'm finally finding time to make lasagna. This week was very cold so I knew warm comfort food would be in order. When we got the call early in the morning saying it would be a snow day I knew today would be the day for a bubbly, comforting sausage lasagna.
Here are a few notes about my vlogging abilities.
1) I have no idea how to work iMovie. So the fact that I have transitions between the clips is amazing. I should get a SAG award for my transitions.
2) Since the most advanced thing I know how to do in iMovie is transitions, don't expect much else. One step at a time here, people.
3) I made a little mistake near the end. I'm not going to tell you what it is in case you miss it. However, there is no such thing as retakes at this stage in the game. Sorry.
4) Everyone looks so much better in natural light. Unfortunately the natural light in my kitchen only extends so far and we'll just have to make due with yellow, overhead lighting. sigh.
http://youtu.be/JwkaNqS2GuY
It really was a yummy lasagna. Despite Addison's protests he ate it all up. The only way he wouldn't protest at dinner is if we alternated plain pasta and Raising Cane's chicken every other night.
After having watched this and the only thing you can think is Where can I get such a cute headband? And that Valentine's Day heart garland? I love it! I wish I had one. Well, today is your lucky day. You can hop on over to my Etsy store and find cute headbands and a Valentine's Day garland just like the one over my kitchen table.
Sausage Lasagna
2014-02-07 06:29:05
Serves 10
Ingredients
1 lb. Italian sausage
1 small onion; diced
2 cloves garlic; minced
1 (28 oz.) can Red Gold crushed tomatoes
2 (14.5 oz.) cans Red Gold Diced Tomatoes w/ Basil, Garlic & Oregano
1/2 cup water
1 box no-bake lasagna noodles
1 (15 oz.) carton low fat ricotta cheese
2 cups shredded mozzarella cheese + 1 cup shredded mozzarella cheese for topping
1/2 cup shredded parmesan cheese
1 egg
1/4 cup fresh parsley; chopped
1/8 tsp. fresh grated nutmeg
1/4 tsp. salt
1/4 tsp. pepper
Instructions
Preheat oven to 350 degrees.
Cook onion, garlic and sausage in a skillet until sausage is cooked through. Drain on a paper towel.
In a large bowl combine Crushed tomatoes, Diced tomatoes, water and sausage. Season with salt and pepper.
In a medium bowl combine ricotta cheese, 2 cups mozzarella cheese, parmesan cheese, egg, parsley and nutmeg. Stir to combine.
In a baking dish spread 1 1/2 cups of sauce mixture on bottom of pan. Arrange noodles in one layer, slightly overlapped. Top with 1 cup of ricotta cheese mixture. Top with sauce mixture. Repeat layers of noodles, cheese, sauce.
Cover tightly with foil and bake for 1 hour and 20 minutes. When finished, if desired, remove foil sprinkle remaining cup of mozzarella cheese and bake for 3 to 5 more minutes.
Adapted from Red Gold Tomatoes
Hugs, Kisses and Snot https://hugskissesandsnot.com/
For more recipes from
Red Gold visit their site
. Thanks for watching! So what to you think? More recipe vlogs or stay away from it?
Related Posts via Categories