It's finally here. Release week for For the Love by Jen Hatmaker. I don't know if I've ever been so involved with waiting for a book to come out as I have for this one. Namely because I was lucky enough to be chosen to be one of 500 women to be on the book launch team. What is a book launch team? Well, in this case it is 496 crazed women and 4 men who are tasked with sharing their love of this book all over the interwebz. Now that the book has been released it is our job to light up twitter, Instagram and the likes with reviews and hashtags. This launch team has evolved from just people sharing book reviews to online best friends who share their deepest darkest secrets to their new online BFFs. It's been a little overwhelming but interesting to say the least. Several sub-groups have been formed and I have found myself in a "writers" sub-group which is a much more manageable number than 500. I am slowly getting to know (and enjoy) my writer-Jen-Hatmaker-fan friends. For someone who is uncomfortable in a large group of strangers, a group of 150 women is a little more manageable for me than 500.
But enough about the launch team. What you really want to know is about the book and how you can get your hands on one. Right? Right.
For the Love by Jen Hatmaker Review
I've followed Jen Hatmaker on her blog for a while and read her book 7: An Experimental Mutiny Against Excess
. 7, by the way, will rock you to your core if you have any sort of wealth guilt or obsess over the ridiculous amount of stuff in your life when so many people in the world have so little. Or is that just me? Jen Hatmaker has an incredible knack of weaving honesty, humor and a little bit of tough love into her words. For the Love is no exception. It is a collection of essays focused on women and the ridiculous expectations we put on ourselves, parenting our kids without raising self-entitled brats, loving each other with Jesus as an example and fashion tragedies that need to go away forever.
This book covers so much. Sprinkled through out for comic relief are a few chapters are Thank You Note entries a-la Jimmy Fallon.
"Thank you, Spanx. Because of you, my post-baby body can mold like Jell-O into a svelte, sexy little shape…for a few hours anyway. Your ability to lift and tuck simply takes my breath away, literally! May you continue to do Gods' work and be the progenitor of the muffin top. Than you Sara Blakely!! Sincerely, All Women."
Just a few pages later she is asking Christians and the church to take a hard look at itself and answer hard questions like why Millennials are leaving the church. She doesn't stop there with the hard questions and goes on to analyze the "youth mission trip" and ask whether it does more harm than good and if so, how we can change that.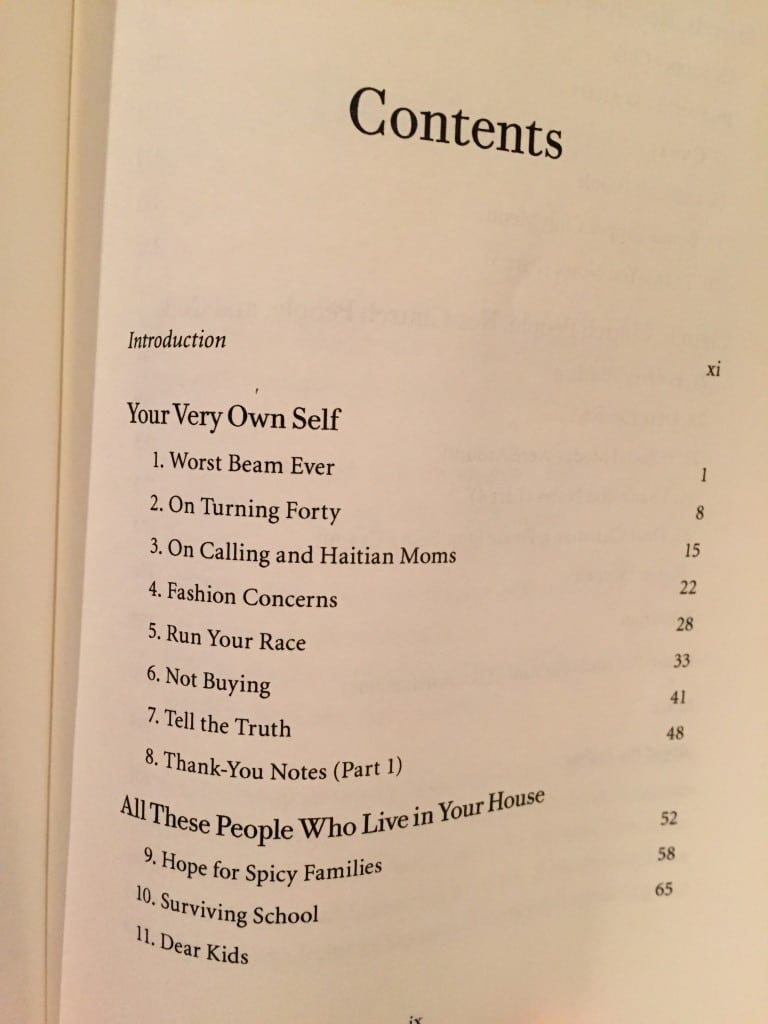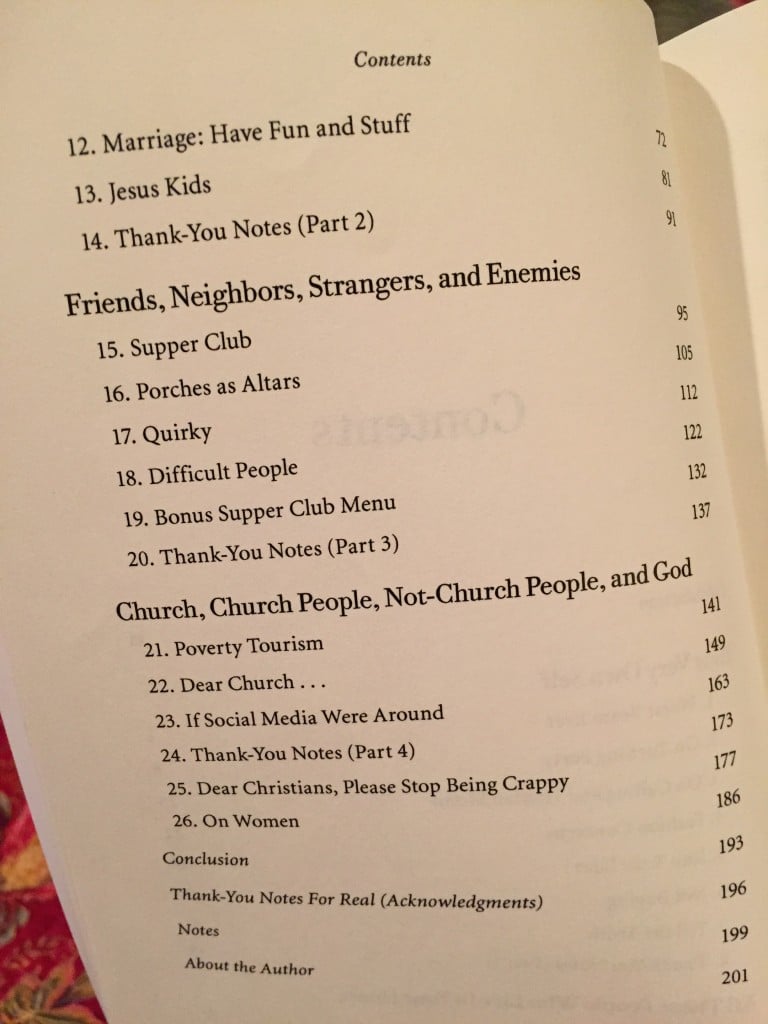 Take a look at all these juicy chapters. I wish that I could sit down with every single teacher in my kiddo's school and read them chapter 10 on Surviving School. It is everything I want to say regarding the way we are raising our kids and how we should be treating our teachers.
"If my teacher called because I was acting like a lunatic, my parents believed her (I know, right?) and made sure I would think twice before opening my smart mouth again. Sidebar: Teachers, I wish parents understood that their precious child probably isn't an innocent victim of your "daddy issues and rage disorder." And Mom, your daughter got detention for an actual reason. Kaitlyn-Grace needs to do her homework and stop sassing. Her tears are manufactured. Kaitlyn-Grace should join theater."
And I wish I could do a simulcast of Chapter 25 Dear Christians, Stop Being Crappy, to every sanctuary and over-head a/v system, every laptop and interrupt 700 Club's regular schedule for words that matter.
"This is not about being liked or popular, nor is it some soft gospel that prefers harmony over redemption. Here is the truth: If we are inhibiting others from finding Jesus, this constitutes a full-blown crisis. Ultimately, the rejection of Christians predicates the rejection of Jesus, and it that doesn't grieve us, we have missed the whole point. Jesus tried to impress this upon us. I mean, he was obsessed.

"By this everyone will know that you are my disciples, if you love one another" (John 13:35)

…There is a clear correlation between how we treat each other and how a watching world will feel about Jesus."
One of my favorite things about this book is the reoccurring theme of how hard women are on themselves and the call to let ourselves off the hook. We need to give ourselves and each other some grace and to recognize that the work we are doing right now; raising families, loving and taking care of each other is a true and honest calling that should not be devalued.
Now for the really fun part: giveaway time!
For the Love by Jen Hatmaker Givaway
I have books for you, dear friends, that I want to get into your hot, little hands. I'm so excited about this book that I don't want to just tell you about it, I want to share it with you.
I have 5 books to give away to 5 lucky readers. Here is how to enter: leave a comment. You can tell me what the weather is like where you are or whether or not you're a Jen Hatmaker fan and what your favorite book is. Just leave a comment.
It isn't required but it would be really sweet of you to hop on over to Facebook and like my page. Same goes for Twitter. If you're feeling super generous you could do the same on Instagram. A girl's gotta plug her social media. One thing you could do that would really make my day would be to share this post with a friend.
I will leave this giveaway opportunity open through the weekend and pick 5 random winners on Sunday, August 23. In case you can't wait that long to find out if you won you can always go over to Amazon and get your own copy right now –> For the Love: Fighting for Grace in a World of Impossible Standards
No go! Enter and "be kind, be you & love Jesus".
Related Posts via Categories