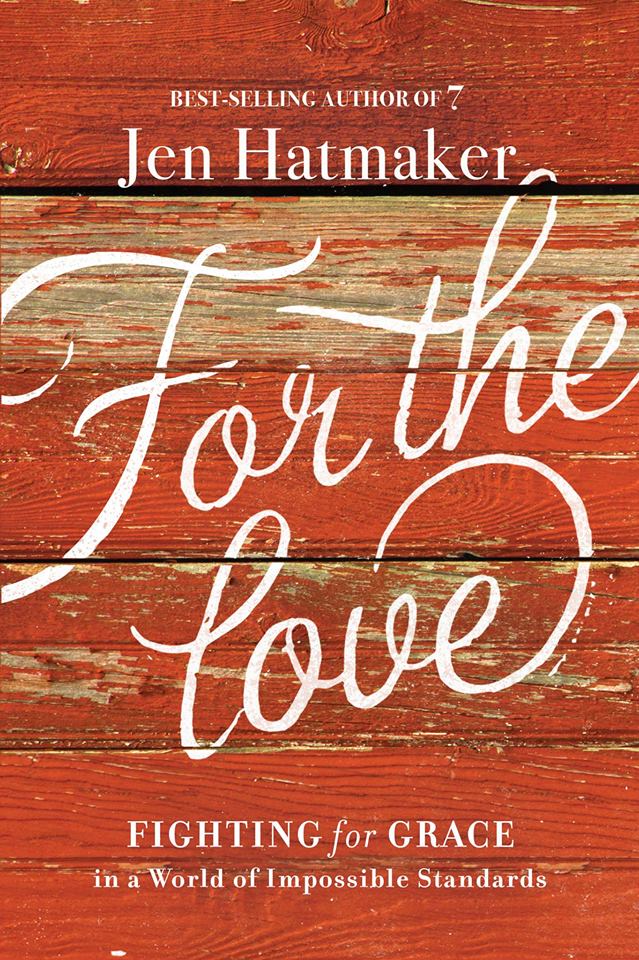 Breaking news…Jen Hatmaker has a new book coming out in August.
More breaking news…I have the privilege of reading an advance copy. Here's how this happened; I was lucky enough to see a post from Jen Hatmaker asking her fans to apply to be a part of the launch team. Meaning, read an advanced copy of the book then when the time came, blow up twitter and the blogs about how incredibly awesome this book is going to be and tell everyone to get their own copy or regret it forever. Lots of people applied and then Jen's publishing team threw 500 darts and came up with the launch team. By some wonderful insanity a dart landed on my name and I was one of the 500.
In other news…I'm conflicted about sharing this news. When I received the big news that I was selected to be on the launch team I did what every person on God's green earth, in this post social media world, does when they receive good news. I ran to Facebook. I shared my news and my sweet little tribe rejoiced for me. Not long after that I was doing what every person who should be folding laundry does; scrolling through Facebook. I came across a post from a blogger that was the biggest humble brag I've seen a blogger do in a while (it had nothing to do with Jen Hatmaker or her book). I immediately felt gross, hid the post and started second guessing my good-news-share.
You see, I have given up on feeling jealous, envious and less-than when it comes to blogging. Non of those feelings serve a good purpose in anyones life be you a professional in the work force, a working mom, single, married, a stay-at-home mom, a blogger, or stay-at-home-mom-blogger. I have sent those feelings back from whence they came and refuse to let them have power over me or the things I love, so when I read the humble brag I started to get a little tickley feeling of jealousy. I started feeling angry at this blogger's success and the lie that I am not as good tried to take root. I won't let that weed grow so as a way to combat those feelings of jealousy when it comes to blogging, I shine light on someone else. A rising tide lifts all boats and lighting someone else's candle won't make mine any less bright. So when I started to feel that ugly feeling, I began to worry that I may have made other bloggers have the same feeling because of my success and how I shared it.
As all neurotic, overly conflicted bloggers do, I went back to Facebook (I mean where else can society go to share every grievance, for the love!). I posted my apology:
"I would like to Face-publicly-book apologize if I have ever annoyingly humble bragged. I do not want to be one of those people. If you were annoyed by my announcement about Jen Hatmaker then I am truly sorry. If there is anything else I said that has made you feel less-than or made you roll your eyes, then please accept my sincerest apology."
Unfortunately, in my attempt to be thoughtful I committed Annoying Facebook Offense #2, the vague-post. My sweet little tribe thought that someone had been hateful to me. I'm sorry sweet tribe. No one was hateful to me, I just started over thinking things as I tend to do.
All of this is to say I'm sorry if my good luck made any other blogger feel jealous. That's the thing with sharing good news…when is it just great news and when is it rubbing salt in someone's wound? When does someone's good fortune shine a glaring light on someone else's misfortune? When does sharing good news turn into bragging? No one likes a braggart.
When I was in the workforce, they had us take one of those personality tests so we could learn each other's strengths and weaknesses and work as a team. It turns out I'm overly very considerate. I think of other people's feelings, how a circumstance will effect others (as well as myself) and consider all the options before making a decision. This must have something to do with my tendency to become conflicted about things like good-news-facebook-posts.
Now that I have gotten all of that off my chest I feel better. Now I can tell that that Jen Hatmaker's new book, For the Love, is a revelation. I can't tell you too much about it now, all in good time. But I can tell you that you will want to go ahead and pre-order the book. Hop on over to
Related Posts via Categories