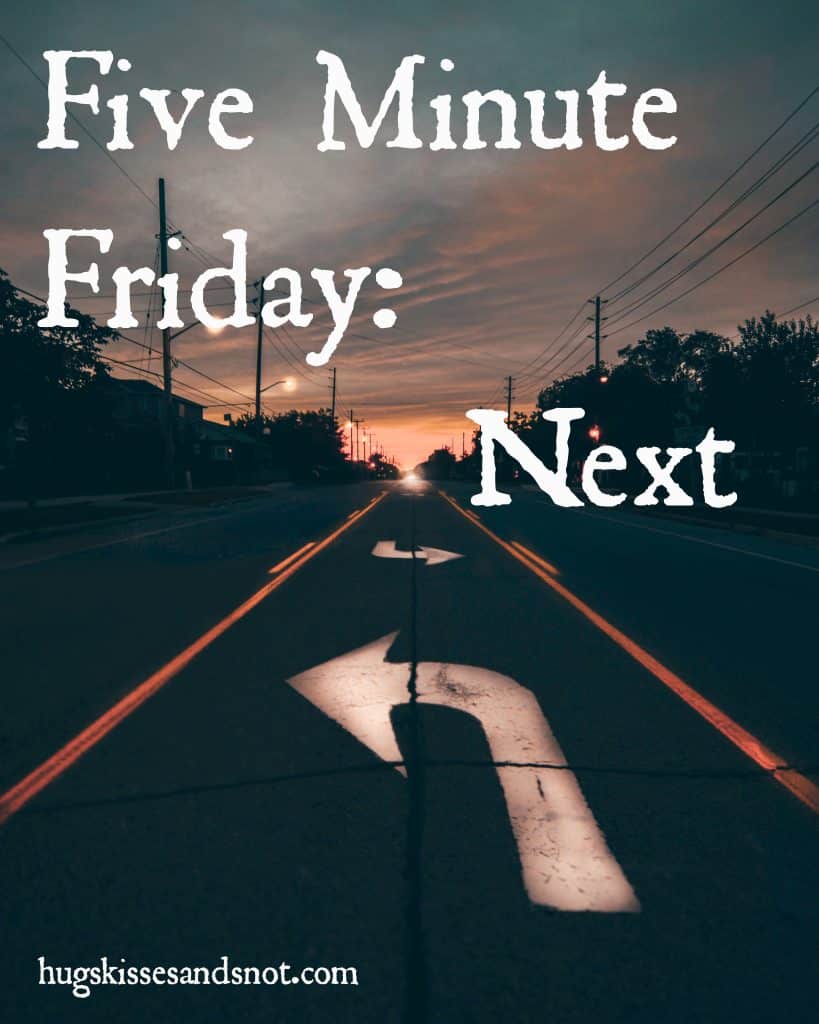 I've neglected this sad little blog for too long. It's time to give it some love; but only about five minutes worth. Today's Five Minute Friday prompt is NEXT. I'm only allowed five minutes and that's a good thing because at this moment in time I only have about five minutes.
Timer is set…GO!
Recently I experienced a very busy season of life. It didn't last long but three unrelated events all collided upon each other almost simultaneously. There were more phone calls, emails, and texting than normal. There was hosting family, travel, and exciting adventures all within one month.
Then it was over and the phone calls stopped. The emails slowed down, and the texting went back to normal texting. I suddenly found myself with an unsettled feeling of what's next? It was a bit of a let down to go from 90 miles an hour to 35 mph.
You know that feeling when you're on the highway and you have to slow way down to pass through a little town? 50 mph feels like you're in a parade, slowly crawling along after driving so fast. That's sort of how I felt when my busy month ended and I have to admit that I missed all the excitement.
I'm still left wondering what is next. My conclusion is that the next right thing is to just travel along at a slow pace for now. (granted my slow pace may feel like speeding to many, but we all have our standards). I have to keep telling myself to just be. Stop checking my email because I'm not getting any. Stop waiting for a text or phone call from certain people because they just aren't coming.
It's okay to stop. It's okay to not know what is next and just be. It's okay to feel antsy. Recognize the antsy feeling, name it, and then let it go.
Right now the next thing is to go back to regular life and set the cruise control.
STOP!
What is next for you?
Are you at a crossroads or have that unsettled feeling that I had after slowing down? Consider getting Emily P. Freeman's newest book: The Next Right Thing: A Simple, Soulful Practice for Making Life Decisions
. I'm halfway through and have really enjoyed Freeman's gentle yet wise style of guiding you through finding the next right step; even if that step is waiting patiently while nothing happens.
Related Posts via Categories