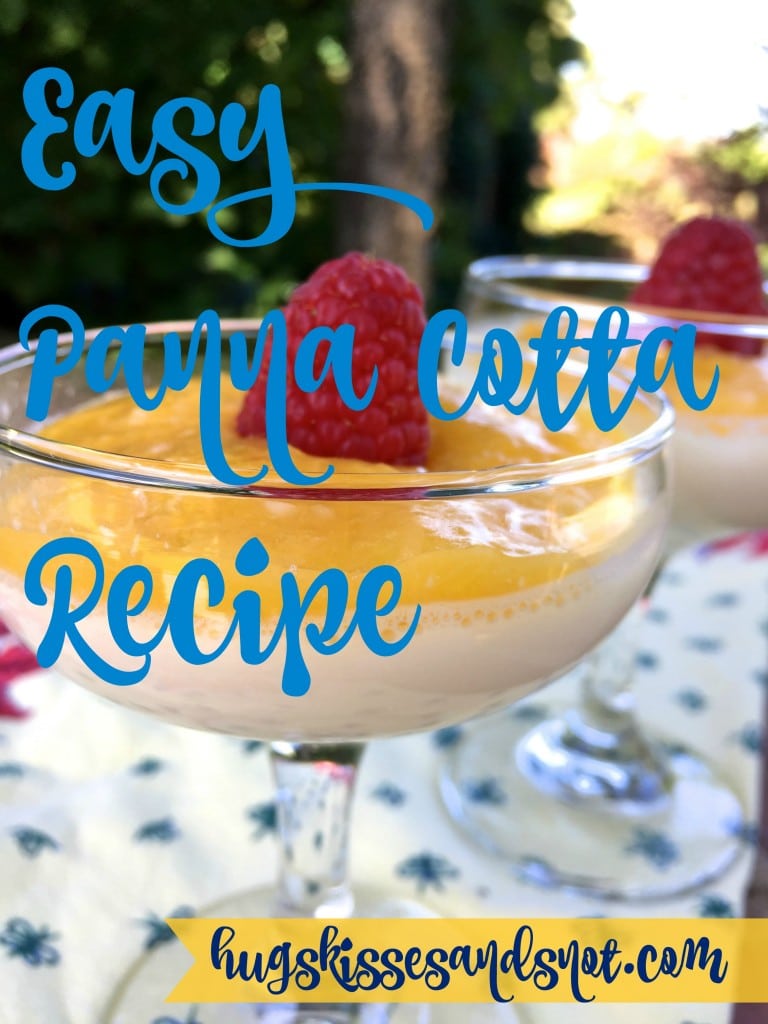 Recently I had some friends over for tea. I wanted to impress them with dessert to go with the scones but didn't want to bend over backwards making a cake or something difficult. I love all things custard and milky and things made with gelatin so I knew I needed an easy panna cotta recipe.
I did a search for panna cotta and read through several of the recipes that came up. The great thing is that, for the most part, panna cotta is a very forgiving recipe. You can change it around to suit your tastes and it will almost always come out delicious. I found a recipe on Epicurious that I liked but changed it around enough to make it my own. Typically you see panna cotta served with a drizzle of raspberry puree. While that is super yummy, I wanted something with a little more zing. Plus, I didn't want to have to push anything through a sieve to get the seeds out. I told you, easy was the name of the game here.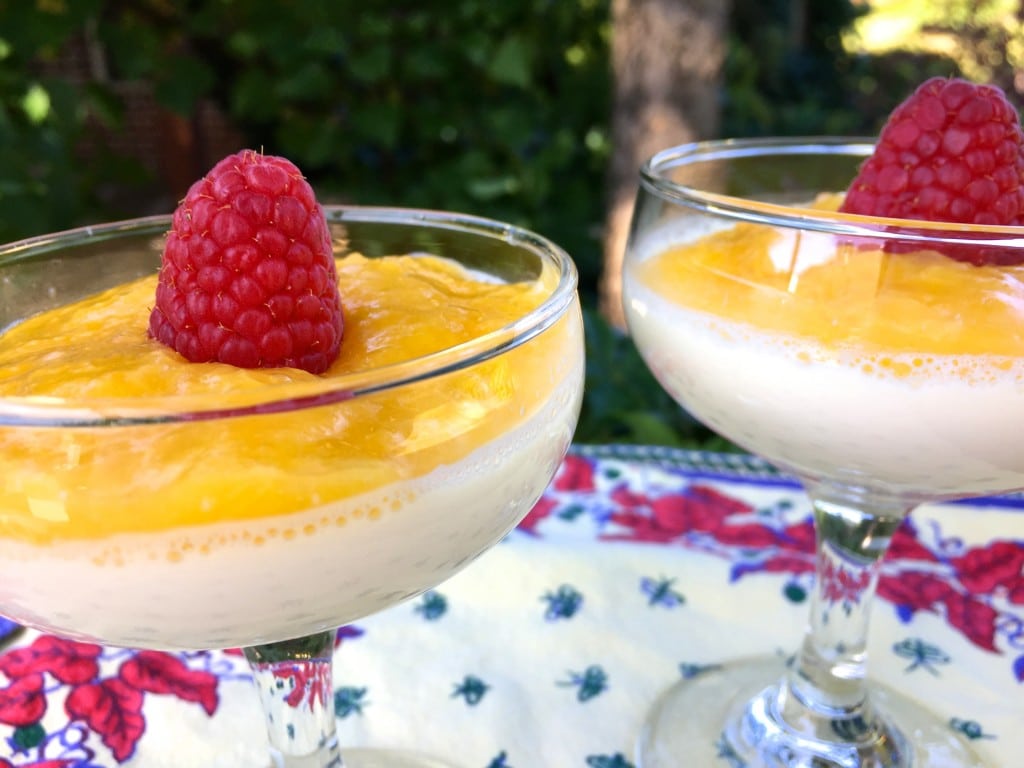 I tinkered with the original recipe and got really lucky. The Epicurious recipe calls for more heavy cream than half and half. That sounded really rich and heavy and high on the fat content. Not that I'm one to turn down a dessert because it is rich and full of fat, but sometimes too much heavy cream can leave a feeling like your mouth is coated in well, heavy cream. I also discovered in the middle of making this that I didn't have enough heavy cream to follow the recipe but I did have a lot of half and half. So, there's that.
The result from this easy panna cotta recipe is a thick, creamy and delicious custard that is just sweet enough to be dessert but not too rich to make you feel like you need to diet for a week after eating it. This recipe serves 12-16 (depending on the size of your cups). You can easily half the recipe to make a smaller amount.
So what about you? Are you a custard or panna cotta fan? If you haven't tried it, try this one and let me know what you think.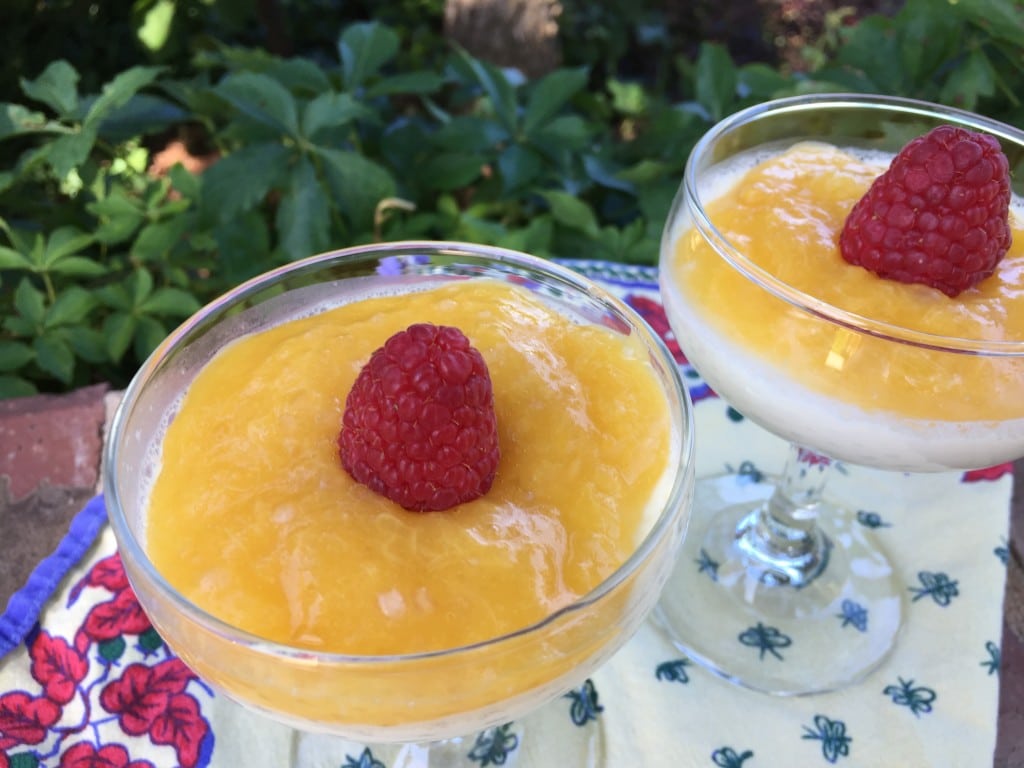 Panna Cotta with Nectarine Compote
2017-05-24 11:11:31
Serves 12
Ingredients
2 envelopes unflavored gelatin
4 Tbs. cold water
2 cups heavy cream
4 cups half and half
2/3 cups sugar
1 Tbs. vanilla extract
1 Tbs. Grand Marnier liquior
For the compote
4-5 nectarines, pealed and sliced
juice from 1/2 a lemon
1/4 cup water
1/4 cup sugar (can add more if the nectarines are very tart)
1 tsp. instant tapioca
Instructions
Combine heavy cream, half and half, sugar, vanilla and Grand Marnier in a heavy pot and heat on stove top. Stir until sugar is dissolved.
In a small pot, sprinkle gelatin over water to soften. Heat on low and stir until gelatin is completely dissolved and free of any clumps.
Bring cream mixture to a boil. Remove from heat and add gelatin and combine.
Divide cream mixture among custard cups or small parfait glasses. Allow to cool then place in refrigerator and chill overnight.
For the compote
Heat nectarine slices, lemon juice and water in a pot and simmer until nectarines are very soft. Add sugar and stir until dissolved. Mash nectarines with a potato masher or back of a wooden spoon. Add tapioca (thickening agent) and stir until dissolved. Remove from heat and chill in refrigerator.
When ready to serve, top with nectarine compote and berries of your choice.
Notes
Optional: If you want to turn the panna cotta out of the cups on to a plate; dip the bottom of the cup in warm water for a minute or two, slide a sharp knife around the edge of the custard then invert on a plate.
Hugs, Kisses and Snot https://hugskissesandsnot.com/