I received one or more of the products or services mentioned here for free in the hope that I would mention it on my blog. Regardless, I only recommend products or services I use personally and believe will be good for my readers. I am disclosing this in accordance with the Federal Trade Commission's 16 CFR, Part 255: "Guides Concerning the Use of Endorsements and Testimonials in Advertising."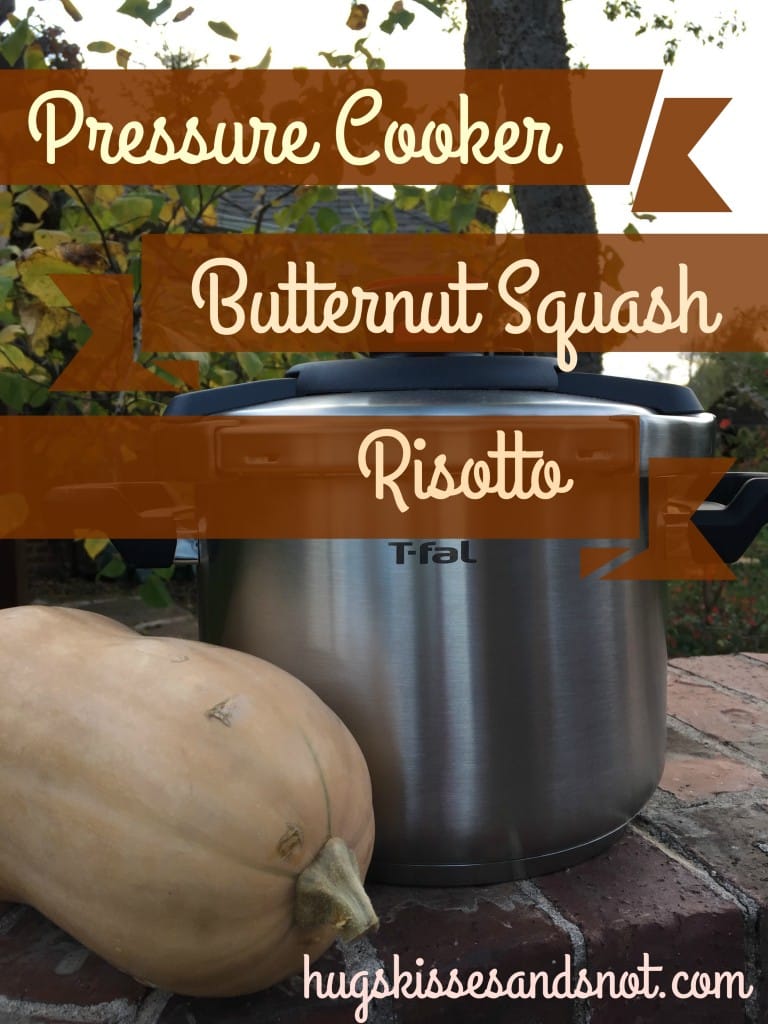 Last week I tried something in the kitchen I've never tried before…using a pressure cooker. I was given a pressure cooker to test drive and found all sorts of yummy recipes to accompany it. This butternut squash risotto recipe is amended from the cookbook that came with the T-Fal pressure cooker.
But first, can we all just give a collective sigh of relief that it's November, the season of giving thanks is upon us, that temperatures are finally dropping and that it's acceptable to drink multiple cups of hot tea throughout the day?
Come on now; deep breath in…falling leaves, flannel shirts, pumpkin pie…deep breath out.
There now, don't you feel a little bit better despite what is happening on the news?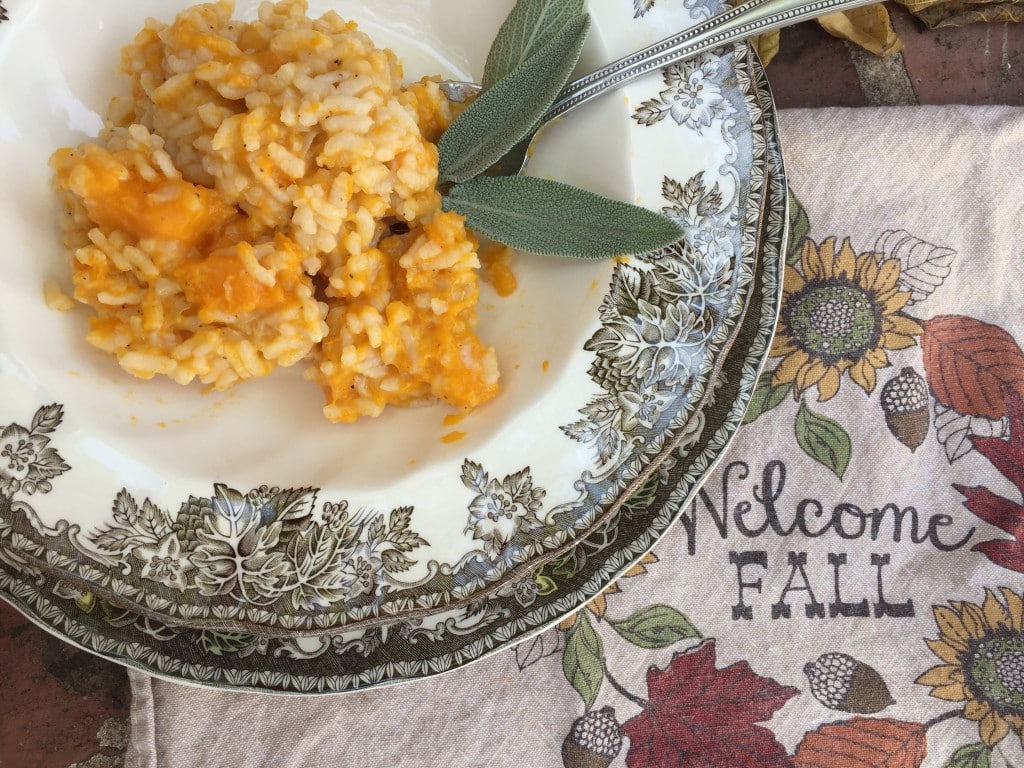 Since I've never used a pressure cooker before I must admit that I was a little scared of it and had visions of it exploding in my kitchen sending scalding food across every surface including my face and scaring me for life. Thankfully, that didn't happen. Turns out, pressure cookers have improved greatly in safety since they first came on the scene several hundred years ago and death by pressure cooker is a thing of the past.
It's been a long time since I've made risotto the traditional way so I can't exactly remember the method. I do know that it involved a lot of stirring for a long time. My new T-Fal pressure cooker took all of the stirring and standing over a hot stove for an hour and chucked it right out the window. It took me longer to chop and peel the butternut squash than it did for the pressure cooker to make butternut squash risotto.
Seriously.
Those things are really hard to peel and chop.
But the work of chopping was totally worth it. This butternut squash risotto was delicious and the whole family loved it. Well, Dear Husband and I loved it. Harry ate it because he will eat almost anything I tell him to. Addison ate it reluctantly, as he does pretty much everything (except plain pasta and rotisserie chicken)
If you have a pressure cooker I hope you try this recipe. If you don't, you can buy one on Amazon here: T-fal Clipso Stainless Steel Pressure Cooker
(affiliate link)
Pressure Cooker Butternut Squash Risotto
2016-11-15 11:15:43
Serves 6
Ingredients
1 butternut squash, peeled and chopped into small cubes
1 cup arborio rice
2 Tbs. butter
1 medium onion, diced
1/2 cup apple juice or apple cider
3 cups chicken or vegetable broth
1 tsp dried sage
shaved parmesan cheese
salt and pepper to taste
Instructions
Heat butter in the pressure cooker over medium heat. Add the onion and cook until soft.
Add the rice and stir to coat it in butter. Add apple juice and cook over high heat for 3 minutes, stirring continuously. Add the broth, butternut squash and season with salt and pepper.
Close the pressure cooker. As soon as steam starts to release and cooker makes a continuous hissing sound, lower the heat to medium and cook for 7 minus.
Release pressure. Open cooker. If rice is still hard, cover and cook under pressure for 1 to 2 minutes longer. Stir in the dried sage. Season with salt and pepper if needed. Top with shaved parmesan cheese and serve immediately.
Hugs, Kisses and Snot https://hugskissesandsnot.com/
Related Posts via Categories